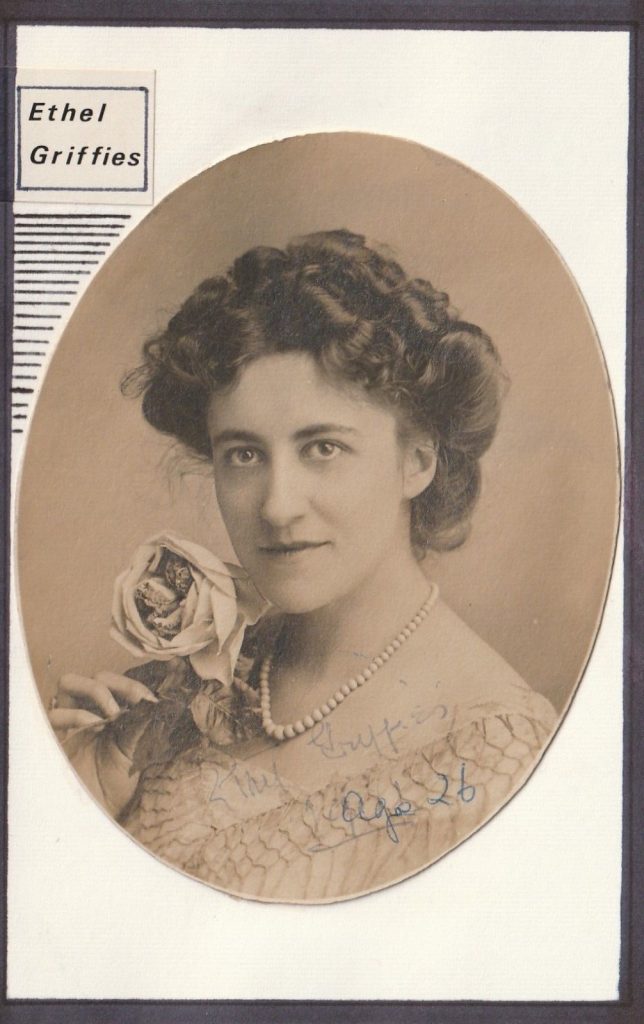 Ethel Griffies was born in 1878 in Sheffield.   She has had one of the longest careers on film.   Her movie debut was in 1917 in "The Cost of a Kiss" and her final movie was "Bus Riley's Back in Town" in 1965.   She was a very effective character actress and was featured in "How Green Was My Valley" in 1941 and "Jane Eyre" in 1944.      She made "The Birds" and "Billy Liar" in 1963.   Ethel Griffies died in 1975 at the age of 97.
IMDB entry:
The daughter of actor-manager Samuel Rupert Woods and actress Lillie Roberts, Ethel Griffies began her own stage career at the age of 3. She was 21 when she finally made her London debut in 1899, and 46 when she made her first Broadway appearance in "Havoc" (1924). Discounting a tentative stab at filmmaking in 1917, she made her movie bow in 1930, repeating her stage role in Old English (1930). Habitually cast as a crotchety old lady with the proverbial golden heart, she alternated between bits and prominently featured roles for the next 35 years. Her larger parts included Grace Poole in both the 1934 (Jane Eyre (1934)) and 1943 (Jane Eyre (1943)) versions of "Jane Eyre" and the vituperative matron who accuses Tippi Hedren of being a harbinger of doom inAlfred Hitchcock's The Birds (1963). Every so often she'd take a sabbatical from film work to concentrate on the stage; she made her last Broadway appearance in 1967, at which time she was England's oldest working actress. Presumably at the invitation of fellow Briton Arthur Treacher, Ethel was a frequent guest on TV's The Merv Griffin Show (1962), never failing to bring down the house with her wickedly witty comments on her 80 years in show business.
– IMDb Mini Biography By: ~ Hal Erickson, All Movie Guide (qv's & corrections by A. Nonymous)
The above IMDB entry can also be accessed online here.