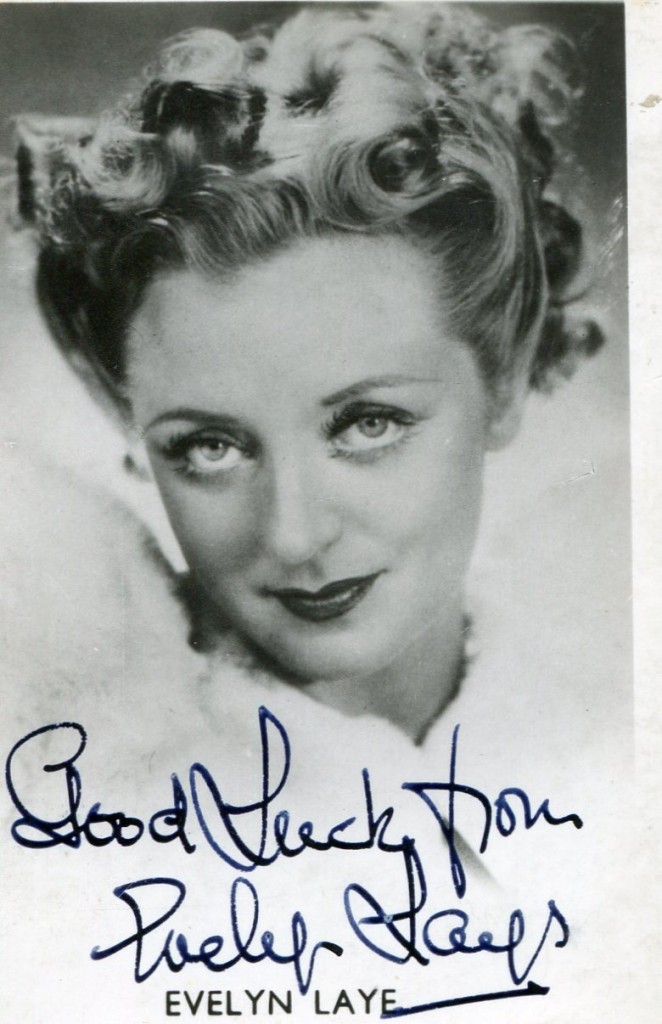 Evelyn Laye obituary in "The Independent" in 1996.
Evelyn Laye was a British musical comedy star who made her Boradway debut in 1929 in Noel Coward's "Bitter Sweet". She made a few films in Hollywood before returning to Britain to concentrate on stage and film there. One of her last roles was as Jean Simmon's mother in "Say Hello to Yesterday". She died in 1996 at the age of 96. Article about Evelyn Laye and Jessie Matthews can be accessed here.
"Independent" obituary:
"They don't make them like that any more," was the refrain of Evelyn Laye's hit number in the 1969 musical Phil the Fluter at the Palace Theatre, and as she sang it audiences must irresistibly have related the sentiment to the singer herself – for, even 27 years ago, they were being enchanted by an artist who had been a major figure in the British musical theatre for over 50 years.That, if you think about it, was no easy feat. The musical part of Laye's career belonged to the era long before the use of amplified sound had ruined the immediacy and charm of the naturally projected singing voice in the theatre, and when leading ladies were expected to give the full complement of eight performances a week in the identical large venues used by today's miked singers, who can rarely be prevailed upon to manage more than five.
As for miming to a pre- recorded "click" track – another creeping disease afflicting the musical theatre – I once saw her at a rehearsal for a Royal Gala Charity performance refuse point blank to cheat the public in this way, with the result that, of all the many singers who took part, only she and Dame Vera Lynn actually sang their numbers live on the night.
I doubt if any artist has ever had a fiercer commitment to the "profession" than Evelyn Laye had – it was, without doubt, the ruling passion of her life. Her adored parents, Gilbert Laye and Evelyn Stuart, were minor touring actors forever struggling to make a living between their annual pantomime engagements (her mother was a respected provincial Principal Boy), and eking out their precarious existence either in theatrical digs, or, when there was no work, in a series of furnished rooms.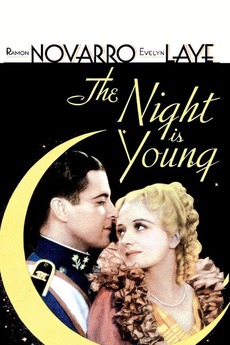 Nevertheless, they were the kind of old pros who would never even consider "giving it up" and changing their way of life, and it was this sense of dedication that they passed on to their daughter. No wonder that a theatre was the only place in which she really felt she was at home, and why she was still working in the theatre even in 1992, when she was 92 years of age.
She was only 15 when she made her debut at the Theatre Royal, Brighton (where her father was briefly manager of the pier), as a Chinese servant girl in a touring company of the London success Mr Wu. For three years she played the provinces in a variety of parts (including a revue, Honi Soit, and the Principal Girl in pantomime at Portsmouth), by which time her singing voice and emerging beauty had begun to be recognised.
She made her London debut in 1918 when she took over a supporting role in The Beauty Spot at the illustrious Gaiety Theatre in the Strand, still basking in the glory that its late manager, George Edwardes, had bestowed on it by mounting a long succession of glamorous musical comedies. She remained a "Gaiety Girl" for the next three years, appearing in such shows as Going Up (during the run of which she made the first of her many records), and The Kiss Call. Whilst playing in the theatre every night, it was typical of her determination to equip herself for stardom that she sought to add to her armoury all the techniques she might conceivably need to help her to gain it. So her days were filled with dancing, fencing and singing lessons, all paid for out of her meagre salary.
She did not have long to wait. Seymour Hicks and his wife, the exquisite Ellaline Terriss, had had an enormous success at the Gaiety in 1894 with The Shop Girl. Now it was to be revived under Hicks's direction, and he chose the 19-year-old Laye to play the lead. Her reception was so rapturous that it made her a star overnight. As the applause roared over her, Ellaline Terriss, standing up in her box, threw her own bouquet down at the young girl's feet, whilst in the dressing-room afterwards, Sir Alfred Butt, the manager, tore up her contract for pounds 20 a week and trebled it.
London was now hers to command, and the successes of the next 20 years consolidated her position as the undisputed leading lady of the English musical comedy stage. Among them were three shows for Charles B. Cochran, a revival of The Merry Widow, and, most ambitious of all, her assumption of the Fritzi Massary role in Leo Fall's Madame Pompadour (Daly's Theatre, 1924).
Massary was no less than a theatrical genius, and the arch-sophisticate of German operetta, so no one thought that Evelyn Laye would be able to touch the role. But her success in it was emphatic, and the critics wrote lavishly in praise of her perfomance, noting that, in addition to the "inventory of beauty which is Miss Evelyn Laye" (James Agate's phrase) and the lovely quality of her singing voice, was now added the confidence and ease of an accomplished actress. Other musicals – The Dollar Princess, Cleopatra, Betty in Mayfair, Princess Charming, Lilac Time, and Jerome Kern's Blue Eyes – soon followed.
In 1925 Laye fell in love with and married the light comedian Sonnie Hale, much against the wishes of her parents, who refused to attend her wedding or to give her a reception afterwards. Since she had never before been separated from them, her deep distress soon led to a reconciliation, but it may well have been the strain that this must have imposed on the marriage that led Hale to abandon her in 1928 for another emerging talent, Jessie Matthews. The break-up led to the greatest mistake of her career.
Noel Coward invited her to star in his new musical play Bitter Sweet – she refused out of pique because it was to be presented by Cochran, who at that time was employing both Hale and Matthews in a Coward revue at the London Pavilion. Only when she saw Peggy Wood playing Sari in Bitter Sweet at a matinee did she realise the extent of her folly, and, as she admitted in her autobiography Boo To My Friends (1958), "I had broken the great rule of the theatre; I had not put it first."
It was a mistake I doubt she ever made again. She had the considerable guts to swallow her pride and ask them humbly if she could be considered for the part when it was produced in New York. Meanwhile she was appearing in Sigmund Romberg's The New Moon at Drury Lane, in which, with the cruellest irony, she nightly had to sing the hit number of the show, "Lover, Come Back to Me".
In his autobiography Present Indicative, Noel Coward, describing the Broadway opening of Bitter Sweet, paid her the tribute of a lifetime:
It was Evelyn's night from first to last. She played as though she were enchanted . . . Early on in the ballroom scene she conquered the audience completely by singing the quick waltz song so brilliantly and with such a quality of excitement, that the next few minutes of the play were entirely lost in one of the most prolonged outbursts of cheering I have ever heard in a theatre . . . It was she, and she alone, who put the play over that night.
In a letter to his mother, he also wrote, "How right you were about Evelyn, she certainly does knock spots off Peggy."
Laye's tremendous success on Broadway led to a Hollywood contract with Sam Goldwyn, for whom she made just one film, One Heavenly Night (1932). Seeing it today, even an appalling script and mediocre songs do not entirely efface her charm and beauty. But the experience made her escape back home to play Bitter Sweet in London, where she was triumphantly received.
At the Adelphi Theatre in 1932, she starred in Helen!, for which Cochran had assembled an astonishing array of talent. The musical adaptation of Offenbach's La Belle Helene was by Korngold, the translation by A.P. Herbert, the choreography by Massine, the designs by Oliver Messel (the revolutionary all-white bedroom scene with the bath shaped like a great white swan), and the production by Max Reinhardt, the most admired director in Europe. Reinhardt's telegram to her read: "You are that rare and holy trinity of the stage, a great singer, a great actress, and a great beauty. If I have added to your splendour at all, I could not have given you anything that was not already in you."
After Helen! she made several British films, among them Evensong (1935), based on Beverley Nichols's bitchy novel about the supposed rivalry between the opera-singers Nellie Melba and Toti dal Monte, in which she played Melba to Conchita Supervia's Dal Monte. By this time, she had become romantically attached to the charming actor Frank Lawton, and, after a protracted courtship, they were married in 1934 in Hollywood, where he was playing David in MGM's all-star production of David Copperfield. She made her second Hollywood film there, The Night is Young (1936), with Ramon Navarro, and the score by Sigmund Romberg included one of the many songs which will always be associated with her, "When I grow too old to dream". Eventually they stayed in the United States for three years, while Lawton completed his contract, and she played on Broadway and in Los Angeles. Their marriage, though childless, was a famously happy one.
On her return, Cochran mounted a lavish production of Lehar's Paganini (Lyceum, 1937), in which she played opposite the great Austrian tenor Richard Tauber. When, early in the rehearsals, she confessed that she was terrified of ruining their duets by singing flat, he immediately reassured her by saying that, when it came to her top notes, he would slip his arm round her waist and support her diaphragm, and this he did at every performance that they gave. Unexpectedly, the production was not a success and, for the first time for years, she found herself out of work and with no offers coming in. Since she couldn't abide idleness, she launched a new career in variety and pantomime, where she improved on the family tradition by becoming the most sought-after Principal Boy of her time, as well as being top-of- the-bill at all the best variety theatres.
On the outbreak of war, she immediately volunteered to sing for the troops, and, on the formation of Ensa, she was put in command of all entertainments for the Navy. She also did her last Cochran show, Lights Up, at the Savoy, as well as three musicals, all of which were adversely affected by the wartime bombing. When the war finished, she made a success, even if it was not a smash hit, of the Yvonne Printemps roles in Oscar Straus's Three Waltzes (Prince's 1945), and, for the next nine years, developed her acting skills, largely in a series of touring versions of West End successes.
In 1954 she accepted a smallish role in a new musical starring Anton Walbrook, Wedding in Paris. During rehearsals, however, her part was constantly being built up, so that when the production opened at the Hippodrome in April, she was co-starred, and found herself once again the toast of London. She stayed with the show for almost two years, just as she later did in 1959 when she had another smash hit with the comedy The Amorous Prawn at the Saville, and for the first two years of the long-running No Sex Please – We're British at the Strand (1971). By this time she had become a highly accomplished comedienne. In 1973 she was appointed CBE for her services to the theatre. Astonishingly, and surely most unfairly, this was the only honour she was to receive.
In 1969, Frank Lawton died. Though never a star of her magnitude, he was a respected and much-liked actor whose love and support throughout their marriage was matched by her devoted nursing of him during the numerous illnesses he endured at the end of his life.
As Laye's career gradually slowed down, she still responded to any challenge that came her way. She continued to work on the stage, in radio, films and television. Retirement was anathema to her and as recently as 1992 she had been appearing to sold-out houses on Sunday nights at theatres all over the country. Though her singing voice was by now little more than a husky croak, the authority, the charm, the projection and the star quality were still intact, and audiences responded to it with standing ovations at the final curtain. This culminated in a memorable Sunday night performance at the London Palladium (26 July 1992) given in aid of the Theatrical Ladies Guild, of which she was President. The packed house included many hundreds of her fellow actors, and they seized the opportunity to show their affection and admiration for her superb professionalism and courage.
The genres of musical and light comedy to which she devoted her life may be thought of as essentially lightweight and frivolous. The secret of Evelyn Laye's triumphant career was the total dedication she gave to honing her talents to as near perfection as it was in her to achieve. She was adored by every company she ever led, but beneath the beauty, the charm and the glamour was an artist of deep seriousness and absolute commitment. She was indeed a very bright, particular star, and one of the great glories of the English stage has finally left the scene.
Elsie Evelyn Lay (Evelyn Laye), actress and singer: born London 10 July 1900; married 1926 Sonnie Hale (marriage dissolved 1931), 1934 Frank Lawton (died 1969), died London 17 February 1996
The "Independent" obituary above can also be accessed online here.