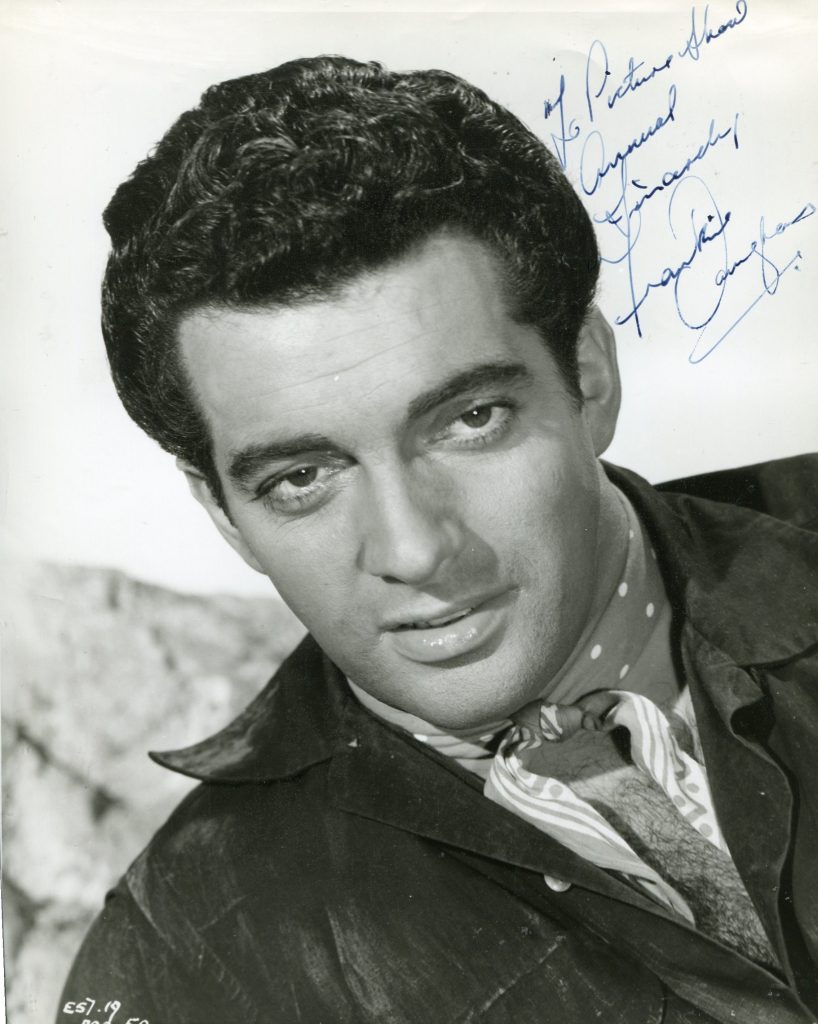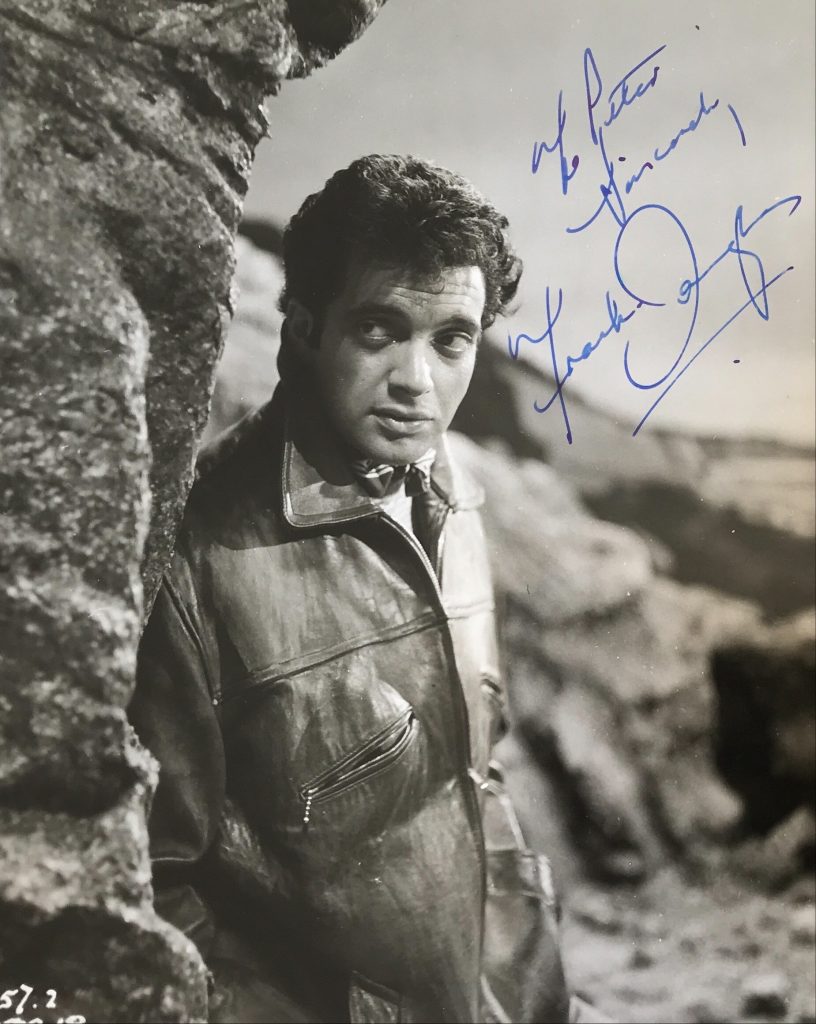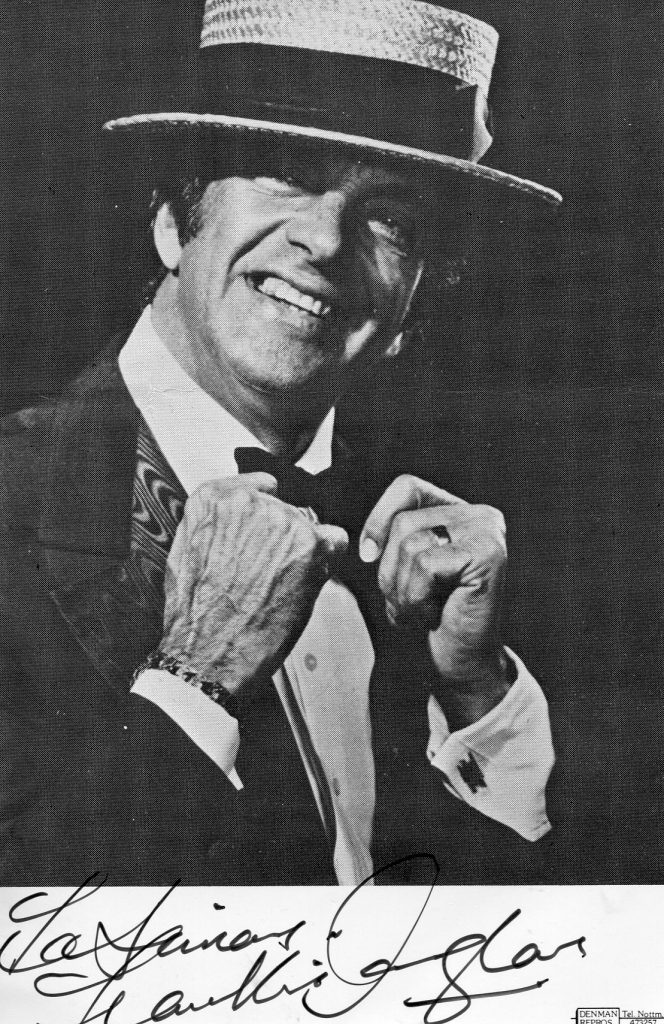 Frankie Vaughan obituary in "The Guardian" in 1999.
Frankie Vaughan hailed from Liverpool where he was born in 1928. He started his career as a pop singer and had such hits as "Green Door". In the late 1950's he was signed to a contract by director Herbert Wilcox and starred in films with Wilcox's wife Anna Neagle. In 1960 he went to Hollywood to make "Let's Make Love" with Marilyn Monroe. However he was unhappy in Hollywood and returned to the UK after making only one more film. He resumed his career in Britain and developed into an all round entertainer. He was a tireless campaigner for charitable causes. Frankie Vaughan died in 1999.
His "Guardian" obituary by Michael Freedland:
He threw out a leg, chuckled in the middle of a song, made love to Marilyn Monroe on screen and, at one time, was Britain's most successful popular entertainer. Like few others in his walk of life, Frankie Vaughan, who has died aged 71, was loved for himself as well as for his talent. The fact that boys' clubs all over Britain once had plaques and photographs of him in their huts and halls told another part of his story. He gave them his money as well as his talent.
One of the reasons for Vaughan's huge success was that he was not at all like the crooners of his generation. He had style – he wore a tuxedo on stage, had a shiny top-hat and carried a cane. Entertainers had not done that for 20 years when he hit it big in the early 1950s. But then what else could he have worn for the number that became his theme song, Give Me The Moonlight? That song – and others like Green Door, Garden Of Eden and Kisses Sweeter Than Wine – were hits at a time that young men were still being shunted off to national service while their girls danced in full frilly skirts.
Later, in the 1960s, came Tower Of Strength and Loop De Loop. He also recorded the title numbers of shows such as Cabaret, Mame and, biggest of all, Hello Dolly.
His voice was also different from other pop singers. It wasn't just the chuckle, which, along with the kick, was always the right cue for the girls to scream. You couldn't miss the Liverpool twang – he put that city on the map long before the Beatles. But there was something else. Like his idol, Al Jolson, there was much of the music of the synagogue in Vaughan's voice. In fact, his earliest appearances were singing in the choir at services in Leeds, the city where he grew up.
He was born Frank Abelson in Liverpool – "to good parents", he would always say. They struggled constantly to provide a decent home for their son and two daughters. Both seemed to spend every waking hour working – his father as an upholsterer, his mother as a seamstress. As a result, young Frank spent a great deal of time with his grandmother. It was she who, indirectly, was responsible for his change of name.
When he first went into show business, his agent, the legendary Billy Marsh, declared that Frank Abelson wasn't going to see his name in lights. Frank remembered that his grandmother always called him – in her Russian Jewish accent – "my number vawn grandson". So he took her at his word and became Frankie Vaughan.
Before that, he had thought of becoming a boxer. He had taken up the sport at Lancaster Lads Club, the beginning of his life-long connection with the boys' club movement. He also studied at Lancaster College of Art, to which had won a scholarship at the age of 14. There, he sang in the dance band and took part in student rags. His studies were interrupted by national service in the Royal Army Medical Corps, although he spent most of his days boxing and was an army champion. On demob, he became a student teacher at Leeds College of Art.
Soon afterwards, Vaughan went to London on the proceeds of a prize to design a furniture exhibition stand. He came second in the radio version of Hughie Green's Opportunity Knocks talent show – working with a girl singer named Irene Griffen. They had no intention of working up a permanent act; it was just the only way that Frankie could get on the show. Then, he had his first big break: at the Hulme Hippodrome, where he topped the bill at the then huge sum of £100 a week.
In 1954, Vaughan made his first recording for the HMV label, My Sweetie Went Away. He sang with the Ken Mackintosh Band numbers like No Help Wanted and Look At That Girl. He really made it big with a tour of the then vast Moss Empire variety theatre circuit, during which he discovered an old piece of sheet music in a Glasgow shop. It was Give Me The Moonlight. His record of the song sold more than a million copies, establishing him with the young fans who bought the new 45rpm discs.
In 1960, Vaughan went to Hollywood to make the film Let's Make Love, with Marilyn Monroe. He had earlier appeared in Arthur Askey's comedy Ramsbottom Rides Again (1956) and a musical, The Lady Is A Square, with Anna Neagle. Monroe tried to entice him into an affair, but he maintained that he loved his wife, Stella, whom he had met at the Locarno ballroom, Leeds, after the war, and that they needed to live in London. Back home, he filled the Talk of the Town theatre restaurant for weeks, and became a sort of elder statesman among British performers. He returned to the venue for years afterwards. In 1965, he was awarded an OBE, and in 1997 a CBE.
In 1985, Vaughan had one of his most notable successes – starring in what turned out to be his swansong role, the lead in the musical 42nd Street at Drury Lane. He left the cast after a year at the start of what turned out to be a terminal series of illnesses. He was always sure of his epitaph. "I am lucky to have a talent, lucky to have met such a wonderful girl as my wife Stella, lucky to have such a wonderful family, and lucky to have a job I adore."
Frankie Vaughan is survived by Stella and their three children.
• Frankie Vaughan (Abelson), entertainer, born February 3, 1928; died September 17, 1999
'Independent ' obituary
His "Guardian" obituary can also be accessed here.
Dennis Gifford's "Independent" obituary:"GIVE ME the moonlight, give me the girl, and leave the rest to me" – the song that became Frankie Vaughan's signature tune and gave him the public nickname of "Mr Moonlight", would hardly have trademarked the young pop singer as perhaps variety's last great all-round entertainer without the devoted coaching in style and the technique of top-hat twirling and patent-leather high-kicking given him by an old lady, still top of the bill in Vaughan's early years, Miss Hetty King.
Hetty, born in 1883, gracing the music halls since 1897, became a male impersonator in 1905. The switch made her a star, and, dressed as a merchant seaman for "All the Nice Girls Love a Sailor", during which she carefully ignited her pipe, or strutting the stage in top hat and tails singing the praises of Piccadilly, "the playground of the gay", she sang her immaculate act almost to her end, which came in 1972 at the age of 89.
Frankie Vaughan met her during a run of New Stars and Old Favourites – he was new, Hetty was, frankly, old – and became utterly captivated by her performance. Certainly without her interest in him and constant coaching in her top- hat-and-tails technique, he would never have become that star so well remembered.
Born Frank Abelson in Liverpool in 1928, the son of an upholsterer, he was clearly a smart lad. He won a scholarship to the Lancaster College of Art and a place at Leeds University. Called up towards the end of the Second World War, he joined the RAMC, where he spent some of his three- and-a-half-year enlistment taking his first steps into the world of entertainment, singing in a number of camp concerts backed by station dance bands.
Demobbed in 1949, he enrolled at Leeds College of Art as a student teacher. Every year the students presented their own revue at the Empire Theatre, and Frankie, remembering how he had enjoyed his odd spot of singing whilst in the Army, volunteered to take part. The theatre manager was much impressed and advised him to seek out Billy Marsh, who handled such newcomers to show business as Norman Wisdom and Joan Regan. Vaughan said thanks but no thanks, preferring the somewhat safer world of commercial art. He left the art college and took a freelance job designing a stand for the Furniture Exhibition at Earls Court. He was paid 30 guineas, a more than fair fee for those days. Unfortunately, further well-paid commissions were not forthcoming.
Remembering the enthusiasm of the Empire manager, Vaughan got him to write a letter of introduction to Billy Marsh. The reply was for him to come to London in one month when auditions would be held. Too impatient to wait, Vaughan took a train to town and marched into Marsh's office singing at the top of his voice. Marsh was less than amused: he was holding a business conference at the time.
However, sensing something in the young man's voice, he advised him to hire a pianist and a rehearsal room and he would come and listen. One hour in a room containing nothing else than a piano and a stool cost Vaughan all of half-a-crown (121/2 pence), but it was well worth it. He sang the Donald Peers hit "Powder Your Face With Sunshine" and Marsh enjoyed it, promptly booking him into the Kingston Empire for a week. Top of the bill was the cockney comedian Jimmy Wheeler ("Aye-aye! That's yer lot!"). The day after his debut, the Tuesday, Vaughan was shifted from opening turn to closing the first half of the bill. Frankie Vaughan had arrived.
By the end of his first year touring the variety halls, Vaughan was earning pounds 150 a week. He had also met Hetty King, whilst appearing as one of the new stars in New Stars and Old Favourites. The encounter would change Vaughan's style for the rest of his career, beginning with the single old-style top-hat-and-tails high-kicking number as a kind of encore and finally virtually taking over his entire act.
It was while singing in Glasgow that he found an old sheet music of "Give Me the Moonlight", a Victorian song sung by the old-time comedian Fred Barnes, who had died in 1938. Vaughan made the song his own, eventually performing it around the world from the London Palladium to New York and Las Vegas.
Vaughan entered the recording side of show business in 1950, singing "The Old Piano Roll Blues" for Decca, a cover version of the hit recording by Hoagy Carmichael, Al Jolson and the Andrews Sisters. Many other hits would follow once he had switched to HMV. First came "Look at That Girl" (1953) with Ken Mackintosh and his orchestra. This was a cover for Guy Mitchell, top man of his time. Later there were "The Cuff of My Shirt" (1954) with the Kordites, "Happy Days and Lonely Nights" (1955), the extraordinary "Green Door" (1956), "The Garden of Eden" (1957) and "Kisses Sweeter Than Wine" (1958) with which he was up against that folksy group, the Weavers.
Vaughan's film career was small but significant, starting with nothing more than his voice. He sang songs on the soundtrack of Escape in the Sun (1956), a somewhat obscure jungle thriller starring John Bentley. The picture-going world saw his face for the first time in Ramsbottom Rides Again (1956) a comical cowboy contraption starring Big-Hearted Arthur Askey and his daughter Anthea. Vaughan sang two songs, "Ride, Ride Again" and "This is the Night".
More serious stuff came his way when he was taken under the production wings of Anna Neagle and her producer husband, Herbert Wilcox. These Dangerous Years (1957) gave him second billing to George Baker in a Jack Trevor Storey's screenplay about a Liverpool teenager, conscripted into the Army, who goes on the run after wounding a bully. Apart from the title song he sang "Cold Cold Shower" and "Isn't This a Lovely Evening".
Further Wilcox-Neagle films followed, starting with Wonderful Things (1958). Another Storey original, this cast Vaughan as a singing Catalan fisherman coming to London to make his fortune. He sang the title song and "Little Fishes" and of course, made his fortune. The Lady is a Square (1959) top-billed Anna Neagle herself as the square lady, with Janette Scott as her teenage daughter. As usual Vaughan sang the title song, plus "Honey Bunny Baby" and "That's My Doll". A few months later came The Heart of a Man with Vaughan top-billed at last over Anne Heywood, Anthony Newley and Tony Britton. Four songs this time, "Walking Tall", "My Boy Flat-Top", "Sometime Somewhere" and the title song as usual. Vaughan plays an ex- seaman who becomes a dancer on a gambler's posh yacht.
Vaughan's film career seemed to end here, at least as far as Wilcox and Neagle were concerned, but four years later he suddenly reappeared as one of the many personalities who supported William Rushton in It's All Over Town (1963). Other stars playing themselves included Mr Acker Bilk, the Bachelors, the Springfields and Clodagh Rodgers. In this Eastmancolor hotchpotch Vaughan finally put on film the definitive version of his "Give Me the Moonlight".
Vaughan made his first television appearance on the BBC in 1952, and thereafter was a frequent star in variety-style shows, moving across to commercial television once this got under way. Among the many programmes he sang in are On with the Show transmitted from Blackpool (1955), The Jack Jackson Show, Sunday Night at the London Palladium, and his very own Frankie Vaughan Show (all 1956), and in the United States The Big Record Show and The Ed Sullivan Show (1959). By 1961 he was televising globally in Belgium, Denmark, Germany, Holland, Italy and Spain.
Vaughan's live appearances covered every kind of show, starting with Wildfire, an ice show at the Empress Hall in 1956. He was given just four weeks to learn to skate to music, and made it by a day-long routine starting at half past eight. All went well until he tried exiting backwards after his "Give Me the Moonlight" number, and fell flat on his back over the barrier.
He recovered quickly, for by this time he had become something of a health- and-strength fanatic, so much so that during his 1956 Blackpool season he formed a weight- lifting club amongst his fellow cast members. He also spent much of his free time training with professional footballers, and Ronnie Allen, the West Bromwich centre- forward, actually ran his fan club, doing a more than fair impression of Vaughan's act whenever the occasion arose.
Apart from the self-improvement of so much physical exercise, Vaughan also gave of his time and more to the National Association of Boys' Clubs, including all the royalties from one of his discs, the song "Seventeen".
There followed many big stage productions, from summer seasons at the Talk of the Town to Christmas pantomimes, and Puss in Boots at the London Palladium (1963), for which important venue he performed an eight-month season in 1964. In 1970 there was cabaret at the Rockefeller Center in New York, and in 1971 a lengthy tour of Australia. Several Royal Variety Shows included one special event in Scotland.
Perhaps Vaughan's personal favourite memory was that of going to Hollywood for 20th Century-Fox, where he was co-starred (well almost) with the Sixties queen of the sexy screen, Marilyn Monroe. Officially, he was fifth-billed behind Yves Montand, Tony Randall and Wilfrid Hyde-White, but that was perhaps better than the footnote to the cast-list: "As themselves, Milton Berle, Bing Crosby and Gene Kelly". The BFI critic commented, "Vaughan is sadly and obviously out of his class", but at least it left him with a unique memory for a British song-and-dance-man.
Vaughan was appointed OBE in 1965 for his work for the Boys' Clubs (he was advanced CBE two years ago) and in 1967 at the age of 39 was crowned the youngest ever King of the Grand Order of Water Rats. His recent slide into ill-health makes a tragic finale to a career that once throbbed with well-publicised fitness. Ironically he contributed an illustrated article to the 1962 book of Radio Luxembourg Record Stars. It was entitled "How To Be a Tower of Strength and Stay Fit".
Frank Abelson (Frankie Vaughan), singer: born Liverpool 3 February 1928; OBE 1965, CBE 1997; married 1951 Stella Shock (two sons, one daughter); died High Wycombe, Buckinghamshire 17 September 1999.