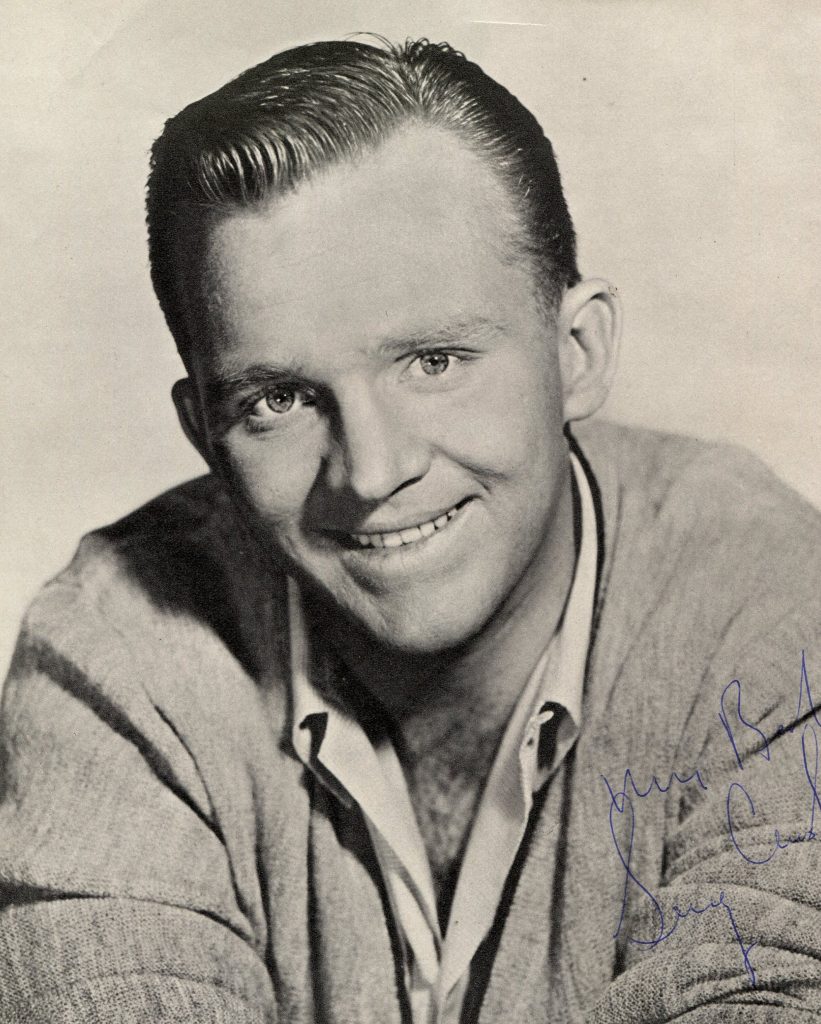 Gary Crosby was born in 1933 in Los Angeles. He was the son of Bing Crosby and Dixie Lee. He performed on radio and television with his father and three brothers. He made his movie debut in "Mardi Gras" with Pat Boone in 1958. His other films include "Holiday for Lovers" and "A Private's Affair". Gary Crosby died in 1995.
Gary Brumburgh's entry:
The stocky-framed, lookalike son of singing legend Bing Crosby who had that same bemused, forlorn look, fair hair and jug ears, Gary was the eldest of four sons born to the crooner and his first wife singer/actress Dixie Lee. The boys' childhood was an intensely troubled one with all four trying to follow in their father's incredibly large footsteps as singers and actors. As youngsters, they briefly appeared with Bing as themselves in Star Spangled Rhythm (1942) and Duffy's Tavern (1945). Gary proved to be the most successful of the four, albeit a minor one. As a teen, he sang duet on two songs with his famous dad, "Sam's Song" and "Play a Simple Melody," which became the first double-sided gold record in history. He and his brothers also formed their own harmonic singing group "The Crosby Boys" in subsequent years but their success was fleeting. Somewhere in the middle of all this Gary managed to attend Stanford University, but eventually dropped out.
Gary concentrated a solo acting career in the late 50s and appeared pleasantly, if unobtrusively, in such breezy, lightweight fare as Mardi Gras (1958), Holiday for Lovers(1959), A Private's Affair (1959), Battle at Bloody Beach (1961) (perhaps his best role),Operation Bikini (1963), and Girl Happy (1965) with Elvis Presley. Making little leeway, he turned to TV series work. The Bill Dana Show (1963) and Adam-12 (1968) as Officer Ed Wells kept him occasionally busy in the 60s and early 70s, also guesting on such shows as Twilight Zone (1959) and Matlock (1986). Getting only so far as a modestly-talented Crosby son, Gary's erratic career was hampered in large part by a long-standing alcohol problem that began in his teens. In 1983, Gary published a "Daddy Dearest" autobiography entitled "Going My Own Way," an exacting account of the severe physical and emotional abuse he and his brothers experienced at the hands of his overly stern and distant father, who had died back in 1977. Mother Dixie, an alcoholic and recluse, died long before of ovarian cancer in 1952. All four boys went on to have lifelong problems with the bottle, with Gary hitting bottom several times. The tell-all book estranged Gary from the rest of his immediate family and did nothing to rejuvenate his stalled career. Two of his brothers, Dennis Crosby and Lindsay Crosby, later committed suicide. Gary was divorced from his third wife and was about to marry a fourth when he learned he had lung cancer. He died on August 24, 1995, two months after the diagnosis.
– IMDb Mini Biography By: Gary Brumburgh / gr-home@pacbell.net