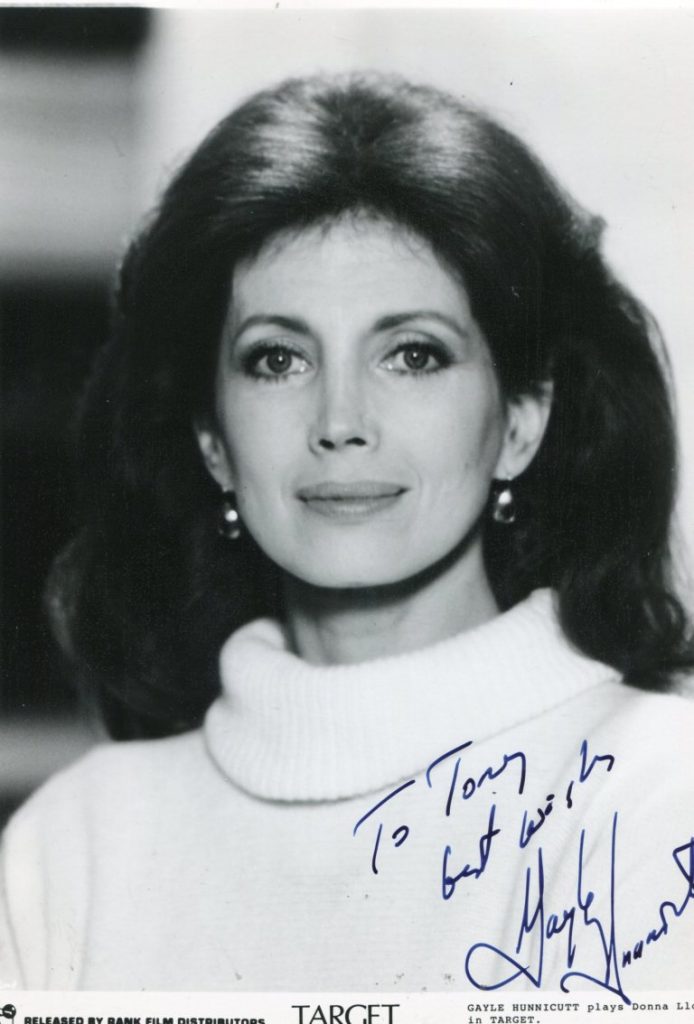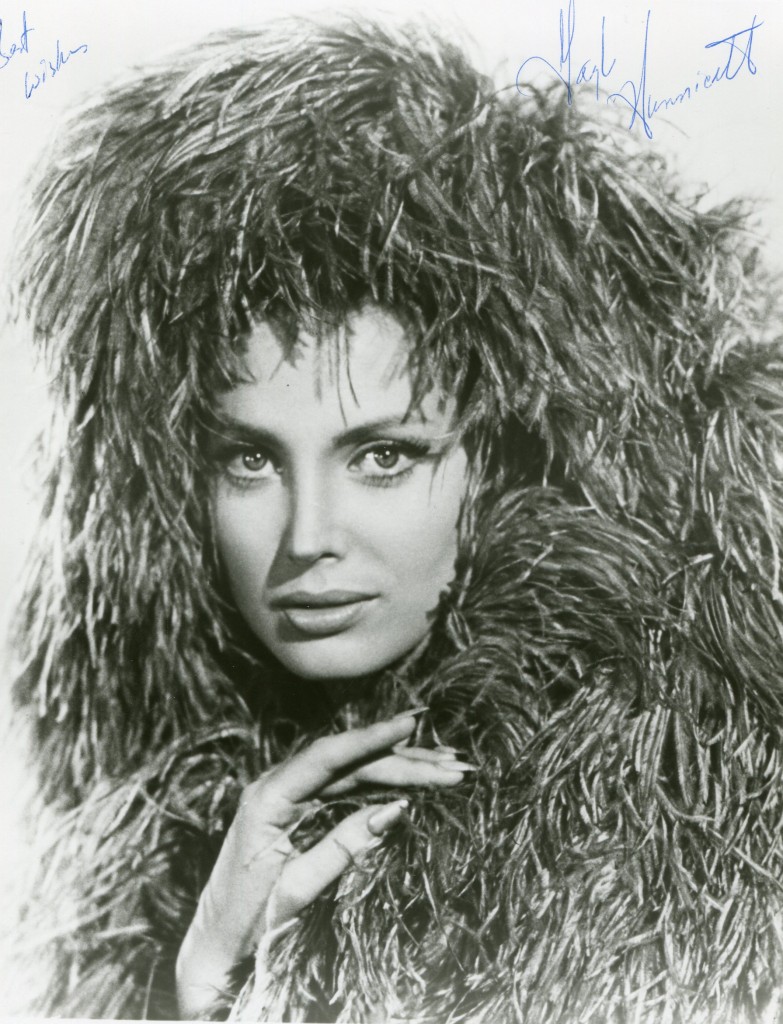 Gayle Hunnicutt was born in Forth Worth, Texas and was a fashion model before she became an actress. She had her first major role opposite George Peppard in "P.J." and then 1970 she settled in England after her marriage to actor David Hemmings. She made a number of films with him including "Running Scared". She starred opposite Burt Lancaster, Alain Delon and Paul Scofield in "Scorpio" in 1973. Between 1989 and 1991 she returned to the U.S. to play a love interest of Larry Hagman in "Dallas". Article on Gayle Hunnicut in "MailOnline" here.
Article in "Daily Telegraph":
By Richard Eden
Gayle Hunnicutt, who told Mandrake in 2008 that she had initiated divorce proceedings against Sir Simon Jenkins, the chairman of the National Trust, after a 30-year marriage, has a reason to smile again. The glamorous actress is enjoying an emotional reunion with the BBC tennis commentator Richard Evans, who was her boyfriend until the year before she married Sir Simon.
"I am spending quite a lot of time with this lovely man in Florida," she told me at the launch of the paperback edition of Miranda Seymour's bookChaplin's Girl: The Life and Loves of Virginia Cherrill, at The House of Hardy Amies in Savile Row, London. "It is lovely being with someone who knows you so well and understands you.
"We first met in 1975 and were together for two and a half years. As he is in the tennis world, he travels constantly. I had a career and a child to raise, so I couldn't always be travelling around the world and we never married."   Hunnicutt, 67, was previously married to David Hemmings, the late star of the cult Sixties film Blow-Up. She added of Evans: "The person who introduced us in 1975 reintroduced us last summer. We both became separated and neither of us knew. It is one of those extraordinary things."
Gayle Hunnicutt died in 2023
The Telegraph obituary in 2023:
Gayle Hunnicutt, who has died aged 80, was a strikingly glamorous American actress better known for her appearances in gossip columns than for most of her films, having divorced the wayward young British star David Hemmings in 1974 and married the writer and journalist Simon Jenkins.
Cast as elegant sexpots in thrillers like Marlowe (1969) with James Garner, Fragment of Fear (1970), her first British film, in which she co-starred with Hemmings, and Michael Winner's spy caper Scorpio (1973), Gayle Hunnicutt dazzled with her inordinate good looks.
The Telegraph's critic Richard Last was agog as he ascribed to her "the most luminously beautiful face on television", while an equally appreciative Clive James, gazing on her ravishing Titian hair and porcelain complexion, was smitten by her "sweet violence to the eye".
There were others for whom the mere mention of her exotic name suggested a character who had stepped from the pages of an Ian Fleming novel; indeed, in 1972 she was canvassed as a Bond girl opposite Roger Moore in Live and Let Die, but it was not to be.
In the late 1980s millions saw her make a splash on British television as JR Ewing's old flame, an English countess called Vanessa Beaumont, in the glitzy American soap Dallas.
Had she remained in Hollywood rather than marrying David Hemmings and moving to London in 1968, she would probably have had a more illustrious film career, but she considered herself lucky to escape.
In Britain she sought to establish herself as a serious actress, and in the 1970s featured on television in costume dramas including an adaptation of Henry James's novel The Golden Bowl, Colette's The Ripening Seed (both 1973) and as Tsarina Alexandra in the classic serial Fall of Eagles (1974).
Offers of film parts continued to flow and she was busy on the stage, too, appearing in productions of Shakespeare and Shaw and in lighter fare such as revivals of Philip Barry's The Philadelphia Story (Oxford Playhouse, 1981) and Clifford Odets's The Big Knife (Albery, 1987), in which she co-starred with Martin Shaw.
In 1993, with her second husband, the cerebral Simon Jenkins, once described as "the acceptable face of fogeyism", she hosted a joint 50th birthday celebration at St James's Palace, previous venues for their annual extravaganzas having included Battersea Power Station and the Science Museum.
Sir Christopher Bland, chairman of London Weekend Television and a future chairman of the BBC, used the occasion to make mischief, spreading a story that Gayle Hunnicutt and Jenkins had spent their wedding night at Henry James's old home, Lamb House at Rye, reading Middlemarch.
The disintegration of her first marriage put paid to her appearance as Thérèse Raquin in Michael Voysey's stage adaptation of Emile Zola's novel of that name at the Yvonne Arnaud Theatre in Guildford in August 1974.
She pulled out a couple of days before the play opened, explaining that she was suffering from laryngitis, but her "indisposition" coincided with her final split from the serially unfaithful Hemmings, who was reportedly being "consoled" by his secretary, Prudence de Casembroot, 26.
The only child of a US Army colonel, Virginia Gayle Hunnicutt was born on February 6 1943 in Fort Worth, Texas. When the family moved to Beverly Hills in the mid-1950s, she won a scholarship to the University of California in Los Angeles, as near to Hollywood as a student of English and drama could get, and dabbled in acting during the summer holidays.
Her break came when a Warner Brothers talent scout spotted her in a student production, and after graduating with a BA in English Literature she made her first film, The Wild Angels, with Peter Fonda in 1966, followed by New Face in Hell starring George Peppard. In the same year she was cast on American television in two episodes of The Beverly Hillbillies.
In 1967, at a beach party for Steve McQueen thrown by the Rat Pack member Peter Lawford in Santa Monica, she met David Hemmings, the British actor who had rocketed to international stardom in Michelangelo Antonioni's quintessential Swinging London film Blow-Up, and followed him to Turkey, where he was shooting The Charge of the Light Brigade. They married in Beverly Hills the following year.
When her marriage to Hemmings broke up in the mid-1970s, she decided to remain in Britain and "its wonderful, wonderful theatres". She was cast in Twelfth Night at Greenwich, The Tempest at Oxford, A Woman of No Importance at Chichester and JM Barrie's The Admirable Crichton, also at Greenwich. In 1979 she became the first American actress to play Peter Pan in the West End.
Her tight schedule continued throughout the 1980s, with stand-out projects including the role of the retired opera singer and femme fatale Irene Adler, opposite Jeremy Brett, in the first episode ("A Scandal in Bohemia") of the ITV series The Adventures of Sherlock Holmes in 1984 and the following year taking the female lead in Arthur Penn's action adventure film Target (1985) opposite Gene Hackman and Matt Dillon.
In one of her last West End roles, aged 52, she donned a stunning backless evening dress in a revival of JB Priestley's psychological thriller Dangerous Corner (Whitehall, 1995). She once said she did not wish to be remembered as "a lady Texan starlet with a good face", and as an actress she was always memorable, even if unstretched; the suspicion lingered that her potential was never thoroughly explored.
At their Victorian home in Primrose Hill, north London, she became a notable social asset to her second husband, especially following his appointment as editor of The Times in 1990. "Simon is part of the Establishment," she declared, "and as his wife, I am too."
She was the author of the books Health and Beauty in Motherhood (1984), and Dearest Virginia (2004), a collection of her father's wartime letters written between 1942 and 1944.
With David Hemmings, Gayle Hunnicutt had a son, the actor Nolan Hemmings, named after the character Hemmings played in The Charge of the Light Brigade. After her divorce she married Simon Jenkins in 1978 and had a second son, Edward, who became a journalist. That marriage ended in 2009.
Gayle