Geoffrey Toone obituary in "The Guardian" in 2010.
The actor Geoffrey Toone, who has died aged 94, came from a theatrical generation that was expected to behave a little larger than life, both on or off the stage, in the days almost before talking pictures – let alone television – caught the public imagination.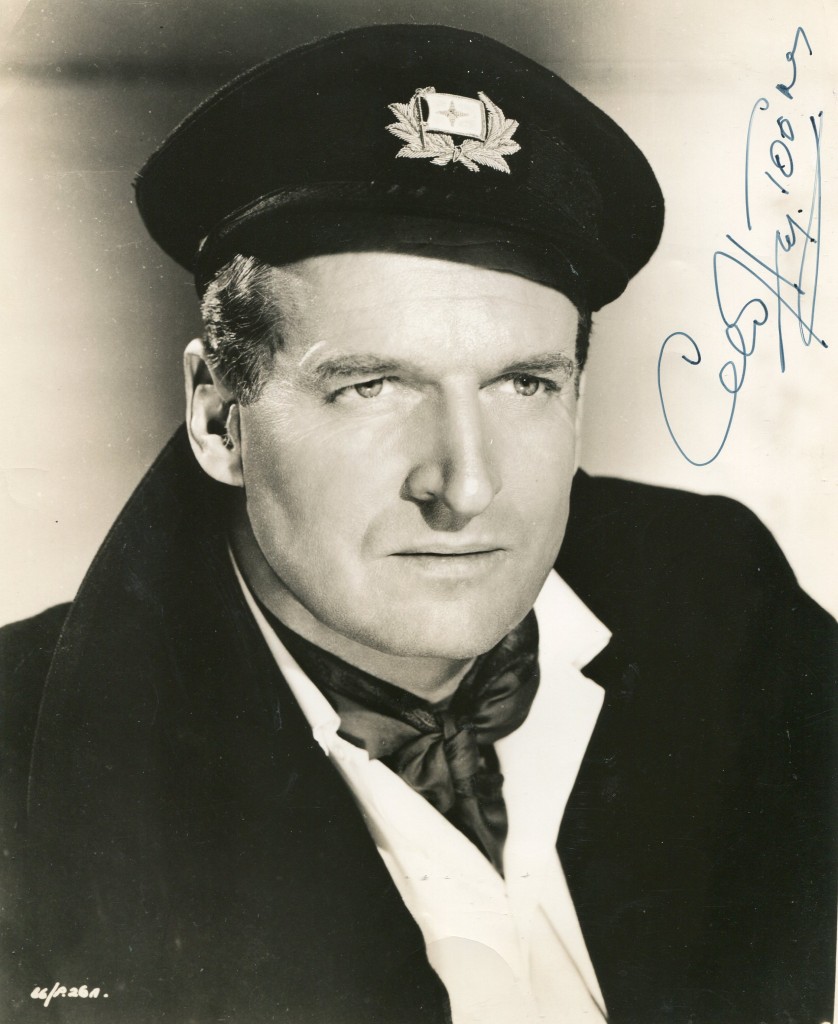 Not that he ever went about like an old actor-laddie, even though he had the physique to carry it off. Tall, lean, elegant, with a noble profile, clarity of diction and resonance of voice which never had to strive for audibility, Toone moved effortlessly from theatre to film and back again, toning his acting down to suit the screen. He had learned his craft early when he played at the Old Vic in its heyday, under Lilian Baylis.
As a character actor in demand for more than 70 years, he had few rivals in the representation of well-bred dignity, social pomposity and self-assurance;he had a way of bringing to life judges, cardinals, diplomats and aristocrats even when they appeared merely wooden on the page.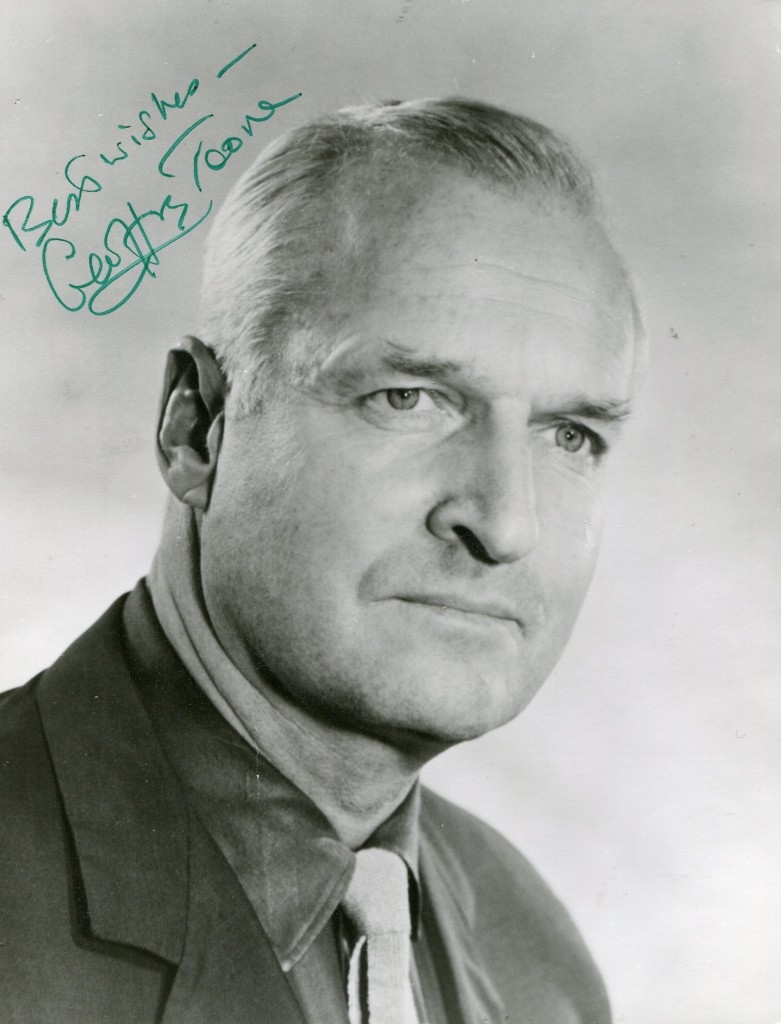 Toone was said to have brought an "almost Chekhovian sadness" to an elderly general in Agatha Christie's And Then There Were None (Duke of York's, 1987); and in 1989, when he himself was nearly 80, he acted "beautifully" as another critic put it, in Shadowlands (Queen's), playing CS Lewis's brother, Major Lewis.
Among Toone's long list of West End credits were Kurt von Obersdorf, in Sinclair Lewis's Dodsworth (Palace, 1938); Lord Windermere, in John Gielgud's revival of Lady Windermere's Fan (Haymarket, 1945); a stranger who ensnared both males, in Andre Roussin's romantic farce, The Little Hut (Lyric, 1950); a customer who got Beatrice Lillie the sack, in Auntie Mame (AdeIphi, 1958); Sir Lucius O'Trigger to Margaret Rutherford's Mrs Malaprop in The Rivals (Haymarket, 1966); Major Wimbourne, and later Colonel Strang, in Barry England's Conduct Unbecoming (Queen's, 1970).
Of his Hollywood films, the Carol Reed thriller The Man Between (1953), The King And I (1956) and Once More With Feeling (1960) were perhaps his best, although he also appeared in the Douglas Sirk drama Captain Lightfoot (1955) and with Laurence Olivier in Tony Richardson's acclaimed 1960 film, The Entertainer.
Toone was born in Dublin and educated at Charterhouse school and Christ's College, Cambridge. After walking on in several Old Vic productions in 1931, he got his first speaking part as Peter of Pomfret, in King John, at Sadler's Wells, which Baylis had just added to the Old Vic as an alternative base for the classics.
After stints at the Oxford Playhouse and the Malvern Festival Theatre, he joined Gielgud's company at the New theatre in 1934, as Fortinbras to Gielgud's Hamlet and Tybalt in Romeo And Juliet. The latter was a legendary production because Gielgud alternated Romeo with Olivier to Peggy Ashcroft's Juliet.
Returning to the West End just before the second world war, and after two seasons at Liverpool Playhouse, Toone was impressive in Dodsworth. During the war, he served in the Royal Artillery, but was invalided out in 1942. On his return to the West End, he acted with the great American couple, Alfred Lunt and Lynn Fontanne, in Lillian Hellman's Watch On The Rhine (Aldwych). In 1944, he was Laertes to Robert Helpmann's Hamlet (New) and then a stately Windermere in the sumptuous, first-ever revival of Lady Windermere's Fan.
He made his Broadway debut in 1948 as Banquo to Michael Redgrave's much-respected Macbeth, returning to the Old Vic as Orsino in Twelfth Night (1950). That was the year he made something richly exotic of the cruise ship's cook who was mistaken for a native in Peter Brook's long-running production of The Little Hut.
In 1953, Toone moved to Hollywood for five years to work in films and television; on his return, he played an American millionaire, Beauregard Jackson Pickett Burnside, in the Beatrice Lillie musical comedy, Auntie Mame (Adelphi). He then joined the Bristol Old Vic, toured Europe as the Constable of France in Henry V, and returned to the West End as an authentically Irish Sir Lucius O'Trigger in The Rivals (Haymarket, 1966).
Three years later, he played the sardonic Judge Brack in Hedda Gabler (Phoenix, Leicester, 1969) before turning to a decade-long run of army roles. First came Barry England's Conduct Unbecoming (Queen's), then the Colonel in the same accomplished author's second success, End Of Conflict, and, in 1973, with the Bristol Old Vic, the Colonel in Journey's End. In Toronto four years later, he strutted and boomed as Colonel Julyan in Daphne du Maurier's Rebecca.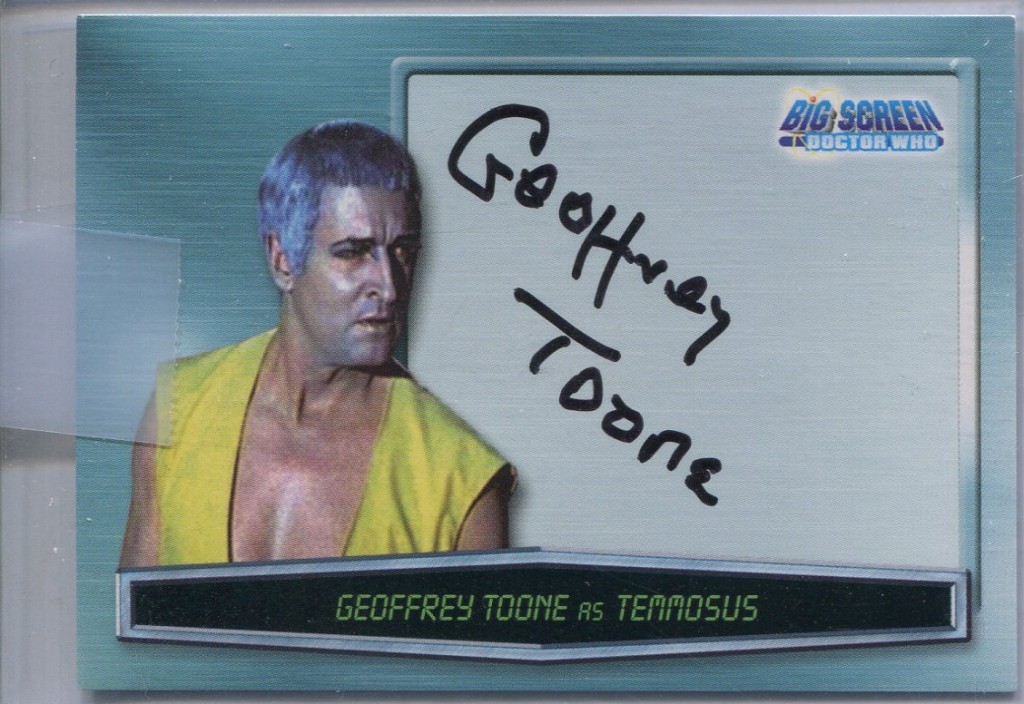 Toone's favourite part? Nothing to do with old soldiers; not even a classical role. It was that of an ageing, affectionate Soviet medical superviser in Aleksei Arbuzov's Old-World (Northcott, Exeter, 1978) who fell in love with one of his patients.
He never married.
· Geoffrey Toone, actor, born November 15 1910; died June 1 2005
. His obituary in "The Guardian" can be accessed here.
.