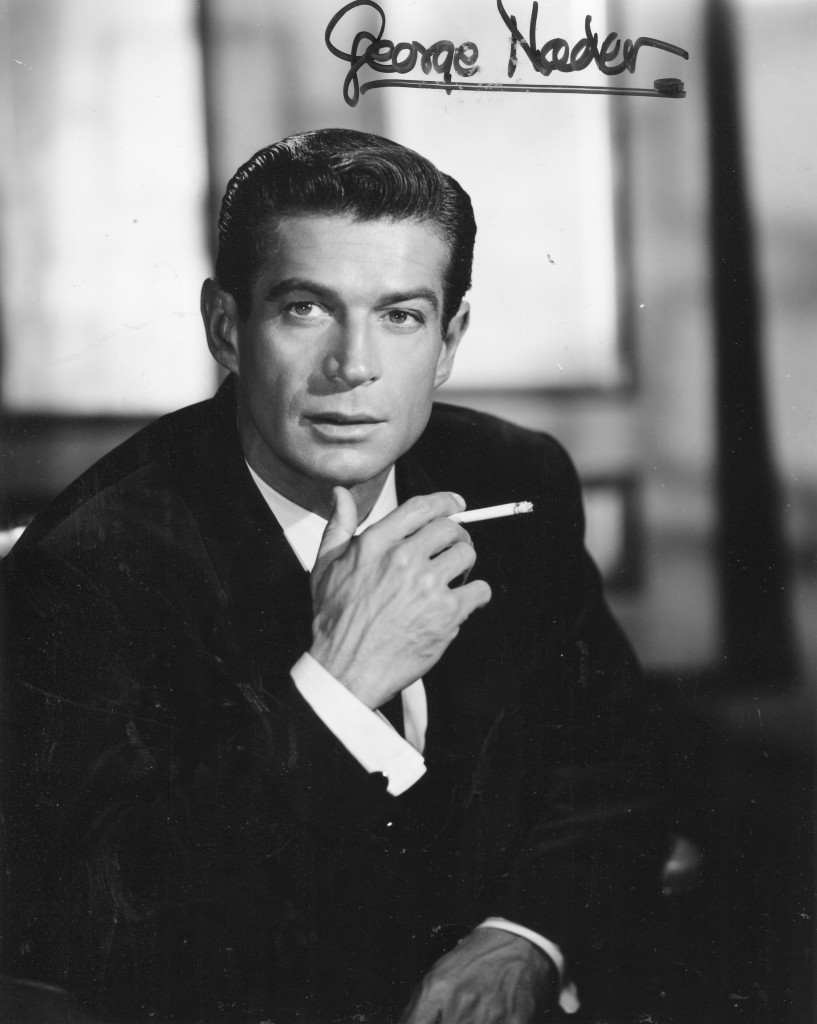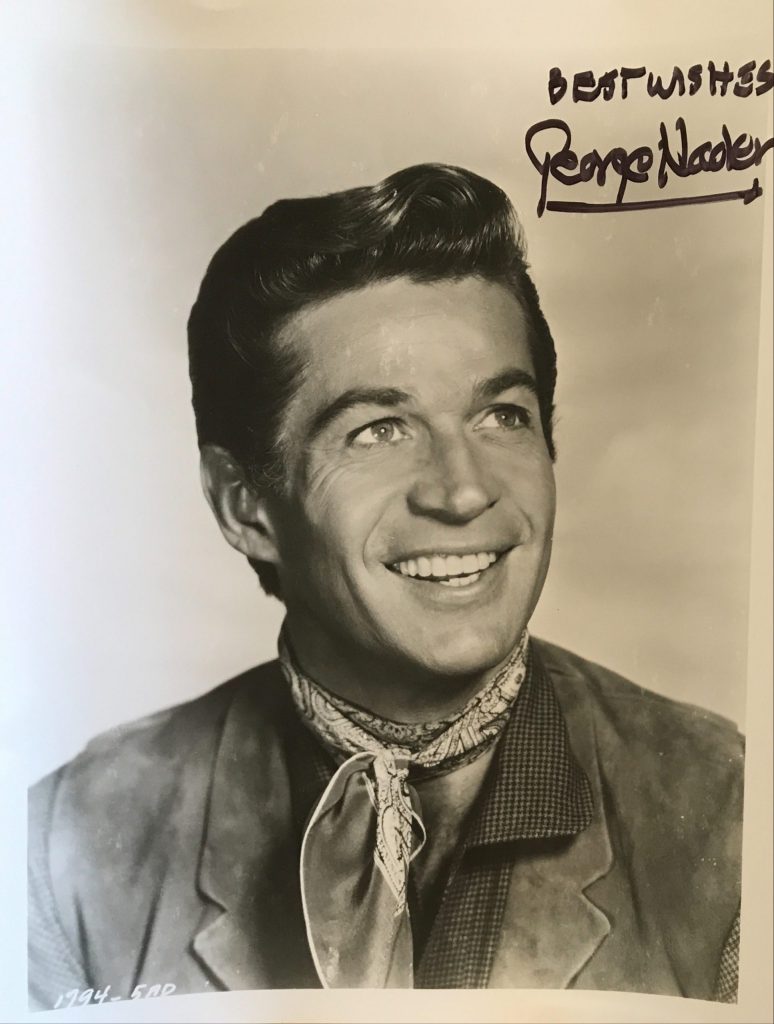 George Nader obituary in "The Guardian" in 2002
George Nader was born in 1921 in Pasadena, California. He began his film career in 1950 and was under contract to Universal Studios. Among his films are "Carnival Story", "Away All Boats" and "The Unguarded Moment". In the mid-1970's he suffered an eye injury which resulted in him withdrawing from acting and he turned to writing. His 1978 novel"Chrome" is particularly good. He died in 2001. His nephew is the actor Michael Nader.
Ronald Bergan's "Guardian" obituary:
Standing 6ft 1in and weighing 180lbs, the he-man film star George Nader, who has died aged 80, was a constant subject of beefcake photos in the 1950s, and frequently exposed his chest in the movies. He stayed in shape most of his life by lifting weights and swimming, and Universal Studios kept trying to bolster his masculine image by setting him up on dates with starlets.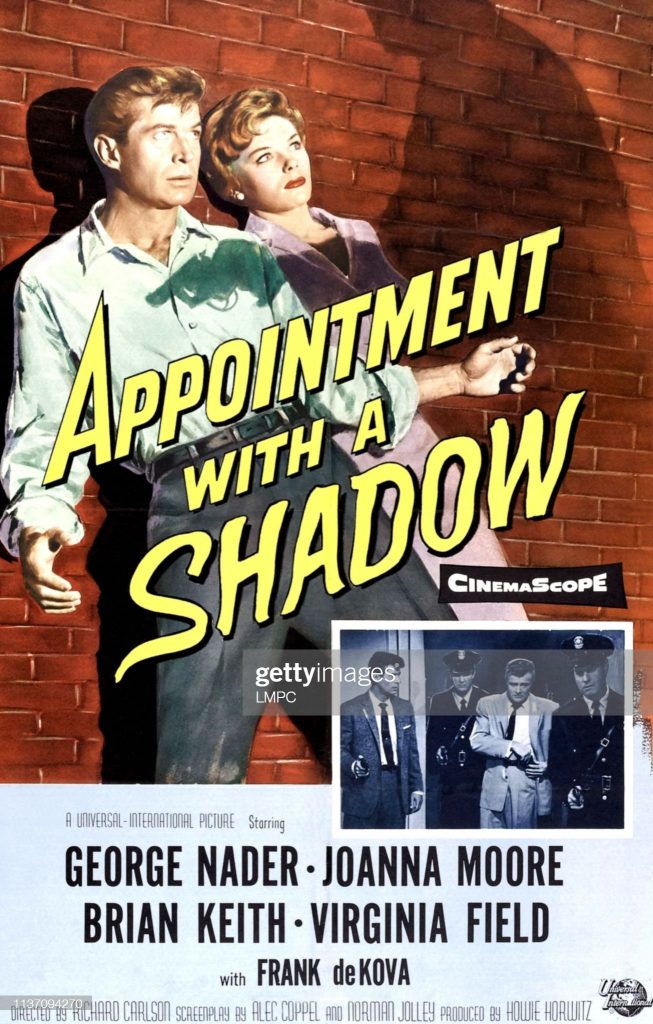 In the moral climate of the 1950s, gay stars like Rock Hudson, Tab Hunter and Anthony Perkins were terrified of being exposed, so they all had "beards", women who provided them with an emblem of spurious virility. But Nader refused to play the game and, although he was not exactly out of the closet, he never married, was seldom seen alone dating a woman, and lived with his longtime companion Mark Miller, who survives him. The couple, who were close friends of Rock Hudson – and beneficiaries of his estate – would often visit restaurants with him.
Many years later, in 1978, Nader had no fears about publishing a homoerotic sci-fi novel called Chrome. The book, now in its sixth printing, tells of a young space cadet who falls in love with a beautiful male robot. In a world where "to love a robot is death", the earth authorities tear the lovers apart, exiling one to space, the other to earth. Obviously a metaphor about the place of gay men in society, the story is well-written and holds together on its own merits.h
While writing the book, Nader must have found it difficult to forget his first starring role, in Robot Monster (1953), which has, at least, gained a camp reputation as one of the worst films ever made. In it, the poker-faced Nader is one of the last "hu-mans" in existence, battling against the dreaded Ro-man, a gorilla in a space helmet. Shot in four days in Hollywood, in 3-D and stereophonic sound for a paltry $16,000, it raked in more than $1m on its initial run, and got its leading man recognised.
Nader, who had gained a BA in theatre arts, and studied acting at the Pasadena playhouse in his home town, had already taken small roles in half a dozen films, mostly B-features. However, a Universal contract in 1954 got him leads in bigger pictures, such as Six Bridges To Cross (1955), playing a kindly cop who takes an interest in criminal Tony Curtis; Lady Godiva (1955), as a Saxon nobleman married to Maureen O'Hara; and the second-rate musical, The Second Greatest Sex (1956), in which he is at the mercy of his bride Jeanne Crain, who organises a sex strike in a small western town to cure the menfolk of their violent tendencies.
Nader, who had won a 1955 Golden Globe award for most promising newcomer, went on to co-star as a navy lieutenant of tough integrity standing up to the unyielding captain Jeff Chandler in Away All Boats (1956), and was a reassuring masculine presence in The Unguarded Moment (1956), as a policeman helping a teacher (a non-swimming Esther Williams) cope with a psychopathic student.
In general, however, Universal, who considered Nader a sub-Rock Hudson, cast him in second features. Thus, after The Female Animal (1958), in which an ageing star (Hedy Lamarr, in her last film role) and her alcoholic daughter (a non-singing Jane Powell) fight over Nader as a movie bit-player, he decided to go freelance.
The move did not exactly enhance his reputation, as the films he appeared in were international hodgepodges, such as The Secret Mark Of D'Artagnan (1962), in which dashing Musketeer Nader attempts to stop an assassination attempt on Louis XIII; or low budget nonsense like The Human Duplicators (1965) and Beyond Atlantis (1973). Nevertheless, Nader achieved widespread fame in Germany, where he played tough FBI agent Jerry Cotton in eight highly successful but rubbishy crime thrillers of the 1960s.
He took to writing sci-fi novels in the mid-1970s, after sustaining an eye injury in a serious car accident. For years, he lived quietly with his partner in Palm Springs, making rare public appearances. Last year, he entered hospital with a life-threatening fever of unknown origin, but, according to his doctor, was "able to put up such a strong fight because of his lifelong devotion to healthy living and fitness".
· George Nader, actor, born October 19 1921; died February 4 2002.
This "Guardian" obituary can also be accessed on-line here.