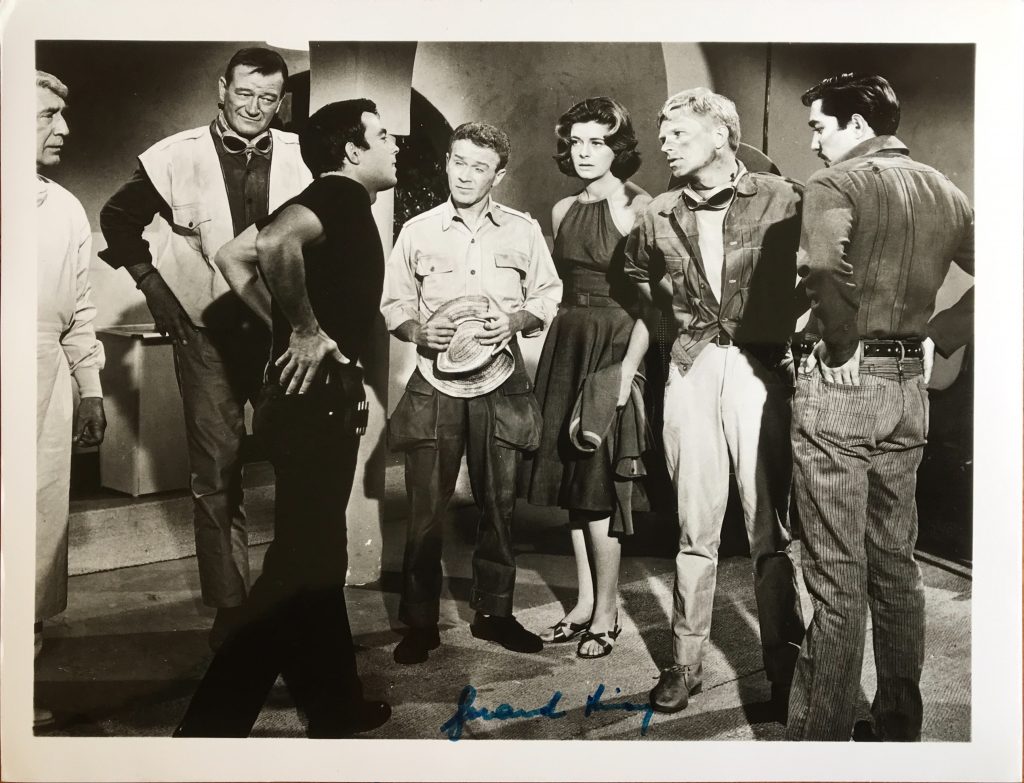 Gerard Blain was born in Paris in 1930. His first film was "Les Mstons" in 1957. He wnet on to make "Les Cousins" in 1959. Three years later he attempted an international career with "Hatari" with John Wayne and Elsa Martinelli. However he did not have an international career and he was soon back in French movies. In his last film he played a priest in "Love Bandits". Gerard Blain died in 2000.
Ronald Bergan's obituary in "The Guardian":
For those who believe that the French New Wave was as seismic an event in cinema as the coming of sound, Gérard Blain, who has died of cancer aged 70, was a key figure. In fact, one could say that he was the first face of the New Wave.
The face was young, handsome and sensitive. The short-statured Blain resembled James Dean in looks and persona, and became the favourite of young critics on the influential magazine Cahiers du Cinéma, who decided, in their battle against the "cinéma du papa", to make films themselves.
François Truffaut chose Blain and his wife, Bernadette Lafont, to play young lovers in the director's first professional film, Les Mistons (The Mischief Makers, 1957). In this charming short, shot rapidly in Nmes one summer, Blain and Lafont obsess a group of pubescent boys, who spy on their lovemaking in the fields.
Blain was also in one of Jean-Luc Godard's first shorts, Charlotte et Son Jules (1958), and was picked to play the title role in arguably the very first New Wave feature, Claude Chabrol's Le Beau Serge (1959). In it, theology student Jean-Claude Brialy (another iconic actor of the period) returns to his native village to find that his talented childhood friend, Blain, has become a hopeless drunk and is estranged from his pregnant wife (Lafont). Blain, in his first leading role, brilliantly expressed the pain of the disappointed character.
Chabrol cast the same two male leads in his second feature, Les Cousins (1959), a riveting and perverse study of decadent Parisian student life. Blain was perfect as the simple, good-hearted country cousin who comes to study at the Sorbonne, while staying at the luxury apartment of his cynical cousin (Brialy).
Blain, who was abandoned as a child by his stable-lad father, was born in Paris. He had been an extra in a few films before director Julien Duvivier discovered the 25-year-old standing at the bar of a cafe in the Champs-Elysées, and gave him a role in Voici Les Temps Des Assassins (1955), starring the great Jean Gabin.
After the two Chabrol features, Blain starred in a number of Italian films, de rigueur for many actors of the 1960s, notably Carlo Lizzani's The Hunchback Of Rome (1960). He also appeared in the gossip columns because of his stormy marriage and divorce from Bernadette Lafont.
When making Les Mistons, Truffaut noted: "Gérard is, I think, very unhappy. He bellyaches because I prefer Bernadette in high heels; he has a Toulouse-Lautrec complex. And then he's come to realise that Bernadette is completely at home in front of the camera, and he makes a scene every day."
Actually, Blain never felt completely at ease as an actor, and hankered to direct, although he had to wait some years before he could do so. In the meanwhile, he was part of the international cast of Howard Hawks's Hatari! (1962), about a group of African hunters, led by John Wayne, who catch animals for zoos. Blain was one of a number of leading French actors in the boulevard comedy La Bonne Soupe (1963), and played a resistance fighter who refuses to execute a traitor in Costa-Gavras's Shock Troops (1968).
Blain, whose idols were the ascetic Carl Dreyer and Robert Bresson, directed the first of eight films, Les Amis, in 1970. Labelled Bressonian, his pictures were uncompromising studies of domestic crises, often seen from the child's point of view, which led critics to suspect they were autobiographical. Generally, critics were favourable to him, but the films seldom made money and had distribution problems.
The fact that Blain was a difficult man to work with, and refused to compromise his principles, did not help matters. There was also his ambiguous friendship with members of the National Front, which cast a shadow over Pierre et Djemila (1987), a film which seemed anti-Arab, although the screenplay was written by Mohamed Bouchibi, formerly of the FLN.
Blain, who remarried and had two sons, found his last years particularly difficult. Faced with illness and debt, he still managed to work, and his final film, Ainsi-soit-il (So Be It, 1999), could be seen as a chronicle of his death foretold.
• Gérard Blain, actor and director, born October 23 1930; died December 17 2000
"The Guardian" obituary can also be accessed here.