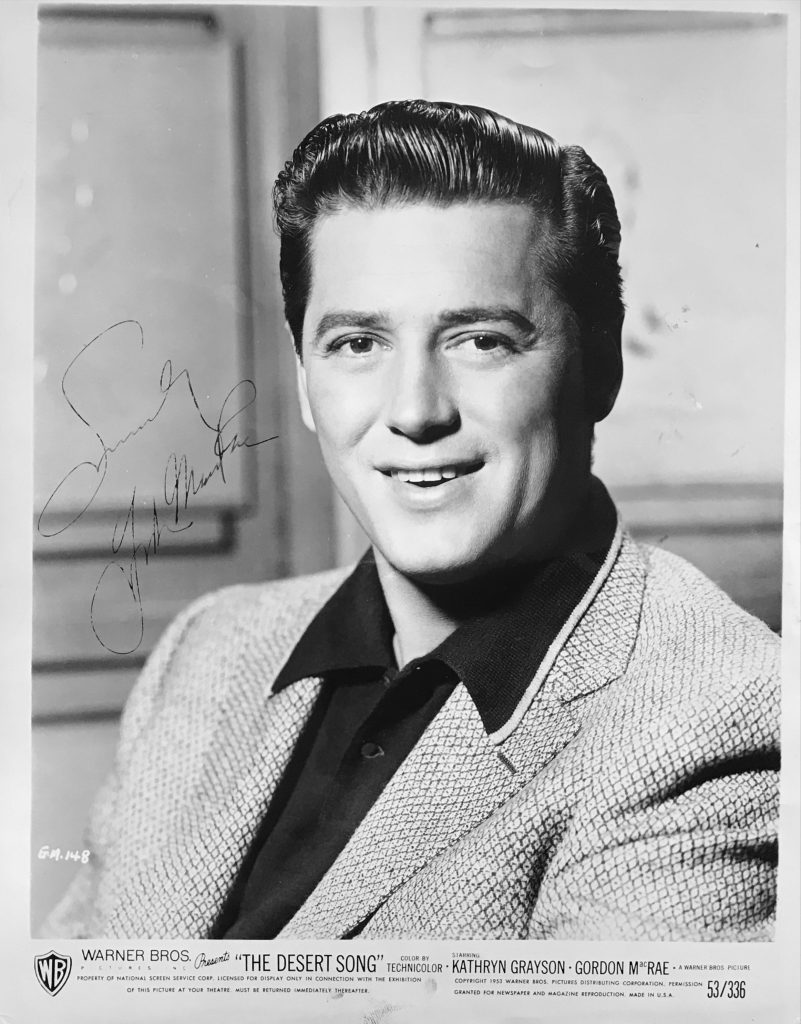 Gordon MacRae obituary in "Los Angeles Times".
"In the 30s, Bing Crosby virtually had the field to himself. Over at Warners, Dick Powell also crooned, at RKO Fred Astaire sang as he tapped and at MGM Nelson Eddy gave out in stentorian tones. None of the other male singers made much impression or stayed long. In the 40s, after the success of Frank Sinatra, there was a new influx – Perry Como, Dick Haymes, Andy Russell. Crosby stayed way out in front. Gordon MacRae, also came to movies via radio and records, and he developed into one of the best singing stars – almost as easy as Bing, more animated than Como or Haymes, more virile then was Sinatra of the 40s" – David Shipman – "The Great Movie Stars – The International Years".
Gordon MacRae was a fine singer who has made an impression in several fine musicals e.g. "Oklaholma", "Carousel", "By the Light of the Silvery Moon" and "The Desert Song". He was born in 1921. In 1948 he made his film debut in "The Big Punch" and his cinema peak was in the 1950's. He made many fine recordings including several albums with Jo Stafford. Gordon MacRae died in 1986 at the age of 64.
Obituary in "Los Angeles Times":
Gordon MacRae, the clean-cut, full-throated baritone who triumphed over the alcoholism that threatened a career which peaked with his portrayal of Curly in the film version of "Oklahoma," died today at Bryan Memorial Hospital in Lincoln, Neb.
He was 64, said hospital spokesman Edwin Shafer, who added that MacRae had been hospitalized since November suffering from cancer of the mouth and jaw and pneumonia.
Although he appeared in several successful stage, radio and television programs, MacRae will best be remembered for two film musicals–"Carousel" and "Oklahoma." In each he appeared opposite Shirley Jones, and her lilting soprano proved an appealing complement to MacRae's sonorous baritone.
Father Saw Talent
MacRae was the son of "Wee Willie MacRae," a singer turned businessman who encouraged his son's innate talent.
The young MacRae was a page boy with NBC who joined "Horace Heidt and His Musical Knights" as a vocalist in 1941. He had minor roles on Broadway and radio but was drafted into the Army in 1943. After the war he starred on NBC radio on the old "Teentimers" show, but his career didn't really take off until Warner Brothers signed him to a contract in the late 1940s.
In all he made 25 films including "West Point Story," "The Best Things in Life Are Free" and "Look for the Silver Lining."
But by the 1970s his life and his career were in decline because of his drinking.
"I was one hell of a drunk," he said in 1982, referring to the Lakeside Club in North Hollywood as his prep school for alcoholics. "I used to stand at the bar and try to out-drink Bogey (Humphrey Bogart) and Errol Flynn."
Couldn't Remember Lyrics
In 1978, a year after he was unable to sing in concert in South Carolina because he couldn't remember his lyrics, he entered an alcoholism treatment center in Lincoln.
He lived in Lincoln with his second wife, Elizabeth, until his death because "it reminded me of my hometown" (East Orange, N.J.).
One of his last appearances was in Las Vegas in October, 1982, shortly before he suffered a stroke.
It was a benefit for the National Council on Alcoholism, which MacRae adopted as a favored charity after his own recovery.
He referred to the occasion as "our third annual Follies Berserk" but on a more serious note reflected how "you hit bottom, then you make up your mind. I'm sober 23 months now."
His obituary in "The Los Angeles Times" can also be accessed here.