Guy Madison obituary in "The Independent" in 1996.
Guy Madison made his film debut in "Since You Went Away" a 1944 U.S. film about life on the home front during World War Two. Madison had only a few minutes screen times with the stars Jennifer Jones and Robert Walker, but he made sufficent impact with the general audience that he was awarded a studio contract. He is perhaps best known for his 1950's television series "Wild Bill Hickcock", Guy Madison died in 1996.
David Shipman's obituary on Guy Madison in "The Independent":Guy Madison was described by his studio's publicists as "a dreamboat" – one of the several non-threatening leading men of the post-war period, fresh-faced and just on the right side of rugged. He didn't make it in that capacity, but was to have a prolific 40-year career in westerns. Tallulah Bankhead said, "He made all the other cowboys look like fugitives from Abercrombie and Fitch" (the New York gentlemen's outfitters).He was a linesman before the Second World War, in which he served as a marine. A picture in a naval magazine (so the story went) caught the attention of a Hollywood talent scout, Helen Ainsworth, who recommended him to David O. Selznick. Selznick gave him a small role in his Home Front morale-booster Since You Went Away (1944), as a marine who heckles Jennifer Jones and Robert Walker in a bowling-alley.
He was only on the screen for three minutes, but the studio received 43,000 fan letters. Selznick's talent agent, Henry B. Willson, had already seen his potential and had changed the actor's name, from Robert Moseley to Guy Madison, for his new career – as he would do later for such other handsome movie hulks as Rock Hudson and Tab Hunter. Selznick himself was making few movies, so he loaned Madison and Dorothy McGuire to RKC for Till the End of Time (1946), in which she was a war widow, uncertain whether she should or could make a second start with Madison. The New York Times found itself "quite exasperated by their juvenile behaviour" and added that Madison "is a personable youngster, but he has much to learn about the art of acting".
Most reviewers felt similarly about Honeymoon (1947), which was situated in Mexico City. Selznick loaned Madison and Shirley Temple to RKO for this, to little benefit for all concerned. After Texas, Brooklyn and Heaven (1948), again on loan-out, Selznick dropped Madison – as he did most of his contract-players, all of whom were straining at the bit because he charged far more for their services than he paid them. Madison went on to play Wild Bill Hickok on radio from 1951 to 1956 and also, from 1952, on television. He was one of the first names from the big screen to enter the new medium.
It revived his career at a time when ironically Hollywood was trying to combat it with new techniques, 3-D and CinemaScope. Warner Bros put Madison in the 3-D western The Charge at Feather River (1953), and 20th Century-Fox into its wide-screen The Command (1954). He never stopped working thereafter, though there were no other major credits. In the 1960s he was one of the several names to go to Italy to make costume spectaculars and spaghetti westerns. In the 1970s and 1980s he worked mainly in television, following a series, Bullwhip, in the 1950s, which was not one of the more memorable of all the television westerns of that time. He joined some other grizzled veterans of the era – James Arness, Ty Hardin, Robert Horton – for an ill-advised telemovie, Red River (1988), which didn't compare with the Howard Hawks classic on which it was based.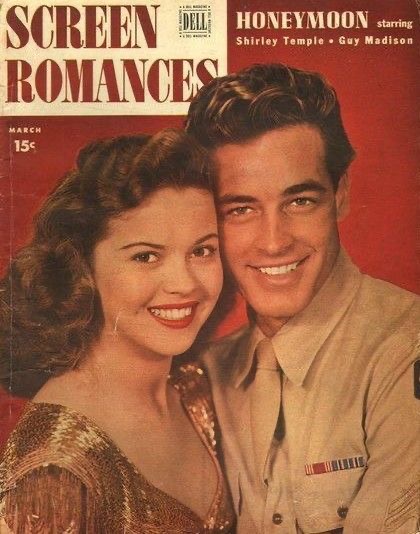 His first wife was the beautiful and haunted Gail Russell, who was already an alcoholic when they married; but for that, her career might have been much more successful than his.
David Shipman
Robert Ozell Moseley (Guy Madison), actor: born Bakersfield, California 19 January 1922; married 1949 Gail Russell (marriage dissolved), 1954 Sheilah Connolly (one son, three daughters; marriage dissolved); died Palm Springs 6 February 1996.
"The Independent" obituary can also be accessed on-line