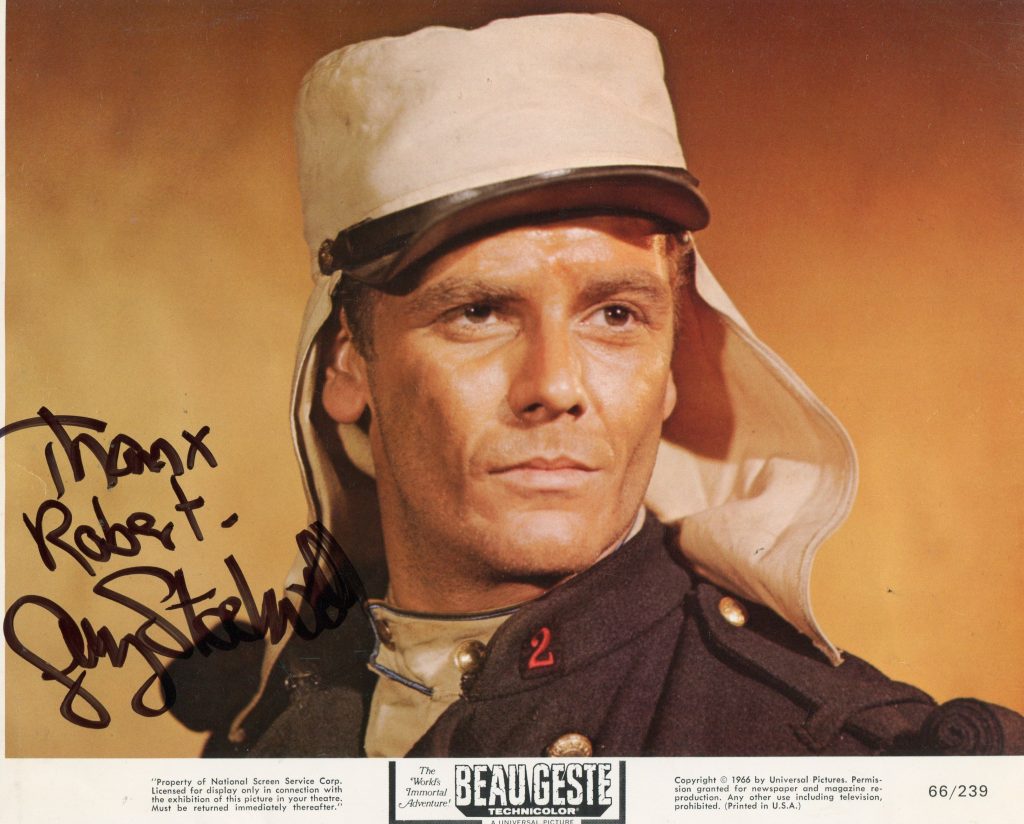 Guy Stockwell was born in 1934 in Hollywood.   He was the older brother of actor Dean Stockwell.   He appeared on many television shows in the 70's and 80's including "Murder She Wrote", "Simon & Simon" and "Knight Rider".   On film,  he was most profilic in the 1960's and was featured in 1965 in "The War Lord", "Tobruk", "Blindfold" and "Beau Geste".   Guy Stockwell died in 2002 at the age of 67 in Prescott, Arizona.
Gary Brumburgh's entry:
Although younger brother Dean Stockwell is perhaps the better known actor of the two, Guy Stockwell was a seriously handsome, reliable performer over the years, appearing in over 30 films and 200 television shows. The son of singing performer Harry Stockwell andNina Olivette (she also went by the name Betty Veronica), their mother sent both Dean and Guy to an open call for a 1943 Broadway show entitled "The Innocent Voyage," which was to star famed acting teacher Herbert Berghof. The play needed about a dozen children and, by chance, both boys were cast. Dean went immediately into films for MGM and became a popular post-war child star while Guy had to wait until adulthood before coming into his own. Following high school he attended the University of California where he majored in psychology and philosophy.
Guy started his career off in minor film and TV bits, then was given his big break in 1961 as a regular cast member of the outdoor sea adventure Adventures in Paradise (1959) as first mate to star Gardner McKay. He played the role for one season. Following that in 1963 he became one of 11 performers who made up the company for Richard Boone's television anthology series. Guy became a Universal contract player in 1965 and went straight into several standard tales of adventure and intrigue, including The War Lord(1965), Tobruk (1967) and Blindfold (1965). Initially promoted as a dashing Errol Flynntype in swordplay adventures and outdoor epics, the studio had him star in the remake ofGary Cooper's French Foreign Legion classic Beau Geste (1966) opposite another film up-and-comer Doug McClure. He co-starred with McClure again, this time as the villain, inThe King's Pirate (1967) while vying for beauties Jill St. John and Mary Ann Mobley. He also earned the role of Buffalo Bill Cody in a remake of Cooper's The Plainsman (1966). Playing a villain again in the glossy soaper Banning (1967) with Robert Wagner and Ms. St. John, most of Guy's high-profile roles came off routine at best and the films failed at the box office. He made his last picture for Universal co-starring with Anthony Franciosain In Enemy Country (1968) before his contract ended.
Guy subsequently gravitated towards the small screen and local stage. He created the Los Angeles Art Theater along the way where he played leading roles in well-received productions of "Hamlet" and his own adaptation of "Crime and Punishment.". Gaining respect in later years as an acting teacher, he wrote a textbook for actors called Cold Reading Advantage (1991) and taught acting (as an alumnus at the University of California) for two years in their masters program. Subsequent character parts in films were a bit offbeat to say the least, having gained some weight over time. He was also involved in extensive voice-over work.
Married and divorced three times, he had two children, Doug and Victoria, by first wife Susan; an adopted son, Kerry, by second wife Sandy; and had several stepchildren by his marriage to third wife Olga. Guy suffered from diabetes in later years and died of complications in 2002. He was 68.
– IMDb Mini Biography By: Gary Brumburgh / gr-home@pacbell.net