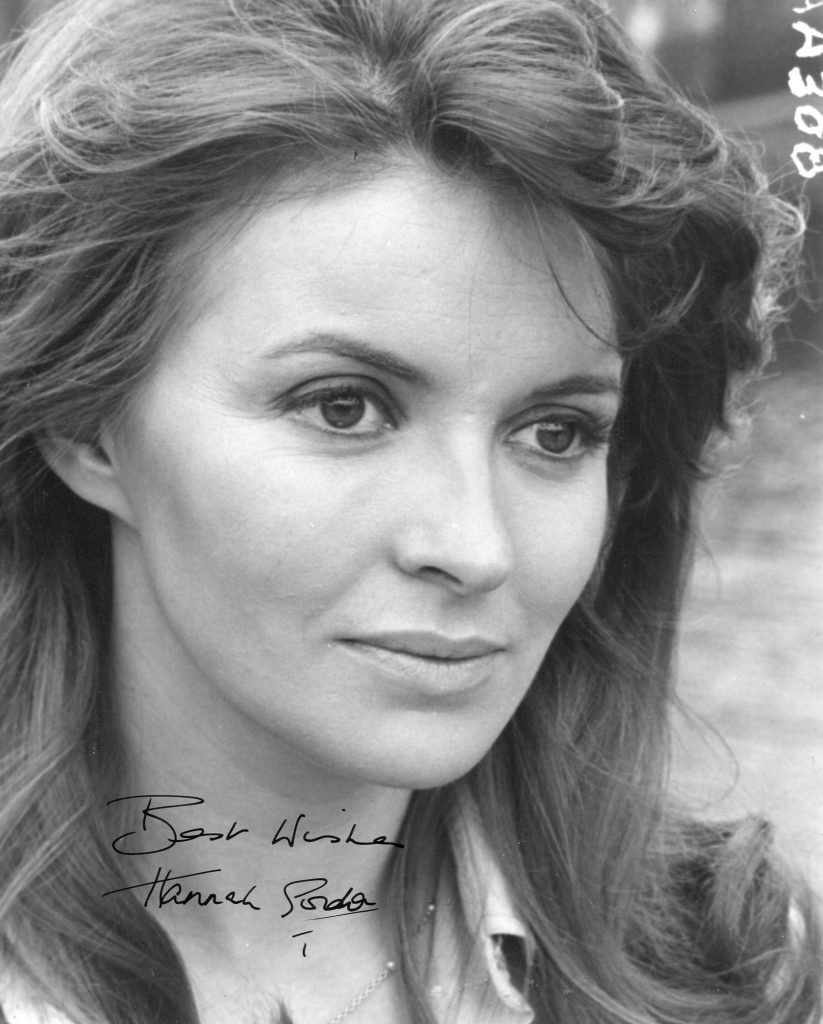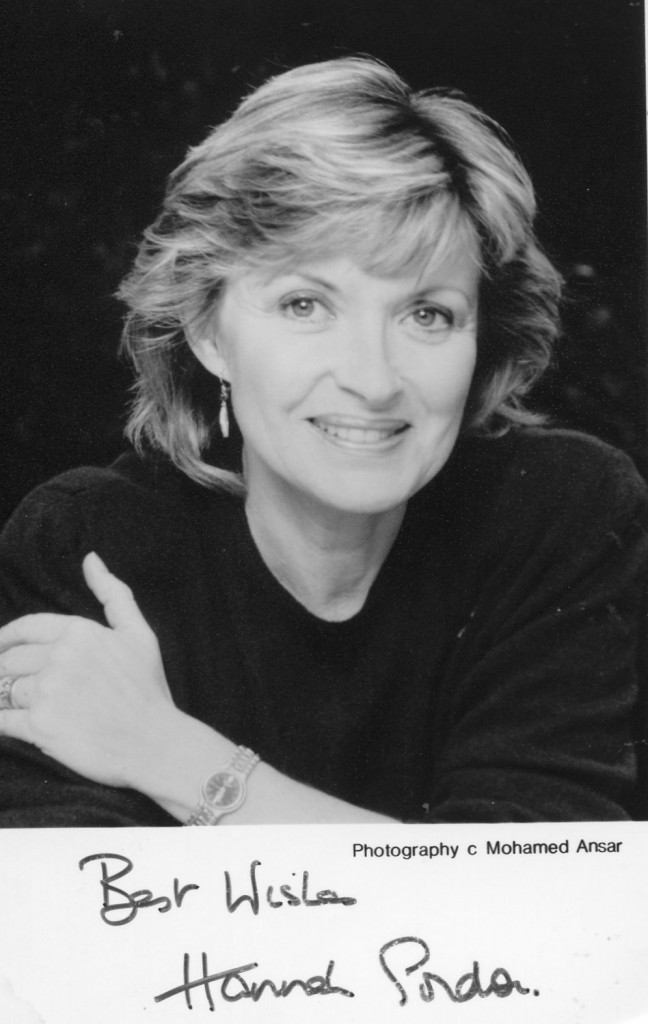 Hannah Gordon is a wonderful Scottish actress with a warm rich distinctive voice. She was born in 1941 in Edinburgh. She began making television appearances from the mid 1960's. In 1967 she starred in the play "Spring and Port Wine" and played the same part on film in 1970 with James Mason replacing Alfred Marks. Her television series include "My Wife Next Door" and "Upstairs, Downstairs".
Interview in "Mail Online":
Lynda Lee-Potter
Last updated at 00:00 12 April 2003
HANNAH GORDON has just taken over the role of Mrs Higgins in My Fair Lady at the Theatre Royal Drury Lane. She's tiny, but in flowing costumes and sensational hats brings panache and wit to the role of the formidable mama of the irascible Professor Higgins. We meet at the historic theatre and walk across the vast stage where so many stars have performed. It's a magical show full of glorious songs and Hannah is loving every minute of it.
She began her career at Dundee Repertory Theatre and has starred in many television series, including the legendary Upstairs Downstairs.
Unbelievably she's been an actress for nearly 40 years, though she looks incredibly young, with the unlined skin of a teetotaller.
She's known much tragedy in her life but she has a superficial calm which I suspect comes more from an iron self-control than a fundamental tranquillity. She learned from a very early age to keep any hurt to herself.
She retains her Scottish burr, and if she weren't so immediately recognisable one would never suspect she was an actress.
She was born in the district of Newhaven on the outskirts of Edinburgh, and says she was a terribly plain child.
'I had glasses at the age of five and then developed asthma, so had these thin high shoulders. I once showed an old photograph of me to a very camp friend. He looked at it for a long time and then said: "That is the picture of a child for whom there was no hope whatsoever."
In fact, Hannah's early life was chillingly bleak.
'I didn't know my father at all, because he had Parkinson's disease and doctors didn't understand much about the illness in those days. He was put in an asylum where soldiers suffering from shell shock after World War I were sent.
'I only remember going there once and it was grim and depressing with grey walls. In those days people didn't take children to hospitals very often.
'I saw my father just three times as a child, and I think he came to the house only once. He was a complete stranger really, so my mother had a tough time.' Her world seemed harsh enough but then, when Hannah was nine, her mother died. 'Today's nine-year-olds are nine going on 15,' she says, 'but children in those days stayed younger for much longer.
WE LIVED in my grandparents' big Victorian house in Edinburgh. My grandfather was a great collector and I remember lovely old furniture. My uncle and his wife also lived there for a while and my mother had to look after my grandmother.7
'Then, when she was 45, she was alone in the house one day and she had a heart attack and died.
'I walked home from school, as one did in those days, and I couldn't get in. I kept ringing the doorbell but my mother didn't come, so I just thought: "Oh, she must have gone out."
'I went to play with a schoolfriend called Betty Darling, who lived next door. Then later, the rest of my family arrived home, discovered my mother and came and got me.
'Nine is a rotten age to lose your mother when you haven't got a dad.' The grownups were so busy dealing with the tragedy that nobody seems to have spared much thought or compassion for Hannah. She felt frightened, devastated and isolated, but she was left to cope alone.
'My mother was laid out in a coffin in the drawing room on the first floor and I was taken to look at her. The undertakers had put lace edging all round the edge of the coffin and I thought: "That's not my mother." ' Nobody cuddled Hannah or reassured her. She wasn't allowed to go to the funeral, or helped to grieve, and a year later, when she was ten, she was sent away to boarding school.
'It was baptism by fire really,' she says. 'It was pretty rough.' It's a tragic story and two years later her father died. Then, when she was just 14, Hannah was told she was going to live on her own.
'My second uncle was my guardian. He was a widower with a child of his own, so it was hard enough for him.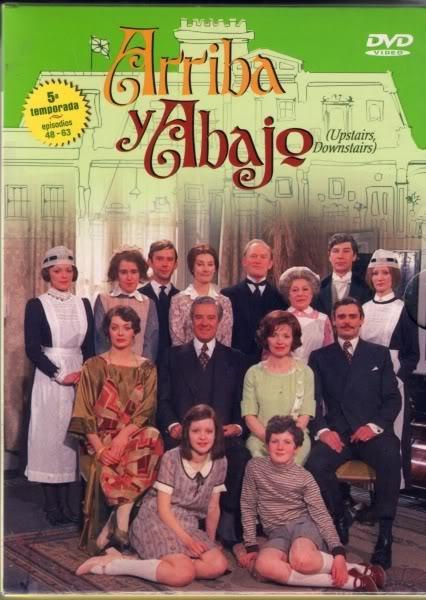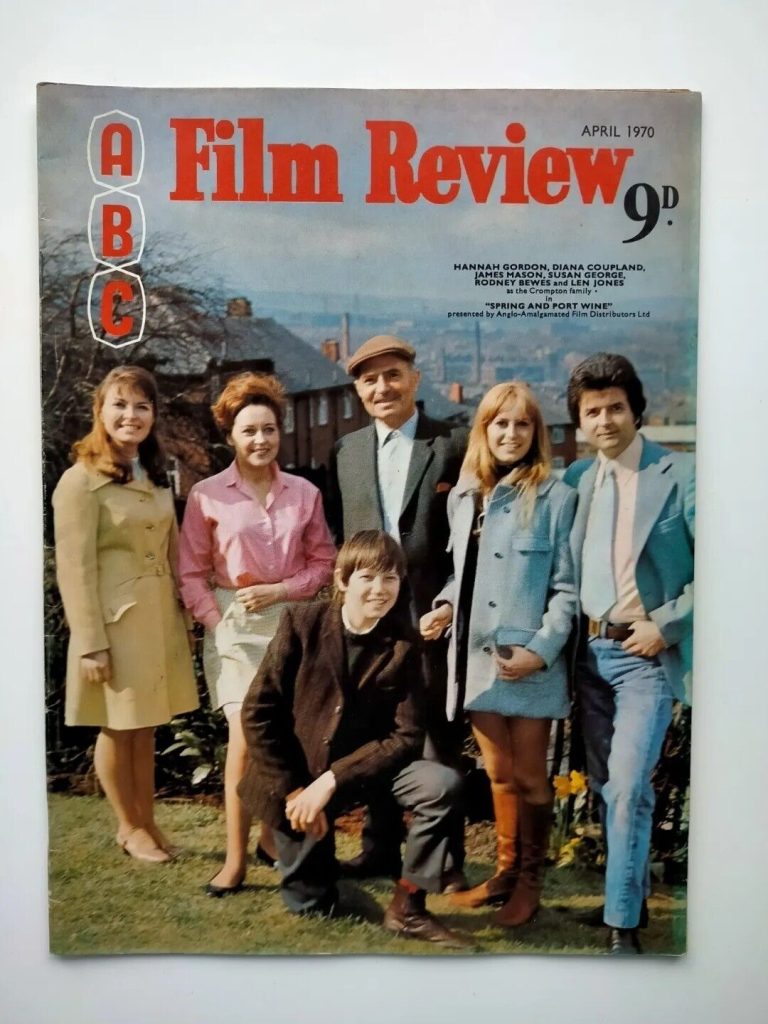 'I boarded at school, but in the holidays I looked after myself. A flat had been left in trust for me, so I went to live in that and was self-sufficient from the age of 14. I bought my own clothes, my own food and cooked for myself.
'The girls at school thought it was a marvellous way to live. They said: "Oh, aren't you lucky. You can watch television till midnight if you want to."
'I used to think: "I'd rather have a mummy and a daddy." ' She has a brother who is ten years older but he was away working at the time, though they have always remained close.
At school, Hannah poured all her emotions into acting, and when she left she went straight to the Glasgow College of Dramatic Art. There, she fell in love for the first time and told her boyfriend of her lonely upbringing.
'I must have been whining a bit, because one day he suddenly said: "Oh, for goodness sake, stop complaining. What makes you think the world owes you a living?"
'I began to realise that it's not what happens to you but what you make of it that's important.' In her 20s she began to make her name in London as a powerful and beautiful actress. She then got a part in the film Spring And Port Wine with James Mason.
It was to be a life-changing role because on set she met lighting cameraman Norman Warwick. He'd been married before and was 20 years older but was understandably captivated and kept asking her out.
'I always said no but we'd have little chats and smile at each other.
Then, on the last evening of filming, I agreed to have dinner and that was it.
'He was strong but gentle and protective. When you haven't had a family of your own, it's wonderful to meet somebody who wants to look after you, which he always did.' Six months later they married and had a son, Ben, who is now an actor. They were a close-knit threesome but nine years ago, just before their silver wedding anniversary, Norman was told that he had cancer. It was then discovered after a bone marrow test that he also had a form of leukaemia.
'He was much more ill than we'd thought,' says Hannah bleakly 'and six weeks later he died. It was mercifully quick. He wasn't going to recover, so it was best that it didn't last long. That's how I look at it and how I would feel if it were me.
'Some people have rotten marriages with little happiness but we'd had so much. When he died I said to Ben: "We can't give in. We've got to keep our lives together. Your father invested too much in both of us for us to let him down now."
'I took a year off work when Ben was born and I took a year off when Norman died. A lot of actresses find that throwing themselves into a play or film is the best cure for loss, but I couldn't. I found it impossible to cope with anything stressful, however small.' Despite her vow to her son that neither of them must be defeated, it was a terrible year and she thought she would never feel whole again.
'It was utterly devastating but you can't let yourself go completely to pieces. I believe that the spirits of those you love are still around.
'I did have a strong sense of Norman being with me. He was such a gentle person and I felt if we grieved too much it would be upsetting and awful for him.
'I didn't want to work in the theatre but you need to do things and look after somebody else. When young women lose their husbands, having children to look after must be a lifesaver.
'I'm not good at being on my own. I wish I were more self-sufficient but a lonely childhood makes you need people.
'My brother and my friends were wonderful. Three of them in particular were extraordinary. I think they must have got together and said: "Right, I can do the mornings if you can do the afternoons." They became my human water wings.' Hannah determined not to lean on her son, though she now thinks that it might have comforted him if she had. 'I just didn't want to be a burden.
He was at Glasgow University doing a four-year English honours degree. He was due to go to the States for a year but he didn't. He stayed in Glasgow, and I'm glad. 'He's so like Norman. People used to laugh because they were like peas in a pod, two halves of the same person.' Having had one fulfilling marriage, it never occurred to Hannah that in her late 50s she would meet another soulmate. However, fate had another plan in mind.
She has the glow of a woman in love who knows she's deeply loved in return. The lucky chap is Rob Leighton, who is a viola player with the Philharmonic Orchestra and is a few years younger than Hannah.
They were introduced by a mutual friend after a concert at the Festival Hall, and she can't help smiling when she talks about him.
'He has a lovely speaking voice and he was very interested in recording books for the blind. We were talking about this one evening and I said: "I'm a trained speech and drama teacher so if you ever want me to listen to your tapes I might be able to make a few suggestions."
'So he came to the house for lunch one day when I was making my Delia Smith Christmas cake. He knew that Norman had died and the last thing he was looking for was any involvement. In the beginning, we just had a wonderful friendship. I think people outside the theatre don't understand that you can have blokes who are just friends.
'Rob plays the piano like a dream and I used to go and have lunch or supper with him. Often he'd sit down and play and it was wonderfully therapeutic.
'All my friends knew Norman and me as a couple. So meeting somebody new on different territory which wasn't crowded with memories was very calming.' The friendship grew and they were both falling in love but not admitting it – even to themselves. 'Then Ben came with me to a concert at the Albert Hall and we all had a picnic with the friends who'd introduced Rob and me.
'Afterwards Ben said: "Rob is very good for my mum." If Ben hadn't been happy that would have been it.
'Rob is very interested in history and one day he took me to see some prehistoric stones.' Away from London in the countryside, they both admitted how they felt.
'Rob wasn't married or involved, so nobody had to be got rid of, let down or upset, which was uncannily lucky. But my feelings were extraordinarily powerful to deal with.
'It wasn't like a love affair when you're young. In some ways it was tinged with sadness because of the past. I found that you can experience piercing joy and grief at the same time.
BUT when you have been happy in one marriage I think you are more prepared to take a chance. If you've been hurt and wounded and had an awful time you're probably much more wary and self-protective.' Hannah also had to tell her adored mother-in-law that she had fallen in love again.
'She died in her 90s but she was formidable, part Italian and part German, and very wise. She'd known me as the wife of her son for all those years, but she met Robert and it was fine.
'She'd lost her son and to have your child die before you is a terrible thing, but she was intelligent and remarkably unsentimental. She actually said to me: "Things turn out for the best."' Finally, Rob moved into the house where Hannah had lived with her husband for more than 20 years.
'I said to Ben: "Whatever happens, this is your home." He was 21 when Norman died and Rob was the same age when he lost his mother and his father remarried, so he was sensitive about how Ben might feel.
'The house has become everybody's home in three equal parts, and it's never been a problem.' One day soon, I suspect, Hannah and Rob will go quietly away for the weekend and come back married.