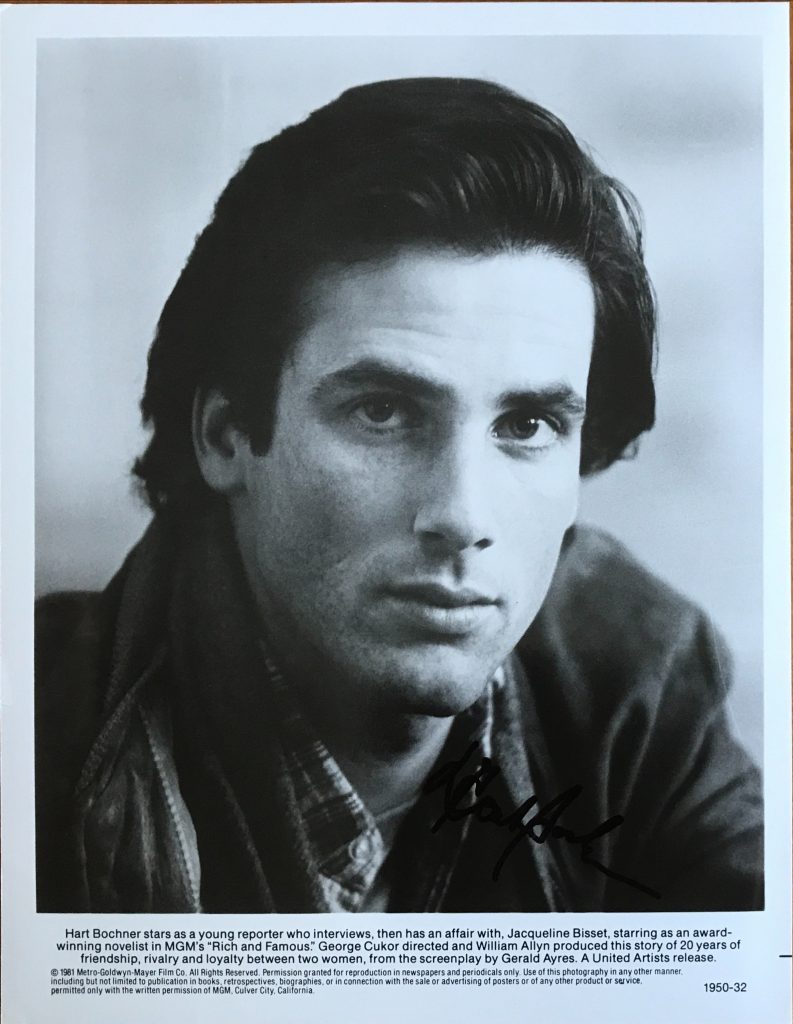 Hart Bochner was born in Toronto in 1956.   He is the son of actor Lloyd Bochner.   Among his early films are "Islands in the Stream", "Breaking Away" and "Rich and Famous".   His best known role is of a cold-blooded killer in "Apartment Zero".   He also played the son of Robert Mitchum and Polly Bergen in the popular television series "War and Rememberance".   Interview with Hart Bochner can be accessed here.
TCM Overview:
This son of noted character actor Lloyd Bochner made his film debut as the oldest son of George C Scott in "Islands in the Stream" (1976), adapted from the unfinished Hemingway novel. His chiseled good looks, thick dark hair and soulful brown eyes made him a natural to play charming cads, and Hart Bochner began honing that screen persona as the preppie nemesis to Dennis Christopher in the Oscar-nominated sleeper "Breaking Away" (1979). Along those same lines, he went on to portray Doc, the sinister and scheming medical student in the Canadian thriller "Terror Train" (1980) before "Rich and Famous" (1981), George Cukor's remake of 1943's "Old Acquaintance," allowed him to display a sexier side as the journalist lover of the slightly older Jacqueline Bisset. Unfortunately, "Supergirl" (1984) reduced him to beefcake, and his other film that year, "The Wild Life," was an unsuccessful attempt to clone "Fast Times at Ridgemont High" and did nothing for his career.
Bochner found success and more varied roles on the small screen, making his TV-movie debut in "Haywire" (CBS, 1979) as Bill Hayward, the troubled son (and the picture's grown-up producer) of theatrical agent-producer Leland Hayward and his wife Margaret Sullavan. He also grew a beard for his role as the younger husband of a female bigamist (Dyan Cannon) in the hilarious "Having It All" (ABC, 1982), a great vehicle for Cannon's talent and charm. However, his most notable TV appearances came opposite Jane Seymour in three miniseries outings. He first played her adult son in ABC's "John Steinbeck's 'East of Eden'" (1981), but in "Ernest Hemingway's 'The Sun Also Rises'" (NBC, 1984) they appeared as the star-crossed lovers Lady Brett Ashley and Jake Barnes, who had been left impotent by a war wound. The pair later teamed as a husband and wife separated by WWII in the epic miniseries "War and Remembrance" (ABC, 1988-89).
Back on the big screen, Bochner acted in "Making Mr. Right" (1987), then delivered a brief, yet memorable turn as an unethical, opportunistic businessman who flirts with the wife of Bruce Willis' character and pays the ultimate price for his treachery in "Die Hard" (1988). Teaming with Argentinean writer-director Martin Donovan, he tackled his first leading role in a feature, offering an arresting turn as a sexually ambiguous roommate of a Buenos Aires movie theater owner (Colin Firth) in "Apartment Zero" (also 1988). His role as an assassin-turned-serial killer, considered by many to be his best, courted controversy in an Argentina still reeling from the political turmoil that saw thousands of people disappear. 1990's "Fellow Traveller" (released theatrically in Europe and shown on HBO in the USA) proved a worthy follow-up, casting him as a dashing movie star who runs afoul of the blacklist during the McCarthy era, but he returned to playing the bad guy as a sleazy executive in that year's "Mr. Destiny," which teamed him for the first time with Jon Lovitz. For his second film with Donovan, he managed to get by on unshaven-hunk appeal in the little seen "Mad at the Moon" (1992).
Although he continued to appear in such TV fare as "Children of the Dust" (CBS, 1995), Bochner began to move toward a career behind the camera. In 1992, he wrote, produced and directed the short "The Buzz," starring Lovitz. Two years later, he tackled his first feature, "PCU," a boisterous though flawed look at "political correctness" on college campuses that featured Jeremy Piven, David Spade and Megan Ward. His sophomore effort, "High School High" (1996), penned by David Zucker, Robert N LoCash and Pat Proft, reunited him with Lovitz who played an idealistic teacher working in a run-down, urban bastion of education. While there were some funny gags, the script veered between realism and farce and proved ultimately unsatisfying. With no directing projects forthcoming, Bochner stepped before the camera as Bridget Fonda's abusive husband in "Break Up" (Cinemax, 1999) and was back in his best beefcake mode as Susan Sarandon's younger lover in "Anywhere But Here" (also 1999). He followed with a turn as Professor Solomon in John Ottman's directing debut, "Urban Legends: The Final Cut" (2000).
The above TCM Overview can also be accessed online here.