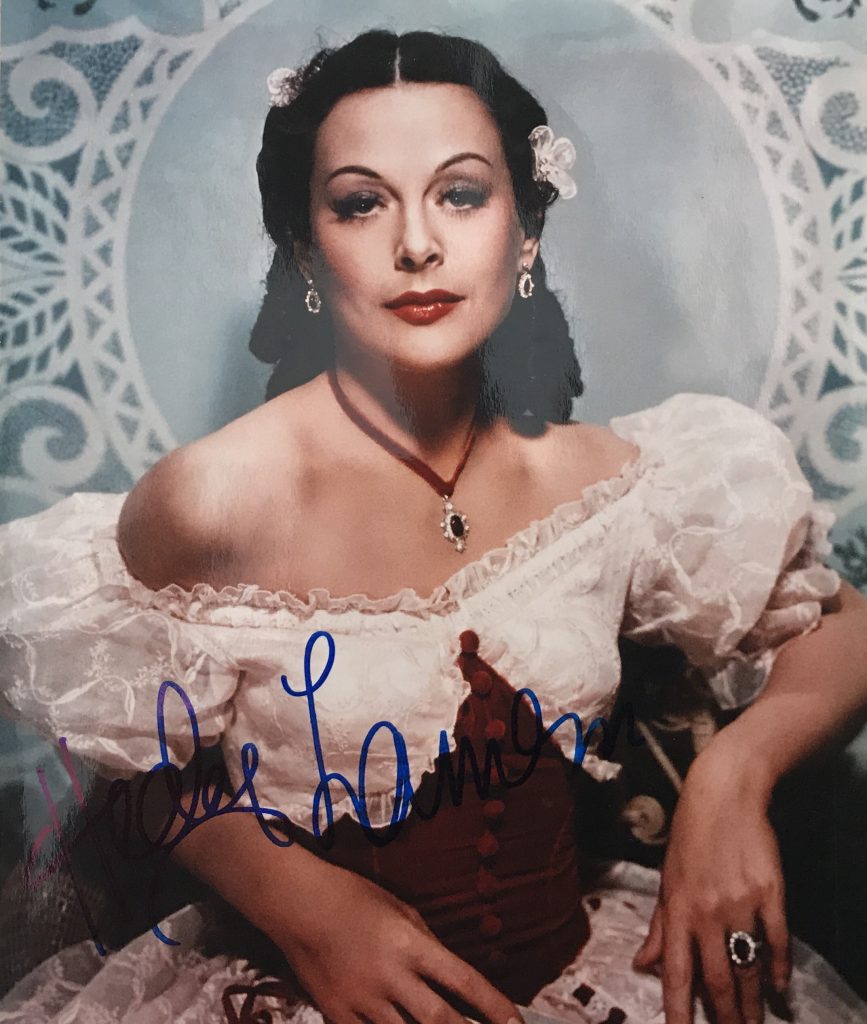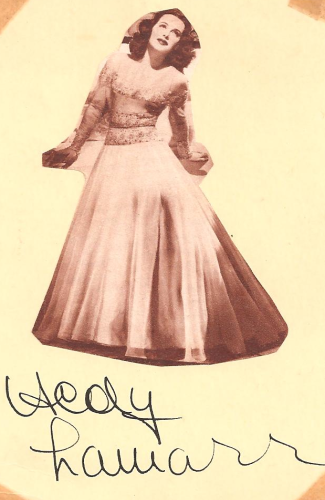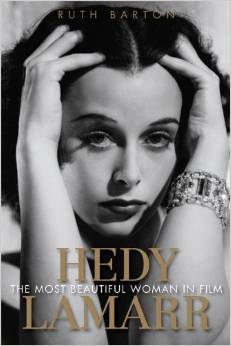 Hedy Lamarr was often described as the most beautiful woman ever on film.   She was born in Vienna in 1913.   She gained international prominence for her role in "Ecstasy" in 1933.   She came to Hollywood with an MGM contract.   Her first American film was "Algiers" with Charles Boyer.   She career was it's peak in the early 1940's when she starred opposaite such luminaries as James Stewart, Clark Gable, Specner Tracy and John Garfield.   It was recently reported that Hedy Lamarr was surprisingly the inventor of a secret communication system that was used by U.S. military ships.   A biography of Ms Lamarr by Ruth Barton was published in 2010.
Ronald Bergan's "Guardian" obituary:
In the 1940s, Hedy Lamarr, who has died aged 86, was thought to be the most beautiful woman in films and was the byword for glamour. "Her beauty made up for whatever she lacked in acting ability," remarked King Vidor, who directed Lamarr in one of her best pictures (HM Pulham Esquire) and one of her worst (Comrade X) . "Acting probably didn't come naturally to her but the note of unsureness in what she did seemed to give her a certain childish attractiveness."
She herself thought, "Any girl can be glamorous: all you have to do is stand still and look stupid." Although Hedy never looked stupid – she had a certain self-mocking twinkle in the eyes – she was often called upon to be no more than a marble mannequin, as in Ziegfeld Girl (1941), stiffly parading around in a star-spangled costume as Tony Martin sang You Stepped Out Of A Dream to her.
Born Hedwig Eva Maria Kiesler in Austria, she had a privileged upbringing as her father was director of the Bank of Vienna. She started acting with Max Reinhardt's theatre company in Berlin, where she appeared in The Weaker Sex and Private Lives, as well as Elizabeth of Austria in Sissi in Vienna. Her name was changed by Louis B Mayer to Lamarr after the silent screen beauty Barbara LaMarr, and also because he thought Kiesler sounded too much like a Yiddish slang word for buttocks.
It certainly wasn't her acting that obtained her an MGM contract. As Hedy Kiesler, the 18-year-old had gained international notoriety by appearing fleetingly naked in a couple of scenes in Ecstasy (1932), a Czech film directed by Gustav Machaty. Pope Pius XII denounced it, Hitler banned it, and the offending scenes were excised from most European and American versions. It was much ado about nothing on. The film itself, shot partly on location, is full of lyrical beauty and stylish eroticism, and Hedy's "kiesler" is hardly seen. Her husband, German munitions magnate Fritz Mandl, a man in his 50s, spent millions trying to buy up all the prints of the film. As his decorative wife, she entertained dinner guests such as Gustav Mahler, Frantz Werfel, as well as Hitler and Mussolini.
Finally, disguising herself as one of her servants, she fled to Paris by train with enough jewels to pay for her passage to New York on board the Normande, on which she met Louis B Mayer. Before the liner had docked, she had secured a new name and a seven-year contract starting at $500 a week. Mayer personally supervised every detail of her star grooming though he was uncertain of what to do with her.
In fact, Mayer loaned her out to Walter Wanger for her Hollywood debut in Algiers (1938), in which Charles Boyer did not say, "Come with me to the Casbah," though the phrase stuck to him for most of his life. Lamarr was ravishing enough to tempt the fugitive Boyer out of the Casbah, into her arms and those of the police. More exoticism came in Lady of the Tropics (1939), her first MGM movie after two years under contract. The film, co-starring Robert Taylor, flopped, despite the publicity line of "The Most Beautiful Girl in the World".
I Take This Woman (1940), starring Spencer Tracy and Lamarr, took two years to reach the screen, by which time it had been dubbed I Retake This Woman; it had been in and out of production for 18 months with three changes of director and miles of rejected footage. The marital melodrama failed to ignite the public, and Mayer cooled towards Hedy. She only got fourth billing in Boom Town (1940), below Clark Gable, Claudette Colbert and Spencer Tracy, playing "the other woman", a role she also took in HM Pulham Esquire (1941), this time enlivening staid Robert Young's existence.
As Dolores "Sweets" Ramirez in Tortilla Flat (1942), she gave what she herself considered her best performance, and if the film had been a success, MGM might have found better roles for her. Certainly better than the sultry hip-swinging half-caste whispering "I am Tondelayo" in White Cargo (1942). At first, MGM considered her for Gaslight (1944), but the studio had lost faith in her, giving the role to Ingrid Bergman instead, who won an Oscar. This led to Lamarr leaving MGM in 1945 to form her own production company, for which she played a number of femme fatales in rather dreary soap operas.
She was virtually a has-been when Cecil B DeMille chose her to play the most famous femme fatale of all in Samson And Delilah (1949). In it, she looked gorgeous in a number of Old Testament off-the-shoulder creations by Edith Head, and managed satisfactorily to deliver lines like, "I shall find the swiftest camels in Gaza, my silver will open the gates that bar your way. All Gaza will be there." Samson And Delilah was by far the biggest box-office hit of her career, which seemed about to be relaunched. But when Cecil B.DeMille offered her a role in The Greatest Show on Earth she declined, because she found the director too autocratic, and disliked his obsession with her feet.
She made only a few more films, including a Western, Copper Canyon (1950), opposite Ray Milland, took the title role in My Favourite Spy (1951) in which she got an unreluctant Bob Hope in her clutches, and was Joan of Arc screaming "Attack!" to her minions in the ludicrous The Story of Mankind (1957). Her final film was The Female Animal (1958), in which she virtually played herself as an ageing movie star.
But retirement did not keep her out of the headlines. She was arrested for shoplifting in 1966 and again in 1991, when she allegedly took $25 worth of toiletries from a Florida chemist. She was cleared of the charge both times. She also became litigious, suing the ghost writers of her titillating autobiography Ecstasy and Me, as well as Mel Brooks for using her name without permission in Blazing Saddles, in which a character called Hedley Lamarr is infuriated by being continually called Hedy Lamarr. She gained nothing on both occasions, and was forced to sell many of her valuable possessions.
She was married six times: her second husband was screenwriter Gene Markey, her third the actor John Loder (with whom she had two children), her fourth was Texas oil millionaire W Howard Lee, the fifth restaurateur-bandleader Ernest Stauffer, and lastly, her own divorce lawyer, Lewis W Boles Jr.
Another aspect of her life was revealed only recently. During the war, she and the composer George Antheil invented a system of preventing the jamming and scrambling of signals via radio frequencies. A patent was granted to them, but the army considered the system too complicated to put into practice. However it was taken up by the military in 1957 and its first application was during the Cuban missile crisis in 1962. It was classified as a top secret defence mechanism until the mid-1980s, when the system was used commercially, especially in the prevention of interception of cell phones by telecommunications.
Her son Anthony Loder explained: "My mother was an extremely intelligent woman, always seething with new ideas. She was known as being just a beautiful face, but is now recognised as having invented a brilliant scientific concept, although she never made a cent out of it."
To the scientists who rather tardily paid homage to her, she sent a message. "I am happy that my invention was not conceived in vain". Occasionally, as an old woman living alone in Florida, she would meet people and say, "Would you believe I was once a famous star? It's the truth."
• Hedy Lamarr (Hedwig Kiesler), actress, born November 9 1913; died January 19 2000
The above "Guardian" obituary can also be accessed online here.
A website on Hedy Lamarr can be found here.