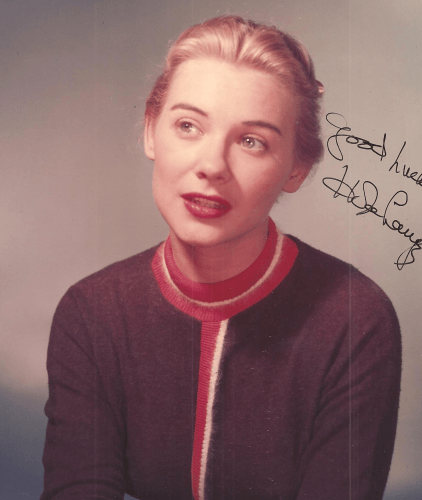 Hope Lange obituary in "The Guardian" in 2003.
Hope Lange was a very pretty actress who starred in some of 20th Century Fox's most popular films of the late 1950's. She was born in 1933 in Redding, Connecticut. She was a child actress and at the age of nine made her Broadway debut in "The Patriots" in 1943. Her first film role was "Bus Stop" in 1956 with Marilyn Monroe and Don Murray whom she married. Among her other popular films were "Peyton Place", "The Young Lions" and "The Best of Everything". In the sixties she had a popular success with the TV series "The Ghost and Mrs Muir". In one of her later films "Just Cause" it seemed odd to see her play the mother-in-law of Sean Connery, when she was a few years younger than him. Hope Lange died in 2003.
Ronald Bergan's "Guardian" obituary:
---
In the mid-1950s, 20th Century Fox decided to put a group of young actors under contract, calling them Showcase Stars. They all posed linking arms, staring with optimism at the camera. Standing among Patricia Owens, Christine Carere, Dolores Michaels and Diane Varsi was Hope Lange, who has died of an intestinal infection aged 72.Only Lange was to gain any real semblance of film stardom. The gentlemen at Fox preferred blondes, and the demure and refined Lange contrasted with Marilyn Monroe, who had emerged as the epitome of 1950s eroticism. In fact, Lange made her screen debut in Bus Stop (1956), as the sympathetic waitress who befriends dancehall girl Monroe – and that after director Joshua Logan turned down Marilyn's demand that Lange dye her hair because the star did not want to share the screen with another blonde.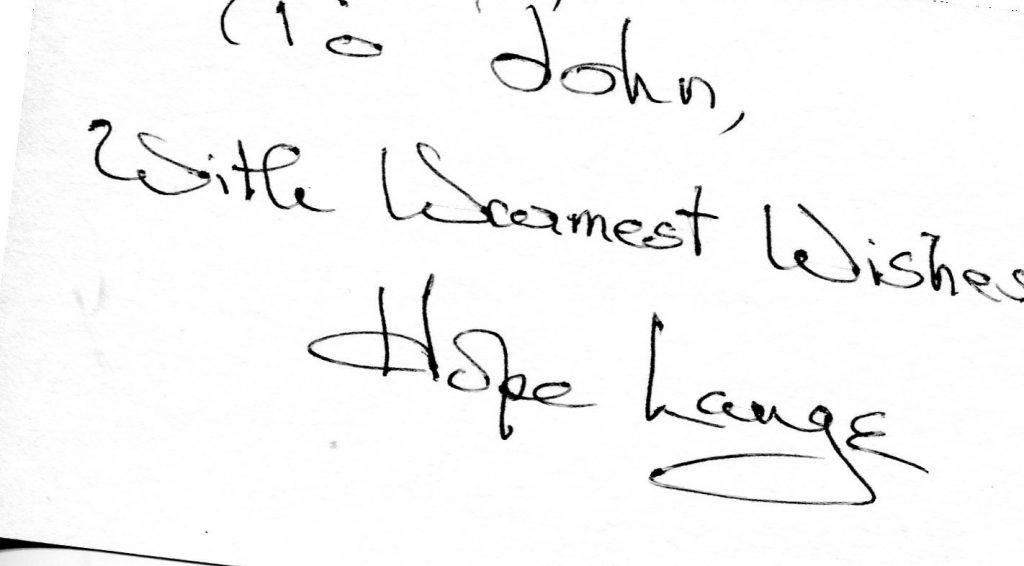 According to Don Murray, who played the cowboy enamoured of Marilyn, and who married Lange the same year, she "was considered a great beauty, and a serious and dedicated actor who didn't pay attention to being glamorous".
Largely eschewing glamour, Lange gave a sensitive performance in Peyton Place (1957), the film for which she is most remembered, and for which she was Oscar-nominated. In this glossy melodrama of dark doings behind the curtains of a small New England town, she played Selena Cross, who lives in a shack, literally on the wrong side of the tracks from her middle-class best friend, is raped by her drunken stepfather (Arthur Kennedy) and is then accused of murdering him.
Born to show-business parents in Redding Ridge, Connecticut, Lange appeared on Broadway at the age of 12, in Sidney Kingsley's Pulitzer prize-winning play The Patriots (1945). As a teenager, she worked as a waitress at a Greenwich Village restaurant run by her widowed mother. She also walked the dog of Eleanor Roosevelt, who had a house in the village. A photograph of Lange and the Scots terrier appeared in the newspapers, and she was offered work as a model.
She resumed her acting career in her early 20s, appearing in live television dramas before attracting the attention of Fox producer Buddy Adler, who put her in some of the studio's biggest and widest CinemaScope films.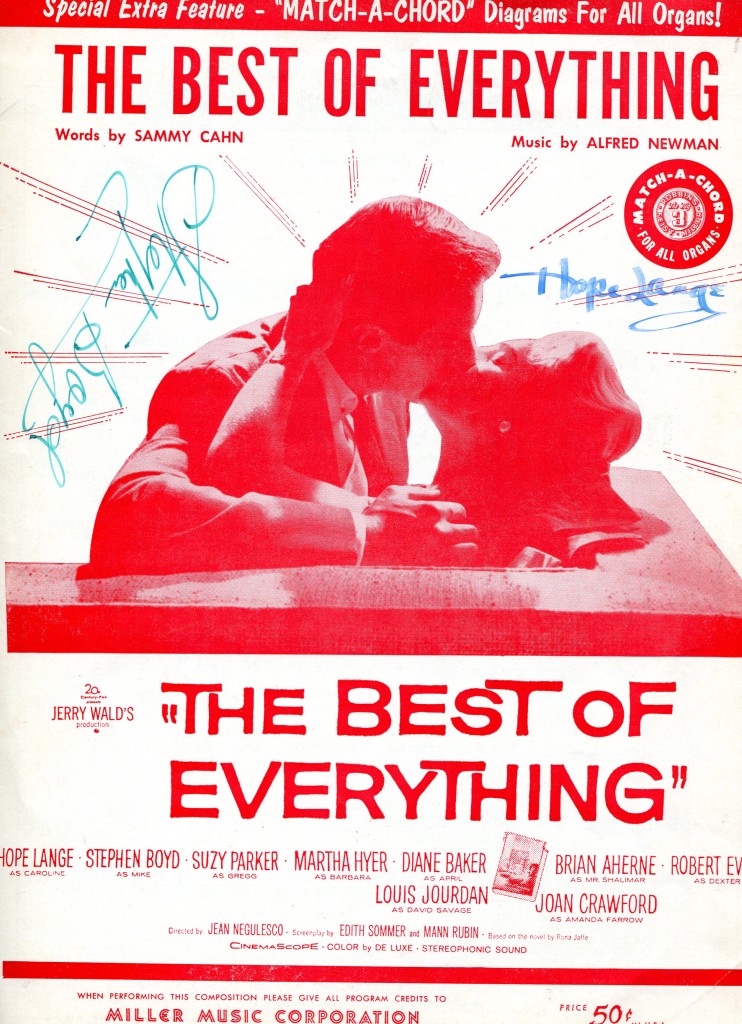 Apart from Peyton Place, however, there was not much meat in the roles. She was the feminine interest in the misnamed The True Story Of Jesse James (1957), which was dominated by Robert Wagner and Jeffrey Hunter as the outlaw brothers. In The Young Lions (1958), she played the quiet Vermont girl who marries Jewish GI Montgomery Clift before he goes off to war, and, in the same year, she was the sweetheart of cowardly marine Robert Wagner in In Love And War.
She had far more to do in The Best Of Everything (1959), a delirious example of that decade's kitsch. Although dominated by the ageing Joan Crawford, playing a bitter and unfulfilled publishing executive, Lange held her own as a young hopeful in the business. At the beginning of the film, she declares that "if I'm not married by the time I'm 26, I may have to take myself a lover", then later throws herself at Stephen Boyd. "Please make love to me, even if you don't love me," she begs, "26 is too far ahead."
In reality, Lange, who was already 28, was nearing the end of her Fox contract, and her marriage to Don Murray. In 1961, having played a psychiatrist to the delinquent Elvis Presley in Wild In The Country – she encourages him to go to college and become a writer – she went freelance.
Now divorced, she began a relationship with Glenn Ford, who insisted that she co-star with him in Pocketful Of Miracles (1961), a situation that angered the director Frank Capra, who had wanted Shirley Jones for the part. As it turned out, the film, a dated remake of his 1933 masterpiece Lady For A Day, was an inglorious end to Capra's career, with Lange miscast as the flashy nightclub owner Queenie Martin, who keeps pressing bootlegger Dave the Dude (Ford) to marry her. Lange also co-starred with Ford in Love Is A Ball (1963), playing a wild millionairess on the French Riviera, to his racing driver posing as her chauffeur.
This frothy nonsense, desperately trying to be satirical about the rich, was Lange's last film for five years. She retired from acting during her marriage to producer-director Alan Pakula, returning only after their separation in 1968 (they divorced the following year) to star in a US television series The Ghost And Mrs Muir, opposite Edward Mulhare.
· Hope Lange, actor, born November 28 1931; died December 19 2003
Her "Guardian" obituary can also be accessed here.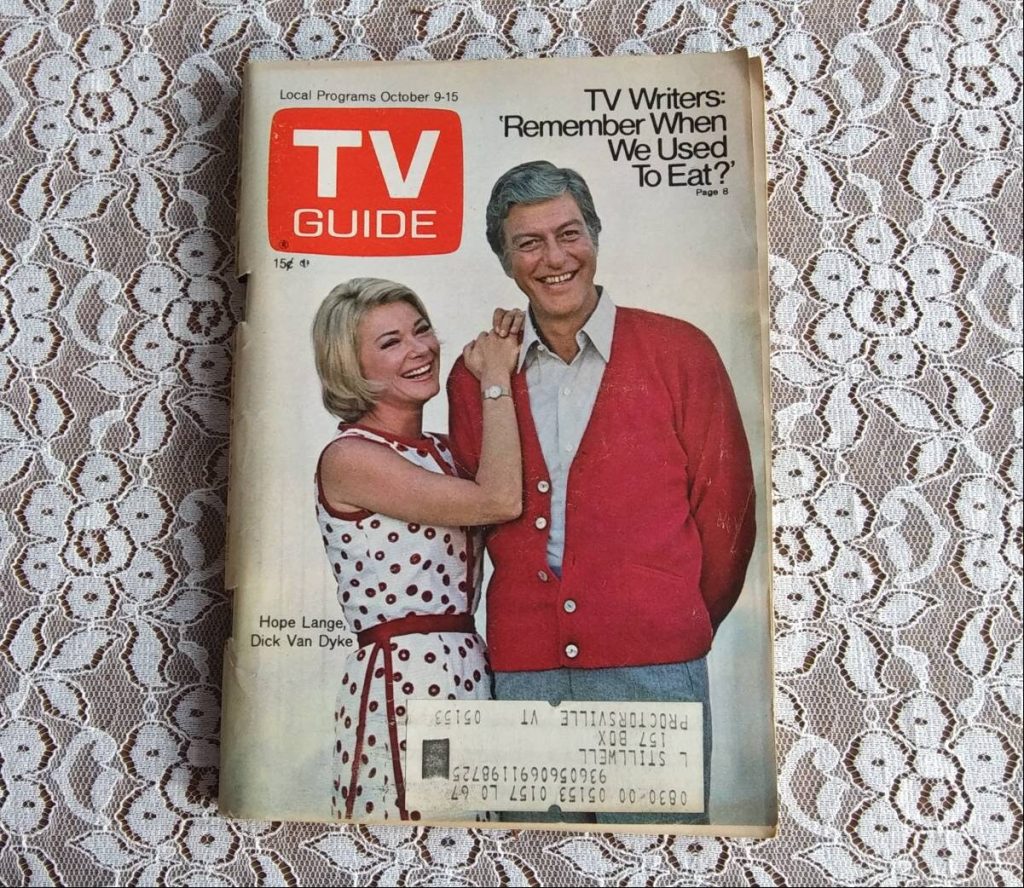 This was followed by her sweet housewife role in The New Dick Van Dyke Show (1971-74), but the show was cancelled after Lange refused to sign for a fourth season because CBS would not show an episode implying that the couple were having sex in their bedroom. "They have three children, for Pete's sake. Was that by immaculate conception?" she exclaimed.
She married theatre producer Charles Hollerith Jr in 1986. He survives her, as do the son and daughter of her first marriage.
Over the next few decades, Lange continued to guest frequently in TV shows, and appeared sporadically in feature films. In 1974, as Charles Bronson's wife in Death Wish, she spent most of her time in a coma, before dying; in 1985, she was in A Nightmare On Elm Street 2: Freddy's Revenge; and, the following year, she was Laura Dern's mother in David Lynch's Blue Velvet. In 1977, she appeared on Broadway in Same Time, Next Year, opposite her ex-husband Murray.