Hugh O'Brien obituary in "The Daily Telegraph".
Born on April 19, 1923 (some references list 1925), in Rochester, New York, actor Hugh O'Brian had the term "beefcake" written about him during his nascent film years in the early 1950s, but he chose to avoid the obvious typecast as he set up his career. He first attended school at New Trier High School in Winnetka, Illinois, then Kemper Military School in Booneville, Missouri. Moving from place to place growing up, he managed to show off his athletic prowess quite early. By the time he graduated from high school, he had lettered in football, basketball, wrestling and track. Originally pursuing law, he dropped out of the University of Cincinnati in 1942 (age 19) and enlisted in the Marine Corps. Upon his discharge he ended up in Los Angeles. He died in September 2016 at the age of 91.
"Daily Telegraph" obituary:
Hugh O'Brian, who has died aged 91, was one of the first American actors to achieve television celebrity in 1950s Britain as the marshal of Dodge City in The Life and Legend of Wyatt Earp.
More than 200 black-and-white episodes of the series were shown on the fledgling ITV network between 1956 and 1962. Handsome and square-jawed, O'Brian landed the starring title role because he resembled the real Wyatt Earp (1848-1929) as a young lawman in late 19th-century Kansas and later in Tombstone, Arizona.
It was the first television western to be aimed specifically at adults. Series appealing to children such as The Cisco Kid and The Lone Ranger had been scheduled for late afternoon slots. Inspired by the legendary events of the real-life frontier marshal, Earp played in after-dinner prime time and transformed O'Brian into one of television's first sex symbols.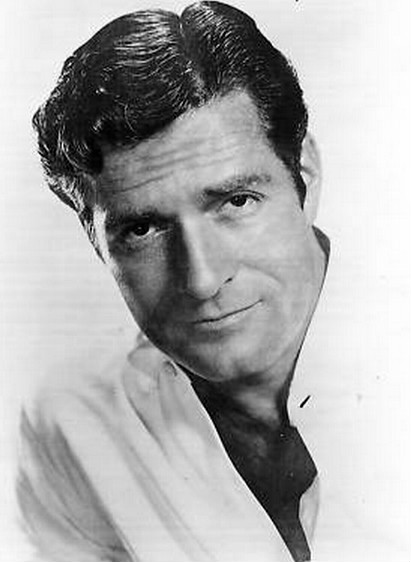 His distinctive portrayal of what the show's theme song described as the "brave, courageous and bold" frontier lawman was marked by a black frock coat, a gold brocade waistcoat, string tie and flat-brimmed black hat. Although by modern lights the action is ponderously slow, the series built steadily in the American television ratings, finally ranking as the nation's fourth most popular programme.
In the course of the series, O'Brian's Earp encountered such historical figures as John Wesley Hardin, the Thompson Brothers and Doc Holliday, as well as Earp's brothers Virgil and Morgan. After six seasons, it concluded with an epic five-episode story in which Earp, with the help of his brothers and Doc Holliday, took on Old Man Clanton and the Ten Percent Gang in a final showdown at the OK Corral.
Of Irish, German and French descent, Hugh O'Brian was born Hugh Charles Krampe on April 19 1925 at Rochester, New York. The family moved several times during his childhood to keep pace with his father's career as a sales executive, but eventually settled in Chicago, where Hugh attended Hirsch High School.
His degree course at the University of Cincinatti was interrupted by the war, and he served in the US Marines, becoming at 18 one of their youngest drill instructors on account of some earlier military training. On demobilisation he had planned to study Law at Yale, but changed his mind after acting with a small theatre group in Los Angeles, stepping in when a friend fell ill. He sold menswear and women's lingerie, and worked as a dustman, to pay his way through drama school.
Under the stage name Jaffer Gray, he took supporting roles while appearing at a theatre in Santa Barbara, California, but by the time he landed his first film part in 1950 had changed his name to Hugh O'Brian, an accidental mis-spelling of his mother's maiden name O'Brien. His debut as a polio victim in Never Fear (1950) led to a contract with Universal, for whom he appeared in 18 pictures, including Seminole (1953) and Saskatchewan (1954). When the ABC television network was looking for a star for The Life and Legend of Wyatt Earp in 1955, the story consultant Stuart Lake (whose controversial 1931 biography of Earp had inspired the series) recommended O'Brian because of his resemblance to the real-life character.
During the series, O'Brian became adept with Earp's trademark "Buntline Special" pistols with extended barrels and shoulder stock, which allowed him to fire accurately over long distances. Some experts now think these weapons were a fabrication by the journalist Ned Buntline rather than authenticated historical fact. O'Brian played the last character that his old friend John Wayne ever killed on the screen in Wayne's final film The Shootist (1976), considering it a great honour, before recreating his Wyatt Earp role for television in Guns of Paradise (1990), The Gambler Returns: The Luck of the Draw (1991) and the independent film Wyatt Earp: Return to Tombstone (1994).
Away from the cameras, he dedicated much of his time to Hugh O'Brian Youth Leadership (HOBY), a non-profit youth leadership development programme that enrols 10,000 second-year high school students every year. O'Brian had been inspired in this endeavour in 1958 when he spent nine days visiting the missionary Dr Albert Schweitzer in Africa. Since its inception, more than 355,000 young people in 20 countries have taken part.
He married for the first time in 2006, when he was 81. He and his wife, the former Virginia Barber, his long-standing girlfriend, were serenaded by their close friend, the actress Debbie Reynolds.
Hugh joined a little theater group and a Santa Barbara stock company where he developed his acting chops and slowly built up his résumé. He was discovered for TV by director/actress Ida Lupino which opened the door to his signing with Universal Studios for films. Hugh's gentlemanly ruggedness, similar to a James Garner or a Gene Barry, was ideal for pictures, and his lean physique and exceptionally photographic mug had the modest, brown-eyed, curly-haired looker plastered all over the movie magazines. He rebelled against the image for the most part and, as a result, his years with Universal were not as fruitful as they could have been. For the duration, he was pretty much confined as a secondary player to standard action pictures such as Red Ball Express(1952), Son of Ali Baba (1952) and Seminole (1953). It was Rock Hudson who earned all of the Universal glamour guy roles and the out-and-out stardom that could easily have been Hugh's.
In 1954, he left Universal to freelance but did not fare any better until offered the starring role in The Life and Legend of Wyatt Earp (1955) on TV, a year later. It became a mainstay hit and Hugh an "overnight" star. During his six-year run on the western classic, he managed to show off his singing talents on variety shows and appeared on Broadway. The handsome bachelor remained a durable talent throughout the 60s and 70s with plentiful work on the summer stock stage and on TV, including the series Search(1972), but never got the one role to earn the critical attention he merited.
A sports enthusiast, his hobbies have included sailing, tennis, swimming and long-distance bicycling and his many philanthropic efforts have not gone unrecognized. His proudest achievement is the Hugh O'Brian Youth Leadership (HOBY), which he founded in 1958 after spending considerable time with Dr. Albert Schweitzer and his clinic in Africa. Struck by the impassioned work being done by Schweitzer, O'Brian set up his own program to help develop young people into future leaders. O'Brian has since been awarded honorary degrees by several prestigious institutions of higher learning. The perennial bachelor finally "settled down" and tied the knot at age 81 with long-time companion Virginia Barber who is close to three decades his junior. They live in his Benedict Canyon home. He is at this time working on an autobiography
– IMDb Mini Biography By: Gary Brumburgh / gr-home@pacbell.net
TCM Overview:
A handsome action star of TV and the occasional feature film, Hugh O'Brian is best recalled for playing the title role in "The Life and Times of Wyatt Earp" (ABC, 1955-61), which was more a serialized drama than a standard Western. He later reprised the role in the 1991 NBC miniseries "Luck of the Draw: The Gambler Returns" and in "Wyatt Earp Returns to Tombstone" (CBS, 1994).
Educated at a military school, O'Brian was reportedly the youngest drill instructor in the history of the Marine Corps when he assumed those duties at age 18. After attending the University of Cincinnati and UCLA, O'Brian broke into films in 1950 in the song-and-dance feature "No Fear" and as a Western desperado in "The Return of Jesse James." Usually cast in supporting roles, he continued in action films, like "Battle at Apache Pass" (1952) and "The Man From the Alamo" (1953). Voted the most promising male newcomer of 1953 by the Hollywood Foreign Press, O'Brian moved to more substantial roles like the lyricist who wins Mitzi Gaynor's heart in "There's No Business Like Show Business" (1954) and the antagonist of Native Americans in "White Feather" (1955). He turned to comedy, playing off his good looks (not unlike Rock Hudson), in "Come Fly With Me" (1963) as the object of a flight attendant's glances on a transatlantic flight. O'Brian was a cowboy hired to create a ranch in Africa in "Africa – Texas Style!" (1967), and, more recently, had a supporting role in "Doing Time on Planet Earth" (1988).
The actor became a bona fide star, however, on the small screen. He began appearing in anthology series in the 50s like "Fireside Theatre" and "The Loretta Young Theatre" before landing his signature role as Earp. O'Brian later appeared on panel shows and in guest shots, returning to the series grind as a secret agent with a transmitter in his ear for constant contact with command central in "Search" (NBC, 1972-73). He continued to make the occasional guest appearance into the 90s on shows such as "Murder, She Wrote" and "L.A. Law." The actor has also made several TV-movies, ranging from "Wild Women" (ABC, 1970) to the pilot for "Fantasy Island" (ABC, 1977). More recently, he played a member of the establishment in need of Marshall Dillon in "Gunsmoke: The Last Apache" (CBS, 1990).
After he found TV stardom, O'Brian also discovered the theater. He made his Broadway debut in the musical "Destry Rides Again" (1959) and appeared again on Broadway in "First Love" (1963). Equally at home in light comedy or musicals, he headed national tours of "Cactus Flower" (1967-68), "1776" (1972) and "Guys and Dolls" (1979).
.