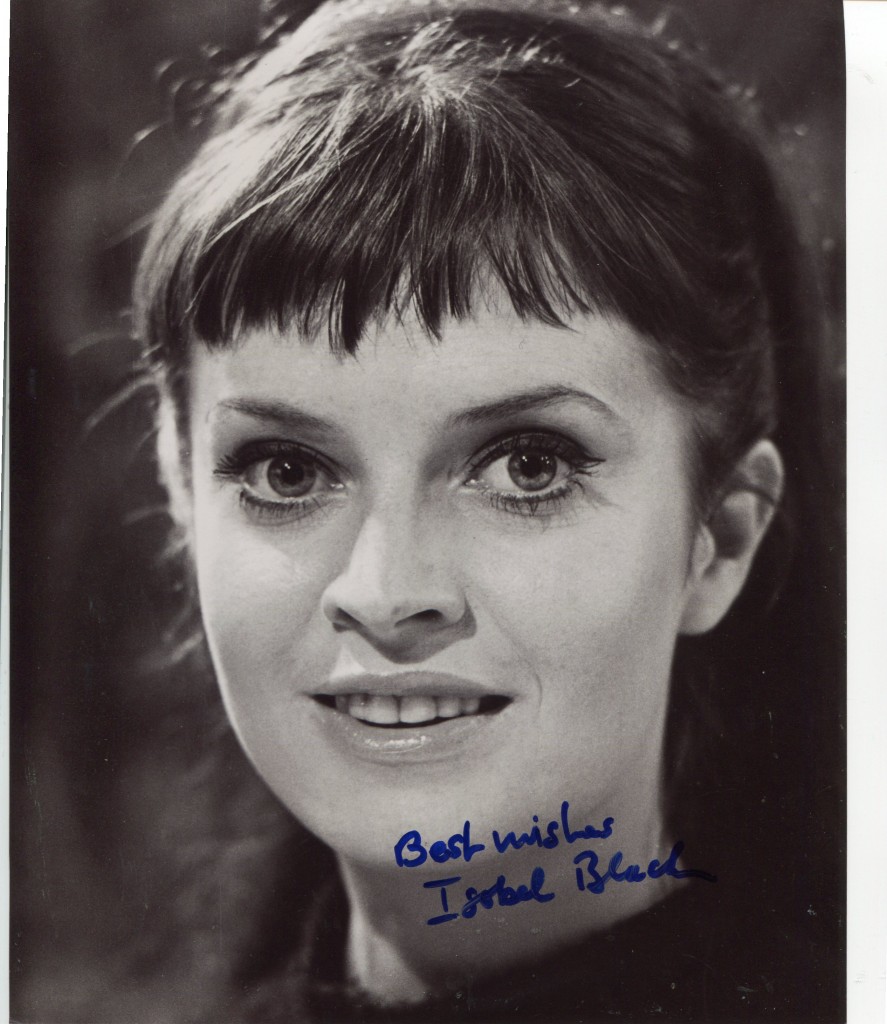 Isobel Black was born in Edinburgh in 1943. She is a heroine of Hammer Horror Films "The Kiss of the Vampire" in 1963 and eight years later "Twins of Evil". She was alo featured in "10 Rillington Place". Her father is the famous scriptwriter Ian Stuart Black.
From the British Film Forum:In a interview with Little Shoppe of Horrors in 1990 about the making of Kiss of the Vampire she recalled her time at Hammer's Bray Studios with affection and how much of a family atmosphere existed. She also mentioned that the mechanical bats used during the climax of the film really hurt because the wires from which they were operated cut through the actors' clothes. Some of the screams heard were actually quite real, she remembered.
Isobel Black's family were firmly established within the entertainment business. She had started acting when she was 15, appearing in episodes of The Invisible Man and Sir Francis Drake, both creations of Sir Lew Grade's television production company ITC.
Her Father was also script editor on both series. Whilst taking her A levels she had appeared as Miranda in Shakespeare's The Tempest at the Regent's Park Open Air Theatre. Undoubtedly the family influence was at work here as the producer, Robert Atkins, was also a friend of the family. Isobel clearly made the most of the opportunity and gained valuable experience. Over the next ten years, although becoming a familiar face on British Television, she was not yet notably prominent. However, guesting three times on David Jacob's BBC programme Juke Box Jury, soon established her as a pretty and recognisable TV personality.
During this busy period she also made guest appearances in the Likely Lads, episodes of Danger Man, Adam Adamant and The Avengers. In 1962 it was a regular role in the ITV hospital drama Emergency Ward 10 as Lucy Marsden that brought her to Hammer's attention. In 1967 she landed the part for which she is perhaps most well known, that of Eileen O'Rourke, the efficient Public Relations Officer in the fourth series of the BBC's The Troubleshooters, chronicling the fictional, personal and business conflicts of the high powered International Oil Company MOGUL. A contemporary interview of the time highlighted her success and the desire she had to extend the small amount of work she'd done in feature films: "I loved getting up at 5-30 and driving to Pinewood. And it's a pleasure to keep a character in your mind for three months".
This is a referral to her appearance in Morecambe and Wises's third and rather fated last film, The Magnificent Two, where Isobel played the South American peasant revolutionary, Juanita, in what the illustrious "Films and Filming" magazine at the time described as one of the most violent and unfunny films of 1967. Clearly this didn't trouble Isobel, as she self evidently has a wonderful time.
Early on in her career she was worried about whether people would put down any success she achieved to her parents' influence within the business. And although her parents offered constructive criticism, they were not actively encouraging, insisting that she had to make it on her own. It turned out that she had some natural ability and without any formal drama training entered the Manchester repertory company after having only one audition.
Six months later she'd moved to London, had got herself an agent, bought a car, and was living in a house boat on the Thames. Acting had become her occupation, and she was earning her keep.
Interestingly and assuredly she commented later: "If you are competent, adaptable and enjoy your work, it seems to come. I've been lucky and always optimistic. I just know things in life work out".
Whilst making The Troubleshooters she had met director/producer James Gatward. The couple were married in September 1969 in Sussex where at the time, Isobel's family home was situated. It appears that there were feelings of mutual respect and admiration between Father and son-in law. According to Ian Stuart Black it had always been likely that his daughter would marry one of many suitors from within the profession. More TV personality work came in 1970, twice appearing in the BBC's Call my Bluff, the obscure words game show, hosted by Robert Robinson.
There were also two more film appearances. Firstly in Richard Fleischer's 10 Rillington Place, the story of notorious mass murderer Reginald John Christie which starred Richard Attenborough, John Hurt and Judy Geeson. Isobel played Alice,the best friend of Judy Geeson's character Muriel Evans, one of Christie's victims. Although not a small part, she was not called on for anything too dramatic, and appeared to stand aside of the main leads, acting mainly as a catalyst to the arguments between John Hurt's and Judy Geeson's central roles as the fatal couple.
In Twins of Evil, her second Hammer Film, a sexually exploitative and enjoyable tale combining witch hunting and vampirism, she was the rather ineffectual Ingrid Hoffer, a village school mistress and sister to the film's apparent hero David Warbeck. This was a weak part, where she did little but support the narrative. Her sudden and very dramatic exit as a blood drained corpse bundled in by Peter Cushing's Gustav Weil during a school music lesson is the most shocking scene in the whole film.
Television work continued throughout 1970, guest starring in two episodes of ITC's Department S and three parts of the cult children's TV series Ace of Wands. In another children's programme, Redgauntlet, based on the novel by Sir Walter Scott and scripted by her Father, Isobel played the mysterious Greenmantle.
Featured on the cover of the TV Times magazine her picture advertised the programme as raising the ghost of Bonnie Prince Charlie. She also wrote the short feature article for the magazine.
Later in the year, the popular Mystery and Imagination franchise, now running to its 4th series had been overhauled by Thames television. One episode, based on Bram Stoker's "Jewel of the Seven Stars", was entitled "The Curse of the Mummy" and featured Isobel in a dual role as a re-carnation of an ancient Egyptian Princess. Co-incidentally Hammer were also producing their own version of the same story. Blood from the Mummy's Tomb was directed by Seth Holt (who died during the production) and starred Valerie Leon.
There is no question about which rendition was superior. Isobel's greatest difficulty it appears was dealing with the gold paint applied to her face, as she commented in a contemporary article, she had always had a dry and sensitive skin. The other problem was trying unsuccessfully to avoid the microphone boom which routinely appeared within the camera frame. There is also a suggestion that she was hopelessly mis-cast.
During the 70s she took a break from acting to start a family. She also took the opportunity to travel extensively with her Husband and Father, as they set up a number of television productions, picking up investment as they moved from one country to another, India, Australia and America among them. Occasionally Isobel would turn up as one of the cast members. By this time she had also given birth to three daughters, all of whom had travelled around the world with her before (as she put it) they'd even been on a London bus. She remained closely associated with her husband's productions on returning to acting in the 1980's. One of these was TVS's The Brief, a 13 part court room drama series of political intrigue and romance. By all accounts it was a fairly forgettable TV experience. In 1984 she acted as co-narrator on a series of documentaries made for Scottish Television by Channel 4, called Scotland's Story, based on Tom Steel's acclaimed book of the same name.
As her career began to wind down, she played Aunt Jane in Television South's successful adaptation of Enid Blyton's Castle of Adventure in 1990. She stopped acting later in the year, when she co-starred in a failed sit-com for the BBC called Tygo Road.It lasted only 6 episodes.
Finally after a long gap in 2004 she contributed to a BBC radio 4 broadcast about the RNLI in Scotland. She is now most likely to be enjoying retirement and family life, living in the quiet rural setting of the Hampshire Countryside.