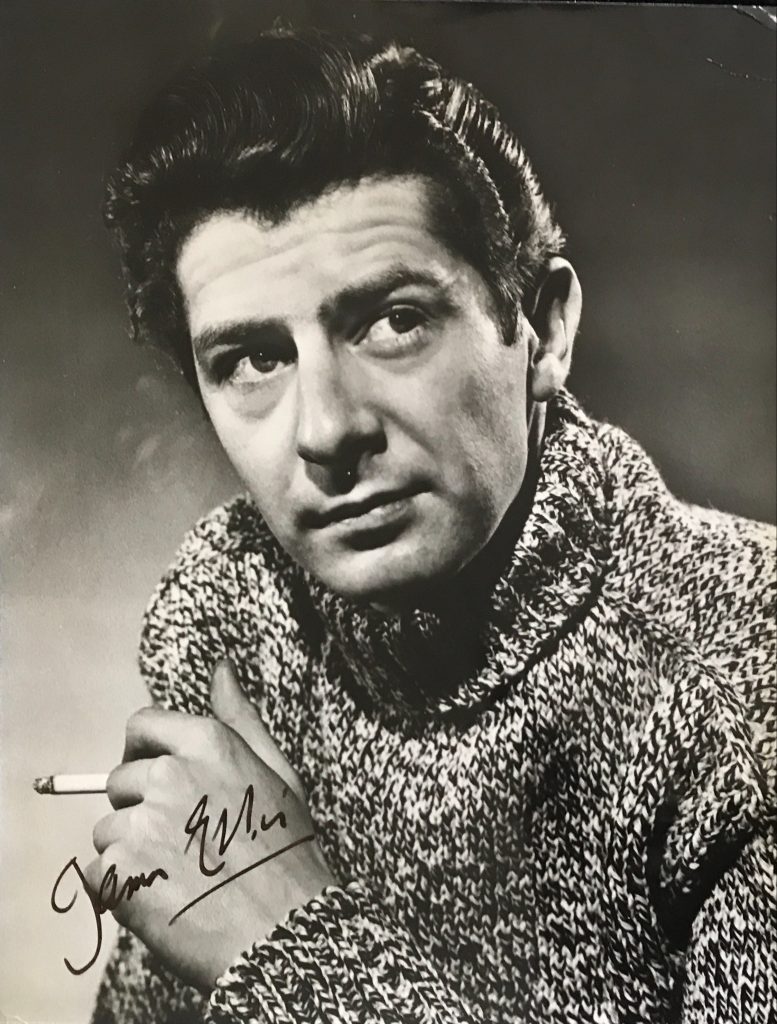 James Ellis obituary in The Independent" in 2019
James Ellis was born in 1931 in Belfast. He studied at Queen'University, Belfast and then later at the Bristol Old Vic. From 1962 until 1978 he played Bert Lynch in the long running "Z Cars". He has also appeared in "Ballykissangel" and "Only Fools and Horses". His films include "Resurrection Man" and "Best". Sadly, James Ellis died in March 2014.
His "Independent" obituary:
James Ellis was an actor and stage director, best known for his role as Bert Lynch, the longest-serving character in the cast of Z-Cars, the popular police television drama which ran for 16 years during the 1960s and '70s. As the affable PC who rises to the rank of Inspector over the course of the series, he was the only member of the cast to appear in every one of the show's 565 episodes.
Ellis was born in Belfast in 1931, the son of a shipyard worker. He studied at the city's Methodist College, to which he won a scholarship, and Queen's University, where he read English literature and French philosophy.
He studied drama at the Old Vic in Bristol before going on to join the Ulster Group Theatre in 1952. There he played a variety of roles, culminating as the lead character, Christy Mahon, in JM Synge's The Playboy of the Western World, and soon rose to director of productions, by 1959. However, a year later, when Ellis chose to direct Over the Bridge (1960), a production which dealt with the religious divide in Northern Ireland and which the Group Theatre considered too difficult a subject, he was obliged to resign.
The current Northern Ireland Culture Minister, Carál Ní Chuilín, said, "James was a man of great character and was never afraid to tackle difficult issues as we witnessed with his direction of Over The Bridge, at a time when many believed that sectarianism, which the play addressed, was too controversial for a stage performance."
Ellis left for London, and controversy followed him. In September 1961 the BBC aired Stewart Love's Randy Dandy, starring Ellis as a ship-worker who refused to strike. The channel had to prepend a warning to the broadcast, indicating that it would be "unsuitable for people of a nervous disposition", the era's code-phrase to signal a play's overtly sexual content. But this, and his role earlier that year in Stewart Love's The Sugar Cube (1961), brought him to the attention of the producers of a new drama series, then at the planning stage.
Z-Cars was a police drama centred on the fictional town of Newtown, based on Kirkby in Merseyside. Whereas Dixon of Dock Green was a slow-placed, genteel depiction of life in the force, Z-Cars took its name from the response vehicles used by this newer breed of policeman, in pursuit of the motley band of criminals in the area.
At audition Ellis recalled that he was told his character would be a certain PC McGinty. However, "I reminded them about [the traditional Irish song] Paddy McGinty's Goat, and that villains would simply laugh at me," he said, "so they changed my name to PC Lynch." As Ellis's role developed, he was promoted from PC to Inspector, gaining recognition and popularity with audiences as his stature in the unit increased.
Throughout his career, Ellis took pride in not changing his voice for the roles which he took on. "His was the first Belfast accent that people in the UK regularly heard in their lives – ever," said James Nesbitt, who worked with Ellis. "This opened the gates for all kinds of accents after that. I have spoken to some of the actors who went across [to the mainland] and they said they looked at Jimmy Ellis and said, 'If he can do it, we can do it'."
Now working back in Northern Ireland, Ellis starred in Graham Reid's Too Soon To Talk To Billy (1982), the first in a trio of "Billy" plays, which brought the authentic voice of working-class Ulster Protestants to television audiences as part of the BBC's Play for Today series. Ellis played the bullying father, Norman Martin, alongside a young Kenneth Branagh, just out of Rada, in the title role.
Ellis experienced personal tragedy in 1988 when his son Adam was murdered while fishing on the Grand Union Canal in London. "I went berserk," Ellis later said. "I wasn't in possession of my senses. I kicked open the doors of every pub in the street shouting, 'Who knows who murdered my son?'" Another son from his first marriage, Hugo, also an actor, committed suicide in 2011 at the age of 49.
Other television roles for Ellis included parts in Ballykissangel, Doctor Who, In Sickness And In Health and Only Fools And Horses. He received an honorary doctorate in 2008 from Queen's University Belfast, in recognition for his services to the performing arts, as part of the university's centenary celebrations.
In 2009 Radio 4 broadcast a series of five translations he made of French stories from the writings of the 16th century poet Pierre de Ronsard, adapted to Irish settings. "I became interested in him because he came to Scotland as a young page," Ellis recalled, "and I have this insatiable curiosity about Scotland because Scottish history has always seemed so much more exotic to me than Irish history."
Branagh said in tribute, "James Ellis was a great inspiration to me, and many other actors from the North of Ireland. I was blessed to begin my career working with him, and I will never forget his generosity to me. He was a highly intelligent, funny, and kind man, and a tremendous actor."
His Independent obituary can also be accessed here.
Dictionary of Irish biography:
Ellis, James ('Jimmy') (1931–2014), actor and theatre director, was born on 15 March 1931 in his aunt's house at 13 Gawn Street, Belfast, the younger of two children and only son of James Ellis senior, a sheet-metal worker at Harland & Wolff shipyard, and his mother Matilda ('Tilly'), a mill worker. The family briefly lived in Birkenhead near Liverpool when Ellis's father was worked at Cammel Laird's shipyard. They returned to Belfast in 1939 to live at 30 Park Avenue. To supplement the family income, they took in lodgers, some of whom Ellis recalled in a poetry anthology, 'Portrait of a house', that remained unpublished until produced as a stage play by the Blunt Fringe Theatre Company in 2018. From September 1939 Ellis attended Strand Public Elementary School in Sydenham and in 1943 he won a city scholarship to attend 'Methody' (Methodist College Belfast). The school gave him his first taste for acting when he took part in the dramatic society's performance of 'The Barretts of Wimpole Street' in 1949.
At the age of eighteen Ellis won a scholarship to QUB where he read English literature and French. He proved a poor student but gained acting experience with Queen's Dramatic Society where he took part in their production of George Bernard Shaw's (qv) 'Candida'. This was followed by some work with Hubert Wilmot's recently opened Arts Theatre where he was paid £3 per week. His acting commitments took precedence over his studies and in 1951 he lost his QUB scholarship. This, however, opened the door for him to apply for and receive the Tyrone Guthrie (qv) scholarship, enabling him to attend the Bristol Old Vic school where he learned stage management and directed a performance of T. S. Eliot's 'The cocktail party'.
On his return to Belfast, he appeared in Tennessee Williams's 'The glass menagerie', directed by Hubert Wilmot for which he was paid £11 per week. During the production, he met Elizabeth ('Betty') Hogg, whom he later married. On rejoining the Arts Theatre's regular company, Ellis was offered a wage of £2 per week by Wilmot, who claimed he would have to re-teach him everything he knew. An outraged Ellis approached Harold Goldblatt (qv), director of the Ulster Group Theatre, where he was warmly received and offered £3 per week with the additional assurance there would be no menial backstage tasks. Ellis accepted, and from 1952 regularly played the male lead role in Group Theatre plays such as 'April in Assagh' (1954), 'Is the priest at home?' (1954), 'The diary of Anne Frank' (1957), and his most significant role as Christy Mahon in J. M. Synge's (qv) 'The playboy of the western world' (1957). Although there were lulls in his fortunes – at one stage he and Betty moved to London where Ellis sold ladies' shoes in Selfridges department store – by 1959 he was artistic director of the Group Theatre and in a position to make one of the most crucial decisions of his career. In his memoir (published posthumously in 2015), he recalled being stopped on the street early in March 1959 by the playwright Samuel Thompson (qv) who thrust a manuscript at him with the words: 'I have a play here you won't touch with a bargepole' (Troubles, 25). That evening Ellis gave the play to his father, who was deeply impressed by its gritty realism and insisted that his son do it. The play, 'Over the bridge', based on Thompson's experience of sectarian division in Harland & Wolff, was however considered too inflammatory by the Group Theatre's board of directors, who believed it could lead to civil unrest, and they refused to stage it. In protest, Ellis offered his resignation but agreed to stay on to complete the theatre's dual programme with Bangor Borough Council until September – he was upset at later suggestions that he and the cast walked out immediately en masse. Once his commitments were discharged, he and most of the production team left the Group Theatre to form Ulster Bridge Productions. Ellis approached Frank Reynolds, manager of the Belfast Empire Theatre in Victoria Square, and he agreed to stage it. The play opened on 26 January 1960, received glowing reviews, and played to an estimated 42,000 people during its six-week run.
Despite the success of 'Over the bridge', Ellis subsequently found it hard to get work in Belfast. In 1961 he again moved to London, where he was embroiled in controversy when he played the part of Dandy Jordan in BBC television's 1961 production of Stewart Love's Randy Dandy – a play so sexually charged it was deemed 'unsuitable for people of a nervous disposition' by the continuity presenter when it aired on 14 September. His performance was well received, however, and led to his big break into television. One of the play's directors was working on a new police drama, Z-Cars, and when Donal Donnelly (qv) turned down the part of 'PC McGinty', the director suggested that Ellis might be suitable. Ellis, who readily accepted the offer, was quick to remind the producers of the well-known traditional song 'Paddy McGinty's goat' and suggested a name-change. He also refused to abandon his Belfast accent, lending his character a much-vaunted authenticity. The newly named PC Bert Lynch went on to become an enduring figure in British television – during its run from 1962 to 1978, Ellis was the only cast member to appear in all 627 episodes and, at its peak, Z-Cars attracted eighteen million viewers, including Queen Elizabeth.
Despite professional success, Ellis faced mounting personal problems during that period. He and Betty Hogg divorced in 1967, and in 1974 he appeared in the London bankruptcy court with debts of more than £12,000 in unpaid income tax. He also faced career uncertainty in 1978 with the end of Z-Cars, owing to his close association with the character of Bert Lynch. However, that changed when he appeared in Graham Reid's BBC trilogy of 'Billy' plays, Too late to talk to Billy (1982), A matter of choice for Billy(1983) and A coming to terms for Billy (1984). The plays were widely praised for their authentic portrayal of the Belfast protestant working-class, and for bringing this group to the attention of a cross-channel audience. Ellis played Norman Martin, the father of the young Billy of the title (played by Kenneth Branagh), a heavy drinker and hard, violent man who had a stormy relationship with his son. It was a part far removed from the affable Bert Lynch, and opened Ellis's way to more varied and demanding roles.
From the late 1980s, he appeared regularly in popular television series such as Doctor Who (1989), Nightingales (1990–93), In sickness and in health (1992) and Ballykissangel (1998–9). He also had cameos in series such as Boys from the blackstuff, Only fools and horses, The Bill, Casualty and Lovejoy. His films roles included appearances in No surrender (1985), Priest (1994) and Resurrection man (1998). Outside of acting he had a fascination with sixteenth-century French poet Pierre de Ronsard, whose work he had been introduced to by one of his masters in 'Methody'. From the early 1970s he began translating de Ronsard's poetry and in 2009 BBC Radio 4 broadcast a series of five of his translations, adapted to Irish settings. He made several visits to de Ronsard's birthplace and was made an honorary member of the Ronsard Society in France. In addition, he wrote his own verse – Domestic flight was published in 1998 – and a book of short stories entitled Home and away (2001). In 2001 he was the subject of the Thames Television programme This is your life when surprised during rehearsals for 'Playboy of the western world' at the National Theatre in London on the silver wedding anniversary of his marriage to his second wife, Robina. Other recognition included the award of an honorary doctorate in July 2008 by QUB as part of its centenary celebrations and a lifetime achievement award by the Belfast Film Festival in 2012.
Later in life Ellis suffered great personal tragedy when predeceased by his two sons from his first marriage: Adam was murdered in London in 1988 and Hugo, an actor and director, died by suicide in 2011. James Ellis died on 8 March 2014 in Lincoln, England. The funeral service was held in St Mark's Church, Dundela, East Belfast, and he was interred in Castlereagh presbyterian churchyard. His headstone is engraved with two lines from one of his own poems: 'The hills of Antrim etched upon my heart. For truth to tell, I never really left' (Ellis, 'Over the bridge'). Among the many who attended his funeral were fellow actors and friends James Nesbitt, Adrian Dunbar and Kenneth Branagh, all of whom paid tribute to him as an inspirational figure. Nesbitt noted that actors in Northern Ireland 'looked at Jimmy Ellis and said, "if he can do it, we can do it"' (Independent, 11 Mar. 2014). In March 2017 the James Ellis Bridge between C. S. Lewis Square and Victoria Park was named in his honour, and plaques were erected at his family home on Park Avenue and at the two schools he attended. In 2019 'Over the bridge' was staged at the Linen Hall Library, Belfast, to commemorate sixty years since Ellis first brought it to a local audience, and in March 2021 there were a series of online events to commemorate what would have been his ninetieth birthday. His archive is held by National Museums Northern Ireland