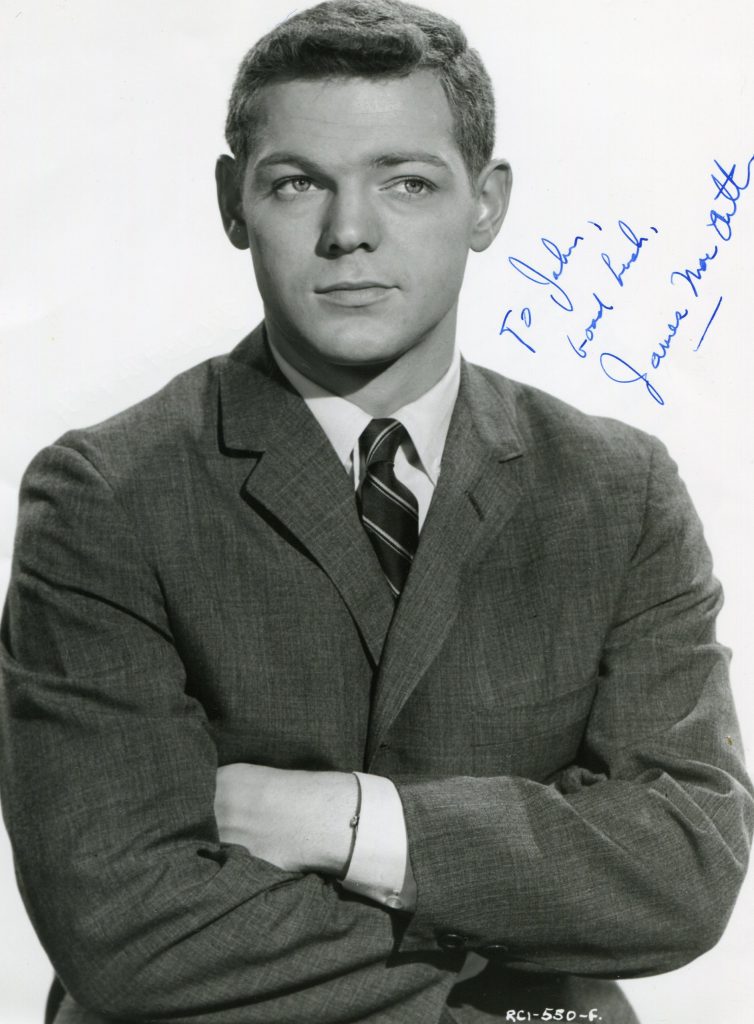 James MacArthur was born in 1937 in Los Angeles. He is the adopted son of the great stage actress Helen Hayes and her husband playwright Charles MacArthur. He made his stage debut as a boy actor in 1949 in "The Corn Is Green". He made his film debut with the major role in the 1856 movie "The Young Stranger" directed by John Frankenheimer. He won a Disney contract and starred in such populasr favourites as "The Light in the Forest", "Kidnapped", "Third Man on the Mountain" and "Swiss Family Robinson". Throughout the 1960's he was featured in routine films with the exception of "Spencer's Mountain" with Henry Fonda and Maureen O'Hara and in 1968 "Hang E'm High" with Clint Eastwood. That same year he began a twelve year stint on television in the long running and very popular "Hawaii 5 0" with Jack Lrod as Steve McGarrett and MacArthur as his trusty sidekick Danno. After the series ended he made some television guest appearances but then virtually retired fromacting. James MacArthur died in 2010 at the age of 73.
His "Independent" obituary:
The boyish-looking actor James MacArthur found his greatest fame as Detective Danny Williams in the television crime series Hawaii Five-O, a worldwide hit full of dramatic explosions and car chases, aided and abetted by swaying palm trees and turquoise-blue wave
The island law-enforcer was second-in-command to the self-righteous, humourless Detective Steve McGarrett (played by Jack Lord), head of the Five-O group, based at the Iolani Palace, in Honolulu, as part of the Hawaiian State Police. On arresting the criminals at the end of episodes, McGarrett would bark: "Book 'em, Danno!" MacArthur recalled three years ago: "It wasn't anything we really thought about at first, but the phrase just took off and caught the public's imagination."
As well as playing the boss on screen, Lord firmly set himself up as the "star" of the series, which ran from 1968 to 1980, although MacArthur baled out a year before the final run. With a financial stake in the programme, Lord insisted that all other cast members were simply "featured guests" and only allowed MacArthur a credit preceded by the word "with", not "co-starring".
The fair, curly haired actor was the co-star – but was simply pleased to find success after years of roles in mostly forgettable films. One of his better big-screen parts was as Fritz, one of the sons of the shipwrecked family, in the Disney picture Swiss Family Robinson (1960). He also gave Hayley Mills her first screen kiss, in the light-hearted romance The Truth About Spring (1965).
Born in Los Angeles in 1937, MacArthur was adopted at the age of seven months by the actress Helen Hayes and her playwright husband, Charles MacArthur – who co-wrote The Front Page – and brought up on the bank of the Hudson River in Nyack, New York. His godmother was the actress Lillian Gish. He attended the city's Allen-Stevenson School, New York, and the Solebury School, New Hope, Pennsylvania, where he excelled in basketball, football, baseball – and drama.
By then, he had professional acting experience. He had appeared with his mother aged 10 in a play in the Theatre Guild of the Air radio series (1948). A year later, he made his stage debut as Will Hughes in the Emlyn Williams play The Corn is Green, at the Olney Theatre, Maryland. Further stage appearances followed.
MacArthur's screen career began promisingly, with the role of the troubled teenager Hal Ditmar in "Deal a Blow" (1955), a play in the television series Climax! He reprised it for the 1957 film version, The Young Stranger – earning him a Society of Film and Television Arts (now Bafta) nomination as Most Promising Newcomer – before studying for a history degree at Harvard University.
During summer vacations, MacArthur acted in Disney films. He played a young man who had been raised by a native American chief in The Light in the Forest (1958); Rudi Matt, aiming to climb the peak that killed his father, in Third Man on the Mountain (1959); and David Balfour in Kidnapped (1960), based on Robert Louis Stevenson's novel, before Swiss Family Robinson (1960) came along.
MacArthur also took his one and only Broadway role, as Aaron Jablonski in the comedy Invitation to a March (Music Box Theatre, 1960-61), written by Arthur Laurents, with incidental music by Stephen Sondheim. Jane Fonda was in the cast and MacArthur's performance won him the 1961 Theatre World Award as Best New Actor. A string of television plays during this period was followed by character roles in programmes such as The Untouchables (1961), Burke's Law (1963), The Virginian (1965), Tarzan (1967) and Bonanza (1967).
Other film roles included that of a doctor in The Interns (1962), Henry Fonda's eldest son in Spencer's Mountain (1963) – based on the novel later developed into The Waltons on television – the spoiled son of a wealthy businessman joining Filipino commandos fighting the Japanese in Cry of Battle (1963), Ensign Ralston in the Cold War submarine drama The Bedford Incident (1965), Lieutenant Weaver in Battle of the Bulge (1965) and a travelling preacher in the low-budget Spaghetti Western Hang 'em High (1968), starring Clint Eastwood and written and produced by Leonard Freeman. Then, Freeman created Hawaii Five-O. Watching a pilot that was screened for a test audience, he considered Tim O'Kelly too young for the role of Danny Williams and offered it to MacArthur.
The actor invested his immense earnings from the programme in real estate, making him very wealthy by the time he left it in 1979. "I grew bored," he explained. "The stories became more bland and predictable, and presented less and less challenge to me as an actor."
Although MacArthur made guest appearances in Murder, She Wrote (1984) and The Love Boat (four roles, 1979-85), most of his later roles were on stage. During his television screen career, his mother appeared with him in episodes of Hawaii Five-O (1975) and The Love Boat (1980).
MacArthur returned to his most famous role when he played Danny Williams as the new governor of the isands in the 1997 television film Hawaii Five-O. Jack Lord was suffering from Alzheimer's disease and close to death, but other previous cast members, Kam Fong, Kono and Herman Wedemeyer, returned as the detectives Chin Ho Kelly, Zulu and Duke, teaming up with a new Five-O team to search for the culprit when Governor Dan Williams is shot.
At the premiere of a new television version of Hawaii Five-O in the United States earlier this month, MacArthur sent the message: "I'm looking forward to making an appearance inthe new show when the time is right and I can't wait to see what the writers have in store for me." He did not live to see that.
His first two marriages, which ended in divorce, were to the actors Joyce Bulifant and Melody Patterson. He is survived by his third wife, the golf teacher and LPGA tour player HB Duntz, whom he met through his own interest in playing golf. MacArthur had three children from his first and third marriages, but the identity of his daughter Juliette's mother has never been revealed.
James Gordon MacArthur, actor: born Los Angeles 8 December 1937; married 1958 Joyce Bulifant (marriage dissolved 1967; one son, one daughter), 1970 Melody Patterson (marriage dissolved 1975), 1984 Helen Beth Duntz (one son), and one daughter; died Jacksonville, Florida 28 October 2010.
The above "Independent" obituary can also be accessed online here.