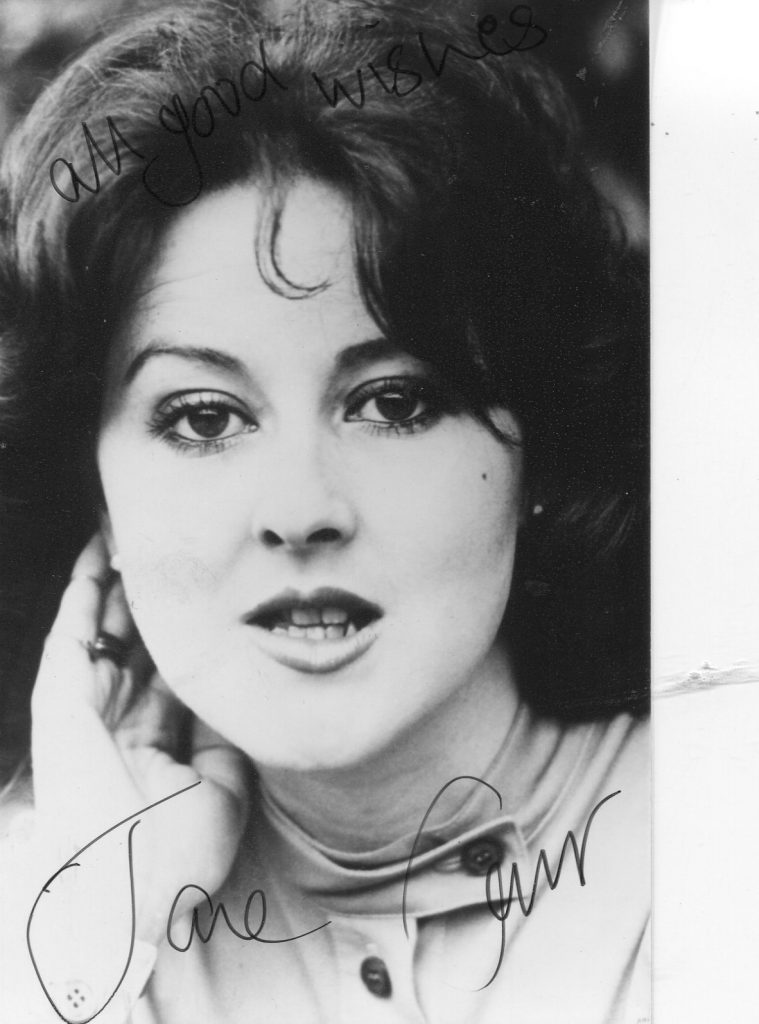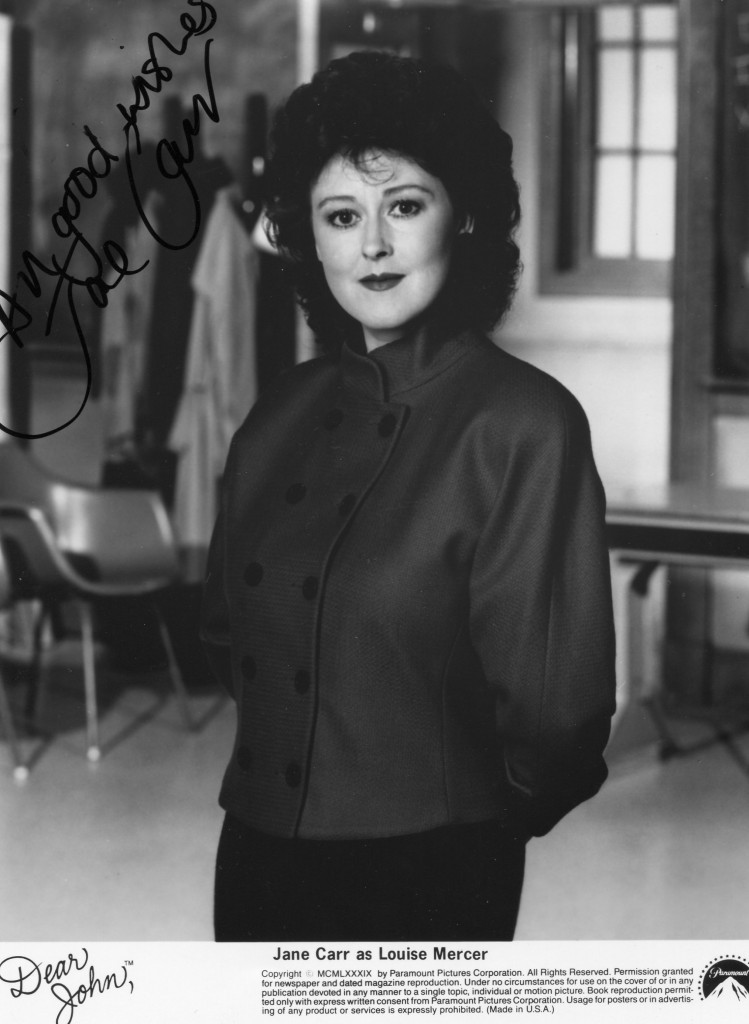 Jane Carr was born in Essex in 1950. She has two classic film performances to her credit. In 1968 she was the gullable Mary McGregor under the spell of Maggie Smith in "The Prime of Miss Jean Brodie" and then in 1970 in "Something for Everyone" as the daughter of Angela Lansbury. She was also hilarious in 1977 on the stage in "Once A Catholic" in London's West End. Jane Carr moved to the U.S. and starred in the television series "Dear John" and in "Curb Your Enthusiasm".
Gary Brumburgh's entry:
Since the late 1980s, American audiences have embraced the "veddy British" talents of character actress Jane Carr — she with the close-set eyes, lilting voice, trowel jaw and bubbly disposition. It helps, of course, having natural comedic timing and the necessary vocal skills to be in constant demand.
She was born Ellen Jane Carr on August 13, 1950, in Loughton, Essex. The daughter of Patrick Carr, a steel erector, and Gwendoline Rose (née Clark), a postal employee, an innate gift for performing was discovered early on by a teacher. As a result, she took acting classes at the Arts Educational School and Corona Stage School, both in London.
Jane made her stage debut at age 14 in a production of "The Spider's Web", then went on to appear as the impressionable, ill-fated student "Mary McGregor" in "The Prime of Miss Jean Brodie", starring Vanessa Redgrave at the Wyndham's Theatre in 1966. Earning smashing reviews, Jane recreated her shy, stuttering misfit with a delicate mixture of pathos and poignancy in the film version of The Prime of Miss Jean Brodie (1969), this time with Oscar-winning Maggie Smith at the helm as the dangerously influential schoolteacher. A year later, Jane displayed just how extensive her range is projecting devilish menace and merriment in the little known but excellent cult black comedySomething for Everyone (1970), which became a cinematic highlight in the careers of both Michael York and Angela Lansbury, as well.
In the early 70s, Jane made fine use of her prim, "plain Jane" looks for comic effect on several British TV series and in guest appearances. Loftier moments came with the superb series Upstairs, Downstairs (1971) and a production of Daphne Laureola (1978), that starred esteemed acting couple Laurence Olivier and Joan Plowright.
Never far from the stage, Jane appeared in "Spring Awakening" in 1974 and earned a 1977 Laurence Olivier nomination for her work in "Once a Catholic". In 1978, she became a member of the Royal Shakespeare Company (RSC) and added a solid body of classics to her theatrical resumé, including "A Midsummer Night's Dream" (Olivier nomination), "The Tempest", "As You Like It", "Much Ado About Nothing", "The Merchant of Venice" (withAlec Guinness) and "The Merry Wives of Windsor". She also reconnected with her "Jean Brodie" co-star Maggie Smith in a production of "The Way of the World" in 1985.
It was not until 1986 that Jane came to the States playing multiple key roles in the epic RSC revival of "The Life and Adventures of Nicholas Nickleby" on Broadway. When the touring company returned to England, Jane elected to stay in Los Angeles. The following year, she married Chicago-born actor Mark Arnott. They have a son, Dash Arnott (aka Dashiel James Arnott).
Jane proceeded to develop an American fanbase after being cast in the role of warm and fizzy Louise Mercer in the sitcom Dear John (1988), which lasted four seasons. With her chirpy British tones, she also managed to carve a career for herself in animated voicework. While she continues to appear occasionally on TV and in films, she hasn't found quite the showcase she did with Dear John (1988), but has enhanced a number of such off-kiltered shows as Curb Your Enthusiasm (1999) and Monk (2002) with her unique brand of comedy.
Recent plays have included "The Cider House Rules", "Noises Off", "Blithe Spirit" (as "Madame Arcati"), "Habeas Corpus" and David Hare's "Stuff Happens (as "First Lady Laura Bush" opposite Keith Carradine's bemused "President Bush"). Jane's latest venture on Broadway has been as "Mrs. Brill" in the musical, "Mary Poppins".
– IMDb Mini Biography By: Gary Brumburgh / gr-home@pacbell.net