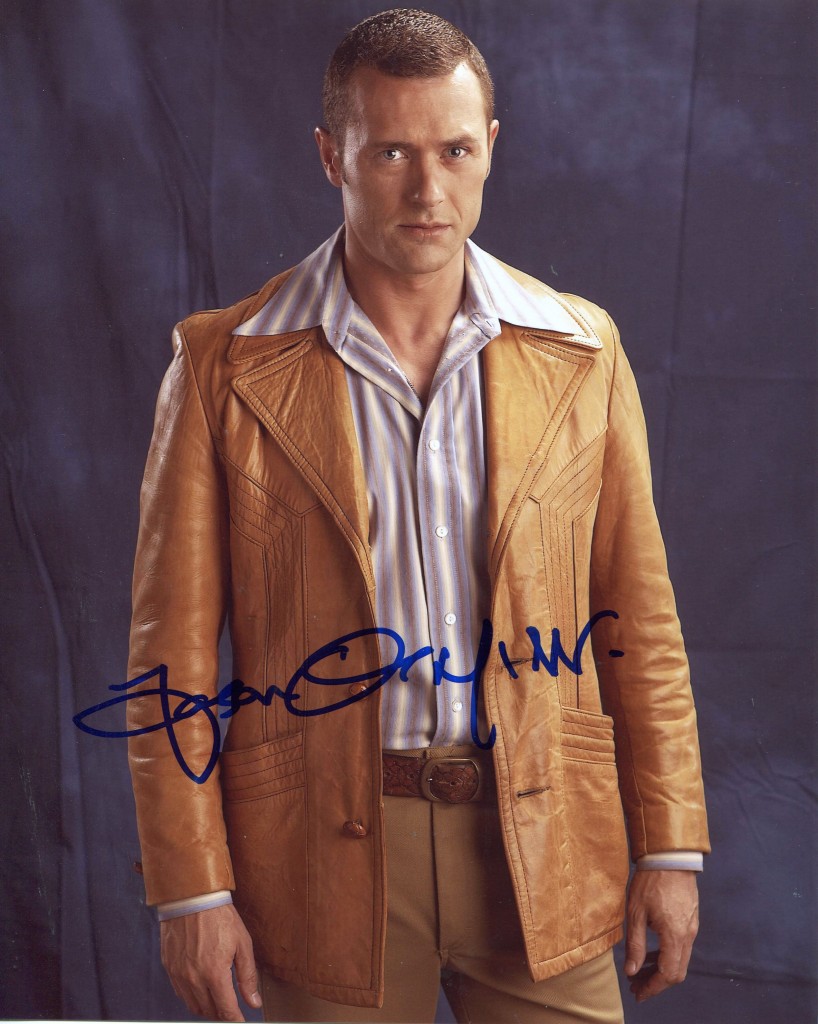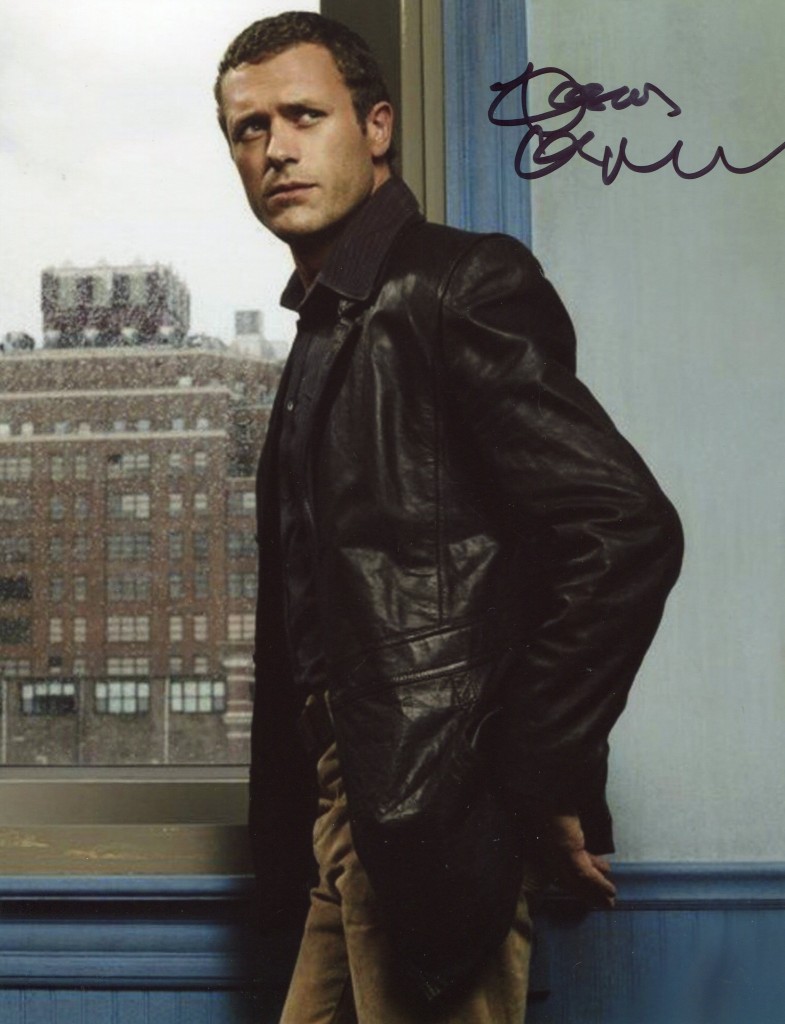 Jason O'Mara. TCM Overview
Jason O'Mara was born in Dublin in 1972. After graduation from Trinity College, he commenced his acting career in London where he acted with the Royal Shakespeare Company. He was featured in many British television series such as "Band of Brothers", "Monarch of the Glen" and "The Agency". He went to Hollywood where he made the short-lived series "Life on Mars". He is currently preparing for Steven Speilberg's "Terra Nova" to be made on location in Australia.
TCM Overview:
After years of supporting roles in his native Ireland and the U.K., actor Jason O'Mara became the centerpiece for some of the more higher-profile television projects of the 2000s and 2010s, though his first efforts were often short-lived despite unique premises, quality production values and massive buzz. Oâ¿¿Mara first came to attention with American audiences with a small role in Steven Spielbergâ¿¿s award-winning miniseries, "Band of Brothers" (HBO, 2001) before joining the cast for the second season of the CIA thriller series "The Agency" (CBS, 2002-03). From there he co-starred on another short-lived series, "In Justice" (ABC, 2006), before landing the main villain role in "Resident Evil: Extinction" (2007). Oâ¿¿Mara was propelled to leading man status with the main role on the American remake of the British sci-fi procedural, "Life on Mars" (ABC, 2008-09), only to see the show canceled during its maiden season due to low ratings. He went on to a number of guest starring appearances before being cast in the lead for another much-hyped series, "Terra Nova" (Fox, 2011), a time traveling sci-fi adventure from Spielberg that once again failed to attract large audiences. Despite the setbacks in the early stages of his stateside career, Oâ¿¿Mara was a gifted enough performer to earn himself another shot at stardom.
Born in Dublin, Ireland on Aug. 6, 1972, to Veronica and Stephen O'Mara, Jason grew up in nearby Sandycove. His father went through entrepreneurial ups and downs, causing any number of family struggles including not being able to afford groceries or the coal to heat their house in the winters. He attended St Michael's College (high school), where he excelled at rugby until, at age 15, an injury sidelined him. He picked up a small part in a school play to bide time until he healed. After three performances of Shakespeare's "The Merchant of Venice," he had contracted the proverbial acting bug, though he fought it. Graduating high school three years later, O'Mara enrolled in Trinity College Dublin, where he majored in drama and theater studies. Though not officially in the acting program, he kept at it through extracurricular productions, and after graduation, scored some stage work at Dublin's edgy Peacock Theatre, as well as a small speaking roll in the ultra-B sci-fi flick, "Space Truckers" (1995), which notoriously tapped much of the Irish thespian community.
In search of a more bountiful market, he relocated to London and did the struggling unknown thing for a time before landing no less than a BBC miniseries with "Berkeley Square" (1998), a well-received drama. From there, the opportunities snowballed and the rugged actor scored a number of supporting and recurring roles on shows in the U.K. â¿¿ the highest-profile among them being a six-episode run on the long-running "Monarch of the Glen" (BBC, 2000-05), and two seasons of the satire, "High Stakes" (ITV, 2001). Also in 2001, he joined a bevy of up-and-coming American and British Isles talent to recreate U.S. 101st Airborne's Easy Company in Steven Spielberg and Tom Hanks' epic World War II miniseries, "Band of Brothers" (HBO, 2001), though his character died in just the second episode. Looking to further tap into the American market, he sent a TV pilot audition tape to Hollywood and, though he was not deemed right for that project, the producers of a potential new Fox show called "Eastwick" saw the tape. They considered him a fit for a pivotal role: the devilish counterpart to Jack Nicholson's character from the show's inspiration, "The Witches of Eastwick" (1987). Suddenly, he was flown to Vancouver to shoot the pilot. Unfortunately, the network wound up passing on the show, but he came out of the process with an agent and essentially his foot in Hollywood's collective door.
He returned to the Irish stage for a turn as a violent homophobic thug in award-winning filmmaker and playwright Neil LeBute's "Bash," staged at the Gate Theater. The role, as directed by Michael Colgan, would earn him a nomination for the Best Supporting Actor the next year at the Irish Theater Awards, and would also put him on another track back to the U.S. "Bash" director Colgan immediately cast him in the Gate's next production, Harold Pinter's "The Homecoming," which would tour both to London and New York, where it premiered at no less than the prestigious Lincoln Center. After a number of successful auditions in stateside, he found himself in an enviable position for a young thespian: a choice of which primetime broadcast program show he wanted to be a part of. He chose to join the second season of CBS' "The Agency" (2001-03), a middle-performing but well-reviewed action thriller series about the CIA. He played agent A.B. Stiles, again putting on his American accent, used to amusing effect in one episode when he went undercover as a member of the Irish Republican Army, leading a teammate to insist he lose "that phony Irish accent." It was also on "The Agency" that O'Mara met actress Paige Turco. The two would marry the next year.
While all was rosy on the personal front, professionally, O'Mara was quickly learning the disappointments that came with launching American TV programs. CBS opted not to renew "The Agency" so O'Mara resorted to guest shots, a couple of failed pilots, a supporting role in the feature "Resident Evil: Extinction" (2007), a short-lived mid-season replacement series called "In Justice" (ABC, 2006), and a recurring hunk du jour role on the romance-tinged dramedy "Men in Trees" (ABC, 2006-08). He did another promising pilot for ABC in 2007 that cast him as Philip Marlowe in a contemporary update of Raymond Chandler's iconic private investigator. So impressive was his take on the character that it prompted buzz within the industry. Amongst those taking notice was über-producer David E. Kelley who, along with network brass, decided O'Mara was needed elsewhere.
As early as March 2006, Kelley had struck a deal to mount an American version of the BBC's hit show, "Life On Mars," an out-of-left-field tale of a modern day police detective abruptly transported back in time to the more rough-and-tumble, politically incorrect days of the 1970s. Kelly got ABC to bite but had some trouble finding just the right actor to essay the central role of the fish-out-of-water Sam Tyler, who must go on being a cop while also figuring out how to go back to his own time to save his girlfriend. Though he had originally hoped to get the show on the network schedule for fall 2007, Kelley did not settle on O'Mara for the part of Tyler until summer of that year. They shot a pilot, hoping to make the show a mid-season replacement series, but after a flap with ABC execs about the direction of the show, Kelley left the project and Josh Applebaum, Andre Nemec and Scott Rosenberg took the helm as executive producers. They revamped the story, changing the setting from L.A. to New York, and recast nearly every role except O'Mara's as well as stacking the luminous supporting cast around him with proven heavy-hitters including Harvey Keitel in his first series TV work.
In 2006, Oâ¿¿Mara had a guest appearance on "Criminal Minds" (CBS, 2005- ) as the Mill Creek Killer and played antagonist Albert Wesker in "Resident Evil: Extinction" (2007). Following a guest turn in an episode of "Greyâ¿¿s Anatomy" (ABC, 2005- ), he starred in the U.S. remake of the popular British series, "Life on Mars" (ABC, 2008-09), a sci-fi drama where he played a New York police detective from the 21st century who mysteriously finds himself transported back to 1973 after a car accident. Despite a promising premise and hype from the network, the show failed to attract an audience and was canceled in 2009. After an episode of the short-lived drama "Trust Me" (TNT, 2009), Oâ¿¿Mara was the lead in another heavily advertised sci-fi series, "Terra Nova" (Fox, 2011), on which he played the head of a family sent back in time from the year 2149 â¿¿ a time where overpopulation and poor air quality threatens life on Earth â¿¿ to 85 millions years in the past, where they find themselves trapped among dinosaurs. Despite a small, but rabid following that tried to save the show, the network canceled "Terra Nova" in early 2012.
The above TCM Overview can also be accessed online here.
His website.
Jason O'Mara