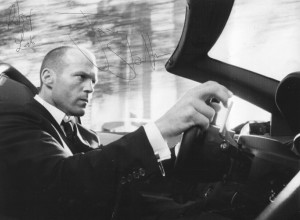 Jason Statham is an English actor who is also a martial arts expert.  He was born in 1967 in Shirebrook.    He is best known for his roles in Guy Ritchie films like "Snatch".   He is currently starring with old pros Sylvester Stallone. Bruce Willis, Arnold Schwarzenegger and Dolph Lundgren in "The Expendables"   Interview with Statham in "The Guardian" can be accessed here.
He was born on 26 July 1967 in Shirebrook, Derbyshire,[5][6] the son of Eileen (née Yates), a dancer, and Barry Statham, a street seller.[7] His father also worked odd jobs as a house painter, coal miner, and singer in the Canary Islands.[8] He moved to Great Yarmouth, Norfolk, where he initially chose not to follow his father's career working the local market stalls, instead practising martial arts. He grew up with football player Vinnie Jones, alongside whom he would later act. Jones introduced him to football, and Statham went on to play for the local grammar school (1978–1983), which he had attended since the age of 11, a passion that he shared with diving.[9] He practiced daily in perfecting his diving techniques, and was a member of Britain's National Swimming Squad for twelve years.[10][11] Statham competed for England at the 1990 Commonwealth Games in the 10 meter, 3 meter, and 1 meter competitions.[12] He said in a 2003 IGN interview that his time with the national squad was "a great experience" and one that "teaches you discipline, focus, and certainly keeps you out of trouble".[13]
Statham's life in the media began when he was spotted by the agency Sports Promotions specialising in sports modelling while he was training at London's Crystal Palace National Sports Centre. He was also signed by Tommy Hilfiger, Griffin, and Levis for various modeling contracts during their 1996 spring/summer collections.[14] In 1997, he became a model for the clothing brand French Connection. A spokesperson for the high street clothing chain said: "we chose Jason because we wanted our model to look like a normal guy. His look is just right for now: very masculine and not too male-modelly."[6] However, he was still forced to follow in his father's footsteps as a street seller to make ends meet, selling "fake perfume and jewellery on street corners" according to Statham.[15][8] He made small appearances in a few music videos, including "Comin' On" by The Shamen in 1993, "Run to the Sun" by Erasure in 1994,[16] and "Dream a Little Dream of Me" by The Beautiful South in 1995.[17][18]