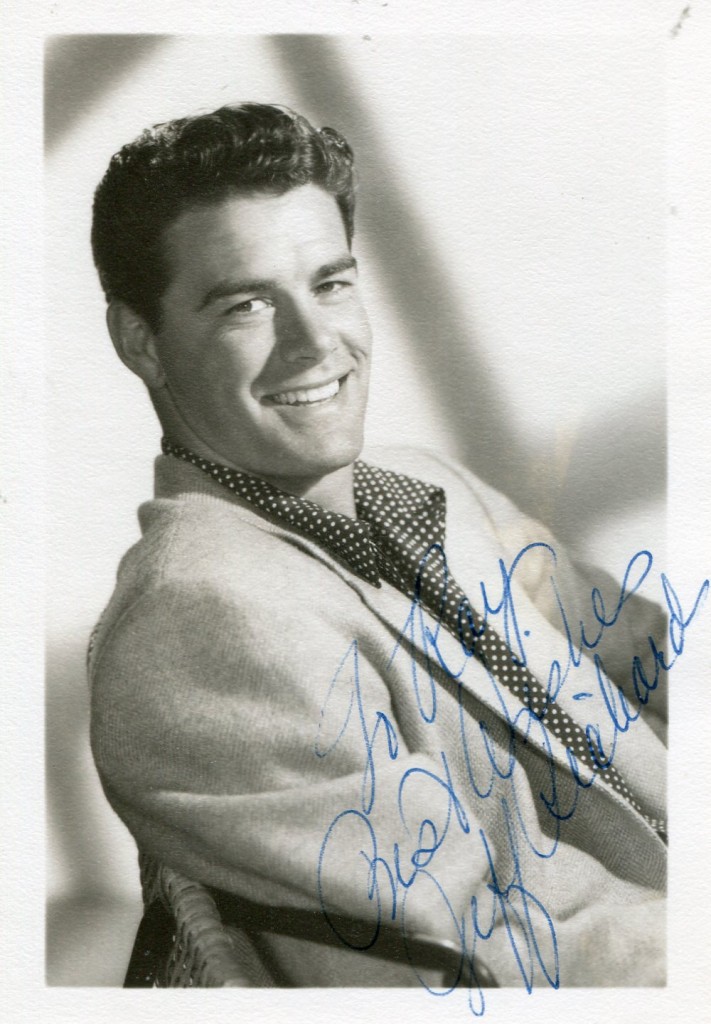 Jeff Richards was an American baseball player who became an actor.   he was born in 1924 in Portland, Oregon.   His best known role was in "Seven Brides for Seven Brothers" in 1954.   His other films include "Many Rivers to Cross", "Don't Go Near the Water" and "Born Reckless".   Jeff Richards died in 1989.   TCM Page on "Seven Brides for Seven Brothers" can be viewed here.
"Wikipedia" entry:
He was born Richard Mansfield Taylor in Portland, Oregon. Taylor joined the United States Navy during World War II and served until 1946.
After the war was over, Richard Taylor played shortstop for the Portland Beavers for a year and then for the Salem Senators; however, his baseball career ended after he tore his ligament and was unable to play anymore.   He then went to Hollywood to pursue a film career. He got a screen test at Metro-Goldwyn Mayer and the studio changed his name to Jeff Richards. The former baseball player started his acting career during the late 1940s with mostly bit parts, but in 1950 he played a strong role, displaying his baseball skills as Bob Langdon in Kill the Umpire and later as Dave Rothberg in Angels in the Outfield (1951).
He is best known for his role as Benjamin Pontipee in Seven Brides for Seven Brothers (1954). Following this performance, he tied with George Nader and Joe Adams for the Golden Globe for Most Promising Newcomer. Despite this, his acting career soon floundered.   Richards was one of the male supporting roles amid an all-star cast of actresses in The Opposite Sex (1956). His leading roles came in several low-budget films, including the western The Marauders, the rodeo drama Born Reckless, the mad-scientist story Island of Lost Women and the underwater adventure The Secret of the Purple Reef, each of which had little or no impact.
In 1958, on television, Richards played the title role in the NBC western television series Jefferson Drum, the story of a crusading journalist, with Eugene Martin portraying his young son. The series was cancelled after twenty-six episodes aired over two seasons.[1]  Richards guest-starred in numerous television series, including the role in 1961 of Jubal Evans in the episode "Incident of His Brother's Keeper" of the CBS western Rawhide.   His last role was in 1966 as Kallen in the film Waco.
He was married to Vickie Taylor and they had one child before they divorced.   Jeff Richards died on July 28, 1989, aged 64 from unknown causes. He is buried at Riverside National Cemetery in Riverside, California.