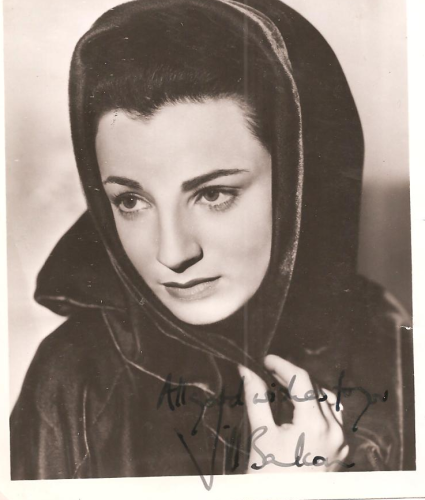 Jill Balcon was born in London in 1925. She was the daughter of the famed film producer Michael Balcon. She made her film debut in 1947 in "Nicholas Nickleby"and had a substantial role in "Good Time Girl" with Jean Kent. Her other films include "The Lost People" and "Highly Dangerous" with Margaret Lockwood. In 1951 Jill Balcon married the Poet Laureate Cecil Day-Lewis. The actor Danel ay-Lewis is their son. Jill Balcon died in 2009.
Her obituary in "The Guardian":
Jill Balcon, who has died aged 84, was celebrating her 23rd birthday and just beginning to make a name for herself as a film and stage actor when, on 3 January 1948, she appeared on the BBC radio programme Time for Verse, broadcast live on Sunday evenings. Her voice – a rich, expressive, finely modulated instrument – was already a favourite with listeners and was to remain so throughout her long life. In the studio she met a fellow contributor, the poet C Day-Lewis, whom she had worshipped from afar ever since he visited her boarding school, Roedean, in 1937 to judge a verse-speaking competition. That meeting in Broadcasting House was to change her life.
Balcon – pronounced, she would point out with typical precision, like Olivia Manning's Balkan trilogy, not an abbreviation of balcony — thought Day-Lewis had hardly noticed her, but soon afterwards he telephoned her at her Pimlico flat just as she was packing for a season with the Bristol Old Vic. He wanted her to join him in a poetry recital in Salisbury. She could not, but spent her whole time at Bristol wishing she had been able to say yes. "He had charm," she later recalled, "in the original sense of the word – a kind of magical magnetism."They met again later that year – at the English Festival of Spoken Poetry in London – and romance blossomed. Balcon was, said her great friend Natasha Spender, wife of the poet Stephen Spender, "strikingly beautiful, like the sort of beautiful woman you only see on a Greek vase". Jacob Epstein was so taken by her looks that he asked her out of the blue if he could make a bronze sculpture of her head.
Their joy at finding one another was not shared by those around them. Day-Lewis was 21 years her senior and married. He had also been involved throughout the 1940s in a very public love affair with the novelist Rosamond Lehmann, one of the most celebrated women of her age. He was dividing his time between her home in Oxfordshire and his wife and two teenage sons in Dorset.
Balcon had few expectations of Day-Lewis, but, after a late night walk along the banks of the Thames, where they carved their initials on a tree outside George Eliot's home on Chelsea's Cheyne Walk, he told her wanted to spend the rest of his life with her. Day- Lewis broke with both his wife and Lehmann in favour of Balcon. It caused both discarded women great pain. Mary Day-Lewis bore it stoically, but Lehmann blamed Balcon and made it plain that she would never recover from the blow.
Balcon's father, Sir Michael Balcon, the head of Ealing Studios, was not at his daughter's wedding breakfast in 1951. He had been horrified when her name appeared on the front pages of the newspapers as the co-respondent in Day-Lewis's divorce. Lady Balcon was afterwards able to see her daughter only at clandestine meetings in Hyde Park.None of this disapproval could detract from the bond of love and common interest that the newlyweds shared. They were soul mates. She had been passionate about poetry since childhood. He had first made his name in the 1930s as one of a group of leftist poets, collectively known as the Auden generation or MacSpaunday. But by the 1940s he had moved away from their political concerns to embrace wider themes and to earn a place in the English lyric tradition alongside his hero, Thomas Hardy.There followed many joint public performances of poetry – Day-Lewis's and that of others they both admired such as Robert Frost and Emily Dickinson. From 1968 until his early death in 1972 Day- Lewis was poet laureate, and the couple were familiar public faces in the world of the arts, supporting progressive causes.
In the early years of their romance, Balcon's own career continued to thrive. At the Old Vic, she played Zenocrate to Donald Wolfit's Tamburlaine in a rare revival of Christopher Marlowe's play. It was part of a season directed by Tyrone Guthrie, which also saw her play Titania in A Midsummer Night's Dream. However, with two children – Tamasin, born in 1953, and a noted documentary maker and cookery writer, and, in 1957, Daniel, the Oscar-winning actor – she put family before work. The demands of home and husband meant she concentrated mainly on television roles and radio work because they placed more manageable demands on her time.
Day-Lewis's infidelities caused her much pain, but their marriage endured. After his death from cancer, she took on the mantle of his editor, producing a collection of his posthumous poems in 1979, the complete set in 1992, and a selection to mark the centenary of his birth in 2004. She became the keeper of the flame and noted with wry amusement that he had once written a poem The Widow Interviewed. "Sometimes I think, God, I have become that relic." She continued giving performances of his verse at festivals and events as well as dealing with a constant stream of visitors and letters about Day-Lewis and the poets of his generation. She remained frustrated by the refusal of the authorities at Westminster Abbey to grant him a place in Poets' Corner, a usual but not guaranteed honour for poets laureate. Despite a letter of protest organised by the Royal Society of Literature in 2000, the dean refused even to give Balcon a reason for his refusal
Balcon was born in Westminster, the daughter of Michael Balcon and his wife Aileen. Her father advised her against the stage, but after Roedean school, in Brighton, she trained at the Central School of Speech and Drama, where she came top in her year, much to his delight. She first caught the eye of critics as Madeline Bray in Alberto Cavalcanti's 1947 screen version of Nicholas Nickleby. Major screen roles followed in film, including opposite Stewart Granger in Saraband for Dead Lovers (1948), Good Time Girl (1948) with Jean Kent, and The Lost People (1950), but the stage was her passion. In her later television work, she had decent roles in The First Churchills (1969) and Elizabeth R (1971) to complement more bread-and-butter appearances in series such as The Sweeney and The Protectors. Her final professional engagement with her husband was as a reader (with Marius Goring and John Gielgud) in his television series on poetry, A Lasting Joy, recorded in their home weeks before his death and broadcast posthumously to great acclaim.
Late in her career, she enjoyed something of a renaissance, with substantial parts in Derek Jarman's films Edward II (1991) and Wittgenstein (1993), and as Lady Bracknell performing in the Wilde play within the film An Ideal Husband (1999). But the medium where she worked most happily until the end was radio, where her 60 years as a well-loved actress and broadcaster were celebrated by the BBC in 2003 with a specially commissioned play, Deadheading Roses, which also featured her son, Daniel.
With her children grown up, she retreated to the Hampshire countryside, where she shared a picture-postcard thatched cottage with a new partner, the military historian Antony Brett-James. After his death in 1984, she tended their exquisite garden, entertained with good humour and great generosity neighbours such as Alec and Merula Guinness, kept a watchful eye on her beloved grandchildren at nearby Bedales, and made a new generation of friends among writers — including those, such as Claire Tomalin, who were anxious that her golden voice should be the one featured on audio versions of their books. Her passion for poetry never diminished, as she demonstrated in a 2007 appearance as the castaway on Desert Island Discs. She continued to give recitals and remained in close contact with almost all of the distinguished British poets of the generations that followed Day-Lewis. "I have spent my entire life," she reflected just short of her 80th birthday, "trying to interest people in poetry." She is survived by her son and daughter.