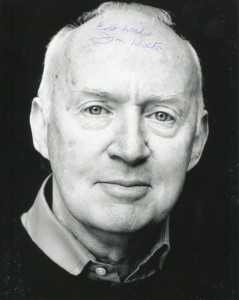 Jim Norton was born in Dublin in 1939.   He is an acclaimed stage actor who has won a Tony on Broadway for "The Seafarer"  and in 2009 starred as Finian McLorigan in the musical "Finian's Rainbow".   He is well known as Bishop Len Brennan in the cult comedy TV series "Fr Ted".   His film roles include "Alfred the Great" in 1967 and "Memoirs of an Invisible Man" with Chevy Chase.
  An interview in "Irish America":
By Cahir O'Doherty, Contributor
October /November 2009
Irish poet and dramatist Oscar Wilde had a simple formula for artistic success: "Start at the top and then sit on it." It's advice that the director and cast of Finian's Rainbow have every reason to take to heart, because their highly anticipated revival at the Saint James Theatre on 44th Street is almost certain to become a smash hit.
In a lucky break that almost never happens on Broadway, this production had the critics raving before it officially opened. Back in March the show was first presented in a stripped down production at Manhattan's City Center as part of their Encores! series, an annual program of classic musical revivals that's been running since 1994. From its very first performance Finian's Rainbow was, as they say, a monster hit.
Cheyenne Jackson, the smoldering all-American star of the show, tells Irish America, "I've been involved in a dozen of these fit 'em up revivals and every time there's been terrific buzz about the show transferring to Broadway. But Finian's Rainbow is the first show I've been in that actually has. And I can tell you I am thrilled to be a part of it."
For the show's breakout star, Tony-winning Irish actor Jim Norton, it's an opportunity to do something that he rarely can nowadays – work in a production that's appropriate for his grandchildren to see.
"Because I'm always in shows like Conor McPherson's The Seafarer, my grandchildren have actually never seen me in a play," Norton tells Irish America. "But this is something the whole family can see – including my own grandkids – because it's appropriate for any age and it's beautiful, voluptuous music."
Resisting every temptation to play to Irish stereotype, Norton's a marvel in the title role of Finian McLonergan, a lovable Irish rogue taking a shortcut to easy street. Onstage his unexpectedly subtle performance wisely lets the paternal bond between himself and his daughter Sharon (Kate Baldwin) become the emotional center of the show. The other actors have taken note, too.
"Jim's performance, because it's so truthful, has made all of us step up our game," Baldwin tells Irish America. "Jim will only present you with what he knows will ring true. There's no melancholy about Jim, his spirit has infused the cast and has made us all a little bit lighter about the material, so when it gets to the poignant parts you're not mired in sappy stuff," Baldwin adds.
If you haven't seen it, it would be easy to assume that Finian's Rainbow is a lethal dose of the sappy stuff from the 1940s. But ten minutes into this production you'll realize that beneath its warmhearted exterior, Finian's Rainbow is packing a social punch that's as potent now as the day it was first produced over 60 years ago. (A celebrated 2004 revival of the show at the Irish Repertory Theatre in Manhattan won critical acclaim but didn't make it to the Great White Way.)
The plot is famously convoluted: when Finian McLonergan emigrates from Ireland with his daughter Sharon and a stolen pot of leprechaun gold stowed away in his bag, we know that retribution is certain to follow. Sure enough, it arrives in the shape of Og, a lecherous young Irish leprechaun in green figure-hugging Spandex (Christopher Fitzgerald). Outraged by the theft, Og has followed father and daughter all the way from home, desperate to recover his stolen treasure before the loss of it turns him permanently human.
Alongside all the giddy theatrics, the show tackles an issue that's all too real: what happens when a bigoted leader like Senator Billboard Rawkins takes control, enacting laws that are actually smokescreens for his racism. Unfortunately for him, he reveals his opinions to Sharon, who accidentally turns the old bigot into a black man when she curses him near a pot of magic gold. Onstage a bigoted white man is improved by making him black, a device that still resonates in these so-called post racial times.
"The show is a very strange and wonderful hybrid of plotlines," Baldwin tells Irish America. "You have an economic storyline, you've got a racial storyline, you've got an immigrant storyline and you have all this leprechaun magic as well. So our director made sure that we had very distinct people in the cast, giving each plotline direction from moment to moment."
Like her co-star Jackson, Baldwin has some Irish ancestry to draw from – and better yet, she's actually spent time there. "I do have some Irish heritage and I went to Ireland in 1998 and had a really lovely time. To top that off I check in with Jim every day to ask him about my accent work and he's so generous always, he lets me know if I go too far. He's a great guide."
The show's English director, Warren Carlyle, an immigrant to these shores himself, finds he has a strong personal affinity for the two central characters. With eight West End hits to his credit, Carlyle still finds himself identifying with the journeys taken by Finian and Sharon, who upend their own lives, move to a new country, meet new people and start all over again.
The search for home and the rootlessness that takes over until you find it are the show's central themes, and because of that there's a tenderness in the way that Finian and his daughter are accepted by the people of Rainbow Valley that mirrors Carlyle's own experience in New York. Both the material and the actors have gotten under his skin, he says.
The show's poignant score (written by Burton Lane and E.Y. Harburg, two gifted Jewish composers, as a sort of valentine to the Irish) is unforgettably moving too, a legacy shared between two wandering tribes. Norton seems to know this in his bones and he handles it delicately, giving the whole production an injection of smarts that lifts it to another level.
"Now these songs are so famous to us," Carlyle tells Irish America. "We know, or we think we know, 'Glocca Morra' and 'Look to the Rainbow' and 'That Old Devil Moon.' But it was fascinating to watch the audiences at the City Center performances because there's something powerful about them realizing that [the songs] all come from the same show. It's one of the greatest scores ever written and frankly, it's one of the greatest casts I've ever worked with. These actors come from all of these different backgrounds and places and yet they somehow unite in the telling of this story. That's a very American thing, isn't it?"
In theory a syrupy old ballad like "How Are Things in Glocca Morra" should have audiences reaching for an airbag, but in practice – thanks to Norton and Baldwin's performances and English director Warren Carlyle's guidance – it hits you square in the chest, bringing both delight and tears in equal measure.
"There are so many shows about Ireland that we can find a little offensive because of the manner in which they're presented," Norton tells Irish America. "But I think that this one is handled so delicately. My character is just looking for what we're all looking for – a bit of peace and happiness. That's really all of my focus through the show."
Norton admits that he was startled by the strength of the public's reaction to the show during the Encores! performances. "It was unbelievable what happened. The last time we did this show it was all based on fear. We had less than ten days to rehearse it. Then we performed it at City Center and we were hit by this giant wave of affection. It was so exciting and great."
Because this is a postwar Broadway musical it's almost a given that all roads lead to the happiest of happy endings. In this magical section of the Deep South, an Irish family live with African American sharecroppers, they dance and sing with them, and good fellowship always wins out in the end.
For Norton the real danger of the show wasn't the subject matter, it was finding the right tone to present his character in. "There's always a danger that when you play a part like Finian, it can tilt toward the Darby O'Gill side of things. But I think we're better than that, I think we're brighter than that. What I try to do is to play the truth of the character because I find him deeply affecting. He's a very gentle soul. His wife has died and he's left with the responsibility of looking after his young daughter. Obviously he takes that responsibility very seriously, to find a better life. Back in 1947 it was a time when people did come to America from Ireland to do exactly that – looking for their pot of gold, for their dream to be realized. That guides me."
For Cheyenne Jackson, the young man who has become the uncrowned king of Broadway since he first arrived on the scene in 2002, all that remains now is to get it right on the night. "This is my fifth or sixth Broadway show and you never know from the get-go what the outcome is going to be, but we all keep coming back to the word magic. As long as we don't mess with it there's going to be a nice niche for us on Broadway. A lot of people are going to discover and rediscover this show."
Although Jackson is a square-jawed all-American poster boy, he also has Irish blood too, he says. "My dad is Irish. His father was too. He identifies heavily with that part of his heritage. Now I'm playing an Irish American and it's not such a stretch in that sense."
The "Irish America" can also be accessed online here.