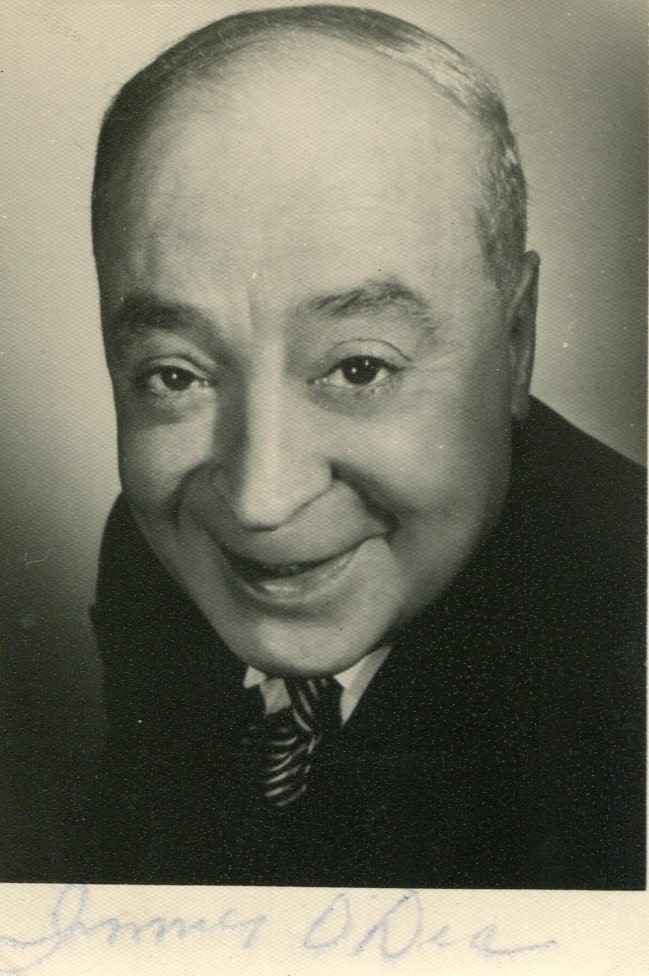 Jimmy O'Dea. (Wikipedia)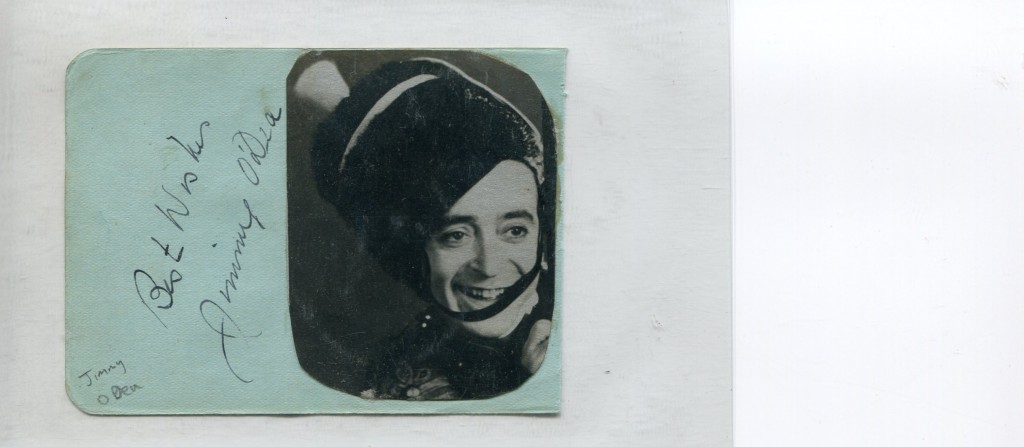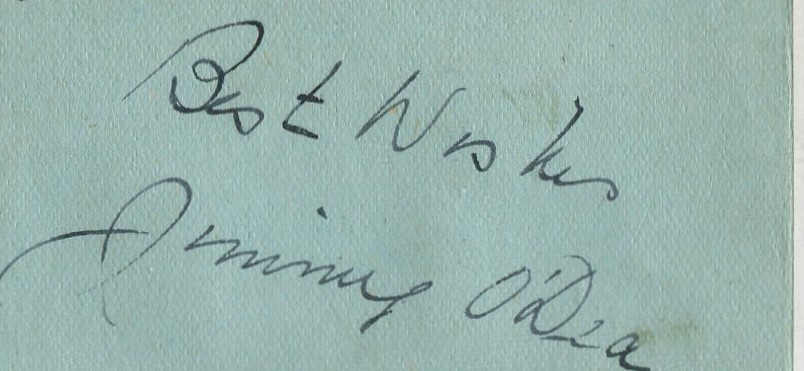 Jimmy O'Dea was born at 11 Lower Bridge Street, Dublin, to James O'Dea, an ironmonger, and Martha O'Gorman, who kept a small toy shop in 1899.[1] He was one of 11 children. His father had a shop in Capel Street. He was educated at the Irish Christian Brothers O'Connell School in North Richmond Street, Dublin, where a classmate was future Taoiseach Seán Lemass, by the Holy Ghost Fathers at Blackrock College, and by the Jesuits at Belvedere College. From a young age he was interested in taking to the stage; he co-founded an amateur acting group, the Kilronan Players, in 1917. But his father would not hear of it. O'Dea was apprenticed to an optician in Edinburgh, Scotland, where he qualified as an optician.
He returned to Dublin where, aged 21, he set up his own business which he was, eventually, to give to his sister, Rita. In his spare time he took part in amateur productions of Ibsen and Chekhov. From 1920 he was in the Irish theatre in Hardwicke Street working with actor-producer John McDonagh. After working in plays by Shaw for a few years he rejoined McDonagh in revues, the first of which, Dublin To-Night, was produced at the Queen's Theatre in 1924. In 1927 he took to the stage full-time. In 1928, this company's first production Here We Are won international acclaim, and in December of the same year it produced its first Christmas Pantomime, Sinbad the Sailor.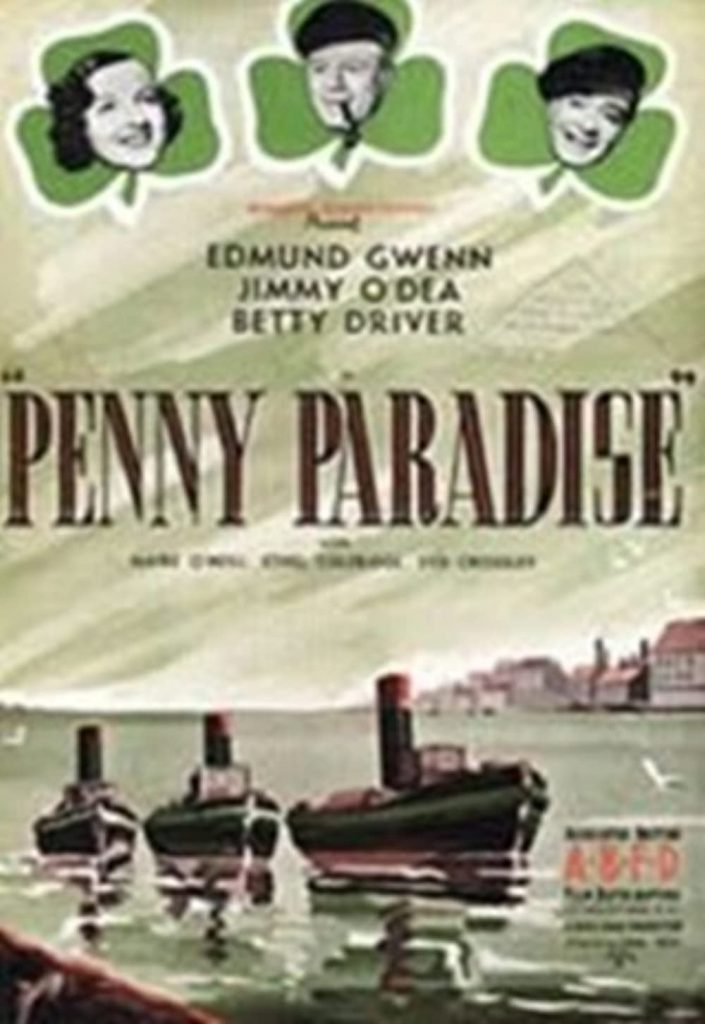 O'Dea formed a partnership with Harry O'Donovan (died 3 November 1973) whom he first met in a production of You Never Can Tell in 1924. Their first show was Look Who's Here at Queen's. For more than two decades beginning in 1929 the duo produced two shows a year in Dublin, first in the Olympia Theatre, then in the Gaiety. They created O'Dea's most famous character, "Mrs. Biddy Mulligan". The role drew on Jimmy's previous manifestations as "Dames" in Variety performances and pantomimes. Biddy Mulligan was the representation (caricature, parody and stereotype) of a Dublin street-seller, with all the working-class repartee, wisdom and failings implicit. He made a number of recordings of sketches starring Mrs. Mulligan.[5] Biddy Mulligan is referenced in many Dublin music hall songs such as "Biddy Mulligan the Pride of the Coombe", "Daffy the Belle of the Coombe" and "The Charladies' Ball".
O'Dea made some film appearances, such as Darby O'Gill and the Little People (1959) in which he played King Brian of the little people and Johnny Nobody (1961). He also had a successful career in pantomime and toured Ireland and England many times, and is much associated with actress Maureen Potter (1925-2004), with whom he often partnered.
O'Dea was also a prolific songwriter in his day. Many of his songs are still well known to this day, some of them having been sung and recorded by Dublin singer Frank Harte.
O'Dea married Ursula Doyle. Maureen Potter was bridesmaid. Seán Lemass was best-man; he would also give the valedictory oration at O'Dea's funeral in 1965. Jimmy O'Dea had one child – Christine O'Dea – who married Ursula Doyle's brother Noel Doyle. Christine lives in Toronto.
Jimmy O'Dea died at Dr Steevens' Hospital, Dublin, aged 65, on January 6, 1965.
Dictionary of Irish Biography:
Contributed by
O'Dea, James Augustine ('Jimmy') (1899–1965), actor and comedian, was born 26 April 1899 at 11 Lower Bridge St., Dublin, over his parents' toyshop in the historic but dilapidated Liberties. Both parents, twice-widowed James O'Dea and his third wife, Martha (née O'Gorman), former assistant to O'Dea's widowed sister who had willed him the shop, were from Kilkenny. Of their eight Dublin-born children, four sons (of whom James, or 'Jim', was the last) and two daughters survived. Four daughters of the previous marriages had moved away, while a son, Ciarán, remained at home. James O'Dea placed the toyshop under his wife's control while he earned his living, first at Henshaw's ironmongery in nearby Christchurch Place, and from 1896 at his own ironmongery at 21 Christchurch Place. Young Jim, diminutive and good-natured but unscholarly, attended a succession of schools: Holy Faith Convent, Dominick St.; Holy Faith boarding school, Kilcoole, Co. Wicklow; Belvedere College, Dublin; the Marist boarding school, Dundalk; back to Dublin at Blackrock College; and finally St Mary's College, Rathmines. In 1908 his father's business had relocated north of the Liffey to 162 Capel St., and the family to 21 Grosvenor Place, Rathmines.
Passion for the theatre inspired Jim O'Dea above all else. He joined the Kilronan Players, formed c.1917 by Capel St. friend and future politician Seán Lemass (qv). In that year they performed at the Father Mathew Hall, Church St., in T. C. Murray's (qv) 'Maurice Harte' and William Boyle's (qv) 'The mineral workers'. O'Dea appeared in further productions and obtained small roles at the Abbey Theatre. His father declared he would sooner see him in a coffin than on the stage and arranged that he become an optician. Jim served his time with John Murray of Duke St., who tried to cure his insatiable dramatic appetite by quoting him the antiquated apprenticeship regulations against frequenting alehouses and theatres. O'Dea risked instant dismissal. Instead, Murray transferred him to his brother's practice in Edinburgh. Duly qualifying in 1921, James A. O'Dea opened his Dublin practice in South Frederick St., moving later to Nassau St., and transferring it to his sister Rita when he opted for the stage.
Edinburgh aside, he had remained firmly attached to Dublin's theatre world with parts at the short-lived Irish Theatre established by Edward Martyn (qv) at Hardwicke St., including a small role (1918) in Ibsen's 'Enemy of the people' and later (1920) as Firs in Chekhov's 'The cherry orchard'. In November 1920 he was at the Abbey in Lord Dunsany's (qv) 'The laughter of the gods'. In September 1921 he returned in 'You never can tell' by George Bernard Shaw (qv). Edging closer to becoming 'Ireland's greatest comedian' he filled the title role in John MacDonagh's contemporary political satire 'The Irish Jew' at the Empire (later Olympia) and Queen's Theatres (1921–3). In 1924 MacDonagh placed him in the pioneering Irish revue 'Dublin tonight'. O'Dea marked time in straight theatre with the Kilronan Players and their comedy offshoot, the Sandabs. He was best man at Seán Lemass's wedding in 1924.
Comedy prevailed when O'Dea collaborated with Harry O'Donovan (qv), actor, producer, and scriptwriter. In 1927 they formed O'D Productions, an initially informal variety scriptwriting/performance company whose first production, 'We're here' (1928), was acclaimed at the Queen's and Olympia, as well as the Palace Theatre, Cork. At Christmas 1928 their first pantomime, 'Sinbad the sailor', played at the Olympia. O'Dea adopted the permanent stage name 'Jimmy O'Dea' and his leading female character, 'Biddy Mulligan, the Pride of the Coombe', Dublin's most opinionated and resourceful street-trader, evolved from earlier 'dame' acts on which he and O'Donovan worked. With her eponymous comic anthem Biddy Mulligan became forever identified with O'Dea's variety stage persona.
If Biddy Mulligan won him popular fame and children's hero status in pantomime, silent cinema had discovered O'Dea in 1922. He starred in three films for the newly formed Irish Photo-Plays Ltd: 'The Casey millions', 'Cruiskeen lawn', and 'Wicklow gold' were directed in Ireland by John MacDonagh. O'Dea returned to the screen with British directors in the years 1935–9. By then his comedy stage career in Dublin, Cork, and Belfast had flourished as O'Donovan's (and MacDonagh's) scripts replaced traditional anglocentric humour and allusions with local and topical references, enhanced by O'Dea's notorious ad-libbing. In September 1930 his British career began, playing an Irish emigrant in 'Micky breaks into America' at the London Coliseum. Several film roles and much radio, e.g. 'Irish half-hour' and 'Over to Mulligan's' on BBC Home and Forces wartime and postwar programmes, extended his fame. In Ireland, while Maurice (qv) and Louis Elliman (qv) practically controlled variety theatre and film, O'Dea relied on these interests, especially their Queen's, Gaiety, and Royal Theatres, to outlast the contest between stage and screen. The Ellimans never failed O'Dea, literally to the day he died.
He had also acquired a permanent and seemingly ageless comedy partner in Maureen Potter (1925–2004), a female alter ego active with O'D Productions since the late 1930s. Boosted in these relationships and by Harry O'Donovan's loyalty, Jimmy O'Dea remained central to Irish comedy in the 1950s and early 1960s. As cinema closed some theatres and television threatened the rest, O'Dea overcame these dangers: perfectly cast in Hollywood by Walt Disney as leprechaun King Brian in Darby O'Gill and the little people (1959). He enthralled young children as the storyteller on fledgling Irish television's 'Once upon a time'; he had broadcast on national radio since its inception in 1926.
O'Dea married first (1925) Bernadette, daughter of Dublin publican Bernard Fagan; after her death he married secondly (1959) Ursula, daughter of Edward and Josephine Doyle of Tara St., Dublin. Terminally ill in 1964, O'Dea resolved to fulfil his obligations before he died, leaving Dr Steevens' Hospital over Christmas to attend a tribute to Micheál MacLiammóir (qv) and complete a Christmas television programme at his home, 75 Pembroke Road. Returning to hospital (after attending the Gaiety pantomime), he died 7 January 1965 with Louis Elliman in attendance. Much loved and widely mourned, he was buried in Glasnevin cemetery.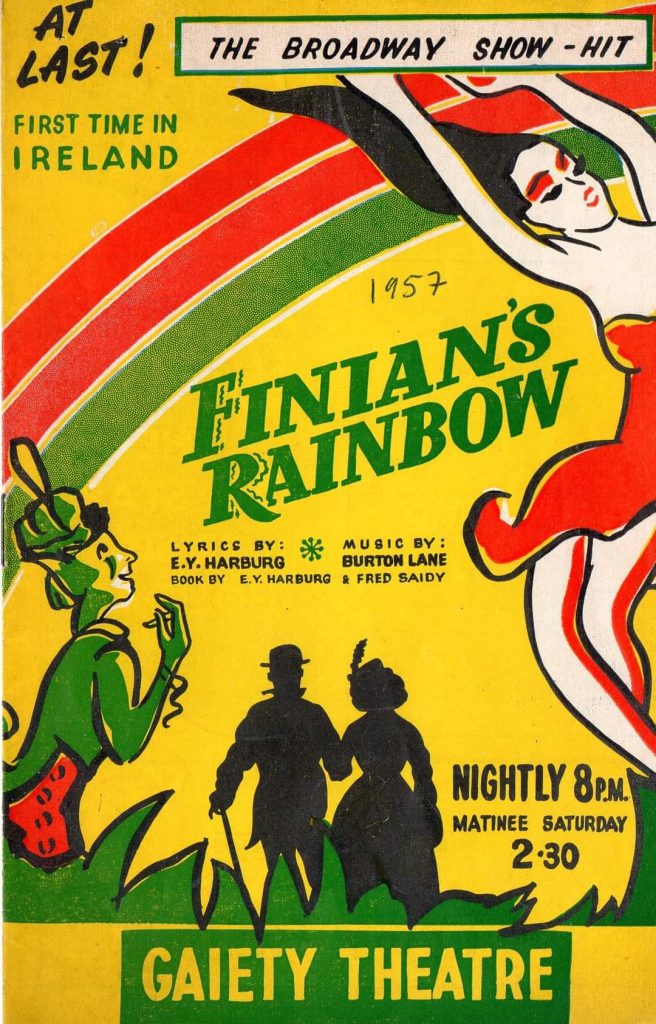 Sources
Times, 19 Sept. 1930, 2 May 1936; Leader, 7 Apr. 1945; Ir. Times, 8 Jan. 1965; Maurice Gorham, Forty years of Irish broadcasting(1967); Brian de Breffny, Ireland: a cultural encyclopaedia (1983), 171; Brian McIlroy, Irish cinema: an illustrated history (1988); Philip B. Ryan, Jimmy O'Dea, the pride of the Coombe (1990); Philip B. Ryan, Noel Purcell: a biography (1992); Michael O'Sullivan, Seán Lemass: a biography (1994); Kevin Rockett (ed.), The Irish filmography: fiction films 1896–1996 (1996)