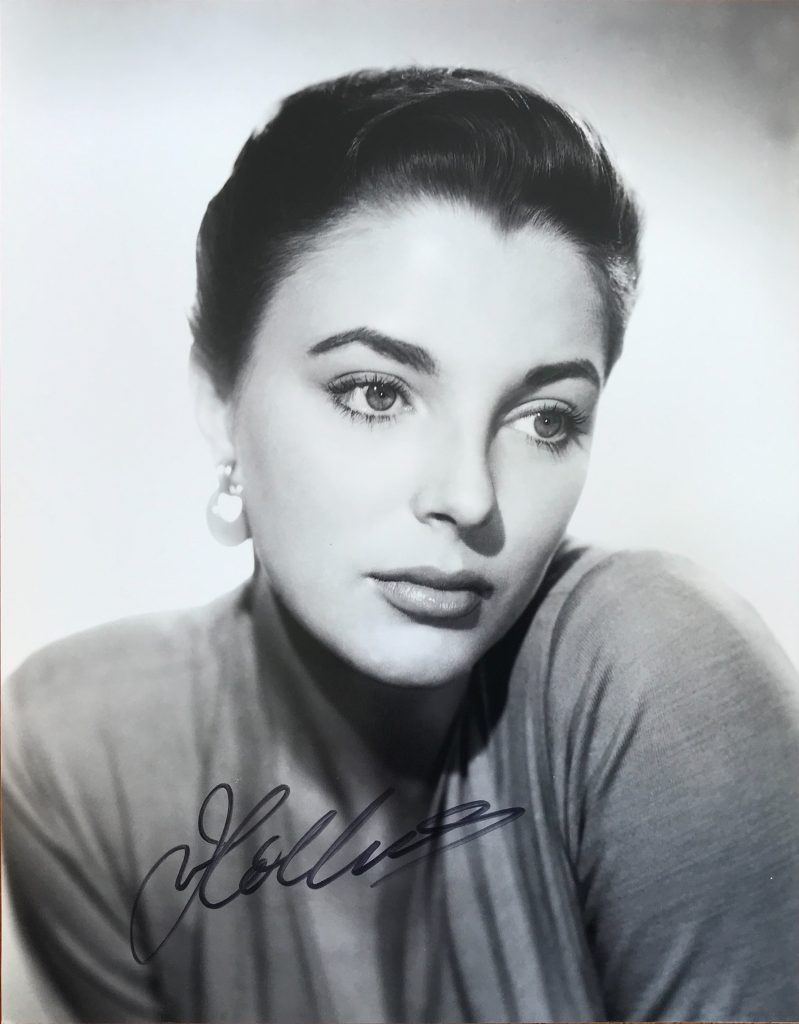 Joan Collins. TCM Overview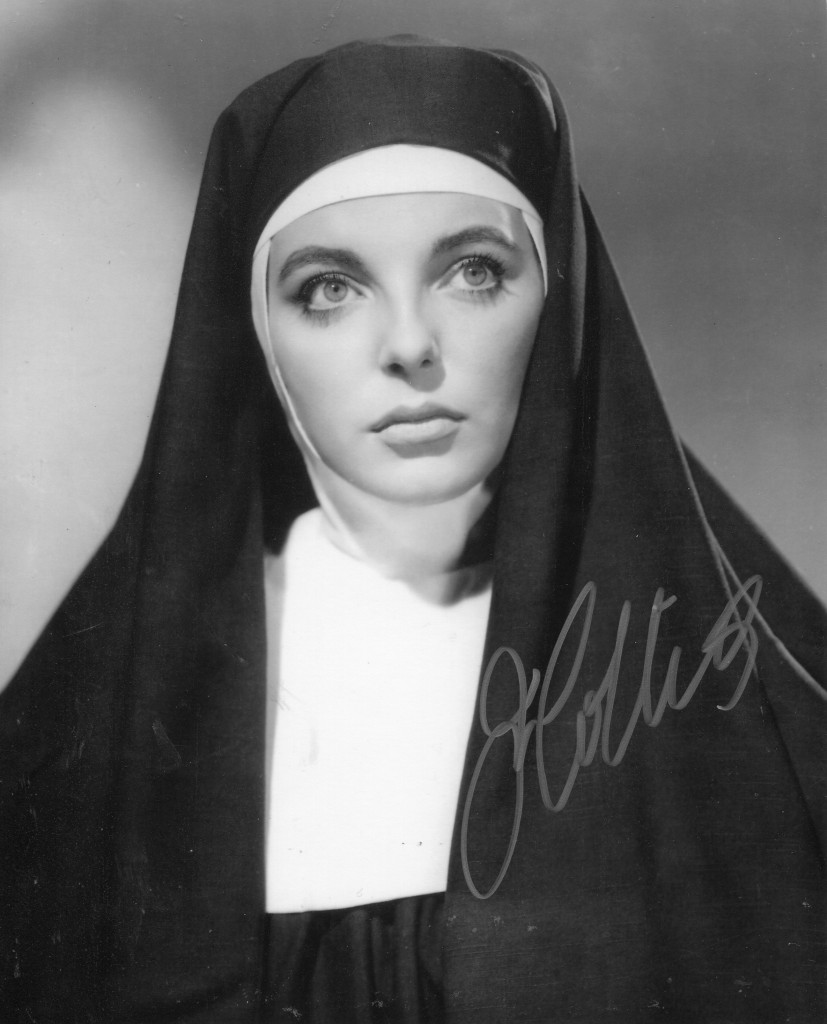 Joan Collins has had a remarkably long and successful career on film. In 1951 she made her first film "Lady Godiva Rides Again". By 1955 she was in Hollywood making "The Girl in the Red Velvet Swing". She made several films for 20th Century Fox studios over the next few years. In 1981 her career reached enormous exposure through her success as Alexis Carrington in the night-time soap "Dynasty". She has maintained her career profile through further film and television roles as well as a career in writing and journalism. She was made a Dame by the Queen in 2015. Her official website can be found here.
TCM Overview:
A glamorous presence on film and television for a half-century, Joan Collins specialized in seductive, larger-than-life women with a lust for just about everything in projects ranging from "Land of the Pharoahs" (1955) and "Island in the Sun" to "The Stud" (1978) and most famously, "Dynasty" (ABC, 1981-89). Her physical beauty – which was often likened to a British Elizabeth Taylor – was a drawback in her earlier career, which found her playing wayward girls and wantons. After a short stint in Hollywood, during which she dated numerous studs of the time, including Warren Beatty, she drifted into B-grade pictures for over a decade before being cast as the venomous Alexis Carrington in "Dynasty." Her overripe performance launched a thousand similar "rich bitch" characters on primetime, but Collins managed to hold the title with charm and sexiness for decades after the show's demise. An outspoken and at times brazen figure in real life, with a string of marriages and public romances to her name, she remained one of the most cheekily appealing actresses in the world.
Born Joan Henrietta Collins in Paddington, a metropolitan borough of Westminster, London on May 23, 1933, she was one of three children born to Elsee Bessant, a dance teacher, and South African-born agent Joseph William Collins, who would later count The Beatles and Tom Jones among his clients. Her younger sister, Jackie, followed in her footsteps with appearances in B- pictures and television in the 1960s before establishing herself as a best-selling author of salacious romance novels. In some ways, Joan Collins led a charmed adolescence – she and her siblings were raised in the affluent neighborhood of Maida Vale, and Collins made her acting debut at the age of nine, playing a boy in a production of "A Doll's House." But these early years were also difficult ones for her. Joseph Collins was reportedly a strict father with a taste for discipline, which he wielded over children and spouse alike. Collins found an escape in the movies; she had fallen in love with them after seeing "The Wizard of Oz" (1939) at an early age, and envisioned a life for herself that was spent as an actress.
She approached her father about auditioning for London's Royal Academy of Dramatic Art, to which he agreed on one condition: that she would become his secretary if she did not pass. Thankfully, Collins did make the grade, and by 17, she had landed a contract with the Rank Film Company, one of the U.K.'s biggest studios. Though not exactly praiseworthy of his daughter's accomplishments – Collins would be remarkably dismissive of his children in public throughout his life – he also served as her first agent. Her tenure with Rank was particularly unspectacular; a debut as a beauty contestant in "Lady Godiva Rides Again" (1951) was followed by a string of forgettable roles in dramas, comedies and costume pictures, including "I Believe in You" (1952) and "Decameron Nights" (1953) with Louis Jordan. Collins supplemented her film income as a popular model in magazines. At age 18, she was voted the most beautiful girl in England by a photography group. She also was not afraid to speak about her issues with Rank; in 1954, she complained to a London newspaper about the company's lack of support for its female talent. The statement would help to cement Collins' image as an outspoken woman for the rest of her career.
In 1955, 20th Century Fox signed her to a contract, hoping to mold her into their version of Elizabeth Taylor, to whom she bore a strong resemblance, minus violent Taylor eyes. Her first American feature was a bit of a camp effort; "Land of the Pharoahs" (1955), directed by Howard Hawks and penned in part by William Faulkner, was epic in scope but sudsy in its story of a self-absorbed pharaoh and the princess (Collins) who wants to enjoy some of his riches in the present, rather than the afterlife. The film cemented Collins' screen image as a sexually rapacious, morally ambiguous femme fatale – a role she would play on and off for the remainder of her career. Collins' private life also helped to sell that notion to ticket buyers. Her first marriage, to Irish actor Maxwell Reed, ended because he had allegedly tried to sell her to an Arab sheik in 1955. In 1959, she began a torrid romance with fellow up-and-comer Warren Beatty. The relationship burned up the gossip magazines with lurid tales of their non-stop lovemaking, but the affair ended badly, with a broken engagement and an abortion. Collins would later be linked to numerous celebrities, including Frank Sinatra, Dean Martin, Dennis Hopper, Ryan O'Neal and Robert F. Kennedy.
Her reputation sealed her into a series of vampish roles throughout the 1950s and 1960s. In Richard Fleischer's "The Girl in the Red Velvet Swing" (1955), she played Evelyn Nesbit Thaw, whose relationship with architect Stanford White ended with his murder in the 1920s. In "The Opposite Sex" (1956), she was a showgirl who steals faithful husband Leslie Nielsen away from dutiful wife June Allyson. And in "Island in the Sun" (1957), she was the kittenish younger sister of plantation owner James Mason, who uses her wiles to lure war hero Stephen Boyd. On occasion, Collins proved that she had talents beyond her physical appeal; the "Sea Wife" (1957), which was initially helmed by Roberto Rossellini, was a stark character piece about shipwreck survivors adrift in a lifeboat, while the Western "The Bravados" (1958) and the caper picture "Seven Thieves" (1960) showed that she could share the screen with such powerhouses as Gregory Peck, Rod Steiger and Edward G. Robinson. She could also do comedy, as her dizzy town vixen in "Rally Round the Flag, Boys!" (1958) showed. But for the most part, Collins was the go-to for seductive and exotic types, and she played the decorative parts in unmemorable films like "Stopover Tokyo" (1957) with Robert Wagner, "Esther and the King" (1960), and "The Road to Hong Kong" (1962), the final "Road" picture with Bing Crosby and Bob Hope.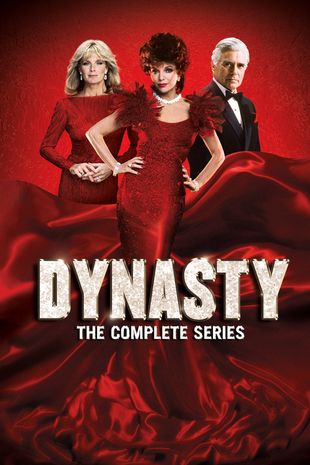 By the mid-1960s, Collins was lending her appeal to American TV shows like "The Man from U.N.C.L.E." (NBC, 1964-68), "Batman" (ABC, 1966-68 as The Siren) and a memorable appearance on "Star Trek" (NBC, 1966-69) in the Hugo Award-winning episode "City on the Edge of Forever" as a love interest for Captain Kirk (William Shatner) doomed by a fateful twist in history. Her film career appeared to have stalled completely; among the string of flops to her name during this period was the singularly titled "Can Hieronymus Merkin Ever Forget Mercy Humppe and Find True Happiness?" (1969), a surreal ego trip directed by her second husband, singer and songwriter Anthony Newley. Collins would later attribute the film as a leading factor in her 1973 divorce from him.
The 1970s saw Collins continue to toil in episodic television and low-budget films. Horror and exploitation soon became her forte, with appearances in the anthology films "Tales from the Crypt" (1972) as a woman threatened by a homicidal Santa Claus, and "Tales that Witness Madness" (1973) in which her jealous wife suspects that her husband has fallen in love with a very feminine and vengeful tree. In 1978, she starred in softcore adaptations of her sister Jackie's novels "The Stud;" the film, which featured copious nudity by Collins as a predatory nightclub owner, was a sizable hit, as was its sequel, the equally tawdry "The Bitch" (1979). Both saw financial returns that rivaled the Bond series in ticket sales.
In 1981, Collins' career received its biggest boost and greatest exposure when she was cast as Alexis Carrington on "Dynasty." Originally considered as a role for Sophia Loren, among others, Alexis was introduced in the second season of "Dynasty" as a key witness in the trial of the show's patriarch, Blake Carrington (John Forsythe), for the murder of his son Steven's gay lover. Her testimony about her former husband throws a wrench into the defense, and Alexis soon proves herself to be a world-class upsetter in the Carrington clan, wreaking havoc with Blake's new wife, Krystal (Linda Evans), daughter Fallon (Pamela Sue Martin) and just about every male, available or otherwise, that crosses her path. Audiences soon flocked to see what witchery Alexis would conduct each week, as well as the regular room-wrecking catfights she would conduct with Evans and later Diahann Carroll and Stephanie Beacham. A combination of Collins and a new writing staff helped to elevate "Dynasty" past its chief competitor, "Dallas" (CBS, 1978-1991), all of which re-energized Collins' career. She would eventually net six Golden Globe nominations between 1982 and 1987, and took home one in 1983.
The late-in-life success of Collins allowed her to make the rounds in numerous glitzy TV-movies and miniseries, most notably "Sins" (CBS, 1986) and "Monte Carlo" (CBS, 1987), on which she also served as producer. She surprised many with a 12-page layout in Playboy under the rubric "50 is Beautiful." She also began a very popular second career as an author and magazine contributor, penning several books on beauty, as well as a handful of glossy novels that hewed closely to sister Jackie's style. There was also Katy: A Fight for Life (1982), a memoir of her daughter Katy's struggle after being struck by a car in 1980 and enduring severe brain injuries.
However, her relationship with "Dynasty" producers Aaron Spelling and E. Duke Vincent began to sour by its sixth season. She was arguably the show's key attraction, and as such, demanded a larger salary for her efforts. As a result, she missed the first episode of the sixth season, which followed the infamous "Moldavian Massacre," which closed the fifth season with nearly all the major characters appearing to be killed in a coup during a wedding. Eventually, Collins got her wishes – a reported $60,000 per episode – but the writing was on the wall for "Dynasty." The show slogged through its next nine seasons before ABC pulled the plug, ending Alexis' reign on primetime with – what else? A cliffhanger, which was finally resolved in 1991 with the four-hour miniseries "Dynasty: The Reunion" (ABC).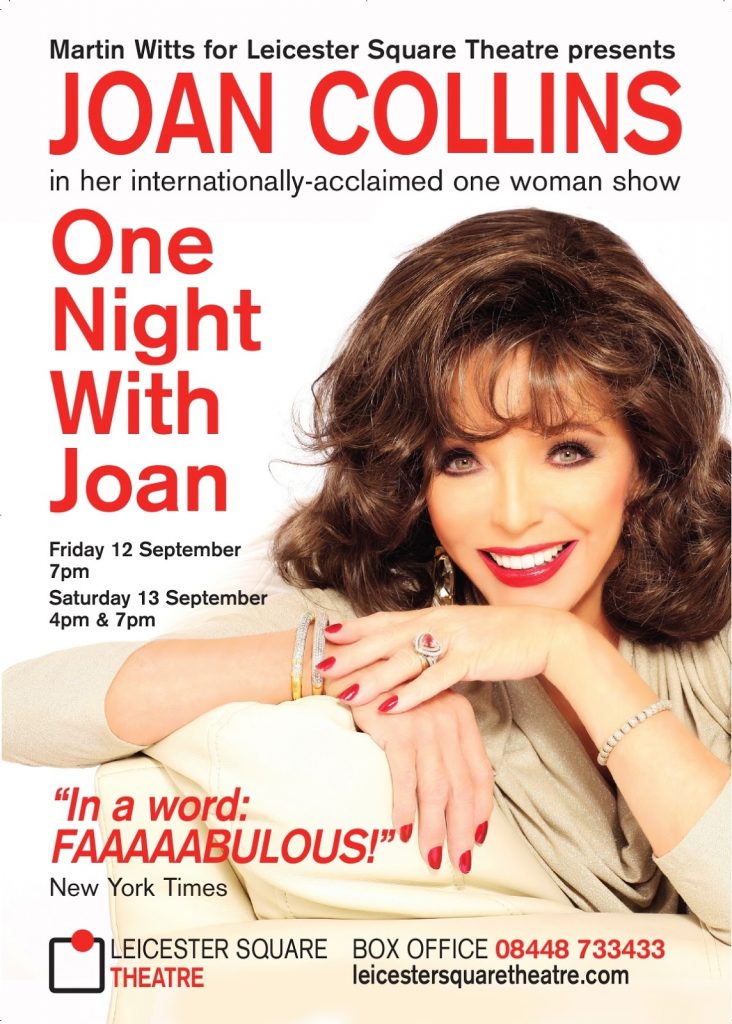 But Collins was not quite out of the scandal sheets yet. A 1991 book deal with Random House resulted in a lawsuit that demanded the actress return the $1.2 million advance she had received after submitting manuscripts that they deemed unsuitable. She countersued for the remaining $4 million in the deal, and, astoundingly, won the case in 1996 thanks to her deal from super agent Irving "Swifty" Lazar, who had stipulated that Collins would be paid whether the manuscripts were published or not. The resulting judgment – Collins was allowed to keep the advance, as well as $1 million for one of the completed manuscripts – landed her in the Guinness Book of World Records for the largest payment for an unpublished book.
Undaunted, Collins began focusing her attention on the theater. A revival of Noel Coward's "Private Lives" launched in London's West End in 1991 before traveling to Broadway in 1992. She would return to the stage on numerous occasions through the '90s and 2000s, most notably in a tour of "Love Letters" with George Hamilton and a West End production of "Moon Over Buffalo" with Frank Langella. Meanwhile, film and television continued to provide Collins with diva-esque roles in Kenneth Branagh's "A Midwinter's Tale" (1995), the Emmy-nominated "Annie: A Royal Adventure" (ABC, 1995), and "The Flintstones in Viva Rock Vegas" (2000), which cast her as Fred Flintstone's glammed-up mother-in-law, Pearl Slaghoople. She wrapped up the '90s with the receipt of an O.B.E. (Officer of the Order of the British Empire) from Queen Elizabeth II in 1997.
Her "Dynasty" past was never quite far behind, though. In 1997, Aaron Spelling brought her to his primetime soap "Pacific Palisades" (Fox, 1997) in a last-ditch attempt to save the series. It did not work, but she was back in the trenches in 2000 with a guest shot on "The Guiding Light" (CBS, 1952-2009) and in 2005 on the U.K. series "Footballers Wives" (ITV, 2002-06). She also reunited with Linda Evans for the play "Legends!" which ran for a 30-week tour of North America. And in 2010, she joined the cast of the German soap "Forbidden Love" (Das Erste, 1995) for a short stint. The above TCM overview can also be accessed online here.