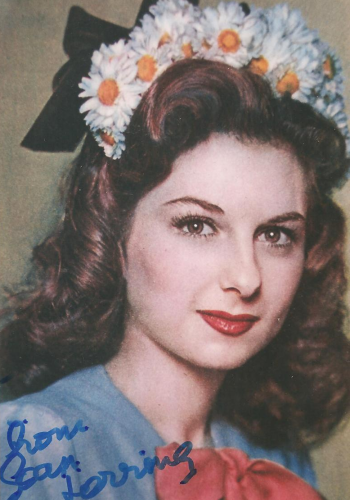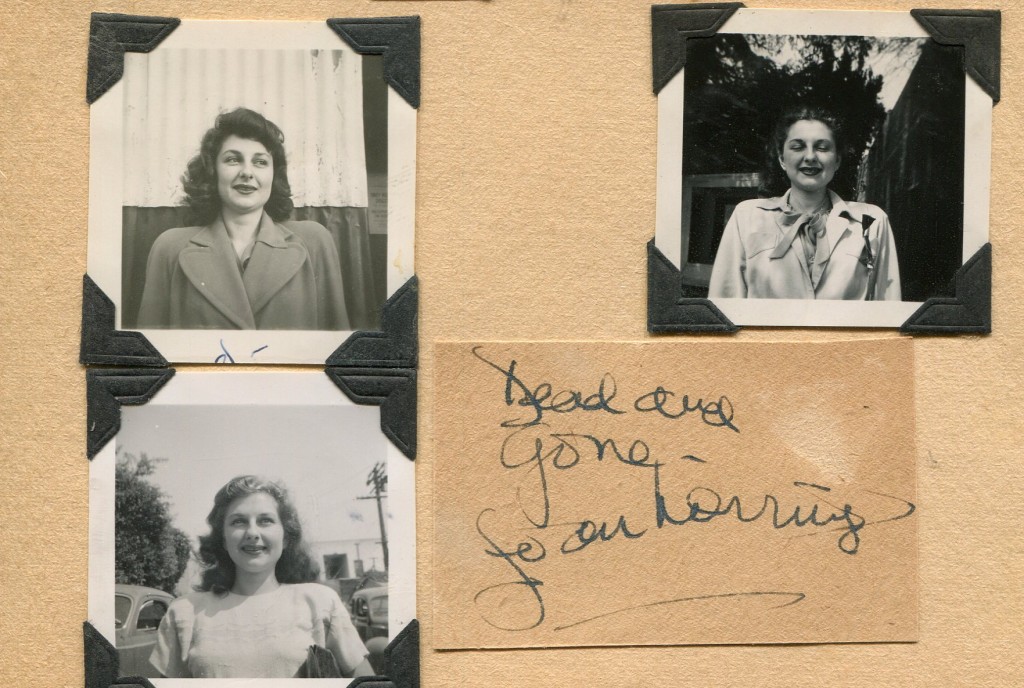 Joan Lorring was born in 1926 in Hong Kong. She made her film debut in "Song of Russia" in 1944. She was Oscar nominated for her role in "The Corn Is Green" with Bette Davis and Mildred Dunnock. Other films incliude "The Bridge of San Luis Rey", "Three Strangers"and "The Lost Moment".
Her IMDB entry by Gary Brumburgh:
Joan Lorring was born Mary Magdalene Ellis in Hong Kong on April 17, 1926. She was forced to leave her native country after the outbreak of WWII and, along with her family, arrived in America as a teenager in 1939. After finding radio work in Los Angeles, the Anglo-Russian actress worked her way into films making a minor debut at age 18 in the romantic war drama Song of Russia (1944) and subsequently played the small part of Pepita in the ensemble suspenser The Bridge of San Luis Rey (1944).
The following year Joan won the coveted role of the scheming, trampish Bessie oppositeBette Davis in The Corn Is Green (1945), earning a Academy Award nomination for "best supporting actress" in the process. She may have lost the Oscar trophy that year to Anne Revere for National Velvet (1944) but Warner Brothers Studio was more than impressed with the up-and-comer and eagerly signed her up. Joan proved quite able in a number of juicy film noir parts, including Three Strangers (1946) and The Verdict (1946), both opposite the malevolent pairing of Sydney Greenstreet and Peter Lorre.
Unexplicably her film career went into a rapid decline by the end of the decade. As a result she sought work elsewhere and maintained with stage, radio and small screen endeavors into the next decade. On Broadway she made her debut in the prime role of budding college student Marie who sets off the explosive dramatic action in "Come Back, Little Sheba" (1950) starring Shirley Booth and Sidney Blackmer. She continued with strong roles in "The Autumn Garden" (1951), "Dead Pigeon" (1953) and "A Clearing in the Woods" (1957). _Among her many 1950s dramatic showcases on TV was her portrayal of convicted ax-murderess Lizzie Borden's sister Emma on an Alfred Hitchcock episode. In the 1970s, Joan made a mini comeback in the Burt Lancaster movie The Midnight Man(1974) as Cameron Mitchell's wife. She also performed on radio soap operas and appeared for a season on the TV soap Ryan's Hope (1975) before phasing out her career once again. Long married to New York endocrinologist Dr. Martin Sonenberg, she is the mother of two daughters.
– IMDb Mini Biography By: Gary Brumburgh / gr-home@pacbell.net
"LA Times" obituary from May 2014:
Joan Lorring, 88, who was nominated for an Oscar for her performance in the 1945 Bette Davis film "The Corn Is Green," died Friday, said her daughter, Andrea Sonenberg. Lorring had been ill and died in a hospital in the New York City suburb of Sleepy Hollow.
Davis chose Lorring for the role of the scheming Bessie Watty in the late-19th century drama after reviewing screen tests of several actresses, according to the website of cable channel Turner Classic Movies. It was only the third film for Lorring.
Although Davis was known to speak her mind forceably on movie sets, Lorring said the star was greatly supportive of her. "I have only had one or two teachers in my life about whom I felt as strongly and positively as I did about Bette Davis," Lorring said, according to the Turner Classic Movie website. Lorring lost the Academy Award for supporting actress to Anne Revere, who was in "National Velvet."
Lorring went on to juicy parts in "Three Strangers" (1946) and "The Verdict" (1946), both opposite Sydney Greenstreet and Peter Lorre, and she was in the 1951 film noir "The Big Night" directed by Joseph Losey.
She had numerous roles in early television series while also appearing on stage. In 1950, Lorring made her Broadway debut in the William Inge drama "Come Back, Little Sheba." "As the blond and self-centered college girl," New York Times critic Brooks Atkinson wrote in his review, "Joan Lorring gives a genuine and attractive performance."
Lorring appeared on TV only a few times in the 1960s and 1970s but returned to play a role in the soap opera "Ryan's Hope" in 1979. Her final credit was for a 1980 episode of "The Love Boat."
She was born Madeline Ellis on April 17, 1926, in Hong Kong and moved to the U.S. in 1939. She was married to prominent endocrinologist Martin Sonenberg, who preceded her in death in 2011.
In addition to her daughter Andrea Sonenberg, she is survived by daughter Santha Sonenberg and two grandchildren.
Times staff and wire reports