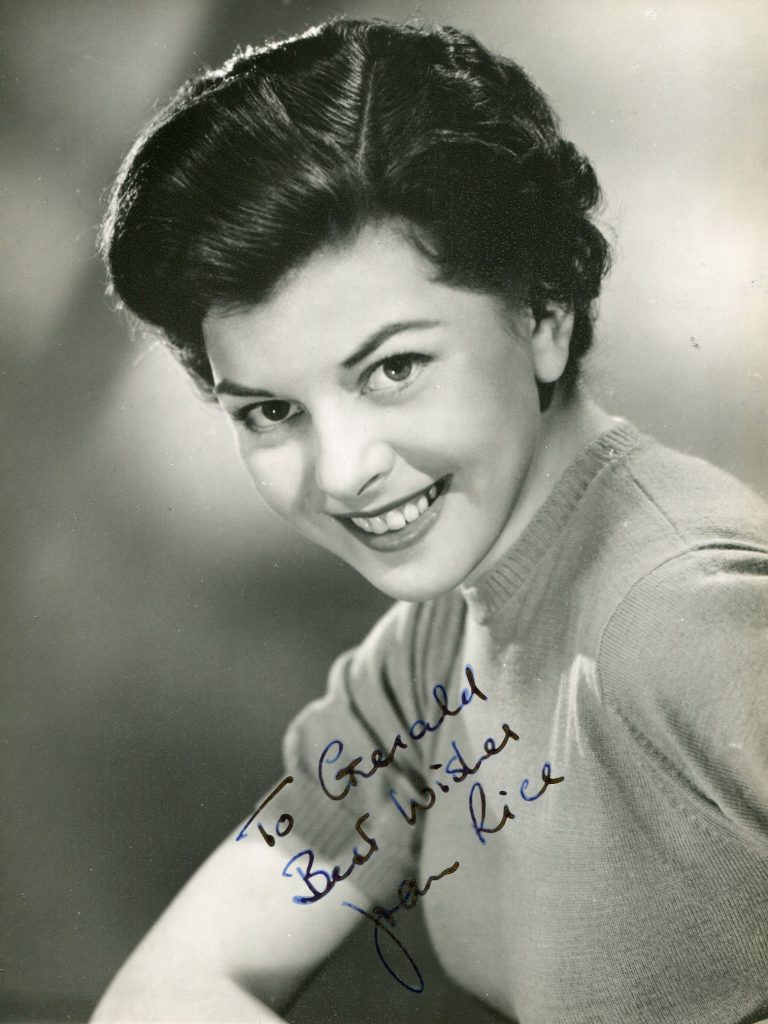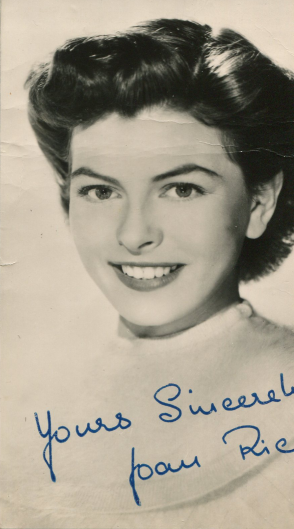 Joan Rice obituary in "The Daily Telegraph" in 1997.
Joan Rice is best remembered for her role as a lovely Maid Marian to Richard Todd in Walt Disney's "The Story of Robin Hood and his Merrie Men" in 1952. She then went on to star in the big budget "His Majesty O'Keefe" opposite Burt Lancaster. Her other films include "Operation Bullshine" in 1959 and her last film was in 1970 "The Horror of Frankenstein". She died in 1997 at the age of 67.
This was Joan's obituary in The Daily Telegraph, which was very kindly sent to me by her nephew, Richard Keeble:
"Joan Rice who has died aged 66 [1997], was a Rank starlet of the 1950's; her best remembered role was Maid Marian in Disney's Robin Hood (1952) opposite Richard Todd. Hers was a Cinderella story without the glass slipper. She was discovered as a waitress at the former Lyons Corner House in Piccadilly and signed to a film contract after winning the Lyons 'Miss Nippy' contest of 1949. With no formal acting training, she was sent to the Rank charm school and rushed into a stream of mostly minor roles in British films of the day. One'His Majesty O'Keefe,' (1953) was a Hollywood production set in the South Seas, with Burt Lancaster, but it made little impact at the box office.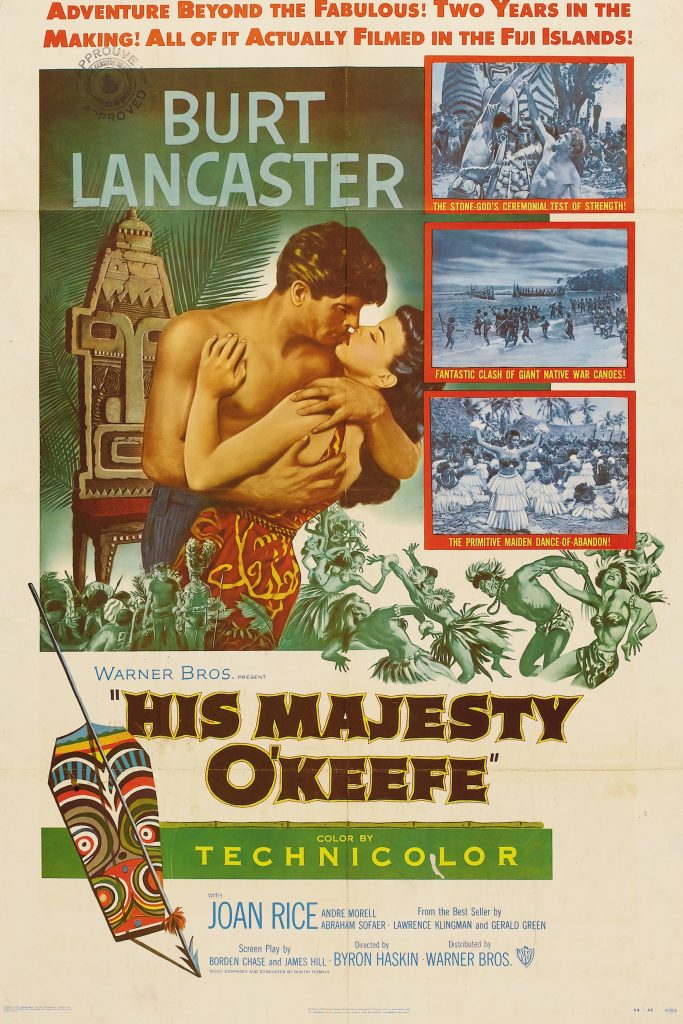 Joan Rice never found the big role that might have established her on the international scene. She dropped out of the cinema in the 1960's to build aless glamorous life in provincial repertory. She claimed never to miss her movie career, and later in life, at the instigation of her father-in-law, she took up live acting to repair the omissions of youth. She toured in 'Rebecca' and 'A View from the Bridge,' her favourite play. She never attracted bad notices, but none of these productions reached the West End and she became a forgotten figure to many of the cinemagoers of the 1950's who fondly recalled herEnglish rose complexion and shapely contours. After seven years she abandoned acting completely because she disliked being away from home for such long periods. She was tempted into television only once – as a contributor to a 'This Is Your Life' show for Richard Todd, but dried up before the cameras and had to be steered through the programme by Michael Aspel.
Joan Rice was born in Derby on February 3rd 1930, one of four sisters from a broken home. She was brought up for eight years in a convent orphanage in Nottingham. After early experience as a lady's maid and a housemaid, she left for London with half a crown in her purse and took a job as a waitress withLyons at £3 a week. Balancing tea trays and negotiating obstacles gave a natural poise that stood her in good stead in the company's in-house beauty contest. The prize was a week's promotional tour in Torquay ( a town to which she returned 20 years later in a revival of 'The Reluctant Debutante' at the Princess Theatre). As winner of the 'Miss Nippy' contest, she was introduced to the theatrical agent Joan Reese, who went to work on her behalf and secured a screen test and a two-line bit part in the comedy, 'One Wild Oat.' Her first substantial role, however, was in 'Blackmailed' (1950), a hospital melodrama, starring Mai Zetterling and Dirk Bogarde, in which Joan Rice played a good time girl.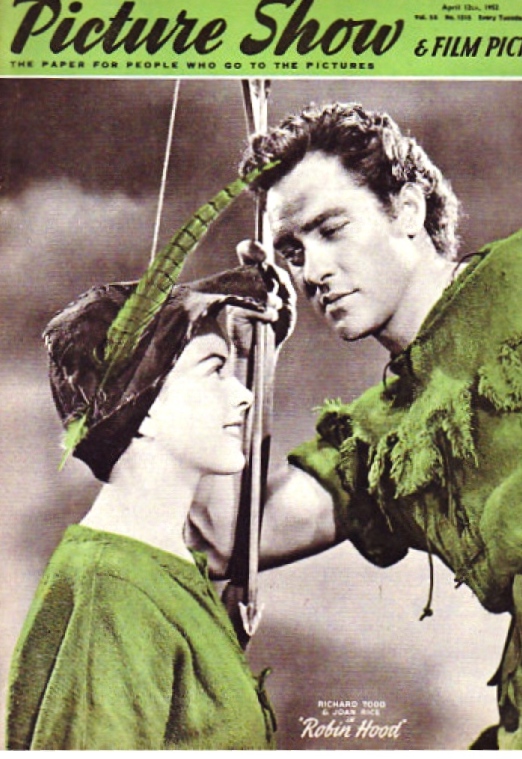 It caught the eye of Disney and led to the role of Maid Marian, in which she was hailed as the "new Jean Simmons." Rank however, seemed unable to capitalise on this. In the 11 years that she was active in British films, Rank offered her only supporting roles in films dependant on a large cast of character actors. 'Curtain Up' (1952), for example was about a seaside repertory company,'A Day to Remember' (1953), about a darts team on a one day excursion to France, 'The Crowded Day,' (1954) about the staff of a department store coping with the Christmas rush and 'Women without Men,' (1956) about a breakout from a women's prison. Only 'Gift Horse' (1952), a traditional wartime naval picture, had quality, yet her role as a Wren was subsidiary to Trevor Howard, Richard Attenborough and Sonny Tufts. In 'One Good Turn' (1954), she was wasted as a stooge to Norman Wisdom. After 'Payroll' in 1961, she effectively called it quits, returning for only one last picture, 'The Horror of Frankenstein' in 1970.
After leaving show business, she lived quietly with her beloved Labradors,Jessie and Sheba, took work as an insurance clerk and later set up an estate agent, letting accommodation in Maidenhead through the Joan Rice Bureau, though she had only one member of staff.
She smoked heavily and suffered from asthma and emphysema, which kept her largely housebound for the last six years.
She married first, in 1953 (dissolved in 1964), David Green, son of the American comedian, Harry Green; they had one son. She married secondly, in 1984, the former Daily Sketch journalist Ken McKenzie, who survives her [1997]."
A Daily Telegraph obituary of Ms Rice can be accessed here.