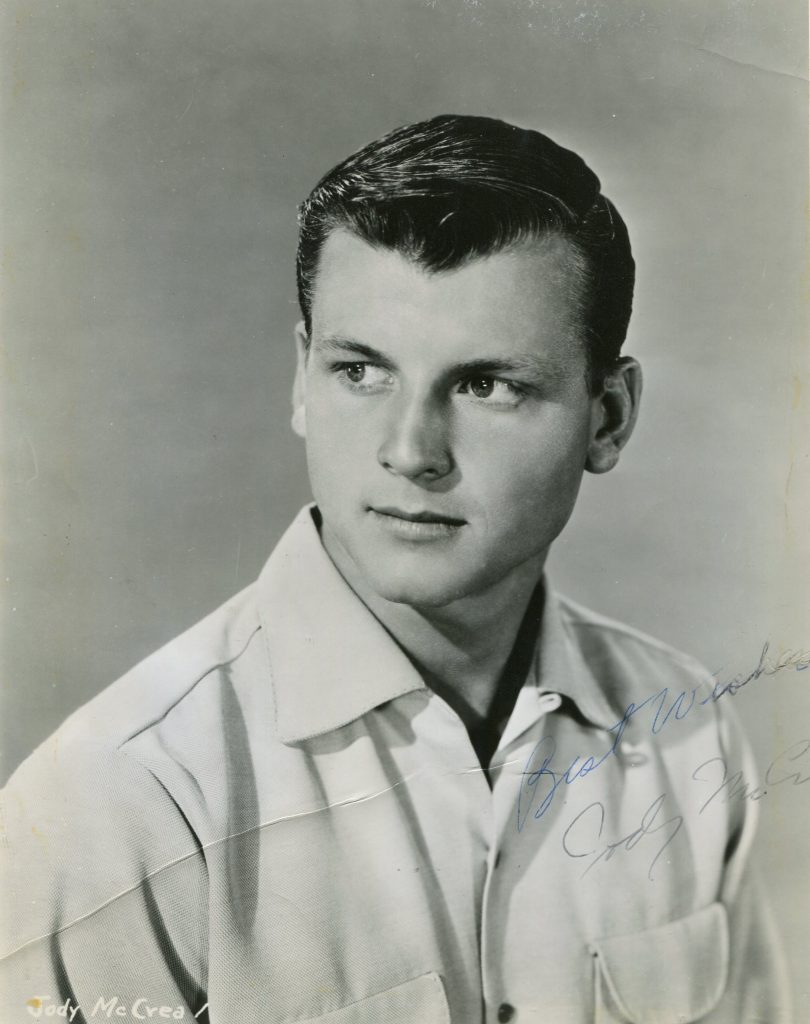 Jody McCrea
Jody McCrea was born in 1934 in Roswell, New Mexico.   He was the eldest son of actors Frances Dee and Joel McCrea.   He had a striking resemblance to his father.   He made his television debut in a series with is father called "Wichita Town" in 1959.   His films include "The Young Land" and "Law of the Lawless".   In the sixties he achieved culd following for his roles in some Beach movies.   In 1968 he starred in a biker movie "The Glory Stompers".   His last film was in 1970, "Cry Blood Apache".   He retired and became a rancher like his father previously had done.   Jody McCrea died in 2009 at the age of 74.
Gary Brumburgh's entry:
Just as strapping (6′ 3″) and amiably handsome as his actor/father, Joel McCrea, Jody was born Joel Dee McCrea on September 6, 1934 in Los Angeles, California, and bore a strong resemblance to his famous namesake. The oldest of three children, his mother was actress Frances Dee and his two younger brothers are David McCrea and Peter McCrea. Jody had little interest in the entertainment field until his early 20s when he began appearing in minor film roles. Making his unbilled debut in Lucy Gallant (1955), he was afforded the opportunity of first working with his dad in the films The First Texan(1956) and Trooper Hook (1957). He moved up to co-star status in the short-lived TV western series Wichita Town (1959), which again starred his dad.
From there, he found employment in other western and action films including Lafayette Escadrille (1958), All Hands on Deck (1961), The Broken Land (1962) and Young Guns of Texas (1962). However, he is most fondly remembered for his recurring comic role as the dim-eyed, carefree lug "Deadhead" (later named "Bonehead") in a number of the frivolous "Beach Party" flicks, starring Frankie Avalon and Annette Funicello, which were released by American International Pictures between the years 1963 and 1965. As a trivia note, Jody was the only cast member other than Robert Cummings who could really surf.
Jody appeared on TV over the years as well and kept his genial personality an attractive trademark. Although he secured a footing in the business, McCrea found it difficult to escape the shadow of his father, especially in western drama, but comedy served as a welcome individualistic approach. Nevertheless, outside of performing occasionally in community theater over the next few years, McCrea decided to retire from acting altogether in 1970 after appearing in and producing the film Cry Blood, Apache (1970). For the remaining decades, he became a cattle rancher in New Mexico. His wife of 20 years, Dusty McCrea (aka Dusty Iron Wing), who appeared as the Indian "Dancing Moon" in the film Windwalker (1980), died of complications from diabetes in 1996. Jody passed away in 2009 of cardiac arrest at his Roswell ranch.
– IMDb Mini Biography By: Gary Brumburgh / gr-home@pacbell.n
Jody McCrea's "Guardian" obituary by Ronald Bergan:
The actor Joel McCrea and his son Jody were both tall (6ft 3in), well-built and ruggedly handsome. But Jody, who has died of a heart attack aged 74, found it difficult to fill his famous father's shoes. Joel McCrea had a long and varied acting career, working with many of Hollywood's leading directors. Jody's career, during which he made many westerns in the shadow of his father, was more limited, though he came into his own in six of the seven Beach Party movies in the 1960s.
Almost all of the series, made for the youth market, starred Frankie Avalon and Annette Funicello, with slow-drawling McCrea in the supporting cast and ancient Hollywood stars on their last legs as guest stars. The plots usually involved a group of young, scantily clad surfers defending their right to continue their love-ins and gyrations to surf music without interference from killjoy "squares".
McCrea played a character variously called Deadhead, Big Lunk and Bonehead, who could always be counted on to say something idiotic, much to the despair of his comparatively brighter companions. "It took me four pictures to figure it out. The kids liked Deadhead because they felt superior to me, to him," McCrea said many years later.
Jody was born and brought up in Los Angeles, where he was surrounded by showbusiness friends of his father and mother, Frances Dee, a star in the 1930s and 40s, who met Joel on the film The Silver Cord (1933). His ambition was to become a rancher like his father, rather than follow him into films. Nevertheless, he studied drama at the University of California, in Los Angeles, before making his official screen debut as a soldier in The First Texan (1956), starring Joel as Sam Houston. Two more westerns with his father followed, Trooper Hook and Gunsight Ridge (both 1957), in which he was hardly noticeable.
He was more visible in William Wellman's Lafayette Escadrille as a young first world war flying ace in a team with Tab Hunter and Clint Eastwood, and as a bully in the heated, small-town drama The Restless Years (both 1958). On television, he played deputy to his father's town marshal in Wichita Town (1959). It lasted for only four episodes. Thereafter, he started making a career for himself, helped by his father's semi-retirement. But inter-generational comparisons were unavoidable, especially in Young Guns of Texas (1962), which had the gimmick of casting Jody McCrea with two other Hollywood juniors who failed to make a mark on acting, James Mitchum (son of Robert) and Alana Ladd (daughter of Alan).
Then Beach Party (1963) came to the rescue. Directed by William Asher, it concerned an anthropology professor, Robert Cummings, studying the "mating habits" of the teenage denizens of Malibu beach. In the next two years, there followed Muscle Beach Party, Bikini Beach, Pajama Party, Beach Blanket Bingo and How to Stuff a Wild Bikini.
Though his dimwitted beach bum character was gradually given some love scenes, McCrea was pleased to abandon the series' typecasting by making two biker pictures, The Girls from Thunder Strip (1966) and The Glory Stompers (1968), the latter featuring him and Dennis Hopper as heads of rival motorcycle gangs.
His final film was the substandard western Cry Blood, Apache (1970), in which his father played a cameo. He retired from acting the same year, when he married Dusty Iron Wing, a Native American woman. The couple ran a cattle and elk ranch in Hondo, New Mexico. She died in 1996. McCrea is survived by his two younger brothers, David and Peter, and two stepchildren.
• Jody (Joel Dee) McCrea, actor, born 6 September 1934; died 4 April 2009
For "The Guardian" Obituary on Jody McCrea, please also  click here.