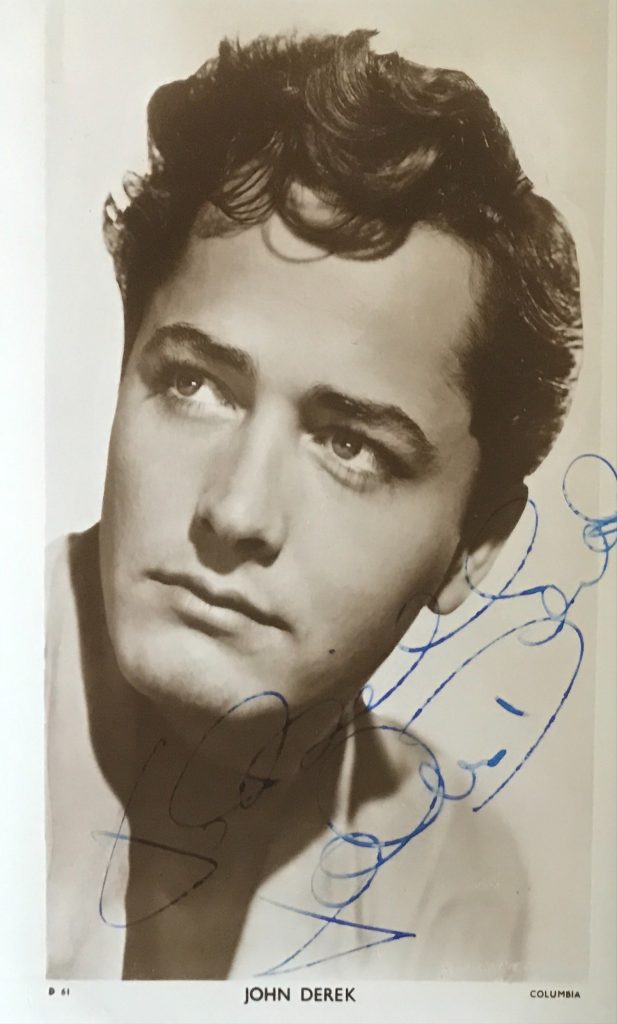 John Derek obituary in "The Independent" in 1998.
John Derek was an American actor who began his career as a 'pretty boy' but quickly developed into a good solid actor with a legacy of fine performances. He was born in 1926 in Hollywood. He had his first major role in "Knock on Any Door" with Humphrey Bpgart in 1949. The same year he played Broderick Crawford's wayward son in "All the King's Men". His other notable films include "The Hoodlum Saint", "The Ten Commandments" and "Exodus". Married four times, three of his wives were famous actresses., Ursula Andress, Linda Evans and Bo Derek. John Derek died in 1998.
Tom Vallance's obituary on John Derek in "The Independent":WITH HIS dark, wavy hair and clean-cut handsomeness, John Derek became a favourite film star of teenagers in the early Fifties, but never fulfilled the promise as an actor that his early performances in such films as Knock on Any Door and All the King's Men suggested. He eventually concentrated on photography and film production, and became best known as the husband and Svengali-like manager of Bo Derek.26, he had a film-oriented background, his father being the silent film-maker Lawrence Harris and his mother a minor film actress, Dolores Johnson. The producer David Selznick put him under contract as a teenager, and gave him small roles (billed as Derek Harris) in the Selznick productions Since You Went Away (1944, as a boyfriend of Shirley Temple) and I'll Be Seeing You (1945, as a sailor).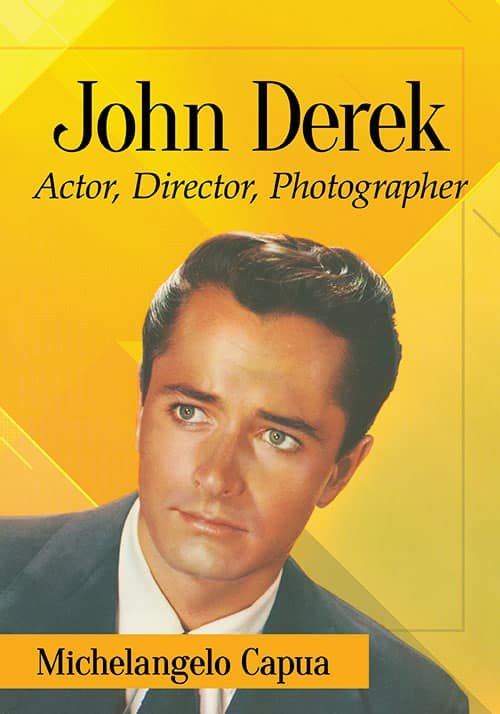 After war service, he was cast in the important role of a young man prompted by social conditions to turn to a life of violent crime in Nicholas Ray's Knock on Any Door (1949). Produced by Humphrey Bogart's Santana company, it starred Bogart as a lawyer who defends a boy on a murder charge, and though unsuccessful (Derek is sentenced to death), makes a strong plea for the erosion of the social injustices which cause such delinquency.
As a hardened youth, whose dictum is to "live fast, die young and make a good-looking corpse", Derek made a favourable impression and was immediately cast in Robert Rossen's All The King's Men (1949) as the disillusioned adopted son of an initially honest politician corrupted by power. Derek's sincere performance in the Oscar-winning film was critically praised, but Santana, having brought Dorothy Hughes' book In A Lonely Place as a vehicle for Derek, instead converted the hero to an older man so that Bogart could do it.
Had Derek starred in this Nicholas Ray masterpiece his career might have progressed differently. Instead, capitalising on his popularity with the young, Columbia, who had acquired his contract, starred him in several popular but routine swashbucklers including Rogues of Sherwood Forest (1950, as the son of Robin Hood), Mask of the Avenger (1950), Prince of Pirates (1952) and The Adventures of Hajji Baba (1954).
David Miller's Saturday's Hero (1951) was a good expose of colleagues who promote sport over study, with Derek in fine form as a student who discovers his esteem vanishes when an injury curtails his prowess on the football field. Nicholas Ray used him again to star with James Cagney in the western Run For Cover (1955), but the director Fred Zinnemann refused to consider the studio's request that he cast Derek in the prime role of Prewett in From Here To Eternity (1954), stating that either Montgomery Clift played it or he would not direct.
Cecil B. De Mille cast him in the important role of Joshua in The Ten Commandments (1956) when Cornel Wilde turned the part down, and he had a good role in Otto Preminger's epic of the founding of Palestine, Exodus (1960), but most of his other roles were in minor films and, after spending a season in the television series Frontier Circus (1961), he decided to develop his increasing interest in still photography and film production.
The actress Ursula Andress had become his second wife (his first was the starlet Patti Behrs), and in 1964 he co-produced Nightmare in the Sun, an exploitation movie starring Andress and directed by the former actor Marc Lawrence who made the film in 15 days. "Derek promised to allow his wife Ursula to do a nude scene with Aldo Ray," Lawrence later wrote, "but the day before shooting he changed his mind. Years later he did a nude layout of Ursula for Playboy and got $15,000 for his art."
The following year Derek himself directed Andress in Once Before I Die, a war story about a bunch of soldiers (including Derek) and a lone woman trying to survive in the Philippines – slow-moving and self-consciously photographed, it was given a limited release.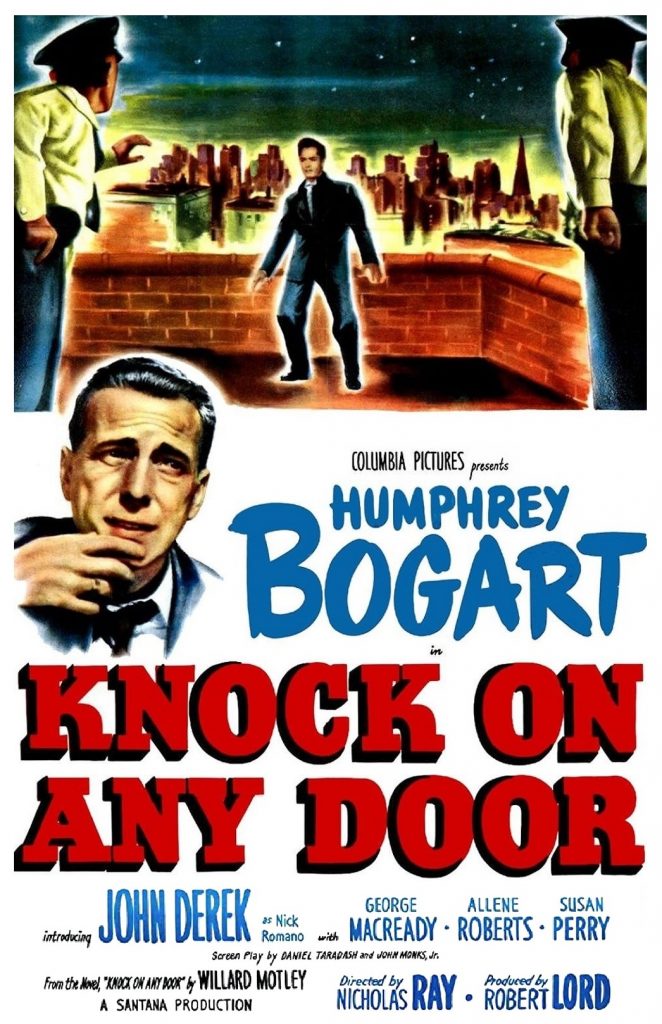 Derek's marriage to Andress ended when she embarked on an affair with the French actor Jean-Paul Belmondo, and he next married the actress Linda Evans, who starred in another little-seen movie directed and photographed by Derek, Childish Things (1969).
In 1972, Derek fell in love with Mary Cathleen Collins, a 16-year-old Californian (younger than his son and daughter) who was acting in a film he was directing in Greece, Fantasies. To avoid legal complications, he took her to Germany and as soon as she turned 18 he divorced Evans to marry her, also taking charge of her career.
As Bo Derek, she became famous starring with Julie Andrews and Dudley Moore in Blake Edwards's 10 (Bo epitomising in the film the ultimate score that a woman could achieve for desirability), starting a new fashion craze with her cornrow hairstyle. The guidance she accepted afterwards from her husband is generally considered to have harmed her career.
He directed and photographed her in Tarzan, The Ape Man (1981), one of the most ridiculed of films, and followed this with two which are often described as little more then soft-core home movies, Bolero (1984) and Ghosts Can't Do It (1990). Their sex scenes frequently provoked fits of laughter from audiences.
The marriage survived the derision that greeted their films, despite some alleged discord between after Derek told chat-show hostess Barbara Walters on television, when quizzed about his glamorous wives, that he liked at a certain point to trade his companions for newer models. Very wealthy, the couple lived on a ranch and were considered reclusive. "I have very few friends," said Derek some years ago, "and almost no acquaintances".
Derek Harris (John Derek), actor and film director: born Hollywood, California 12 August 1926; married first Patti Behrs (one son, one daughter; marriage dissolved), second Ursula Andress (marriage dissolved), third Linda Evans (marriage dissolved), fourth Mary Cathleen Collins; died Santa Maria, California 22 May 1998.
"The Independent" obituary can also be accessed online here.