John Ericson (Wikipedia)
John Ericson was born in 1926 and was a German-American film and television actor.
He made a number of films for MGM in quick succession in the 1950s.
His first appearance was in Teresa (1951), directed by Fred Zinnemann. He appeared in a series of films which included Rhapsody, The Student Prince, Green Fire (all in 1954), and in Bad Day at Black Rock (1955).
He co-starred with Barbara Stanwyck in Forty Guns(1957). In 1958 he appeared as Sheriff Barney Wiley in the western Day of the Badman which starred Fred MacMurray.
For the next 30 years, his career continued mostly on television.
He appeared in the lead role in "The Peter Bartley Story" of the CBS drama The Millionaire.
He appeared with Dorothy Malone in the episode "Mutiny" of CBS's Appointment with Adventure(which aired on January 1, 1956).
He made guest appearances in The Restless Gun(1958) and Target: The Corruptors! (1961). From 1965 to 1966, he co-starred as the partner of Anne Francis in Honey West. (He and Francis had played brother and sister in Bad Day at Black Rock.)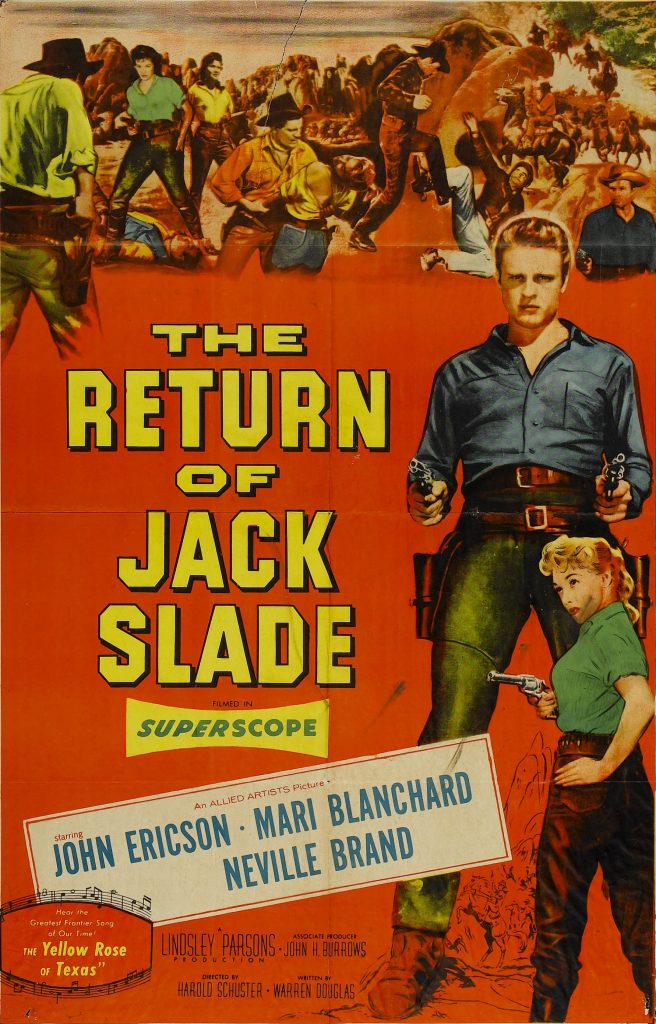 In 1971 he appeared as Jack Bonham on "The Men From Shiloh" (rebranded name for the TV western The Virginian in the episode titled "The Political."
He played the title role in Pretty Boy Floyd (1960), and his other film appearances included roles in Under Ten Flags (1960), Slave Queen of Babylon (1963), 7 Faces of Dr. Lao (1964), Operation Atlantis (1965), The Money Jungle (1968), The Bamboo Saucer(1968), Bedknobs and Broomsticks (1971), Crash! (1977), and The Far Side of Jericho (2006).
He has been married twice and has two children from his first marriage to Milly Coury. John has been married to his current wife Karen Huston Ericson over 40 years. John Ericson died in 2020 aged 94.