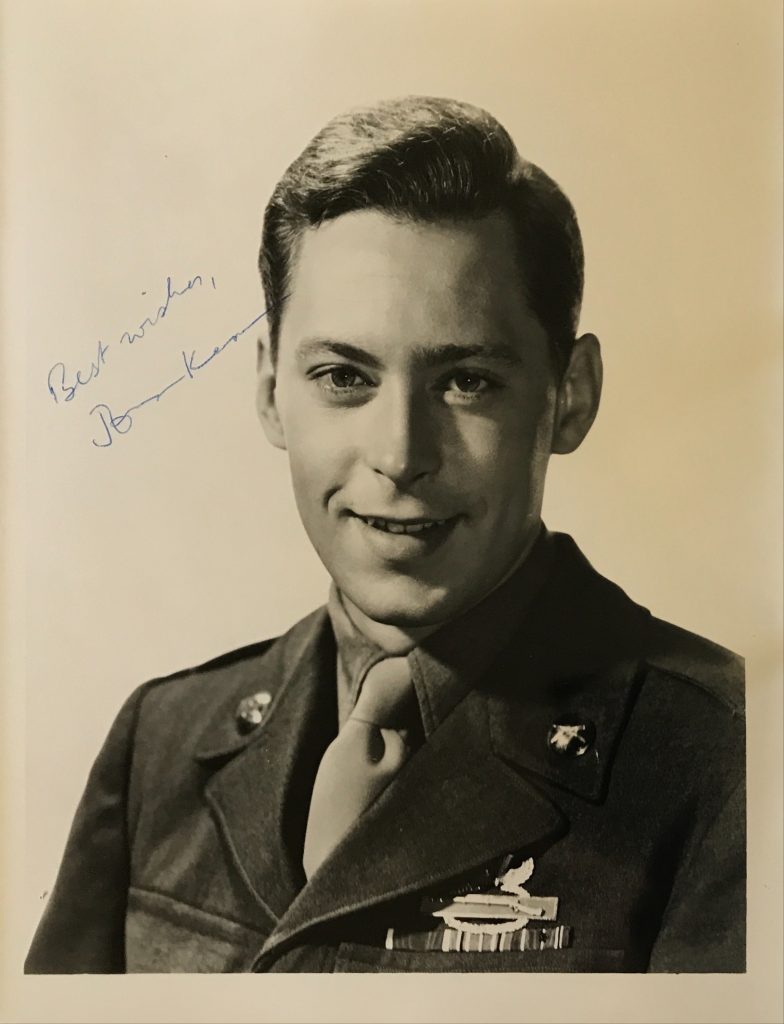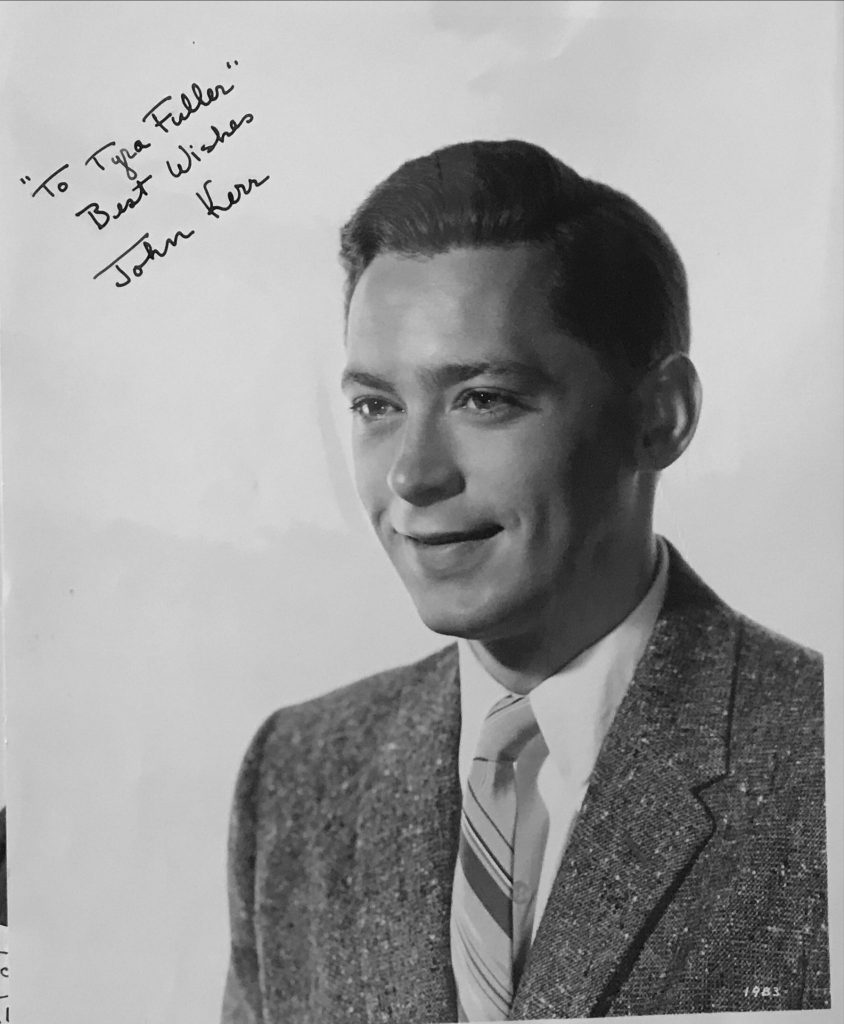 John Kerr was a very interesting young lead actor in the mid to late 1950's who seemed destined for a great cinema career. Surprisingly his career seemed to wane from the early 1960's and he became a lawyer. His film performances are worth watching and his movies deserve reappraisal. He starred in "Tea and Sympathy" with Deborah Kerr (no relation) and "The Cobweb" with Richard Widmark. He is best known for playing Lt Cable in "South Pacific" opposite the exquisite France Nuyen as Liat. Sadly John Kerr passed away in February 2013 at the age of 81.
Brian Baxter's obituary in "THe Guardian":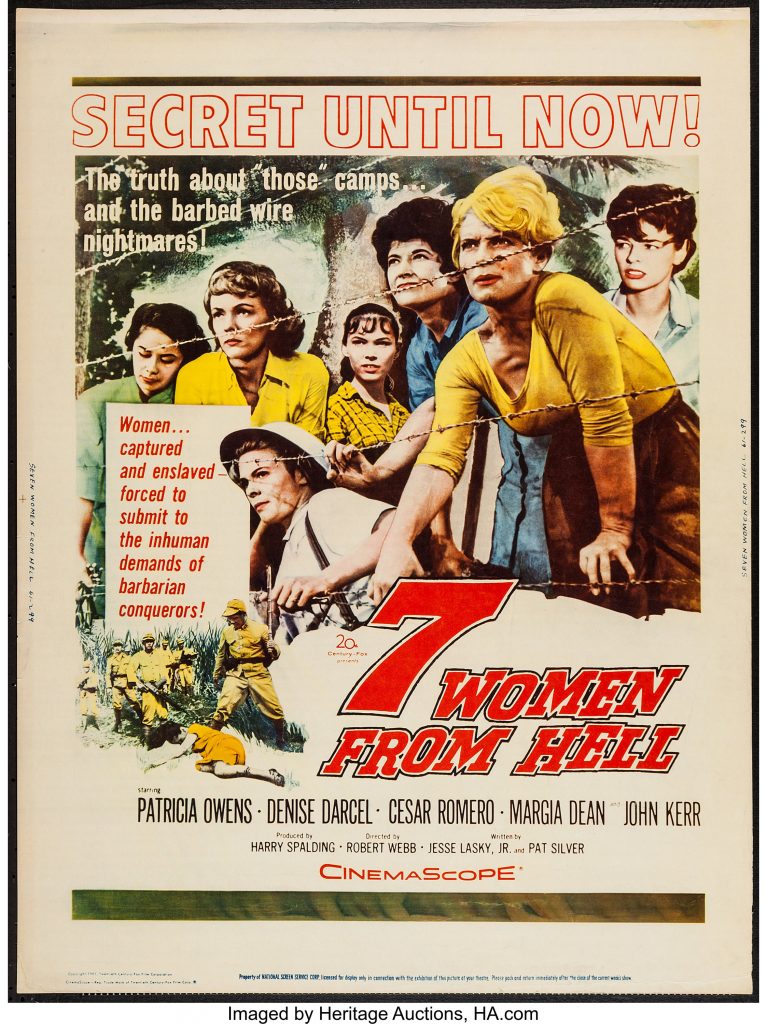 The actor John Kerr, who has died aged 81, won a Tony award in his first starring role on the Broadway stage, as Tom in Tea and Sympathy in 1953, and subsequently appeared in the 1956 film version directed by Vincente Minnelli. Robert Anderson's play, in which a schoolboy "confesses" to his housemaster's wife that he might be homosexual – only to be seduced out of the notion by the sympathetic listener – was considered so controversial that it was restricted to a "members only" theatrical run in London, and Minnelli's film received an X certificate, despite modification, notably in the suggestion that the housemaster was gay.1!
Kerr starred as the boy, although by then he was in his 20s. Born in New York, son of the actors Geoffrey Kerr and June Walker, he had already graduated from Harvard, played in summer stock and made his Broadway debut in 1952 in Bernardine. He made a handsome hero and was superbly matched with Deborah Kerr (no relation) as she dispensed tea and largesse in equal measure. Although the movie was sanitised, the dialogue remained intelligent, the premise timely for the period and the acting exceptional under Minnelli's elegant guidance.
The director had been responsible for Kerr's memorable film debut the year before in The Cobweb. He was cast as a sensitive youngster, a suicidally inclined patient in a psychiatric clinic, who becomes the focus of a dispute between his sympathetic doctor (Richard Widmark) and the clinic's manager (Lillian Gish). Kerr should, after such acclaim, have embarked on a major career. But he trod water in television dramas such as Playhouse 90 and movies including Gaby (1956, opposite Leslie Caron), a poor reworking of Waterloo Bridge, and The Vintage (1957), a preposterous thriller set in a French vineyard.
There was an upturn when he took the role of the tragic Lt Cable in the lavish – though stodgy – version of the musical South Pacific (1958). Although his voice was dubbed (by Bill Lee), he had the great number Younger Than Springtime to mime to and looked suitably dashing in his white uniform. The movie was a critical failure, but it gave Kerr a wider audience than Girl of the Night and The Crowded Sky (both 1960) and The Seven Women from Hell (1961).
He was temporarily rescued from the doldrums by Roger Corman's flamboyantly gothic The Pit and the Pendulum (1961), in which he became the torture victim of an insane Vincent Price. That cult movie signalled Kerr's exodus from the big screen and he moved permanently to television, playing stalwart establishment characters. He was presciently cast as an assistant district attorney in the TV series Arrest and Trial (1963-64) and given the top job as District Attorney John Fowler in Peyton Place (1965-66), moving on to an even steamier series, playing Duane Galloway in The Long, Hot Summer (1965). During this period he returned to his studies, graduating in law from the University of California, Los Angeles, in 1969 and setting up a practice in California.
Despite his new occupation, Kerr returned sporadically to acting, appearing in television series including The Young Lawyers, Columbo, The Streets of San Francisco, Police Story and The Invisible Man. He also enjoyed key roles in mini-series such as Washington: Behind Closed Doors (1977) and television movies including Incident on a Dark Street, in which he was again cast as a lawyer. He effectively retired from acting in the late 70s; although he could be glimpsed in the television movie The Park is Mine in 1986.
He is survived by his second wife, Barbara; a son, Michael, and two daughters, Rebecca and Jocelyn, from his first marriage; and seven grandchildren.
Ronald Bergan writes: In 1994, while researching a biography of Anthony Perkins, I interviewed John Kerr at his law office in Beverly Hills. He was 63 and grey-haired, but had kept his slim figure and his handsome, sensitive face.
Initially, Kerr and Perkins had parallel lives and careers. They both attended Miss Carden's private school in New York. They both came from theatrical families – Perkins's father, Osgood, was a well-known Broadway actor, and Kerr's grandfather (Frederick Kerr), father and mother were all actors.
When Perkins and Kerr were in their early 20s, their paths crossed again. In July 1953, Perkins put himself up for the role of Tom Lee in Tea and Sympathy. Kerr was also up for the part. Perkins was confident that the play's director Elia Kazan, who had acted with Osgood, would value him as his father's son. Yet Anderson and Kazan opted for Kerr. "Jack Kerr had the quality we were looking for," explained Anderson. "The very thing that had worked for Tony, particularly in the movies – a certain 'differentness' – we didn't want at the outset for Tom Lee."
Nevertheless, when the Broadway cast was changed a year later, Kerr told Kazan that he believed Perkins had the right qualities to replace him in the role. When Tea and Sympathy reopened starring Joan Fontaine and the unknown Perkins, Kerr was relieved. "My hunch was justified when I saw Tony. He was excellent," Kerr remarked generously. "Tony played it with more humour than I did."
But it was Kerr who was given the part for Minnelli's bowdlerised screen version after the play closed in June 1955. A year later, the tables were turned. Kerr had wanted the part of Gary Cooper's son in William Wyler's Friendly Persuasion, but his agent advised against it. The film launched Perkins as a film star; while Kerr went on to appear in several stinkers.
Kerr also turned down the choice role of Charles Lindbergh in Billy Wilder's The Spirit of St Louis, because, he explained, "the American hero was sympathetic to Nazi Germany". He had no regrets, and seemed very relaxed and content in his choice of having given up acting for the law.
• John Grinham Kerr, actor and lawyer, born 15 November 1931; died 2 February 2013
To view "The Guardian" obituary of John Kerr, please click here.