Joyce Grenfell (Wikipedia)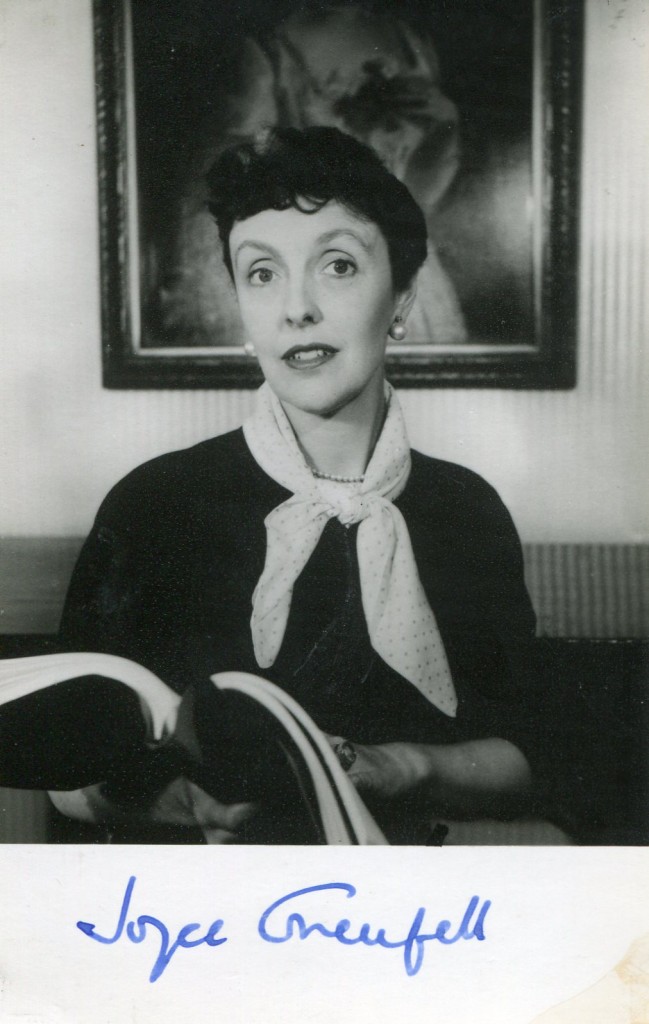 Joyce Grenfell was born in 1910 to a wealthy family. Her mother was American and her aunt was the famous politican Nancy Astor. She made her first stage appearance in "The Little Revue" in 1939. During World War Two she toured India, North Africa and the Middle East to entertain the British troops. After the War she started making films in England, many of which have become classics e,g. "Genevieve" and "The Happiest Days of Your Life".
She appeared on Broadway in her own one-woman show. In 1956 she was on "The Ed Sullivan Show" alongside Elvis Presley. She continued to perform on British television until she became ill and she died in 1979. Great radio docimentary on BBC Radio 4 on Joyce Grenfell can be assessed here.
Gary Brumburgh's entry:
Toothy Britisher Joyce Grenfell with her stark, equine features charmed and humored audiences both here and abroad on radio, stage, revues, film and TV for nearly four decades. Lovingly remembered as a delightfully witty monologist and raconteur, she inherited her bold talents from her eccentric socialite mother, who just so happened to be American and the sister of Lady Nancy Astor. Born Joyce Irene Phipps in 1910, her father was an architect and she was educated both in London and Paris. Her first job in the entertainment business was as a radio critic columnist. In 1939, she performed in her first revue wherein her spot-on impersonations, characterizations and satirical songs became a big hit. One song "I'm Going to See You Today", which she herself wrote in 1942, became her signature song. Performing for the troops during WWII, she finally was sought after for films, finding an opening playing gawky matrons in rollicking comedies.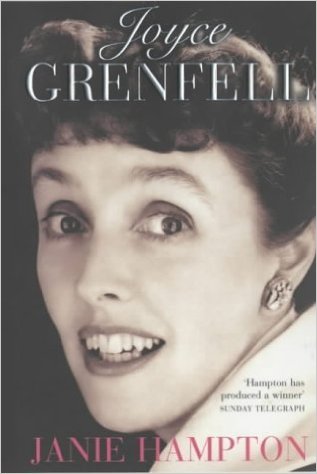 The best of the lot would include The Happiest Days of Your Life (1950), Laughter in Paradise (1951), The Belles of St. Trinian's (1954), and the resulting 'Trinian' sequels. She also put out highly popular comedy albums over the years. Joyce's last performance was in 1973 before Queen Elizabeth and her guests at Windsor Castle. Her health began to fail soon after. An eye infection resulted in a loss of sight in one eye and she was forced to retire. Six years later the eye was diagnosed as cancerous and, though it was removed, she continued to decline, dying on November 30, 1979 at home. She was later commemorated on a postage stamp.
– IMDb Mini Biography By: Gary Brumburgh / gr-home@pacbell.net
Immortalised as toothy, gauche games mistress, Gossage ("Call me Sausage") in The Happiest Days of Your Life (1950), former journalist Grenfell invaded over 20 often-unexceptional British films, creating moments of treasurable idiocy.
She is wonderfully exasperated with Alastair Sim's further postponement of their wedding ("I've been home three weeks and I've had a bath") in Laughter in Paradise (1951), is all fringe and jangling beads as the hotel proprietress in Genevieve (1953), was several times hilariously love-lorn Policewoman (later Sergeant) Ruby Gates in the St Trinian's series.
As a celebrated monologuist, gently caricaturing the middle classes, she showed wider emotional range than films ever explored. Appeared in many revues, as well as her own inimitable one-woman shows, which she wrote and with which she toured extensively. She was living proof that you could be a sharp satirist without – miraculously – descending to malice; she is as English as glee-singing and much more fun. She was awarded an OBE in 1946.
Bibliography
Joyce Grenfell Requests The Pleasure
Brian McFarlane, Encyclopaedia of British Cinema