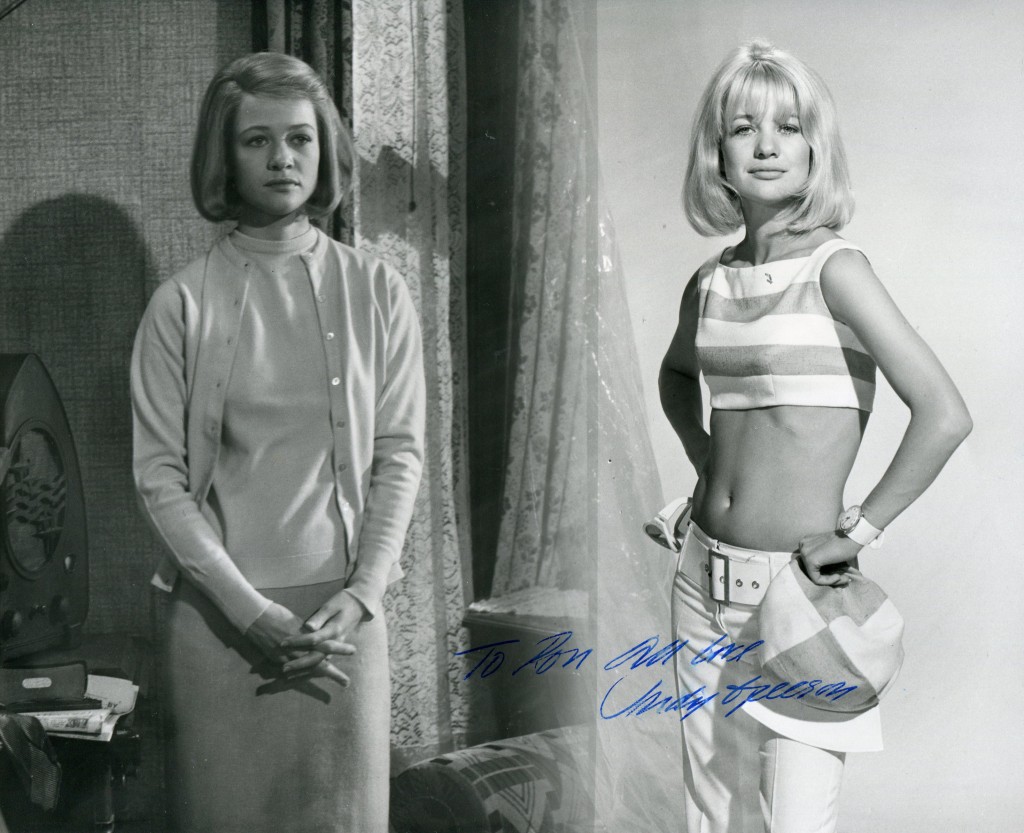 Judy Geeson. TCM Overview.
Judy Geeson's first major film role was as the young teenager in Sidney Poitier's class in the East End of London in "To Sir With Love". The film was a huge hit in the mid 1960's helped somewhat by the No 1 hit of the title song sung by Lulu. Judy Geeson went on to star in several British films and then was Hollywood bound. She was featured in the hit U.S. television series "Mad About You" with Helen Hunt. A mini-biography on IMDB can be accessed here.
TCM Overview:
Frequently called "fresh faced" during her ingenue period, and still sweet-smiled in middle age, Judy Geeson made her stage debut at age nine, and began appearing on British TV by age 12. Her screen debut as Pamela Dare, a thoughtful and awakening schoolgirl with a crush on Sidney Poitier's upright schoolteacher, in "To Sir With Love" (1967) brought her notice and acclaim. She went on to play provocative leads in a number of British and other films, including "Prudence and the Pill" (1968), "Brannigan" (1975), the thriller "Dominique" (1977) and "Horror Planet" (1980). She seemed to have a predilection for screen pregnancies: in "Prudence and the Pill," she played David Niven's sexually-active niece who finds herself with child while in "Horror Planet," she was impregnated by a monster and becomes a killer. Geeson spent much of the 80s concentrating on stage and film roles. She returned to features in 1991 to co-star in "Young Goodman Brown," based on a short story by Nathaniel Hawthorne, but it went unreleased for almost six years.
The attractive blonde found a better range of roles on the small screen. While still in her ingenue stage, Geeson spent two years (1965-67) as the teenaged daughter in a family that moved from London to the countryside in the British drama series "The Newcomers" and essayed the role of Lucy Honeychurch in a BBC 1973 adaptation of "A Room with a View." As she matured, Geeson performed in a range of comic and dramatic roles, including a role as a leader on a planet ruled by women where men were slaves in "Star Maidens" (syndicated, 1977-78). She was Emmy-nominated for a guest appearance on "Archie Bunker's Place" (CBS, 1981), and often guest-starred on primetime series, including "Murder, She Wrote," "The A-Team" (NBC, 1986), "MacGyver (ABC, 1988) and "Star Trek: Voyager" (UPN, 1995), the latter in the recurring role of Sandrine. Geeson achieved a more lasting recurring role on the highly regarded and popular Helen Hunt-Paul Reiser comedy series "Mad About You" (NBC, 1992- ), playing their snooty British neighbor Helen. Other notable credits include "Poldark II" and "Danger U.X.B.," both seen in the USA on PBS's "Masterpiece Theatre." She came full-circle in 1996 when she reprised the role of Pamela in the CBS TV-movie "To Sir With Love II," making a cameo appearance in a scene in which a retiring Sidney Poitier is being honored.
Geeson, whose younger sister Sally is also an actress, was formerly married actor-director Kristoffer Tabori, with whom she appeared in the Off-Broadway play "The Common Pursuit."