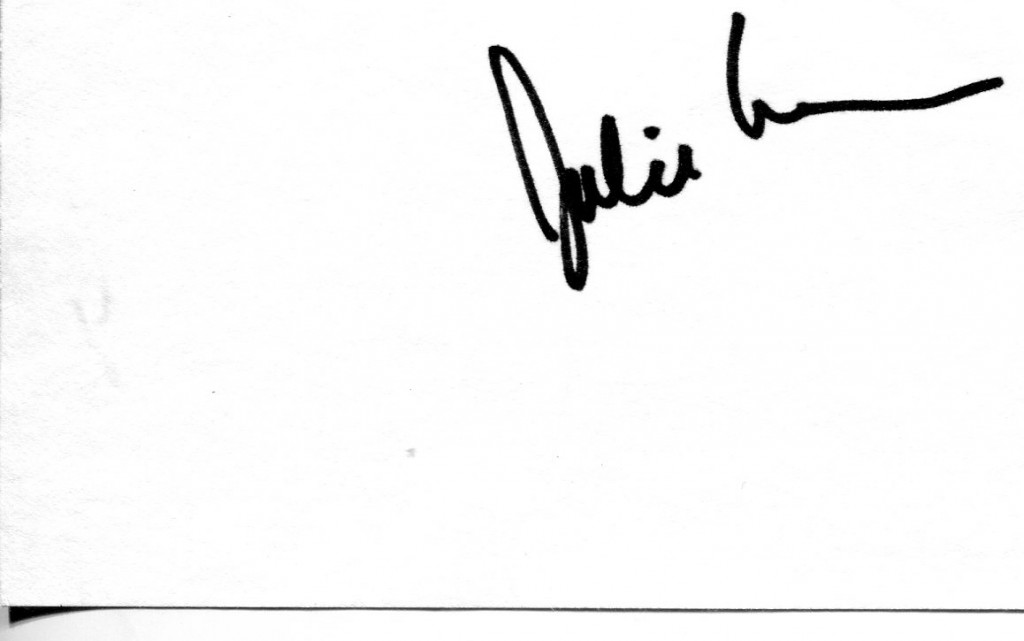 Julie London obituary in "The Guardian".
To-day Julie London is primarily known as a singer. Her recording of "Cry Me A River" is a definite classic. She did also make some fine films. She was born in 1926 in Santa Rosa, California. One of her first major film parts was in "The Red House" in 1947. Her other films of interest were mainly Western e.g. "Man of the West" with Gary Cooper and "Saddle the Wind" with Robert Taylor and John Cassavettes, both films were released in 1958. Julie London also starred in the television series "Emergency" from 1972 until 1979 with her husband Bobby Troup. Julie London died in 2000 at the age of 74.
Ronald Bergan's "Guardian" obituary of Julie London:
One of the most evocative sounds of the mid- to late-1950s, issuing from juke boxes, radios and film soundtracks, was the sexy, whispering voice of Julie London, who has died aged 74. Her own view was that she had "only a thimbleful of a voice, and I have to use it close to the microphone. But it is a kind of oversmoked voice, and it automatically sounds intimate."
London's biggest hit was her first single, Cry Me A River, which was released in 1955, included on her first album, Julie Is Her Name, and sold more than 3m copies. Her voluptuous features on the album cover were described by publicists as "generating enough voltage to light up a theatre marquee".
Similarly, the cover of her Calendar Girl album featured 12 glamorous shots, and, for her 1961 album, Whatever Julie Wants, she was guarded by armed security men as she posed beside $750,000 worth of furs, jewels and piles of money. In her movies, she looked her best in period costume, especially in westerns, where she decorated many a saloon bar.
London was born Julie Peck in California. Her parents, Jack and Josephine, were a vaudeville song-and-dance team, on whose radio show their daughter sang from an early age. In 1941, the family moved to Los Angeles, and, while working as a lift operator in a department store, Julie was discovered by talent agent Sue Carol, Alan Ladd's wife, and given a screen test.
Her first role, at 18, was as a jungle girl – with flowers in her blonde hair – in the risible Nabonga (1944), whose best friend was the eponymous gorilla, until handsome Buster Crabbe showed up. London acquitted herself well, but the cheapie picture did not lead to big film roles. Meanwhile, however, she was making a reputation as a singer with the Matty Malnech Orchestra.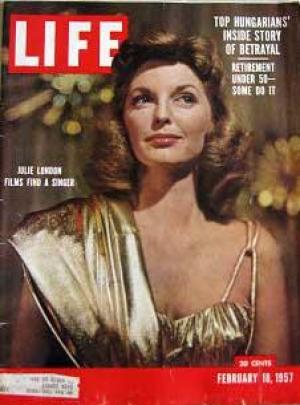 In 1947, she married the actor Jack Webb, later famous on the radio and television police series, Dragnet, and worked only a little while bringing up their two daughters. She had a good part as Susan Hayward's amorous younger sister in the southern saga, Tap Roots (1948), and played a navy wife in Task Force (1949), starring Gary Cooper.
After she divorced Webb in 1953, London entered a brief period during which, in her own words, she lacked self-confidence. This changed when she met jazz musician and songwriter Bobby Troup, who guided her singing career and helped her become a top female vocalist from 1955 to 1957. The couple married in 1959, and had a daughter and twin sons.
Troup once remarked: "She is not a Julie London fan. She honestly doesn't realise how good she is. She's never really been a performer, she doesn't have that need to go out and please an audience and receive accolades. She's always been withdrawn, very introverted. She hated those big shows."
However, London continued to sing in nightclubs, cut discs, and record title songs from her films, such as Saddle The Wind (1958) and Voice In The Mirror (1958), which she also composed. In the latter, she showed growing maturity as an actress, playing the wife of an alcoholic.
As a dancehall singer, humiliated and raped by Lee J Cobb, then avenged by Gary Cooper, in Anthony Mann's allegorical Man Of The West (1959), she struck a tragic note. In The Wonderful Country (1959), she was won by Robert Mitchum after her husband had conveniently been killed by Apaches, and, in Night Of The Quarter Moon (1959), she shocked San Francisco society when, as John Drew Barrymore's bride, she admitted to having a black grandparent.
In 1972, having been out of the public eye for some time, London began her role as Nurse Dixie McCall in the television hospital series, Emergency. The show, which was produced and often directed by her first husband Webb, also starred her second husband, Troup. For five years, London was a star once more, reminding fans of the days when, to quote the writer Joseph Lanza, she "was a blend of Dionysian flesh and Detroit steel, streamlined car and cocktail shaker combined".
• Julie London, actress-singer, born September 26 1926; died October 18 2000
The above "Guardian" obituary can also be accessed online here.