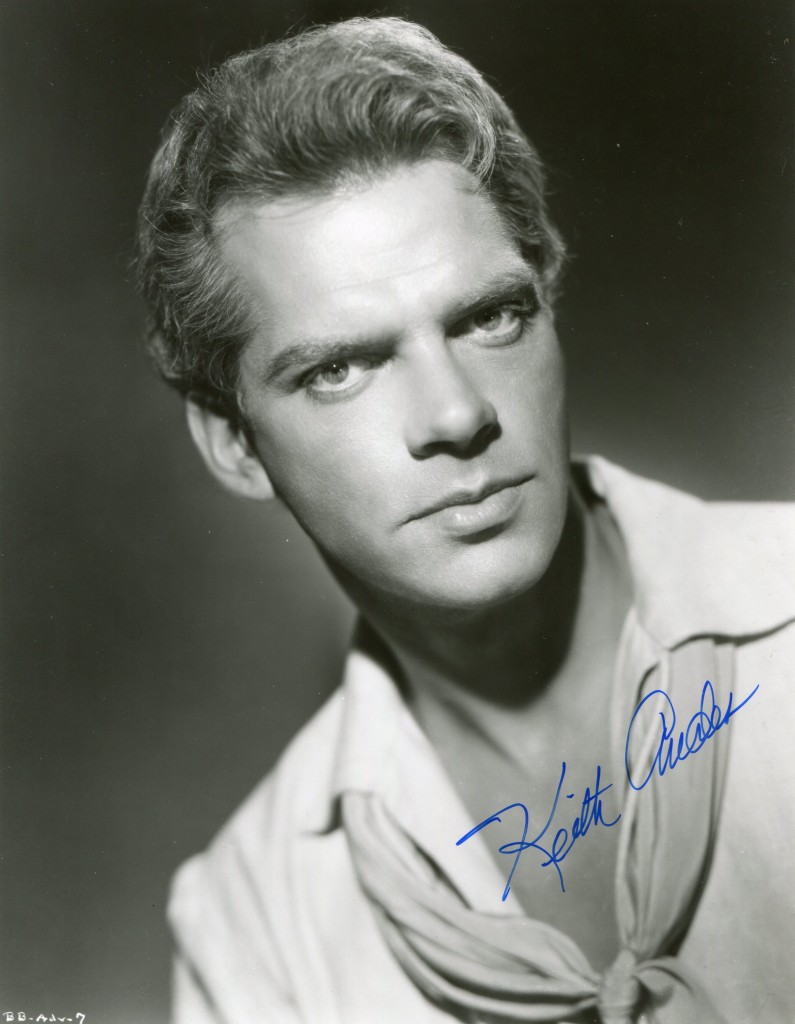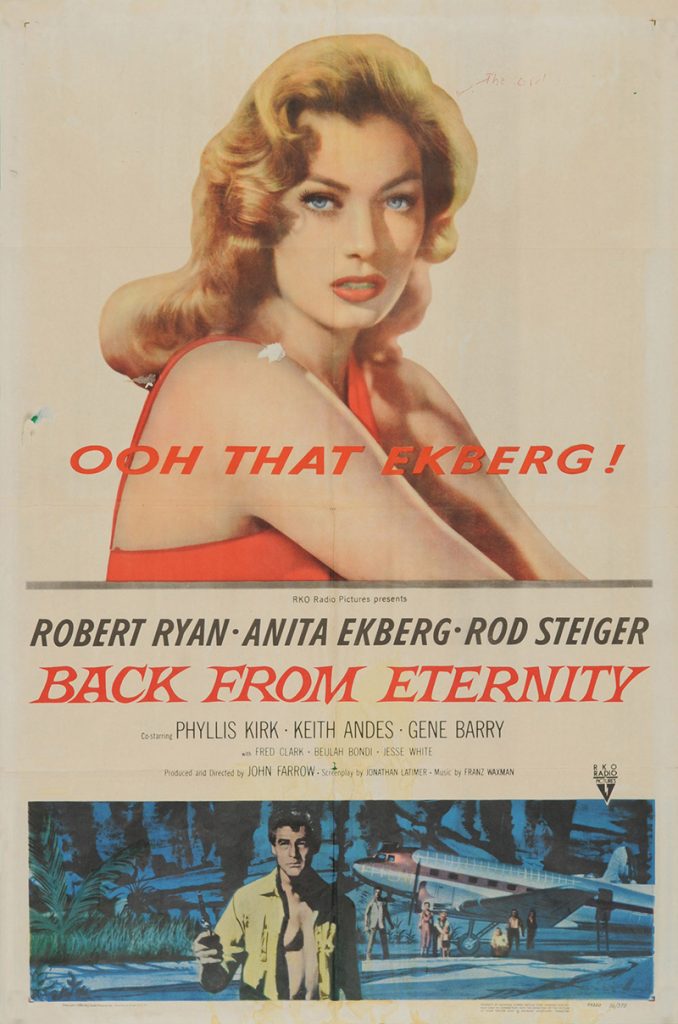 Keith Andes was born in 1920 in New Jersey. He had a minor role in 1944 in "Winged Victory" and then three years later was one of Loretta Young's Swedish brothers in "The Farmer's Daughter". In 1952 he appeared with Marilyn onroe and Barbara Stanwyck in "Clash By Night" and "Blackbeard the Pirate" with Robert Newton. In 1963 he starred with Glynis Johns in the television series "Glynis". His later films included "Tora, Tora, Tora" and "And Justice For All". Keith Andes died in 2005 at the age of 85.
Tom Vallance's "Independent" obituary on Keith Andes:
A blond actor with an impressive physique and brooding good looks, Keith Andes made a strong impression in several films of the early Fifties – he played Marilyn Monroe's possessive boyfriend in Clash by Night (1952). He also possessed a fine baritone that was heard to advantage on the stage – he was Lucille Ball's leading man in her only Broadway musical Wildcat (1960) – and he could have been a natural successor to Howard Keel had not Hollywood cut back on musicals in the late Fifties.
Born John Charles Andes in New Jersey in 1920, he graduated from Temple University and worked in radio as an actor and singer prior to joining the Army Air Force. He had wanted to be a pilot but failed cadet training, and when Moss Hart's morale-boosting play Winged Victory was being produced with an all-servicemen cast, Andes won the role of a flyer in both the play (1943) and the film version that followed in 1944.
Andes had his first starring role on Broadway, by then using the name Keith Andes, in a revival of the operetta The Chocolate Soldier (1947), with choreography by George Balanchine, a new libretto by Guy Bolton and some scene-stealing comedy from Billy Gilbert. Opinions of Andes were varied – the critic George Jean Nathan found him "embarrassing to both song and story" – but he was given the Theatre World Award for the year's best performance in a musical. The same year, he was seen on screen in The Farmer's Daughter, which won Loretta Young an Oscar.
He returned to Broadway in 1950 to take over from Alfred Drake as Fred Graham in Kiss, Me, Kate, starring in the show for over a year. He then signed with RKO, and was cast in Fritz Lang's Clash By Night (1952) – Monroe documentaries often include the scene in which he playfully tightens a towel around her throat to signify his jealousy.
Other RKO movies included a spirited swashbuckler, Blackbeard the Pirate (1952), the thriller Split Second (1953), Back from Eternity (1956), as a co-pilot stranded with crash survivors in the jungle, and The Girl Most Likely (1957), a musical remake of the comedy Tom, Dick or Harry, with Jane Powell the bemused heroine trying to choose between three suitors. Andes was the handsome millionaire she almost marries before settling for true love, but though the film was a musical he was given no songs. (His only singing on screen was in the 1955 Universal musical, The Second Greatest Sex, an uninspired attempt to put Lysistrata into a western setting.)
A short spell as a contract player at Universal included roles in Away All Boats (1956), and Interlude (1957, as the doctor boyfriend of June Allyson, patiently waiting for her to end an affair with a married man). His role in Damn Citizen (1958), that of a police chief charged with ridding his department of corruption, was the inspiration for a short-lived television series in which he starred, This Man Dawson (1959). Television had given his singing a showcase when he played Johann Strauss Jnr in The Great Waltz (1955), co-starring Patrice Munsel and Jarmila Novotna. Andes sang duets with both ladies, and in a tour de force conducted the orchestra while singing a vocal version of the Overture to Die Fledermaus.
His most memorable singing role came when Lucille Ball cast him as her leading man in the musical Wildcat (1960). The Cy Coleman/Carolyn Leigh songs given to Andes included a humorous duet with Ball, "Give a Little Whistle", and the paean to oil drilling "Corduroy Road". Happily, these numbers are preserved on the original cast album, although the show closed after six months due to Ball's health. "Lucy was a hard-working woman," said Andes:
What she didn't have, though, was the stage discipline as opposed to television discipline. She was the lead and she needed to pace herself, and she never learned how to do that. The show could have run for three years at least.
While appearing in Wildcat, Andes divorced his first wife and married the actress Shelah Hackett, although that marriage also ended in divorce. He toured in the national production of Man of La Mancha (1968) and although he played guest roles in television series, he had virtually retired by the Seventies.
I was divorced, my kids were grown, and that is when I bought a boat and lived on it and ran charters on it over to Catalina and down to Mexico and back. I just had a ball.
A dedicated weight-lifter who went to the gym five days a week, he was also a chain-smoker, and had been stricken with a series of health problems that led to his apparently committing suicide by asphyxiation.
Tom Vallance
The above "Independent" obituary can also be accessed online here.
Gary Brumburgh's entry:
1950s and 60s second lead actor Keith Andes fits into the strappingly handsome and virile mold that encompassed the likes of George Nader, Guy Madison, and Jeffrey Hunter. Although he may not be as well remembered as the aforementioned, he managed to maintain a reliable career on radio (from age 12), stage, TV and films for over three decades. Born John Charles Andes on July 12, 1920, in Ocean City, New Jersey, Keith found work on radio singing and acting throughout his high school years. While serving with the Air Force during WWII, he performed in the patriotic 1943 Broadway stage show "Winged Victory" and, after being seen by studio mogul Darryl F. Zanuck, was given a minor part in the film version the following year. Keith returned to Hollywood in the post-war years and won the role of one of Loretta Young's brothers (the others being Lex Barker and James Arness) in the classic film The Farmer's Daughter (1947). His enviable physique and photogenic good looks made the blond looker an obvious choice to continue in both rugged adventures and beefcake drama but his output was fairly minimal. InClash by Night (1952), one of his best roles, he dallied hot and heavy with a youngMarilyn Monroe and, in Blackbeard, the Pirate (1952), he demonstrated some expert swashbuckling skills. Meanwhile on the musical front, Keith proved he had a resilient baritone. He won a Theatre World Award for "The Chocolate Soldier" in 1947 and, subsequently, starred in "Kiss Me Kate" with Anne Jeffreys of TV's Topper (1953) fame. More notably, he appeared opposite Lucille Ball in her only Broadway musical "Wildcat" in 1960, winding things up playing "Don Quixote" for over 400 performances in "Man of La Mancha" in 1968. Ironically, the movie studios did not take advantage of his musical prowess, appearing in a bland role with Jane Powell and singing one musical number inThe Girl Most Likely (1958). Beside numerous episodic appearances, he appeared in two television series: This Man Dawson (1959) and the sitcom Glynis (1963), the latter starring popular Brit actress Glynis Johns. Both were short-lived. Slowing down by the 1970s, he appeared very infrequently on camera while finding occasional voiceover work. Sadly, his final years were marred by extreme ill health, including bladder cancer, and he committed suicide in his Santa Clarita, California home at age 85.
– IMDb Mini Biography By: Gary Brumburgh / gr-home@pacbell.net