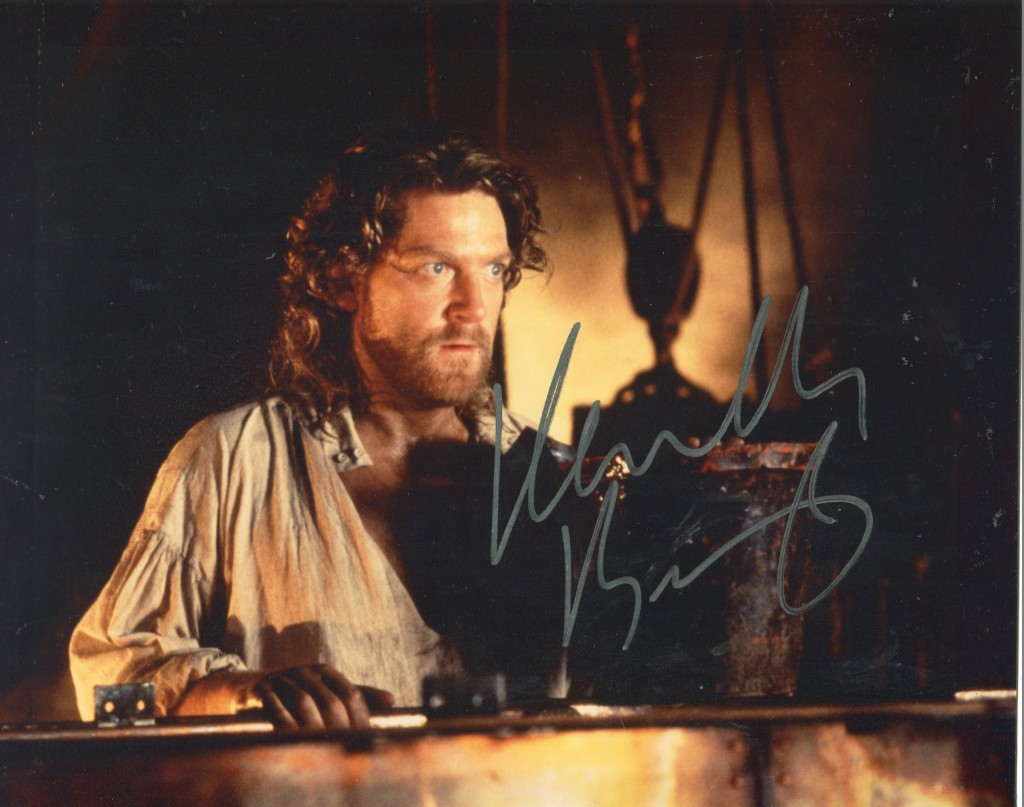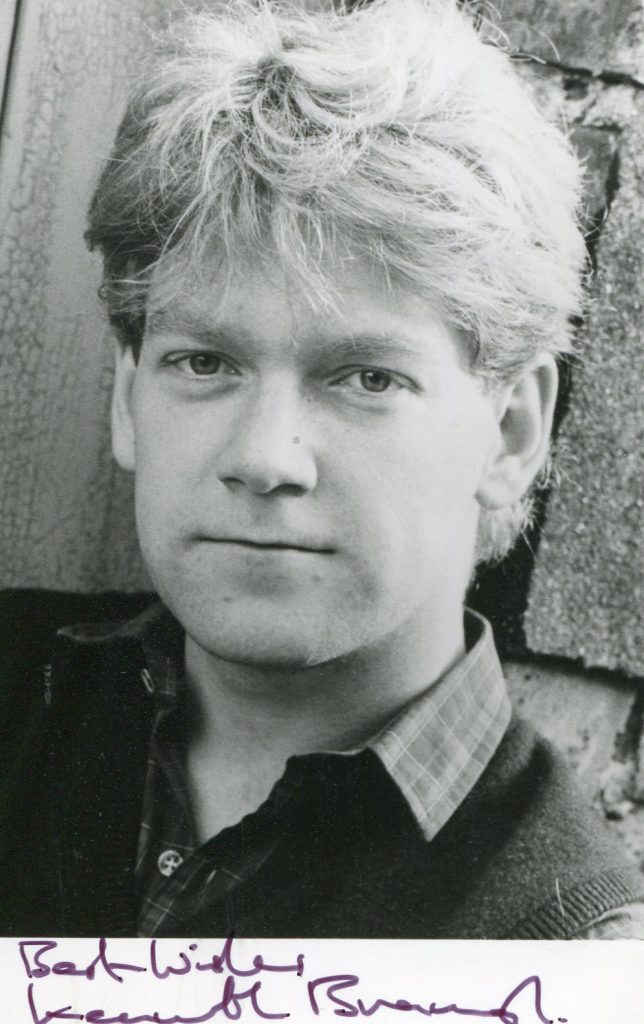 Kenneth Branagh TCM Overview.
Kenneth Branagh was born in Belfast in 1960. When he was nine his parents moved to the UK. In 1982 he starred on television in three plays about the one character Billy written by Grahan Reid. The same year he starred in "Another Country" on stage. He had made his film debut in a small part in 1981 in "Chariots of Fire". Throuout the 80's and 90's his career continued on a steller path – films like "A Month in the Country", "Dead Again" and Peter's Friends" and television work such as "Fortunes of War"kept him in the public eye. In recent years he scored huge praise for his title performance in "Wallander" a tale of a tired Swedish police officer.
His TCM biography:
Once hailed as the "new Laurence Olivier," Shakespearean-trained actor and director Kenneth Branagh struggled throughout his career to balance his near-obsessive drive to work with the need for a somewhat normal, settled life. After his directorial breakthrough with his excellent interpretation of The Bard's "Henry V" (1989), Branagh had what appeared to many to be the picture-perfect life: a beautiful wife in Emma Thompson, a thriving career – thanks to his deft thriller "Dead Again" (1991) – and a reputation replete with an air of seriousness and unerring artistic credibility. But on the inside, Branagh claimed to have been going a bit mad – a realization exacerbated by his separation from Thompson and the debacle of "Mary Shelley's Frankenstein" (1995). Later in life, he learned how to relax every now and then, but continued to push himself to greater artistic heights, sometimes to the point of failure, as with "Hamlet" (1996) and "Love's Labour's Lost" (2000). He rebounded, however, with a marvelous performance as a young Franklin Delano Roosevelt in "Warm Springs" (HBO, 2005), followed by an acclaimed turn as a brilliant but dysfunctional detective in the "Wallander" (PBS, 2009) miniseries and a return to the director's chair for the superhero smash "Thor" (2011). With his heralded body of work as an actor, writer and director, Branagh had long emerged from Olivier's shadow to be recognized as one of the more formidable filmmakers of his generation.
Born on Dec. 10, 1960 in Belfast, Northern Ireland, Branagh was raised in a working class home devoid of any form of artistic expression; surprising for someone later intimately linked to the greatest writer of the English language. Branagh moved to England with his family when he was 10 and began his love affair with Shakespeare, reading 25-cent paperback volumes of his plays as an escape from schoolyard bullies who taunted him for being too much of a joker on the playground. An isolated child who sat enraptured in front of the TV, watching movies with James Cagney, Humphrey Bogart and Spencer Tracy, Branagh later brought his desire to engage in fantasy to the Royal Academy of Dramatic Art, where he won the Bancroft Gold Medal for Outstanding Student of the Year and later earned Britain's prestigious Best Newcomer award for his 1982 performance as Judd in "Another Country." In a short time, Branagh had made a quick rise to become one of England's promising new talents.
Branagh soon became a familiar face on British television, becoming a star of the acclaimed 1984 BBC trilogy "Too Late to Talk to Billy," "A Matter of Choice for Billy" and "A Coming to Terms for Billy." After making a name for himself with "Another Country," he joined the Royal Shakespeare Company at age 23, opening its 1984 season at Stratford-upon-Avon as the youngest "Henry V" in the troupe's history. He also wrote and directed his first play, "Tell Me Honestly" (1985), presented as part of the inaugural season of "Not the RSC." Deeming the RSC too large and impersonal, Branagh co-founded the Renaissance Theatre Company with David Parfitt. Though disbanded in 1994, Branagh successfully played "Hamlet," staged his original play "Public Enemy," which nearly bankrupted the company before it began, and mounted an acclaimed interpretation of "King Lear" – all before the age of 30.
He continued acting in high-quality British TV ventures such as the 1986 small screen version of Henrik Ibsen's "Ghosts" and the BBC's acclaimed seven-part drama, "Fortunes of War" (1987), which joined him for the first time with frequent co-star and future wife, Emma Thompson. Finding time for two features, he played a bungling British agent posing as one-half of the archetypal English tourist couple in the weak-scripted "High Season," but fared far better in his first leading role as a homosexual tormented by his World War I experiences in the plush period drama, "A Month in the Country" (both 1987). Branagh gained international recognition and dual Oscar nods as the director and star of the 1989 screen adaptation of Shakespeare's lyrical "Henry V." Strikingly dark and atmospheric, the pared-down film contrasted sharply with the lavishness and optimism of Laurence Olivier's 1945 version, which reflected England's enthusiasm for the war effort.
Branagh traveled to the United States to helm his next feature, the contemporary thriller "Dead Again" (1991). Dismissed by many reviewers for its overly complex story and emphasis on style over substance, "Dead Again" nonetheless was a commercial success. Branagh, however, came away disenfranchised with Hollywood, returning home to make "Peter's Friends" (1992), a fey and overbearing British variation on "The Big Chill" that somehow managed to make the usually intelligent Thompson appear shrill. The same year, Branagh directed "Swan Song," a short based on a Chekhov short story, starring John Gielgud as an aging actor who takes the stage in a closed theater to revisit the great Shakespearean characters he performed throughout his career. The film earned an Academy Award nomination for Best Short Film – Live Action.
In his autobiography Beginning, written at age 28 in part to raise funds for his theater company, Branagh described himself as a "short-assed, fat-faced Irishman." Lacking the matinee idol looks of the young Olivier, his somewhat plebeian features (pug nose, weak chin, and slightly jowly countenance) brought an earthy reality to his roles which did not always enhance the films. For instance, the 1940s segment of "Dead Again" would have benefited from more old-fashioned glamour and star power. In contrast, Branagh vividly recreated "Henry V" for modern audiences. His theater and TV work – such as his Jimmy Porter in a telecast of John Osborne's play "Look Back in Anger" airing on Bravo in 1993 – consistently demonstrated that he was just as comfortable with modern types as with classic characters.
Branagh went back to his love of Shakespeare in adapting "Much Ado About Nothing" (1993) as a big-screen, all-star romp through Tuscany with Thompson, Denzel Washington and Keanu Reeves. As he did for "Henry V," Branagh largely dispensed with the traditional declamatory style in favor of more naturalistic line readings. The art-house hit enhanced his reputation as a canny popularizer of Shakespeare for modern movie audiences, paving the way for such things as Baz Luhrmann's version of "Romeo and Juliet" in 1996 and "Shakespeare in Love" in 1998. He then took on a big budget, special effects, a name producer (Francis Ford Coppola) and a major star (Robert De Niro) in hopes of snaring a potentially wider audience with his "Mary Shelley's Frankenstein" (1994), even transforming himself into a long-haired, muscled hunk for his portrayal of Dr. Victor Frankenstein. Critical and popular responses were brutally unenthusiastic for his indulgent and ham-handed take on the classic novel.
Returning once again to Shakespeare, Branagh won critical acclaim for his turn as Iago to Laurence Fishburne's "Othello" (1995) and also won praise for writing and directing "A Midwinter's Tale" (1995). Filmed in black and white, the latter followed the travails of a troupe of actors attempting to mount a production of "Hamlet" with generally comic results. Branagh appeared as himself in Al Pacino's documentary "Looking for Richard" (1996), which explored the Bard's work through rehearsals for a filmed version of Richard III, then followed with his own big screen version of "Hamlet," setting it in the 19th Century and playing the tortured, over-the-top Dane amidst an all-star cast that included Charlton Heston, Julie Christie, Kate Winslet, Jack Lemmon, Rosemary Harris, Derek Jacobi and many others. For his "Hamlet" – the first to use the complete Shakespearean text – Branagh won his fourth Oscar nomination (for Best Adapted Screenplay), but unlike the profitable "Much Ado," the four-hour film failed to make back even half of its investment.
Branagh next collaborated with director Robert Altman, working from an original screenplay by John Grisham on "The Gingerbread Man" (1998). Though its January release was a box-office kiss of death, critics marveled at his dead-on Savannah accent and convincing portrayal of a lawyer who gets in hot water when he tries to protect a woman (Embeth Davidtz) he has just met. He then signed on with another legend and gave a performance that brought to mind the stuttering, neurotic persona of Woody Allen in Allen's "Celebrity" (1998). Unfortunately, most people felt him hopelessly miscast as the messed-up New York magazine writer and that Allen was simply coasting, recycling ideas about infidelity dating back to his 1970s-era pictures. That year also saw Branagh in "Theory of Flight," acting opposite his then-love Helena Bonham Carter, with whom he began a much-publicized relationship after his divorce from Thompson. "Theory of Flight" told the story of an uneasy friendship between a con man trying to construct his own backyard airplane and a motor-neuron disease sufferer who wants to lose her virginity before she dies. The film resolved itself in a funny, touching way, with the airplane serving as a metaphor for escape from earthly afflictions.
Returning to dreaded Hollywood, Branagh embarked on his biggest picture to date, portraying the villainous, legless Dr. Arliss Loveless, nemesis to Will Smith and Kevin Kline in "Wild Wild West" (1999). Despite the gargantuan investment, the flick turned out to be an embarrassment; all concept, no content. He reunited with Kline, however, to provide the voices for the leading characters in the animated film "The Road to El Dorado;" then contributed his distinctive vocals as the narrator of the Oscar-nominated animated short "The Periwig-Maker" (2000). In 1998, Branagh had announced plans to film three Shakespeare adaptations under the new banner of the Shakespeare Film Company, established in partnership with Intermedia and Miramax. He delivered the first of these in 2000, recasting "Love's Labour's Lost" as a breezy, 93-minute Hollywood musical, taking out some of the more impenetrable verse and substituting classic songs by George Gershwin, Irving Berlin and Cole Porter. While he clearly had not lost his touch for making Shakespeare accessible and whetted appetites for his "Macbeth" and "As You Like It;" the dismal box-office returns made it unlikely that the other proposed films would appear.
Branagh was well cast as a quick-tempered, chain-smoking playwright in the comedy "How to Kill Your Neighbor's Dog" (2002) and offered a neat cameo as an English bureaucrat in the based-on-fact "Rabbit Proof Fence" (2001), about three Aboriginal girls who walked to freedom in 1930s Australia. On the small screen, Branagh was mesmerizing in an Emmy-winning performance as Reinhard Heydrich, the man who led the notorious Wannsee Conference in the HBO original "Conspiracy" (2001), a role which earned him an Emmy for Outstanding Performance by an Actor in a Miniseries. He portrayed British explorer Sir Ernest Shackleton in a Channel 4/A&E jointly produced miniseries "Shackleton." (2002), another part for which he won much critical praise. Branagh next stepped into the fantasy realm as the vainglorious Defense Against the Dark Arts Professor Gilderoy Lockhart in the much anticipated family feature "Harry Potter and the Chamber of Secrets" (2002).
Branagh made for a convincing Franklin Delano Roosevelt in the HBO telepic "Warm Springs" (2005), which chronicled the president's life from his diagnosis with polio at age 39 through his fruitless quest for a miracle cure before pursing the high office. His compelling performance earned the actor Golden Globe and Emmy nominations. Sticking with the small screen, Branagh managed to bring to life Shakespeare's pastoral comedy "As You Like It" (HBO, 2006), setting the film in the 19th century and starring Kline and a game Bryce Dallas Howard as the beguiling Rosalind. Continuing to enjoy working more behind the camera, Branagh directed the remake of "Sleuth" (2007), a comic game of cat-and-mouse between a brilliant writer and man of society (Michael Caine, assuming the role from Olivier from the 1972 version) seeking revenge on an out-of-work actor (Jude Law, taking over the part originally played by Caine) for stealing his wife.
After co-starring alongside Tom Cruise in "Valkyrie" (2008), he starred in and executive-produced three feature-length adaptations of Henning Mankell's best-selling Wallander crime novels for the BBC. The three-part miniseries, "Wallander" (2009), later aired on PBS and earned the esteemed actor another Emmy Award nomination for his portrayal of an existential detective whose empathy for murder victims takes its toll on his already dysfunctional personal life. That same year, he played a conservative government minister intent on shutting down off-shore broadcasting operations in the 1960s set docu-comedy "Pirate Radio" (2009). Branagh then took some time away from the spotlight to focus on his latest directorial effort, the big-budget adaptation of Marvel Comics' "Thor" (2011). Although some fans of the property initially found Branagh an odd choice to helm the blockbuster, the classically-trained actor-director's experience with bombastic, stylized period epics proved just the ticket, resulting in huge box-office business. In a bit of serendipity, he returned to screens later that year as the actor he had most often been compared to, Sir Laurence Olivier, in "My Week With Marilyn" (2011), a fictionalized account of Marilyn Monroe's (Michelle Williams) week touring London with a young film assistant (Eddie Redmayne) during the production of 1957's "The Prince and the Showgirl." Branagh's performance earned him a number of accolades, including nominations at the Golden Globes and Academy Awards for Best Supporting Actor.
His TCM biography can also be accessed online here.