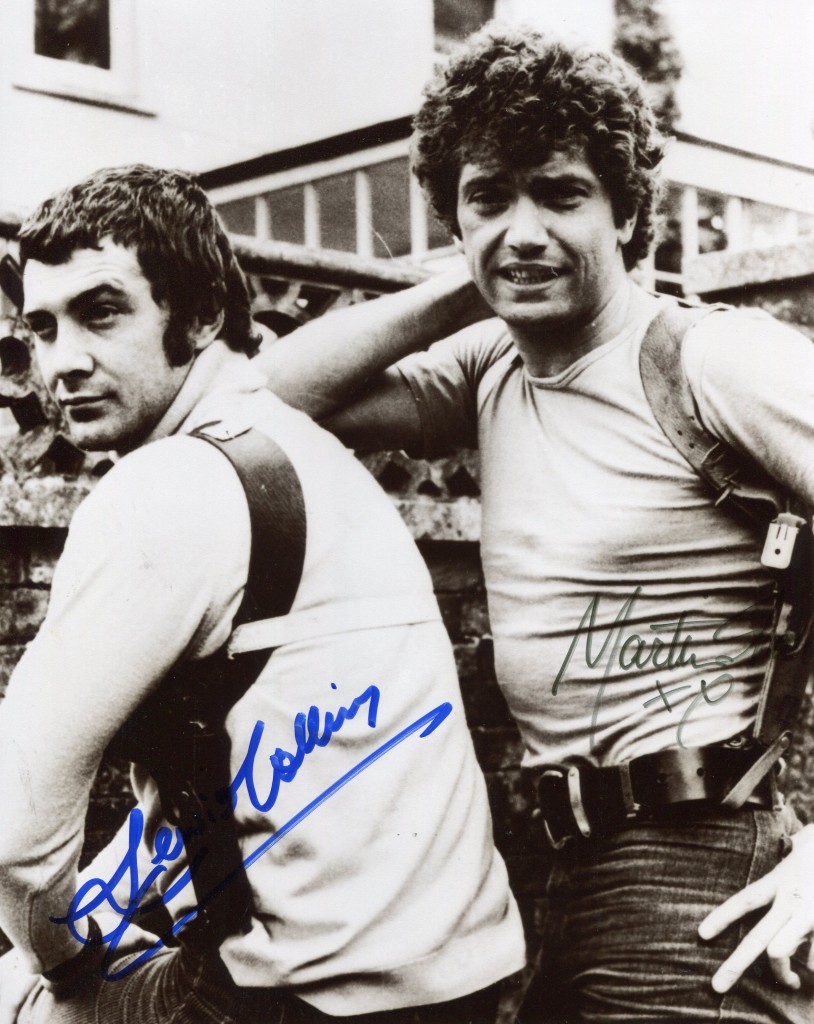 Lewis Collins obituary in "The Guardian" in 2013.
Lewis Collins is probably best known for his tough-guy role as 'Bodie' in the TV series "The Professionals". The series ran from 1977 until 1983 and was one of the most popular shows in the United Kingdom. With the release of DVD boxed set of all the series, the show and its actors are having renewed popularity. Collins also played an SAS officer in the film "Who Dares Win". He livesdwith his family in California. He died in 2013.
"Guardian" obituary:
In a 1980 episode of the hit British cop show The Professionals, an ill-advised villain tries to threaten the ex-mercenary William Bodie with his snarling doberman pinscher. After a brief altercation, Bodie, all sang-froid and minimally curled lip, inquires: "Would your little dog like to chew this electric fire? Or maybe you'll just leave."
This kind of butch badinage, along with rugged good looks, helped make Lewis Collins, who played Bodie in all 57 of the show's episodes from 1977 and 1983, and who has died aged 67 after suffering from cancer, into a household name. During that time he formed one half of Britain's answer to Starsky and Hutch, a crime-fighting duo called Bodie and Doyle who worked for a shadowy criminal intelligence agency, CI5, headed by Gordon Jackson's strait-laced George Cowley. At its height, The Professionals was watched by 12 million viewers a week, and Collins became a heart-throb. He was even considered to replace Roger Moore as James Bond.
Of all the many unreconstructed hardmen of 70s and 80s British TV, Collins was the most unremittingly macho in real life. He was a black belt in jujitsu and a crack shot, and had taken the entrance tests to join the SAS. He and Martin Shaw, who played Ray Doyle, worked out in the gym for their roles; and Collins often did his own stunts.
The actor Anthony Andrews had originally been cast as Bodie, but left after only four days on set. Collins quickly made an impression, not just for his hardman aura, but for comedy, an acting skill he had developed in the mid-70s Granada sitcom The Cuckoo Waltz. "You CI5 boys think you're the cat's whiskers, don't you?" asks a CID sergeant in one episode of The Professionals. "Well," retorts Bodie, "at least we're at the right end of the cat."
His character was never troubled by self-doubt. When asked by a besotted, helpless woman (there were plenty of those in The Professionals) which is Bodie and which Doyle, Bodie replies insouciantly: "Bodie's the incredibly handsome one." "That still doesn't tell me which is which," she says
Lewis Collins
Perhaps inevitably, Bodie and Doyle were satirised. In a Nissan car ad a few years later, one Professionals-like rogue cop remarks: "This car's well-sprung," prompting the reply: "Yeah, just like your perm." In 1984, Keith Allen and Peter Richardson played Bonehead and Foyle in The Bullshitters, in which two disgraced agents return to crime-fighting to rescue their ex-boss's kidnapped daughter. But John Simm, who starred in the hit cop show Life on Mars (2006-07), acknowledged Collins's influence on his portrayal of Sam Tyler, saying: "If there's anything in my head about the way Sam looks and acts, for me it's Bodie as played by Lewis Collins."
Before The Professionals finished its run, Collins starred in the British film Who Dares Wins (1982). He played an SAS officer, Captain Peter Skellen, who goes undercover to foil a group of anti-nuclear terrorists. It was widely derided for its hawkish politics and for its implausibility, with the critic Roger Ebert remarking: "There are so many errors of judgment, strategy, behaviour and simple plausibility in this movie that we just give up and wait for it to end."
Nonetheless, after the film's release, Collins was invited to meet the James Bond producer Cubby Broccoli, who was looking for a new 007. "I was in his office for about five minutes, but it was really over for me in seconds," Collins said later. "He's expecting another Connery to walk through the door but there are few of them around. He found me too aggressive."
Collins was born in Bidston, Birkenhead, Merseyside. He struggled at school, but developed an interest in martial arts and shooting. He also learned to play the drums that his father, Bill, a jazz dance band leader, bought him, and by 13 was playing in the Renegades, who were occasionally on the same bill as the Beatles at the Cavern Club in Liverpool. It was even suggested that Collins should audition to replace Pete Best as the Beatles' drummer.
Instead, he became a hairdresser. Later, he learned to play the guitar and was hired as bassist for the Mojos, featuring on their singles Goodbye Dolly Gray and Until My Baby Comes Home, but he grew exasperated with the music scene and decided to become an actor. "It was like saying you wanted to be an astronaut," he recalled. "Everyone laughed in the pop business but I really felt I could do it."
In 1968, Collins auditioned successfully for the London Academy of Music and Dramatic Art. After graduation, he worked at Glasgow Citizens theatre and theRoyal Court, London, before, in 1974, landing his TV debut in the police series Z Cars. But it was in The Cuckoo Waltz, in which he was the lodger to impoverished newlyweds played by Diane Keen and David Roper, that he made his name. As Gavin Rumsey, he played the kind of self-regarding Lothario who was not a million miles away from Bodie.
After The Professionals concluded, Collins went on to play several relatively minor TV roles – including a sheriff of Nottingham in Robin of Sherwood (1986), and Colonel Mustard in six episodes of a British TV game-show adaptation of Cluedo (1991-92). But he was never able to match his success in The Professionals and in later years lived quietly with his family in Los Angeles.
He is survived by his wife, Michelle, whom he married in 1992, and three sons, Oliver, Elliot and Cameron.
• Lewis Collins, actor, born 26 May 1946; died 27 November 2013
• This article was amended on 29 November 2013. The original stated that Lewis Collins played the sheriff of Nottingham in Robin of Sherwood. The character he played, Philip Mark, was briefly appointed sheriff of Nottingham in place of Robert de Rainault, the longstanding sheriff played by Nickolas Grace.
To view his obituary in The Guardian", please click here.