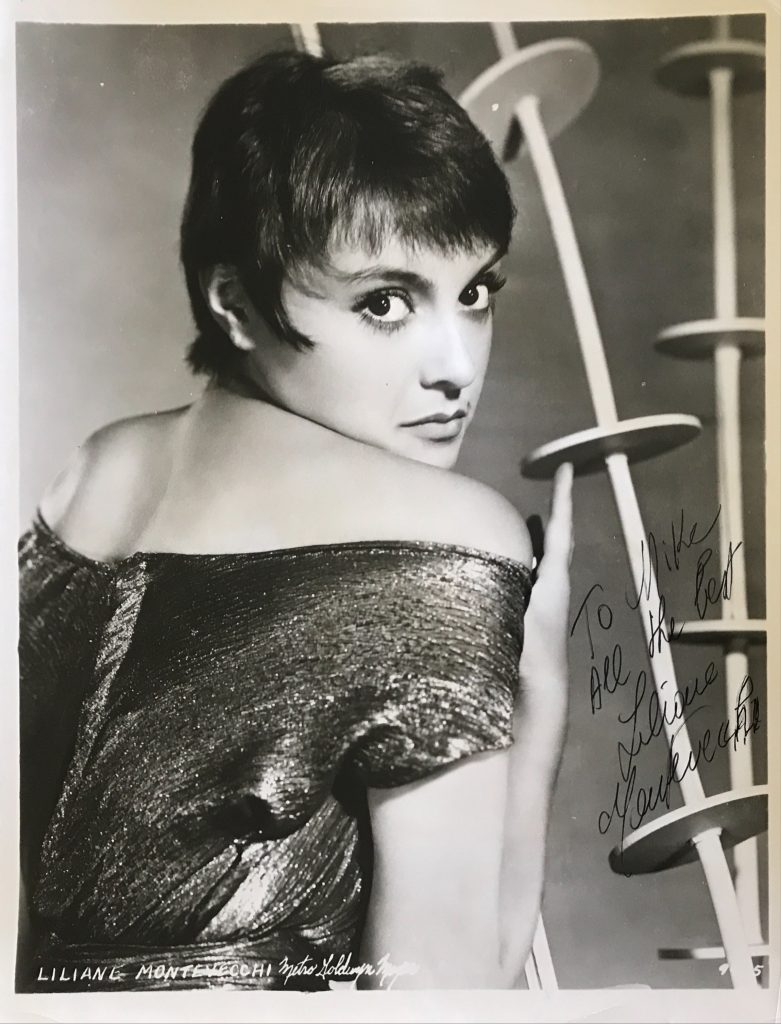 Lilian Montevecchi appeared in some of the popular films in the 1950's. Among her films are "Moonfleet", "Me and the Colonel" and "King Creole". In te 1980's and 90's she had a spectacular run on Broadway in a series of musicals. She was born in Paris in 1931 and began her career as a ballet dancer.
Gary Brumburgh's entry:
Paris-born entertainer Liliane Montevecchi first put on ballet shoes at the age of 9. Nine years later, she became prima ballerina in Roland Petit's ballet company. Hollywood took a sudden interest in her in the early 1950s along with other foreign-born ballet dancers such as Leslie Caron, Zizi Jeanmaire, and Moira Shearer. Liliane was signed to a contract with Metro-Goldwyn-Mayer and began appearing in their musicals. However, for the most part, the roles were small and only mildly flavorful, and did nothing to not enough to distinguish her roles which did nothing to abet her film career. Such cinematic ventures as The Glass Slipper (1955) (starring Caron), Daddy Long Legs (1955) (also starring Caron), Moonfleet (1955), Meet Me in Las Vegas (1956), The Sad Sack (1957), Me and the Colonel (1958), and the Elvis Presley vehicle King Creole (1958) came and went without much fanfare for Liliane personally.
It was the live stage that would raise her to legendary status. First, she starred with the Folies Bergere for nine years, traveling all over the world. She then conquered Broadway in the 1980s, winning both Tony and Drama Desk awards for her flashy role in the musical "Nine", based on Fellini's art-house film 8½ (1963). She earned a Tony Award nomination several years later with an equally flashy role in the musical "Grand Hotel". The entertainer, beloved for her delightful mangling of the English language, has appeared in concert at Carnegie Hall and Lincoln Center, and has vamped and camped with the best of them in her acclaimed cabaret shows and niteries from here to Timbuktu. These include the semi-autobiographical shows "On the Boulevard" and "Back On the Boulvards." Still going strong at age 70+, Lilliane Montelecchi has shown time and time again that she is a one-of-a-kind diva who knows no limit.
– IMDb Mini Biography By: Gary Brumburgh / gr-home@pacbell.net
Interview on "Stylelikeu", please click here.
2016 Concert Review in "The New York Times" in 2016:
If any entertainer could be described as "Paris incarnate," it might be Liliane Montevecchi, a quintessential French gamine from another age whose autobiographical one-woman show, "Be My Valentine," opened on Thursday night at Feinstein's/54 Below.
Ms. Montevecchi, 83, was a model of proud self-containment in her opening-night performance. Every gesture, from her fingertips to her toes to her bright, metallic smile was a carefully choreographed display of phenomenal agility and disciplined movement. You could spend an entire night studying her hands, which she opened and closed as though wielding fans.
Ms. Montevecchi, who was a star of the Folies Bergère for nine years and before that a prima ballerina with Roland Petit's Ballets de Paris, can bow all the way to the floor and kick almost to the ceiling. Beyond her specific talents as a dancer and singer, she is an imperial presence.
She spoke of her Hollywood career — she appeared in "The Young Lions"opposite Marlon Brando, the only film star she name-checked, but didn't like the movies, she said. Most of the other luminaries to whom she paid tribute were music-hall legends like Josephine Baker, Édith Piaf and Mistinguett, whose signature song, "Mon Homme," (popularized in America by Fanny Brice as "My Man") she performed in French.
Ms. Montevecchi's American show business career reached a peak with her performance in the Tommy Tune musical "Nine" (1982) — for which she won a Tony Award for best featured actress in a musical — and continued with "Grand Hotel," which had a Gallic-flavored score by Maury Yeston. Accompanied on piano by Ian Herman, she sang one song from each of those shows.
The musical part of the program was a disappointingly predictable rundown of European cabaret songs, including the Mistinguett favorite "Je Cherche un Millionnaire," later popularized by Eartha Kitt; "Ne Me Quitte Pas"; and the inevitable "La Vie en Rose." American songs included "It Might as Well Be Spring," "But Beautiful" and a Cole Porter suite. Acting out Stephen Sondheim's "I Never Do Anything Twice," she overemphasized the song's running double entendre. But her vocals lacked the stamina and confidence of her dancing.
All she really had to do to take command was simply to move.
The above "New York Times" review can also be accessed online here.
New York Times obituary in 2018:
Liliane Montevecchi, the French-born actress, singer and dancer who won a Tony Award for her showstopping role as the producer in "Nine," died on Friday at her home in Manhattan. She was 85.
Her friend Marc Rosen, who confirmed the death, said the cause was colon cancer.
Ms. Montevecchi was 50 and a runaway from American film and television when she was cast in "Nine," the 1982 Broadway musical drama about a film director's midlife crisis, based on the Federico Fellini film "8½."
The role of the movie producer had been written for a man, but the character was reworked so that Ms. Montevecchi, who didn't fit anywhere else in the show, could be cast. In "Folies Bergère," her big number, she reveled in the joys of the good old days of show business, stopped to chat flirtatiously with audience members and ended up gloriously wrapped in a 30-foot-long black feather boa.
Frank Rich's review in The New York Times described her as "a knockout — a glorious amalgam of music-hall feistiness and balletic grace, with Toulouse-Lautrec shadows about the eyes." She received the Tony for best featured actress in a musical, beating two of her own "Nine" co-stars, Karen Akers and Anita Morris.
Story continues below advertisement
"Nine" was neither Ms. Montevecchi's first Broadway show — although the earlier ones had been revues ("La Plume de Ma Tante" in 1958, "Folies Bergère" in 1964) — nor her last. She earned another Tony nomination, for a 1989 musical adaptation of "Grand Hotel," in which she was Grushinskaya, the high-strung ballerina, nostalgic for her glory days, played by Greta Garbo in the 1932 film.
Later, when she worked in cabaret, Stephen Holden of The Times called her "an imperial presence."
Liliane Dina Montevecchi was born on Oct. 13, 1932, in Paris, the only child of Franco Montevecchi, an Italian-born painter, and Janine Trinquet Montevecchi, a French-born hat designer. The couple soon divorced.
Liliane began taking ballet lessons when she was 9 or so and appearing onstage soon afterward. At 18, she was in Roland Petit's company Les Ballets de Paris, where she became a prima ballerina. After she made her film debut in a small role in "Femmes de Paris" (1953), Hollywood called. She did two 1955 films, "The Glass Slipper" and "Daddy Long Legs," both starring her countrywoman Leslie Caron and featuring Mr. Petit's choreography.
MGM signed her to a seven-year contract, but American movies largely wasted her. Over the next three years, she appeared in an odd assortment of small roles in seven films, including the war drama "The Young Lions" (1958), with Marlon Brando, in which she played a French escort with strong views about Nazis; the Jerry Lewis comedy "The Sad Sack" (1957), as a saucy, skimpily clad club performer in Morocco; and the Elvis Presley musical drama "King Creole" (1958), as a saucy, skimpily clad club performer in New Orleans.
After a few television roles in series like "77 Sunset Strip" and "Playhouse 90," she returned to dancing, her first love, joining the Folies-Bergère in Las Vegas in 1964. She worked with that troupe and the Paris company for nine years.
Basking in her new Broadway acclaim, she began her cabaret career in 1982. John S. Wilson of The Times called her first engagement, at Les Mouches in New York, a "brilliant, breathlessly fast-moving act."
In her solo shows, she sang in both English and French, exuding confidence and style and nailed the double-entendres for decades. She also appeared in an acclaimed 1998 all-star revival of "Follies" at the Paper Mill Playhouse in New Jersey; it seemed to be Broadway bound but never transferred.
Ms. Montevecchi, who was said never to have married, is survived by her longtime companion, Claudio Borin, who lives in Italy. "I'm set in my ways, and I've lived all my life alone," she said in a 1982 television-news interview. "I don't trust people a lot."
She sometimes told friends about an impulsive wedding in Las Vegas and a marriage that lasted two weeks, but she never revealed the man's name or provided evidence, they said.
She eventually returned to motion pictures, this time as a character actress. Her last film was "4 Days in France" (2016), as a rural Frenchwoman who gives advice to a lovelorn young gay man. ("Don't run after people.") Before that, she appeared in "How to Lose a Guy in 10 Days" (2003) as a diamond magnate's wife who flirts shamelessly with an advertising executive played by Matthew McConaughey.
Ms. Montevecchi never retired from cabaret performances, appearing at Feinstein's 54/Below for the last time in 2016. "She didn't know it was her last engagement," Steven Minichiello, a close friend, recalled. "She expected to heal and go on forever. She was the master class in stage presence."
In 2016, Ms. Montevecchi told the Woman Around Town website: "After all these years, it's not O.K. to just do a show. Because you know more, you want to give more."