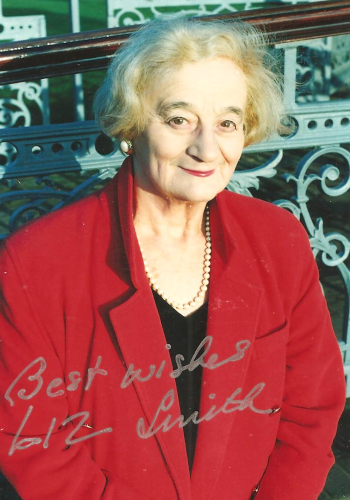 Liz Smith obituary in "The Guardian" in 2016.
'Being discovered" by the director Mike Leigh when she was about to turn 50 changed Liz Smith's life. Bleak Moments (1971), his first film, seemed an appropriate title for an actress who was brought up in poverty after the death of her mother and lived a hand-to-mouth existence raising her own children single-handedly – "hard labour" she called it.
Smith, whose face could go from doleful to riotously expressive with a sudden quirky or quizzical look, regretted never playing young female leads but was grateful for the long list of dotty old women that came her way, most famously "Nana" in The Royle Family. In the sitcom created by Caroline Aherne and Craig Cash, she played Norma Speakman, mother of Barbara (Sue Johnston), the long-suffering wife of Jim (Ricky Tomlinson). She frequently feuded with Jim, especially after moving in with the family when her health declined. Smith appeared in all three series (1998-2000), but her character died in the subsequent Christmas special, "The Queen of Sheba" (2006).
The actress, who died on Christmas Eve aged 95, played a string of mothers on screen, beginning in Bleak Moments. Another was Maggie Smith's in A Private Function (1984), Alan Bennett's comedy about a pig being fattened secretly and illegally during the days of post-war food rationing. She landed the role after sending her son to Bennett's house with a postcard asking for a part in the film. It won her the 1984 Bafta Best Supporting Actress award.
However, Smith did not become a star until the 1990s, when she played church organist Letitia Cropley in The Vicar of Dibley's' first series (1994) and a 1996 Easter special. The batty old woman in a hat was renowned for the awful cakes she made – the subject of a tricky question she asked Dawn French's pioneering female priest when Smith was written out: "My cooking. Was I a great experimenter, a pioneer, whose rich command of unorthodox mixtures will be the stuff of legend in the new millennium, or was my food just ghastly? You can tell a dying woman the truth, vicar." The Reverend Geraldine Granger looked up appearing to ask for forgiveness as she gave a diplomatic answer.
Despite suffering three strokes over two days in 2009 and announcing her retirement, Smith continued taking occasional television roles for another four years.
The actress was born Betty Gleadle, an only child, in Crosby, Lincolnshire, now a Scunthorpe suburb. When she was two, her Yorkshire-born mother, Nellie (née Foster), died in childbirth (the baby girl also died) and she was aged seven when her father, Wilfred, a butcher, abandoned her and moved to Lancashire to marry Ellen Webster, who was also a widow. Smith recalled him telling her that he would write, but he never did.
She was brought up by her maternal grandparents, but more heartbreak came when her grandfather died in a flu epidemic. In a 2008 television interview with Mark Lawson, Smith reflected on losing her parents and her lonely existence as a child: "I'm sure it's made me odd… I'm very wary of people because you feel a reject… you feel uncomfortable."
Smith – she took the name when her grandmother adopted her – attended Scunthorpe Modern and Day Commercial Schools. Regular visits to the cinema, which screened silent films with stars such as Charlie Chaplin, Harold Lloyd and Laurel and Hardy, and Scunthorpe's Palace Variety Theatre made her want to act and she performed in church halls and in school plays at that theatre.
On leaving school, Smith worked as a seamstress before joining the WRENS (Women's Royal Naval Service) in early 1940, months after the outbreak of war. She served in the Fleet Air Arm in Scotland, then in South Africa and India.
During this time, when she was 20, Smith's grandmother died, leaving her £2,500 to buy a house and be independent. This helped her after the war when she found herself bringing up two children alone. In 1945, she had married Jack Thomas, known as "JT", who worked in a tax office but aspired to write plays.
Smith bought a house in London's Westbourne Grove area and did jobs from home, such as painting lead model soldiers. She also followed her plan of studying art for a year, at Heatherley's School of Fine Art, then training as an actress, at the Gateway Theatre.
In 1954, with two children, Sarah and Robert, the family moved to Epping Forest and Smith concentrated on bringing them up. Shortly afterwards, JT left her for another woman.
Seeking acting work again alongside daytime jobs, she joined London's Unity Theatre, spent five years with Charles Marowitz's company, which paid no money but gave her experience in improvisation that would be invaluable years later, and acted with the Forbes Russell Repertory Company at Butlin's holiday camps for many summers, giving her children their first holidays.
While working at Hamleys toy shop in London, Smith received a telephone message that Mike Leigh was looking for an older woman to improvise the role of a mother. Bleak Moments opened the floodgates – she ended her Butlin's seasons and became a prolific bit-part actress on television.
There were also recurring roles – in sitcoms as the matronly Mrs Brandon in I Didn't Know You Cared (1975-79), Gran in Now and Then (1983-84), Mrs Anstruther in Mann's Best Friends (1985), Mrs Giles in Valentine Park(1987-88) and the dual roles of Bette and Aunt Belle in 2point4 Children(1991-99), and in drama as Gran Turner in One by One (1984), Mrs Fisher in The Life and Loves of a She-Devil (1986) and Zillah in the first series of Lark Rise to Candleford (2008). She also played Grandma Georgina in the film Charlie and the Chocolate Factory (2005) and worked again with Mike Leigh in High Spirits (1988).
Smith won the 2007 British Comedy Awards Best Actress honour, a year after her memoirs, Our Betty: Scenes from My Life, were published, complete with her own drawings.
In 2008, Mark Lawson asked Smith whether she had had a happy life and she sadly responded: "No. I consider I've had too much struggle and too much loneliness and too much rejection, really, and I'm so thankful for the later half of it that it's been so lucky, very lucky."
Betty Gleadle (Liz Smith), actress: born Crosby, Lincolnshire 11 December 1921; MBE 2009; married 1945 Jack Thomas (divorced 1959; one son, one daughter); died 24 December 2016