Lon McCallister obituary in "The Guardian" in 2005.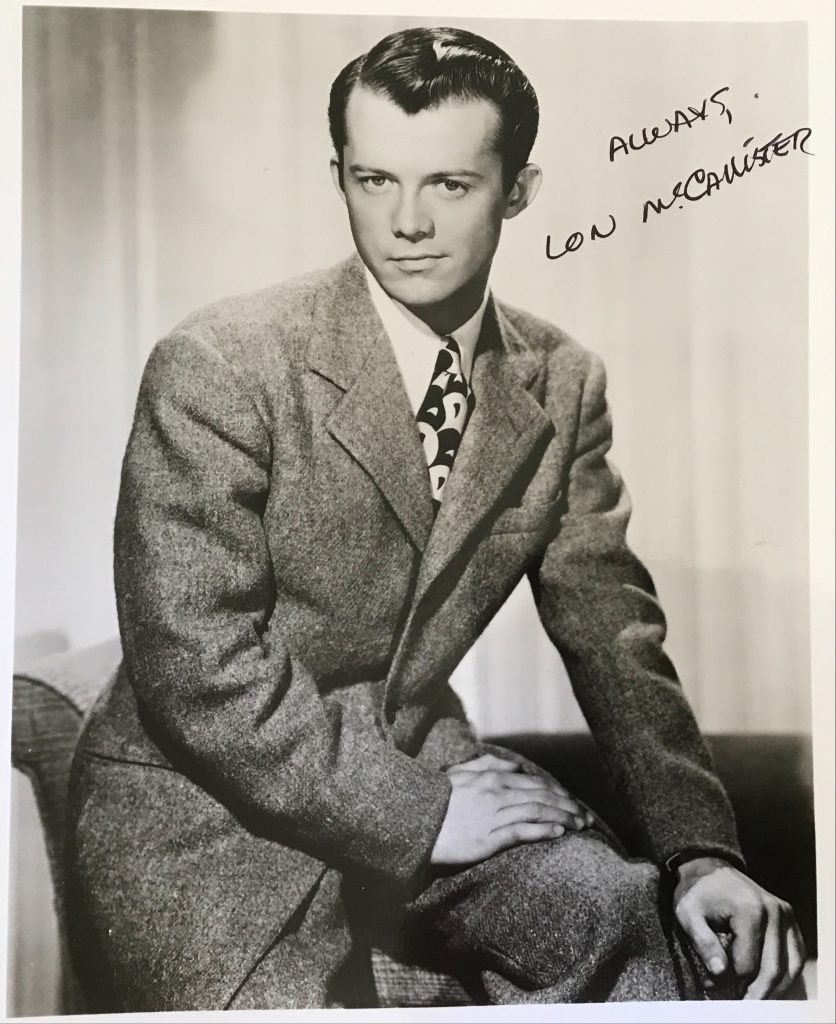 Ronald Bergan" "Guardian" obituary:
In the 1940s, it seemed every Hollywood horse-racing yarn – such as Home In Indiana (1944) and The Story Of Seabiscuit (1949) – starred Lon McCallister, who has died aged 82. He also appeared in bucolic romances in which animals featured prominently: Thunder In The Valley (1947) – boy falls for sheepdog – and The Big Cat (1949) – boy rescues community from mountain lion.
The "boy" McCallister was over 20 at the time, although cherubic looks and small stature allowed him to play adolescents almost until his retirement from acting in 1953 at the age of 30. "Being a movie star was great," McCallister said in a 1992 interview "but I wanted to be myself, to go where I pleased without causing a traffic jam. "
He was the son of a real estate broker, born in Los Angeles. After taking singing and dancing lessons, he had dozens of bit parts in the seven years after his 13th birthday. One of the first was in George Cukor's Romeo And Juliet (1936), where he was seen in close-up in the first scene, during the fight between the Capulets and the Montagues.
Cukor described McCallister as "the perfect choirboy", and later cast him as a pilot in the morale-boosting Winged Victory (1944). Cukor held Sunday salons for his gay friends at his west Hollywood home. McAllister was among the up-and-coming stars invited.
McCallister's first real break came in Stage Door Canteen (1943), as the shy recruit called California, who gets the chance to act the balcony scene from Romeo and Juliet with Katherine Cornell as a great lady of the theatre. He was a hit with bobby-soxers, and gossip columnist Hedda Hopper called him "the cutest boy the movies have hauled up out of obscurity since Mickey Rooney".
After war service, McCallister landed a 20th Century-Fox contract. In Home In Indiana, he trains a blind filly with his "whispering hands" to win a big trotting race; he also drives the rig. In The Story Of Seabiscuit, he played the jockey of America's most famous racehorse with 23-year-old has-been Shirley Temple as the human love interest. McCallister also trained a horse to win the big race in The Boy From Indiana (1950). Two mules were his preoccupation in Scudda Hoo! Scudda Hay! (1948), the film in which Marilyn Monroe made a fleeting debut.
One of the few chances McCallister had away from this Technicolored fare was in Delmer Daves's The Red House (1947). He and Allene Roberts played inquisitive teenagers who find out a secret hidden for years by dour farmer Edward G Robinson.
McCallister's last film was a low-budget Korean war picture, Combat Squad (1953) after which he decided to go into real estate speculation in Malibu, California. He lived for 10 years with an actor and fellow Fox contractee William Eythe, with whom he produced travel films until Eythe's death at the age of 39. McCallister is survived by a brother and a sister.
· Lon (Herbert Alonzo) McCallister, actor, born April 17 1923; died June 11 2005
His "Guardian" obituary can be accessed here.