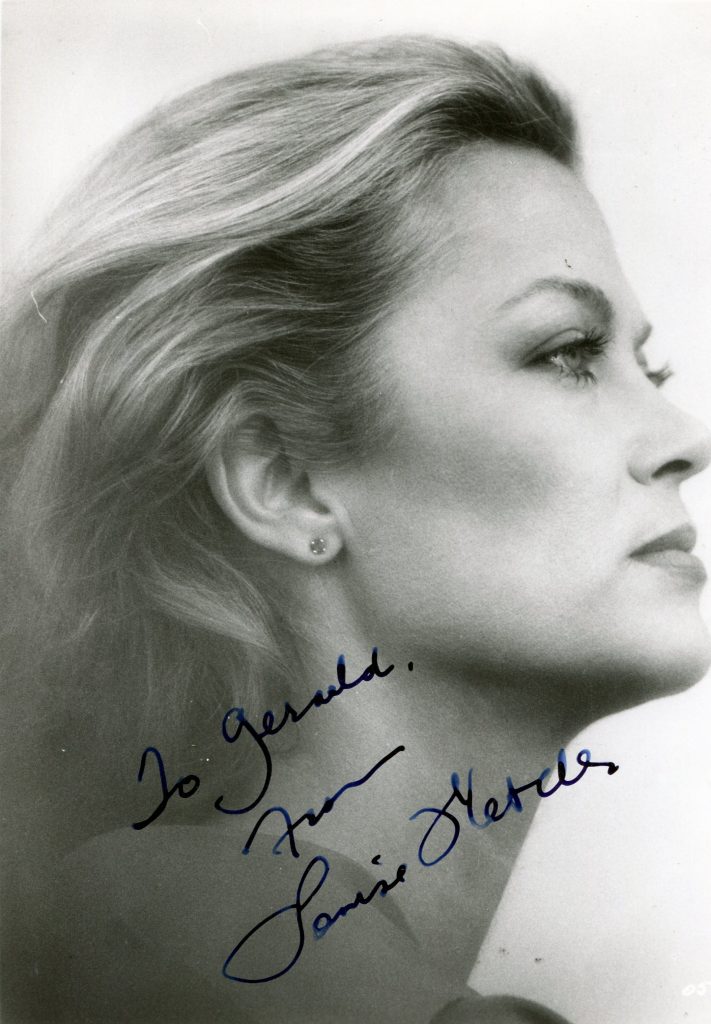 Louise Fletcher. TCM Overview.
There were for a while so few good roles for women in films that the selectors of Oscar nominees had a job to come up with five names. When Louise Fletcher was nominated for "One Flew Over the Cuckoo's Nest" the previous year's winner Ellen Burstyn appeared on TV to ask the members of the Academy not to vote in this category – since in fact she said the five nominees had all played supporting roles. In the case of Miss Fletcher this may strictly speaking be true, but her superb portrayal of 'Nurse Ratched' seemed to dominate the film. It was a notably well acted movie but Flecher's performance had it been on the stage, was one that you would want to tell your grandchildren about." – David Shipman in "The Great Movie Stars – The International Years". (1972)
Louise Fletcher won an Academy Award for her first major film role as Nurse Ratched in "One Flew Over the Cuckoo's Nest". She was born in 1934 in Birmingham, Alabama. Her father was a Episcopal minister and bother her parents were deaf. Her first film role was in 1963 in the military air-force drama "A Gathering of Eagles" where she shared a scene with the leading lady Mary Peach. She did not make another film for nine years when she made "Thieves" in 1974. Director Milos Forman saw her in the film and offered her the role of Nurse Ratched. She has worked consistently but mainly in supporting roles. Her other films include "Brainstorm" with Christopher Walken, Natalie Wood and Cliff Robertson and "Flowers in the Attic". Her most recent film is "The Last Sin Eater". Her Oscar acceptance clip can be viewed here.
TCM overview:
An American film and television actress of considerable and quiet strength, Louise Fletcher won the Academy Award in 1975 as the unforgettable, iron-willed Nurse Ratched in Milos Forman's "One Flew Over the Cuckoo's Nest." The role and subsequent honors were seen by the press as the high point of Fletcher's screen career, since none of the projects that followed, which included "Exorcist II: The Heretic" (1979), "Brainstorm" (1983) and "Invaders from Mars" (1987) matched its box office or critical returns. However, Fletcher worked steadily after "Cuckoo's Nest," earning Emmy nominations for television turns and accepting the notion of "the Oscar curse" with patience and good humor, confident in the knowledge that she had created one of cinema's most enduring villains.
Born Estelle Louise Fletcher in Birmingham, AL on July 22, 1934, she was one of four children by Episcopal minister Robert Capers Fletcher and his wife, Estelle Caldwell. Both of Fletcher's parents were deaf, though she and all of her siblings were born without hearing loss. She was taught to speak by a hearing aunt, who also introduced her to acting. After graduating from the University of North Carolina at Chapel Hill with a degree in drama, she traveled to the West Coast with her roommates, and eventually found herself in Los Angeles without the funds to return home. Fletcher took a job as a receptionist, which paid for acting classes.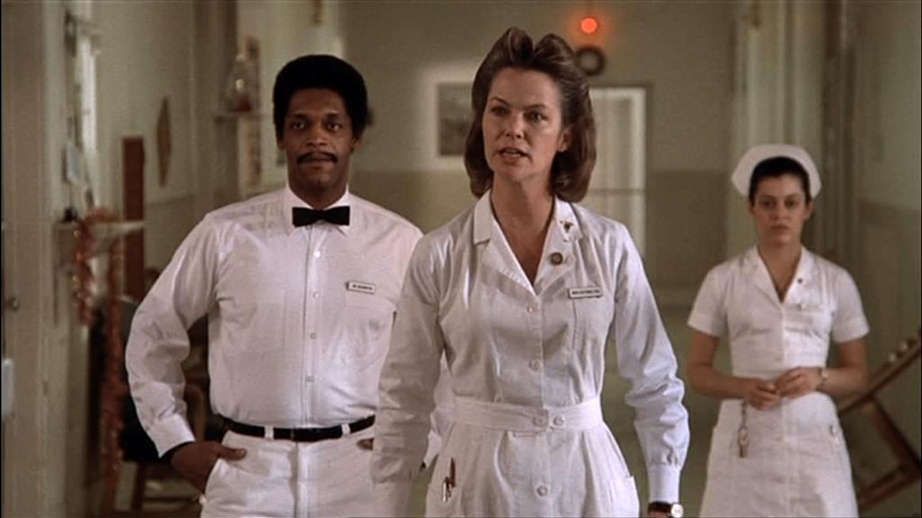 Fletcher made her onscreen debut in the late 1950s, landing guest roles on such popular series as "Maverick" (ABC, 1957-1962) and "The Untouchables" (ABC, 1959-1963). However, she left the business in 1963 to raise two sons by her marriage to producer Jerry Bick. A decade passed before she returned to acting, first in the 1974 TV movie "Can Ellen Be Saved" (ABC), and then as bank robber Bert Remsen's duplicitous sister in "Thieves Like Us" (1974), a remake of the 1948 film directed by Robert Altman and co-produced by her husband. Altman later tailored the role of country singer Linnea Reese for Fletcher – the role even called for her to have two deaf children – but after a falling out with Bick, Altman cast Lily Tomlin as Reese.
Back stage at the ceremony, Forman told Fletcher that after the success of "Cuckoo's Nest," he and his cast would next make major flops. Unfortunately, his prediction came true. Forman's next film was the sprawling historical epic "Ragtime" (1980), while Fletcher was cast as a scientist in John Boorman's critically reviled "Exorcist II: The Heretic" (1979). Its failure seemed to set the tone for Fletcher's subsequent career, which was spent largely in forgettable features like "The Magician of Lublin" (1979) and Lewis Teague's "The Lady in Red" (1979), which cast her as Anna Sage, the madam who helped the FBI track down John Dillinger. In the 1980s, she settled into a series of roles in several cult science fiction films, including Michael Laughlin's unsettling "Strange Behavior" (1981), its semi-sequel "Strange Invaders" (1983) and Douglas Trumbull's "Brainstorm" (1983), which was all but forgotten in the scandal surrounding the death of its star, Natalie Wood, who drowned during production in November 1981.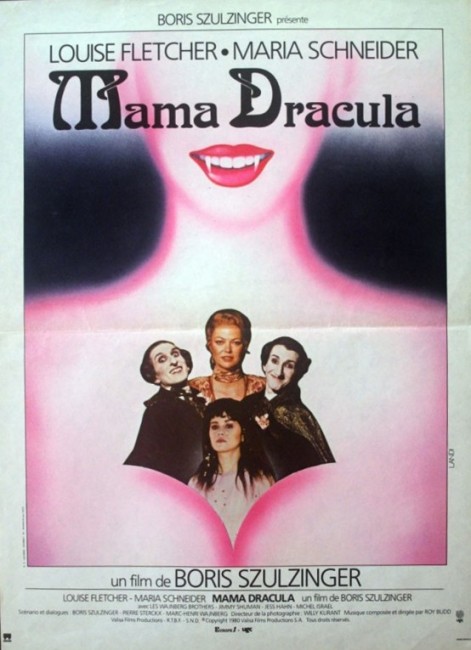 There were a number of missed opportunities for Fletcher in the 1980s. She was originally considered for Shirley MacLaine's role in "Terms of Endearment" (1983) and her scenes were deleted from Sergio Leone's "Once Upon a Time in America" (1984). She instead settled for character parts in largely forgettable efforts like "Nobody's Fool" (1986), Tobe Hooper's woebegone remake of "Invaders from Mars" (1986), and the lurid film version of V.C. Andrews' pulp Gothic novel, "Flowers in the Attic" (1987), which earned her a Saturn Award nomination as the film's villain, a religiously fanatical grandmother who tormented her daughter and grandchildren, the former of which were kept prisoner in her mansion's attic for years. Her turn in "Invaders from Mars" earned her a Razzie nomination from the Golden Raspberry Awards, which gave her the dubious distinction of earning laurels from Hollywood's most celebrated and least desired award groups.
However, director Milos Forman had seen Fletcher in "Thieves" and wanted her for a major role in his next picture, an adaptation of Ken Kesey's novel "One Flew Over the Cuckoo's Nest." Forman made Fletcher audition repeatedly over a six-month period, during which nearly every major actress in Hollywood refused the part of Nurse Ratched, the martinet-like head nurse at a mental hospital. Fletcher eventually won the role, and collaborated closely with Forman to shape the character into a three-dimensional person, rather than the monster as depicted on the page. Fletcher's turn brought a level of humanity and vulnerability to Ratched, which earned critical acclaim, as well as an Oscar nomination for Best Actress. When Fletcher won the award, she thanked her parents for their support in American Sign Language, creating an enduring moment of genuine emotion in Oscar history. Fletcher also collected a Golden Globe and BAFTA for her iconic performance.
The 1990s saw Fletcher working steadily in both low-budget efforts and Hollywood features. Most were again largely dismissible, though she did earn a following as a steely spiritual leader in numerous episodes of "Star Trek: Deep Space Nine" (syndicated, 1993-99). There was also an Emmy nomination for guest appearances on "Picket Fences" (CBS, 1992-96) as Marlee Matlin's estranged mother, and a Satellite nod for the HBO drama "Breast Men" (1997) as lead David Schwimmer's mother. In 2004, Fletcher earned her second Emmy nomination as an embittered piano teacher who still harbored regrets over her failed music career on the religious-themed series, "Joan of Arcadia" (CBS, 2003-05). Television continued to provide her with choice roles in subsequent years, including the physician mother of Deanne Bray's Emma Coolidge, who could turn sound into physical force on "Heroes" (NBC, 2006-2010), William H. Macy's incarcerated and irascible mother on "Shameless" (Showtime, 2011- ) and Tim Daly's mom on "Private Practice" (ABC, 2007- ). The above TCM overview can also be accessed online here.
New York Times obituary in 2022:
By Anita Gates
Sept. 24, 2022Updated 12:40 a.m. ET
Louise Fletcher, the imposing, steely-eyed actress who won an Academy Award for her role as the tyrannical Nurse Ratched in "One Flew Over the Cuckoo's Nest," died on Friday at her home in Montdurausse, France. She was 88.
The death was confirmed by her agent, David Shaul. He did not cite the cause.
Ms. Fletcher was 40 and largely unknown to the public when she was cast as the head administrative nurse at an Oregon mental institution in the 1975 film version of "Cuckoo's Nest." The film, directed by Milos Forman and based on a Ken Kesey novel, won a best actress trophy for Ms. Fletcher and four other Oscars, including for best picture, for Mr. Forman as best director and for Jack Nicholson as best actor.
Ms. Fletcher's acceptance speech stood out that night, not only because she teasingly thanked voters for hating her but also because she used American Sign Language in thanking her parents for "teaching me to have a dream."
The American Film Institute later named Nurse Ratched as one of the most memorable villains in film history and the second most notable female villain, surpassed only by the Wicked Witch of the West in "The Wizard of Oz."
But at the time of the "Cuckoo's Nest" release, Ms. Fletcher was frustrated by the buttoned-up nature of her character. "I envied the other actors tremendously," she said in a 1975 interview with The New York Times, referring to her fellow cast members, many of whom were playing mental patients. "They were so free, and I had to be so controlled."
Estelle Louise Fletcher was born on July 22, 1934, in Birmingham, Ala., one of four hearing children of Robert Capers Fletcher, an Episcopal minister, and the former Estelle Caldwell, both of whom had been deaf since childhood. She studied drama at the University of North Carolina and moved to Los Angeles after graduation.
She later told journalists that she had trouble finding work because she was so tall — 5 feet 10 inches — and was often cast in westerns, where her height was an advantage. Of her first 20 or so screen roles in the late 1950s and early '60s, about half were in television westerns, including "Wagon Train," "Maverick" and "Bat Masterson."
Ms. Fletcher married Jerry Bick, a film producer, in 1959. They had two sons, and she retired from acting for more than a decade to raise them.
She returned to movies in Robert Altman's 1974 film "Thieves Like Us" as a woman who coldly turns in her brother to the police. It was her appearance in that film that led Mr. Forman to offer her the role in "Cuckoo's Nest."
"I was caught by surprise when Louise came onscreen," he recalled of watching "Thieves Like Us." "I couldn't take my eyes off her. She had a certain mystery, which I thought was very, very important for Nurse Ratched."
Reviewing "Cuckoo's Nest" in The New Yorker, Pauline Kael declared Ms. Fletcher's "a masterly performance."
"We can see the virginal expectancy — the purity — that has turned into puffy-eyed self-righteousness," Ms. Kael wrote. "She thinks she's doing good for people, and she's hurt — she feels abused — if her authority is questioned."
Ms. Fletcher is often cited as an example of the Oscar curse — the observed phenomenon that winning an Academy Award for acting does not always lead to sustained movie stardom — but she did maintain a busy career in films and on television into her late 70s.
She had a lead role as the Linda Blair character's soft-spoken psychiatrist in "Exorcist II: The Heretic" (1977) and was notable in the ensemble comedy "The Cheap Detective" (1978), riffing on Ingrid Bergman's film persona. She also starred with Christopher Walken and Natalie Wood as a workaholic scientist in "Brainstorm" (1983). But she seemed to be relegated to roles with limited screen time, especially when the character was very different from her Nurse Ratched persona.
After a turn as an inscrutable U.F.O. bigwig in "Strange Invaders" (1983), she appeared in "Firestarter" (1984) as a fearful farm wife; the police drama "Blue Steel" (1990) as Jamie Lee Curtis's drab mother; "2 Days in the Valley" (1996) as a compassionate Los Angeles landlady; and "Cruel Intentions" (1999) as Ryan Phillippe's genteel aunt.
Only when she played to stereotype, as she did in "Flowers in the Attic" (1987), as an evil matriarch who sets out to poison her four inconvenient young grandchildren, did she find herself in starring roles again. That film was "the worst experience I've ever had making a movie," she told a Dragoncon audience in 2009. She had told the director that she didn't want her character to be a heavy.
Later in her career, she played recurring characters on several television series, including "Star Trek: Deep Space 9" (she was an alien cult leader from 1993 to 1999) and "Shameless" (as William H. Macy's foulmouthed convict mother). She also made an appearance as Liev Schreiber's affable mother in the romantic drama "A Perfect Man" (2013).
Her survivors include her two sons, John and Andrew Bick; her sister, Roberta Ray; and a granddaughter. Ms. Fletcher and Mr. Bick divorced in 1977.
In addition to her home in Montdurausse, a town in southern France, Ms. Fletcher had a home in Los Angeles.
Ms. Fletcher, whose most famous character was a portrait of sternness, often recalled smiling constantly and pretending that everything was perfect when she was growing up, in an effort to protect her non-hearing parents from bad news.
"The price of it was very high for me," Ms. Fletcher said in a 1977 interview with The Ladies' Home Journal. "Because I not only pretended everything was all right. I came to feel it had to be."
Pretending wasn't all bad, however, she acknowledged, at least in terms of her profession. That same year she told the journalist Rex Reed, "I feel like I know real joy from make-believe