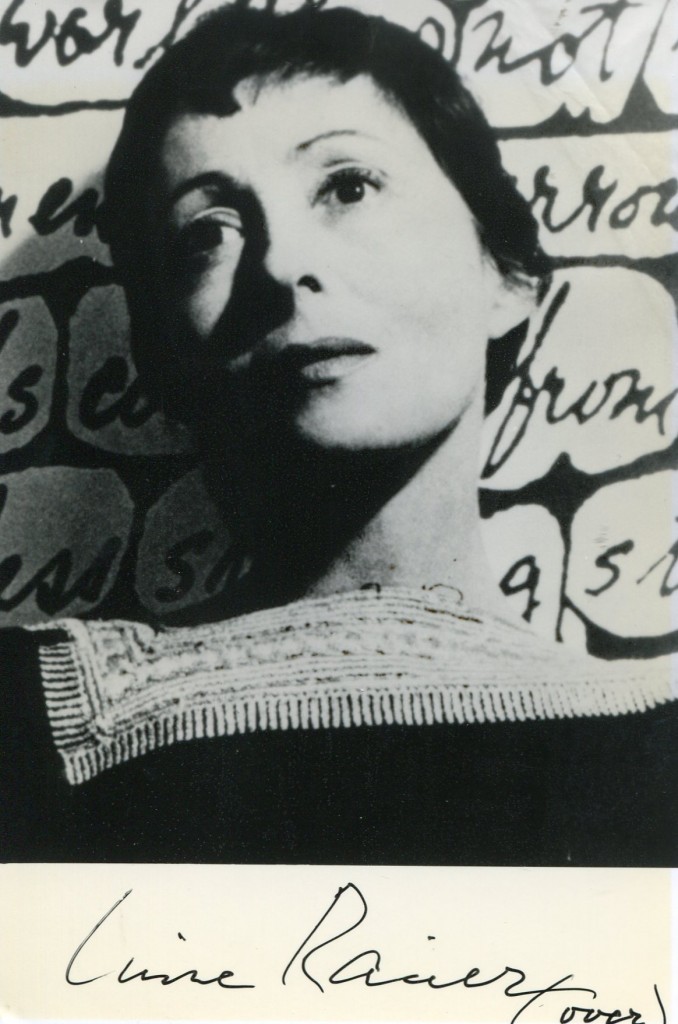 The amazine Luise Rainer is still going strong at 100 years old.   She recently flew from her home in London to Los Angeles for a TCM celebration of her work on film.   Her career in Hollywood was very brief but within that time in the 1930's, she won two back-to-back Oscars, the only actress to have achieved this distinction.   She was born in 1910 in Dusseldorf, Germany.   She began her acting career under the tutalege of Max Reinhardt in Vienna and was spotted there by an MGM talent scout and brought to Hollywood in 1936.   Her two Oscars were for "The Great Ziegfeld" and "The Good Earth".   However she was very unhappy in Hollywood and by 1940 she had moved to New York.   She subsequently moved to London.   She made intermittent film and television appearances over the years.   Gradually film writers became aware that she was one of the last surviving stars of the Golden Era and she has become much sought after as a witty, interesting interviewee.   Luise Rainer died at the age of 104 in December 2014.
This article by Kate Webb in "Culture" in "Aljazeera America"can also be accessed online here.
Her "Guardian" obituary by Ronald Bergan:
There are very few actors whose culture and friendships ranged so widely, and who knew so many of the great names of the 20th century, as Luise Rainer, who has died aged 104. She was married for three tempestuous years to the radical American playwright Clifford Odets; she was a key member of Max Reinhardt's theatre company; she was the lover of the German expressionist playwright Ernst Toller; Bertolt Brecht wrote The Caucasian Chalk Circle for her. She is frequently mentioned in the diaries of the writer Anaïs Nin, who was fascinated by her; she was an intimate of Erich Maria Remarque and Albert Einstein; Federico Fellinibegged her to be in La Dolce Vita; and George Gershwin gave her a first edition of the score of Porgy and Bess, with a fulsome dedication to her from the composer.
In addition, Rainer was the first movie star to win a best actress Oscar in successive years, the first for The Great Ziegfeld (1936) and the second for The Good Earth (1937). And yet, she lived the latter part of her life in comparative obscurity in London, under the name Mrs Knittel.
Rainer was born in Düsseldorf, Germany, of well-to-do parents: Heinz Rainer, a German-American businessman, and his wife Emmy (nee Königsberger), a pianist from an upper-class German-Jewish family. Luise, who had dark, expressive eyes in a mobile, wistful face topped by a mass of shiny black hair, was her father'sAugapfel, the apple of his eye. However, she also experienced what she described as his "tyrannical possessiveness".
Feeling lost and out of place in an "average bourgeois surrounding", she sought solace in the arts: "I was always very rebellious. I felt constricted. My rebellion was against the superficial. My wealthy parents were both immensely musical and cultured, but my father wanted me to marry and have children." At 16, she made up her mind to go on the stage. "I became an actress only because I had quickly to find some vent for the emotion that inside of me went around and around, never stopping. I would have been happy instead of turning to the stage, to write, to paint, to dance, or, like my mother, to play the piano beautifully."
Behind closed doors, she studied the part of Lulu in Pandora's Box by Frank Wedekind. After she auditioned at the theatre in Düsseldorf, no one could believe that she had had no previous training. "I could feel the warmth and the love coming to me from the audience and yet I could remain at a protective distance. It was what I needed."
Her parents refused to see her act, and were horrified when she took the leading role in Wedekind's then-shocking Spring Awakening. Thereafter she appeared in a number of productions, many with Reinhardt's company, including Pirandello's Six Characters in Search of an Author, for which she was praised personally by the playwright. A newspaper dubbed her "the wunderkind of drama". At the time, Toller was in love with her. "He was nothing to me but a man. I was in my teens, and his fame didn't mean anything to me. But I had no room for him in my life because there were so many other men in love with me at the time."
An MGM talent scout saw Rainer performing in a Viennese production of An American Tragedy in 1934, and she was immediately signed to a seven-year contract as the studio's secret weapon to keep Greta Garbo in line. So, in 1935, in her late teens, speaking fluent French and German, but little English, Rainer arrived in Hollywood. Her first film for the studio, the spy drama Escapade (1935), in which she replaced Myrna Loy as a Viennese girl opposite William Powell, made her a star.
Her new-found status triggered her first clash with the studio boss Louis B Mayer. He wanted to loan her to 20th Century-Fox to co-star with Ronald Colman in The Man Who Broke the Bank at Monte Carlo. Rainer talked him into giving her a much smaller role in the new Powell picture. "There's this little scene I think I can do something with," she told him. This "little scene" – which Mayer ordered out after the first previews but later restored – was the short, poignant telephone scene from The Great Ziegfeld. "I wrote the scene myself," Rainer stated, "though I stole it from Cocteau's La Voix Humaine." As Anna Held, she telephones her ex-husband Florenz Ziegfeld to congratulate him on his marriage. It was enough to sway the voters of the Academy and it also established Rainer as an expert exponent of the laughter-through-tears school of acting.
The following year, Rainer made an exceptional jump to the role of the downtrodden Chinese peasant woman O-Lan in The Good Earth, based on Pearl Buck's Pulitzer prizewinning novel. She works silently in the fields with her husband, bears his children, begs for food during the famine, and dies quietly years later when the family has achieved some prosperity. When it was shown to the Chinese government, Madame Chiang Kai-shek reportedly could not believe Rainer was not herself Chinese, and Buck later wrote: "I was much moved by the incredibly perfect performance of Luise Rainer … marvelling at the miracle of her understanding."
But so convinced was Rainer that she had no chance of winning the coveted Oscar for the second year running that on the night of the ceremony she stayed at home in her pyjamas. At 8.35pm, the names of the winners were given to the press, and a member of the Academy telephoned her to tell her she had won. She had to change quickly into evening dress and dash across town with Odets, whom she had married the previous year, to receive her second statuette. That night, she recalled, she and Odets were having a terrific row. She was in tears by the time they got to the Biltmore hotel, and they had to walk around the building five times before she had calmed down sufficiently to go in and accept the award.
Rainer never made big money in Hollywood. She had opportunities to increase her salary, but was disinclined to accept the method of negotiation offered by Mayer. The mogul said to her: "Why don't you sit on my lap when we're discussing your contract, the way the other girls do?" The fiery Rainer told him to throw her contract in the bin. "We made you and we're going to kill your career," Mayer roared. She replied: "Mr Mayer, I was already a star on the stage before I came here. Besides, God made me, not you!"
Thereafter her films were mediocre, except for The Great Waltz (1938), though her part as Johann Strauss's wife was considerably trimmed. A nonconformist, Rainer walked around Hollywood in slacks, wearing no make-up, her hair in disarray at the height of 1930s glamour. She also decided to expend her energies elsewhere than on her film career. She helped refugee children from Spain and later, with the US first lady Eleanor Roosevelt, assisted European victims of Nazi Germany.
When her disastrous marriage to Odets ended in divorce in 1940, she was living in New York. There she became friendly with Nin, famous for her erotica and her passionate affair with the writer Henry Miller. "My strongest impression when I met her [Rainer] was that you were twins of a sort," Miller wrote to Nin. "Neither of you belong in this world." After Nin attended a play in which Rainer was performing, she wrote long descriptions of the actor in her diary. Rainer becomes a "flame" when she performs, says Nin, and certainly "would have been loved by [the French playwright Antonin] Artaud".
Before she left Hollywood, Rainer was told by Brecht that he would like to write a play for her. She suggested an adaptation of Der Kreidekreis (The Chalk Circle) by AH Klabund, based on a Chinese tale, which became The Caucasian Chalk Circle. Later, she and the playwright fell out, and she never performed in it.
Soon after, in 1945, Rainer retreated into a long and happy marriage with the publisher Robert Knittel. They travelled extensively and lived for many years in Switzerland. She became a mother, painted and did a play from time to time, notably Maxwell Anderson's Joan of Lorraine, Ibsen's The Lady from the Sea, and Chekhov's The Seagull, in which she played Nina. But for most people, Rainer had disappeared from the public eye.
In the late 50s, Rainer and her family moved to Britain. She appeared in some television plays on the BBC, including Stone Faces (1957), a play written for her by JB Priestley. She also played Regina in Lillian Hellman's The Little Foxes at the Theater in der Josefstadt in Vienna, where she had performed with Reinhardt many years before. In 1973, she took the taxing part of the narrator in Honegger's oratorio Judith, in French, with the Pittsburgh Symphony Orchestra, with Jessye Norman singing the soprano part.
In 1997, she was enticed into returning to the big screen for the first time in over half a century in The Gambler, based on Dostoevsky. Though the film received lukewarm reviews, Rainer was universally praised. According to Variety: "The pic briefly gets a real lift when the legendary Luise Rainer bursts on the scene in a wonderfully showy part as a gambling-addicted granny."
When I met Rainer at her London flat in 1996, she was an incredibly energetic 86-year-old whom I recognised as the same woman described by Miller as having "wonderful gesture and bearing, such a gracious way of carrying her head, such delicacy", and the intense and dark eyes that shone from the screen over half a century before.
She is survived by her daughter, Francesca.
• Luise Rainer, actor, born 12 January 1910; died 30 December 2014
The above "Guardian" obituary can also be accessed online here.