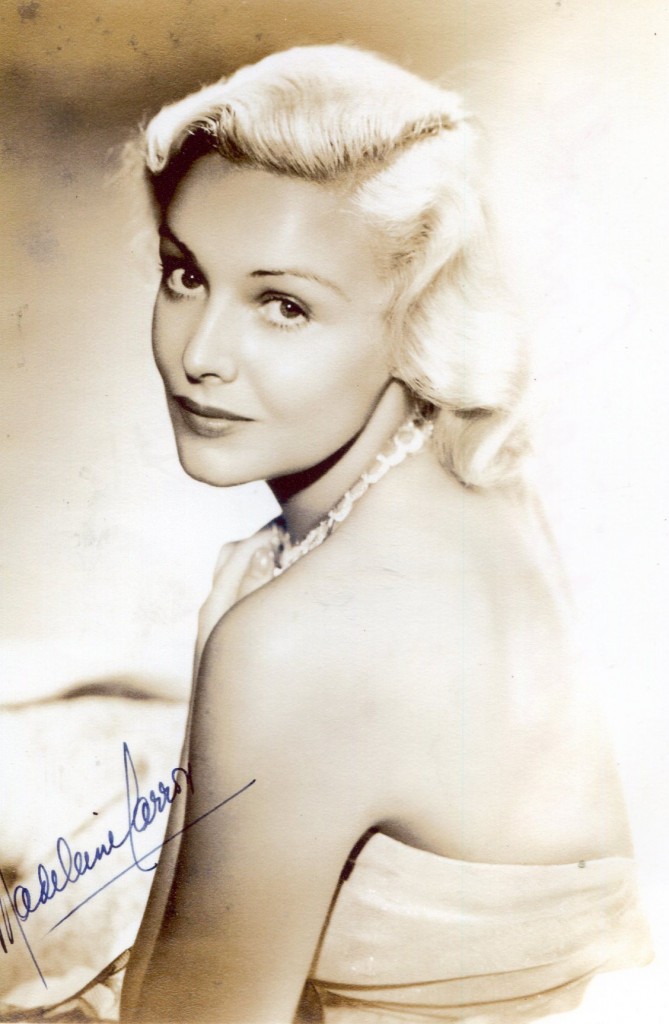 Madeleine Carroll (Wikipedia)
Madeleine Carroll was born in 1906 and was an English actress, popular both in Britain and America in the 1930s and 1940s. At the peak of her success she was the highest-paid actress in the world, earning $250,000 in 1938.
Carroll is remembered for her role in Alfred Hitchcock's The 39 Steps (1935). She is also noted for abandoning her acting career after the death of her sister Marguerite in the London Blitz, to devote herself to helping wounded servicemen and children displaced and maimed by the war.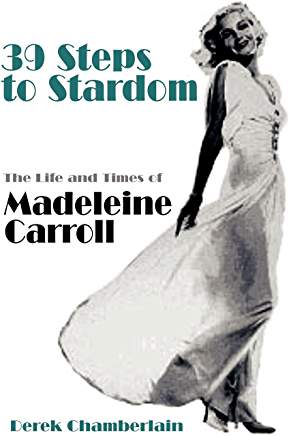 Carroll was born at 32 Herbert Street (now number 44) in West Bromwich, Staffordshire, daughter of John Carroll, an Irish professor of languages from County Limerick, and Helene, his French wife. She graduated from the University of Birmingham, with a B.A. degree; while at university she appeared in some productions for the Birmingham University Dramatic Society. She was a French mistress at a girls' school in Brighton for a year.
Carroll wanted to act and left teaching to look for roles. She got a job in the touring company of Seymour Hicks.
She made her stage debut with a touring company in The Lash. Widely recognised as one of the most beautiful women in films (she won a film beauty competition to start herself off in the business), Carroll's aristocratic blonde allure and sophisticated style were first glimpsed by film audiences in The Guns of Loos in 1928.
Carroll had the lead in her second film, What Money Can Buy (1928) with Humberston Wright. She followed it with The First Born (1928) with Miles Mander, which really established her in films.
Carroll went to France to make Not So Stupid (1928). Back in Britain she starred in The Crooked Billet (1929) and The American Prisoner (1929), both shot in silent and sound versions.
Carroll was in Atlantic (1930), then co-starred with Brian Aherne in The W Plan (1930). In France she was in Instinct (1930).
On stage, Carroll appeared in The Roof (1929) for Basil Dean,[8] The Constant Nymph, Mr Pickwick (opposite Charles Laughton) and an adaptation of Beau Geste.
Carroll starred in the controversial Young Woodley (1930), then a farce, French Leave (1930). She had a support role in an early adaptation of Escape (1930) and was the female lead in The School for Scandal (1930) and Kissing Cup's Race (1930).
Carroll was a French aristocrat in Madame Guillotine (1931) with Aherne, then did another with Mander, Fascination (1931). She was in The Written Law (1931), then signed a contract with Gaumont British for whom she made Sleeping Car (1932) with Ivor Novello.
Carroll had a big hit with I Was a Spy (1933), which won her an award as best actress of the year. It was directed by Victor Saville.
She played the title role in the play Little Catherine. Abruptly, she announced plans to retire from films to devote herself to a private life with her husband, the first of four.
Carroll went to Hollywood to appear in The World Moves On (1934) for Fox; John Ford directed and Franchot Tone co starred. Back in England she was in The Dictator (1935) for Saville, playing Caroline Matilda of Great Britain.
Carroll attracted the attention of Alfred Hitchcock and in 1935 starred as one of the director's earliest prototypical cool, glib, intelligent blondes in The 39 Steps. Based on the espionage novel by John Buchan, the film became a sensation and with it so did Carroll. Cited by The New York Times for a performance that was "charming and skillful", Carroll became very much in demand. The success of the film made Hitchcock a star in Britain and the US, and established the quintessential English 'Hitchcock blonde' Carroll as the template for his succession of ice cold and elegant leading ladies.[13] Of Hitchcock heroines as exemplified by Carroll film critic Roger Ebert wrote:
The director wanted to re-team Carroll with her 39 Steps co-star Robert Donat the following year in Secret Agent, a spy thriller based on a work by W. Somerset Maugham. However, Donat's recurring health problems intervened, resulting in a Carroll–John Gielgud pairing. In between the films she made a short drama The Story of Papworth (1935).
Ronald Colman and Madeleine Carroll in The Prisoner of Zenda, 1937
Poised for international stardom, Carroll was the first British beauty to be offered a major American film contract. She accepted a lucrative deal with Paramount Pictures and was cast opposite George Brent in The Case Against Mrs. Ames (1936).
Carroll followed this with The General Died at Dawn (1936).
She was borrowed by 20th Century Fox to play the female lead in Lloyd's of London (1937) which made a star of Tyrone Power. She stayed at the studio to make On the Avenue (1937), a musical with Dick Powell and Alice Faye.
Carroll went to Columbia for It's All Yours (1937) then was cast by David O. Selznick as Ronald Colman's love interest in the 1937 box-office success The Prisoner of Zenda.
Walter Wanger put her in Blockade (1938) with Henry Fonda, about the Spanish Civil War. Back at Paramount she made some comedies with Fred MacMurray, Cafe Society (1939) and Honeymoon in Bali (1939). Edward Small gave her top billing in My Son, My Son! (1940) with Aherne.
Carroll was in Safari (1940) then played against Cooper again in North West Mounted Police (1940), directed by Cecil B. DeMille.
Paramount put her opposite MacMurray in Virginia (1941) and One Night in Lisbon (1941). Virginia also starred Sterling Hayden who was reteamed with Carroll in Bahama Passage (1941). Carroll was Bob Hope's love interest in My Favorite Blonde (1942).
On radio, Carroll was a participant in The Circle (1939) on NBC, discussing "current events, literature and drama" each week. In 1944, she was the host of This Is the Story, an anthology series dramatising famous novels on the Mutual Broadcasting System. At the tail end of radio's golden age, Carroll starred in the NBC soap opera The Affairs of Dr. Gentry (1957-59). She also was one of a group of four stars who rotated in taking the lead in each week's episode of The NBC Radio Theater (1959).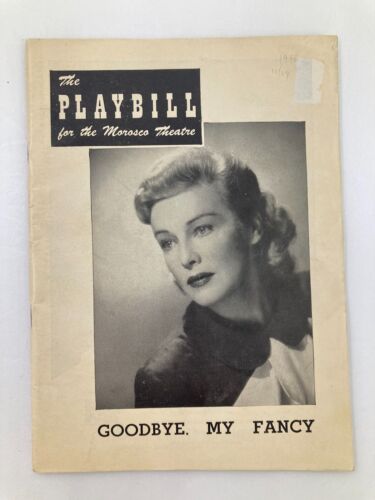 Carroll returned to Britain after the war. She was in White Cradle Inn (1947). She went back to the US and was reunited with MacMurray for An Innocent Affair (1948). Her last film was The Fan (1949).
For her contributions to the film industry, Carroll was inducted into the Hollywood Walk of Fame in 1960 with a motion pictures starlocated at 6707 Hollywood Boulevard.
A commemorative monument and plaques were unveiled in her birthplace, West Bromwich, to mark the centenary of her birth. Her story is one of rare courage and dedication when at the height of her success she gave up her acting career during World War II to work in the line of fire on troop trains for the Red Cross in Italy after her sister was killed by a German air raid – for which she was awarded the American Medal of Freedom. She was also awarded the Legion of Honour by France for her tireless work in fostering relations postwar amity between France and the United States.