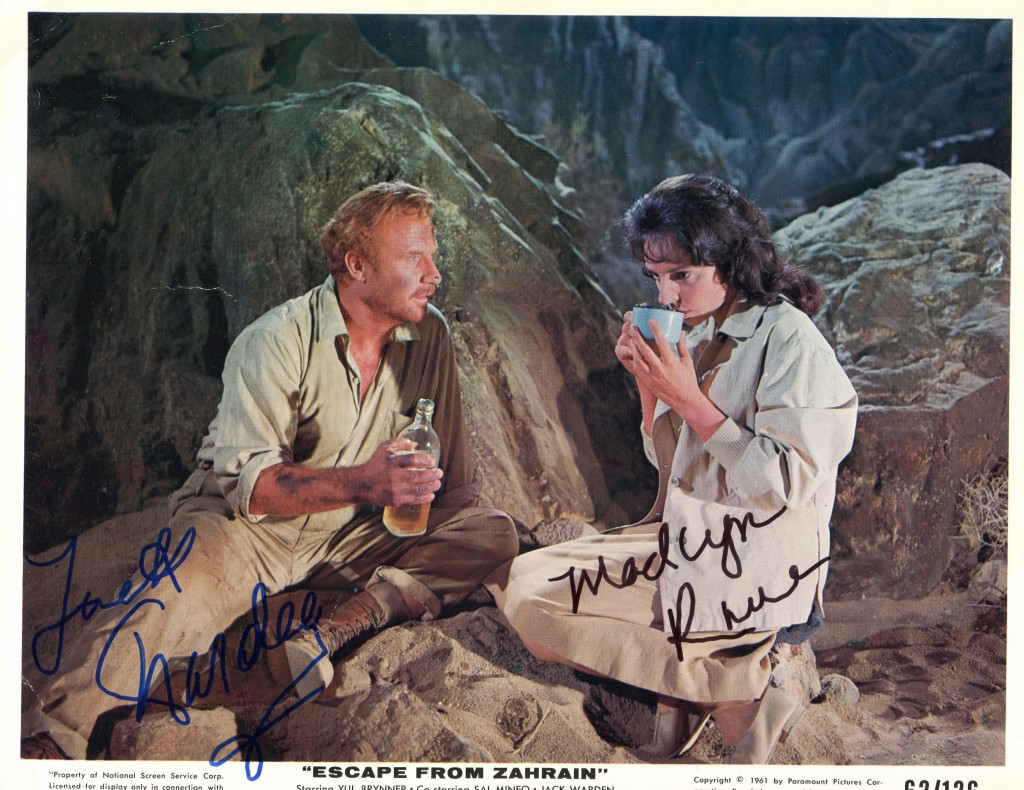 Madlyn Rhue obituary in "Los Angeles Times" in 2013
Madlyn Rhue was a lovely, talented actress whose career was sadly curtailed by the onset of multiple sclerosis. She was born in Washington D.C. in 1935. She began making television appearances from 1955 in such shows as "Cheyanne" and "Gunsmoke". In 1959 she was one of the nuns with Carroll Baker in "The Miracle" and then starred with Rosalind Russell and Ray Danton in " A Majority of One". She also starred in "Escape from Zahrain" with Yul Brynner and "It's A Mad, Mad, Mad, Mad World. By the late sixties she was back regularly on television and guest starred on most of the major series. She acted in a wheelchair in several episodes of "Murder She Wrote" as the liberian of Cabot Cove. Madlyn Rhue died in 2003.
"Los Angeles Times" obituary:December 18, 2003|Dennis McLellan | Times Staff Writer
Madlyn Rhue, a veteran television character actress whose long battle with multiple sclerosis forced an end to her career in the mid-1990s after nearly a decade of intermittent roles performed from her wheelchair, has died. She was 68.
Rhue died Tuesday after a bout with pneumonia at the Motion Picture and Television Fund hospital in Woodland Hills, a spokeswoman for the hospital said. Rhue had moved into the retirement community's long-term care facility in 1998.
Rhue appeared in only a few movies, including "Operation Petticoat," "The Ladies Man" and "It's a Mad Mad Mad Mad World."
But, beginning in the late 1950s, the attractive actress with the large, expressive hazel eyes was a familiar presence on television for more than three decades. Among scores of guest-shot credits were "Have Gun-Will Travel," "Cheyenne," "The Untouchables," "Route 66," "Perry Mason," "Rawhide," "The Fugitive," "I Spy," "Hart to Hart" and "CHiPS."
Rhue also was a regular on "Bracken's World," "Executive Suite" and "Houston Knights," and she had recurring roles on "Fame" and "Days of Our Lives."
"She played everything from a sexy chorus girl to a devious murderer to a corporate executive — she did it all," Rhue's longtime friend Faye Mayo, a former actress, told The Times on Wednesday.
Rhue was in her professional prime in 1977 when she was diagnosed with MS, a chronic, progressive disease of the central nervous system.
"At first, they said I had 'slow foot' — muscles that have gone lax," she told The Times in 1987.
Rhue feared that, if anyone discovered that she had the disease, she might never work again. So, with the exception of close friends such as Mayo and actress Suzanne Pleshette, she kept the diagnosis a secret for years.
As the disease took its toll on her legs, she stopped wearing high heels to avoid falling. But even after she had to rely on first one cane, then two, she managed to keep working by using furniture or other objects on the set for support.
"I was telling people I had a car accident," Rhue told The Times. When people continued to ask what was wrong, she made up other alibis, including that she was having trouble with an arthritic hip.
About 1985, her legs had become so weak that she could get around only in a wheelchair.
"For a period of 11 months after that, I had no work. It was scary," she told People magazine in 1987, the year she was playing the role of a wheelchair-bound ballistics expert on the CBS police drama "Houston Knights."
"By this time," she said, "it became apparent that I would have to invent a giant accident to explain the wheelchair or start telling the truth."
After landing the role in "Houston Nights," she placed a full-page ad in Variety headlined, "See the new Madlyn Rhue."
Jay Bernstein, the show's executive producer, had encouraged Rhue to audition for the role.
"This isn't charity, believe me," Bernstein, who had known Rhue for 20 years, told United Press International at the time. "The primary thing is that she's the right actress for the right part."
After going public with her MS, Rhue was asked to participate in a National Multiple Sclerosis Society ad campaign.
She initially turned it down, telling the Los Angeles Times that she had thought that the organization wanted her to do what she called "poor me" ads.
"I didn't want to do any of that look-how-I've-been- victimized jazz," she said. She changed her mind after learning that the campaign would feature people with MS doing everything from scuba diving to skydiving.
The 1988 ad showing Rhue in her wheelchair noted that she "can't walk so well anymore, but she can still perform." It was headlined, "Even with MS, Madlyn Rhue Is On a Roll."
Born Madleine Roche in Washington, D.C., on Oct. 3, 1935, she was the younger of two daughters of a mother who was a wholesaler of women's clothes and a father who walked out when she was born.
Rhue lived in Baltimore and several other cities before moving to Los Angeles, where she graduated from Los Angeles High School and studied drama at Los Angeles City College. After moving to New York City to study acting, she worked briefly as a dancer at the Latin Quarter.
Mayo said the last TV series Rhue appeared on was "Murder, She Wrote," in which she played the recurring character of a librarian.
Series star Angela Lansbury reportedly had heard that Rhue was in danger of losing her Screen Actors Guild medical coverage because she was short of meeting the annual earnings requirement.
"So she created this character for her and brought her in every three or four episodes," Mayo said. "People who had worked with Madlyn and loved her kept giving her the opportunity to work."
Rhue was known for her lusty sense of humor and upbeat attitude — even after she was bedridden.
"She enchanted everybody who came to visit her," said Mayo. "No matter what befell her physically, her concern was always for other people."
Rhue also was a talented artist whose paintings have been exhibited in galleries across the country.
Rhue married actor Tony Young in 1962. They had no children and were divorced in 1970. She is survived by a sister, Carol. The funeral will be private, but a public memorial service is being planned.
The above "Los Angeles Times" obituary can also be accessed online here.