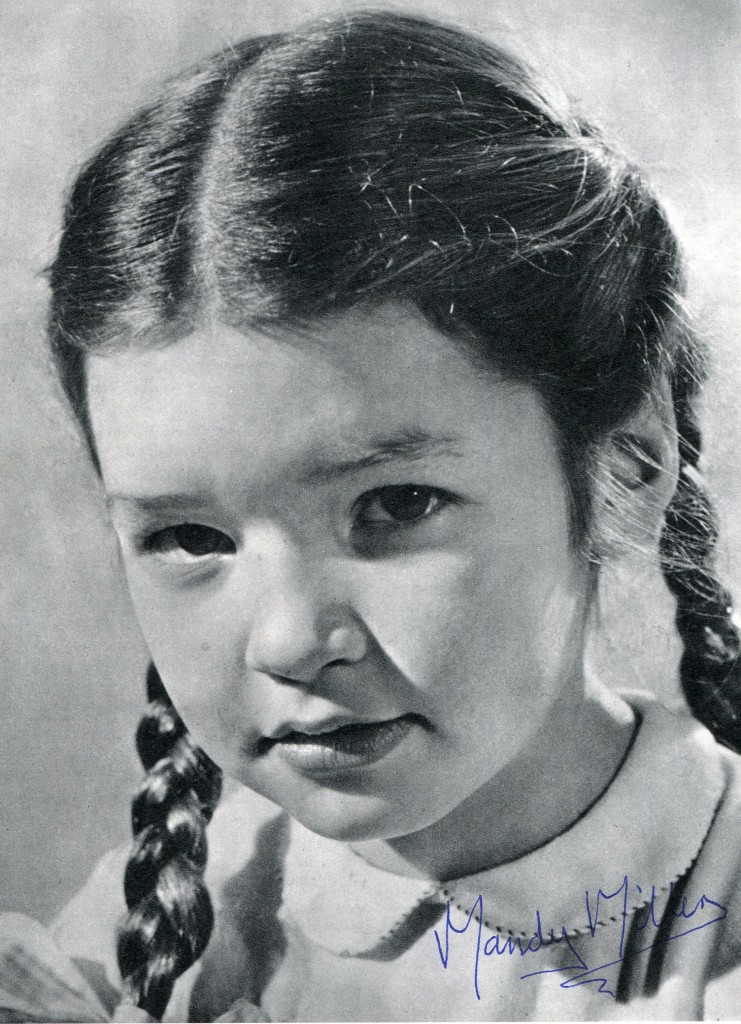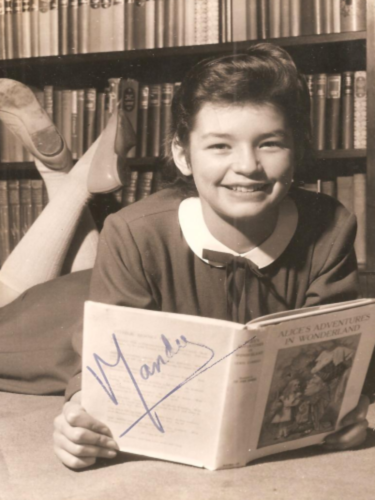 Mandy Miller. (Wikipedia)
Child actors of prominence in British films are few and far between. Mandy Miller was one of the few children to gain widespread public recognition in British films of the 1950's. She was first noticed in a small part in the Ealing comedy "The Man in the White Suit" with Alec Guinness in 1951.
The following year she gained national fame for the title role of "Mandy" about the trials and tribulations of a young girl who is profoundly deaf. She made her last film in 1959 when she made "The Snorkel" when she 15. She continued to act on television uuntil the mid 1960's when she retired from performing.
When she was a child she even had a hit children's song which is still heard to-day – "Nellie the Elephant".
Gary Brumburgh's entry:
The sensitive-looking British child star of the fifties was born Carmen Isabella Miller in 1944 but affectionately called "Mandy" practically from birth. Her father, a BBC Radio producer, took Mandy (then age 6) and her older sister, Jan Miller to watch a film being made at Ealing Studios. Instead of her sister, it was Mandy who impressed the powers-that-be at the studio commissary that day and was offered a small role in the Alec Guinness film The Man in the White Suit (1951).
The little girl took gingerly to acting and signed up for classes along with dancing lessons, finding some work in commercial modeling. She achieved in the 1950s what popular child star Hayley Mills would accomplish a decade later, except in a dramatic vein for Mandy's strong suit was no-holds-barred tearjerkers. Her finest hour in film came with the movie Crash of Silence(1952), in which she portrayed a disturbed deaf girl called "Mandy".
Other moving performances came in Edge of Divorce (1953), as the young product of a bitter divorce,The Secret (1955), which was a covert thriller, and Child in the House (1956), which proved to be another sob story suited to her talents. In her final film, The Snorkel(1958), Mandy played a young teen who leads police to her mother's murderer. After guest shots on TV's The Avengers (1961) and The Saint (1962), she left the limelight, forever. At the age of 18, she moved to New York to become an au pair. Mandy married an architect in 1965, had three children (two girls and a boy), and settled down to a life of domesticity.
– IMDb Mini Biography By: Gary Brumburgh / gr-home@pacbell.net
Review of the film "Mandy" in "MovieMail" can be found here.