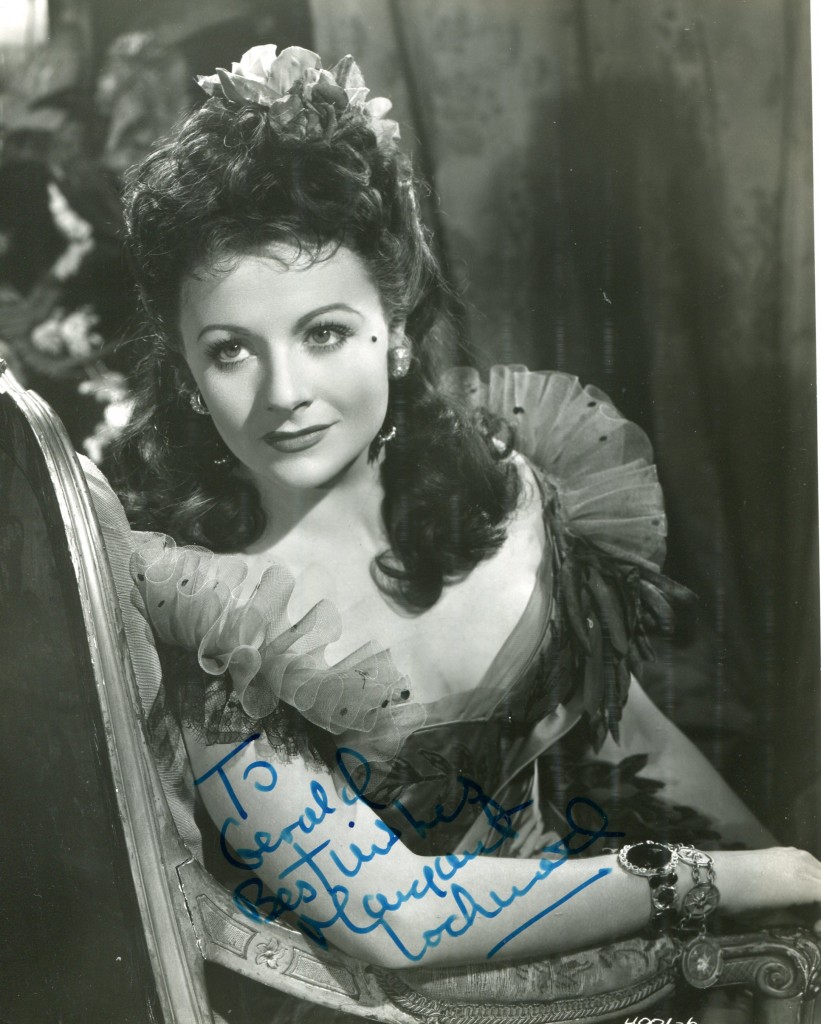 "Margaret Lockwood was not by any means a great screen actress, but she was spirited and likeable. The British public queued to see her until blatant mishandling ruined her career. Possibly (age apart) she might not have retained her popularity. There was something about her South-London-bred personality that suited the 40's and by the mid-50's she and her fellows – Phyllis Calvert, Patricia Roc and Jean Kent were passe as far as the cinema was concerned. One can only speculate as to what they might have been like had they ever had good scripts or first-rate directors, though Milton Shulman in the 'Evening Stand' in 1946 had little doubt; in an open letter to Mr Rank he claimed that he could find five girls as pretty and talented as this bunch by watching the secretaries get off the escalators in Leicester Square Station. He could'nt, of course" – David Shipman – "The Great Movie Stars – The Golden Years". (1970).
Margaret Lockwood Guardian tribute
Margaret Lockwood was the most popular actress in British films in the 1940's. She was bron in 1916 in Karachi, Pakistan. She began her film career in 1934 and the following year she had a major role in "Lorna Doone". In 1938 she starred in the Alfred Hitchcock classic "The Lady Vanishes" and was soon on her way to Hollywood. She made two movies there "Susannah of the Mounties" with Randolph Scott and Shirley Temple and "Rulers of the Sea" with Douglas Fairbanks Jnr. However she was soon back in England and her career went from strength to strength. Her major movies include "The Stars Look Down" in 1939, "Night Train to Munich" "The Man in Gray" , "The Wicked Lady" in 1945, "Love Story", "Madness of the Heart" and " Cast a Dark Shadow". In 1971 she won critical acclaim for her television performances in the series "Justice". She died in 1990. Her daughter is the actress Julia Lockwood.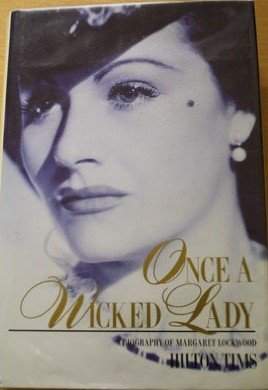 Philip French's excellent article on Lockwood in the Guardian:
She was born in India, a daughter of the Raj, brought up in England by a cold, domineering mother, and was an experienced child actor before studying at Rada. Playing costume heroines, career girls and socialites, this brunette beauty became a sort of movie star in Carol Reed's debut Midshipman Easy (1935), the first of seven collaborations with Reed, and a real star as the bored heiress in Hitchcock's comedy-thriller The Lady Vanishes (1938). This brought her to Hollywood's attention. But after two unsuccessful films there in 1939, she returned home for good to become the greatest British star of the 1940s, starting with Reed's The Stars Look Down as the upper-middle-class wife of working-class Michael Redgrave.
This unsympathetic role was the first of numerous seductive femmes fatales, mostly with James Mason, Phyllis Calvert, Stewart Granger and Patricia Roc. The most famous was her Lady Barbara Skelton, the aristocrat moonlighting as an 18th-century highwayman in The Wicked Lady (1945). She caused problems for the Hollywood Production Code with her provocative cleavage. A 1948 editorial in the polemical magazine Sequence, co-edited by Lindsay Anderson, sarcastically noted: 'Mr Harold Wilson was recently recorded … presenting Miss Margaret Lockwood with a heavy, silver-plated ornament, thus bestowing official sanction on to the British people's judgment that Miss Lockwood is their finest actress. Indeed, as Mr Wilson smilingly remarked, this comes to the same thing as saying: "The finest actress in the world."'
Her film career went downhill following her appeal to J Arthur Rank that she was 'sick of sinning'. She refused the title role in Forever Amber but sunnier parts proved unpopular, especially her jolly Nell Gwynne in Cardboard Cavalier. Joining the company run by Herbert Wilcox, husband of her rival, Anna Neagle, she fared no better, and gave up films to enjoy much success in the theatre (she was an excellent Eliza in Pygmalion) and on TV. She made an impressive comeback as a barmaid in Lewis Gilbert's Cast a Dark Shadow (1955), and after an absence of 20 years played the evil stepmother in Bryan Forbes's The Slipper and the Rose (1976). Her reclusive life was interrupted by a visit to Buckingham Palace on being made a CBE in 1980.
Philip French's article in The Guardian can also be accessed on-line here.
"The Times" obituary:
Margaret Mary Lockwood, the daughter of an English administrator of an Indian railway company, by his Scottish third wife, was born in Karachi, where she lived for the first three and a half years of her life. In 1920, she and her brother, Lyn, came to England with their mother to settle in the south London suburb of Upper Norwood, and Margaret enrolled as a pupil at Sydenham High School. Her childhood was repressed and unhappy, largely due to the character of her mother, a dominant and possessive woman who was often cruelly discouraging to her shy, sensitive daughter. As a result, Margaret took refuge in a world of make-believe and dreamed of becoming a great star of musical comedy. After becoming a dance pupil at the Italia Conti school. she made her stage debut at 15 as a fairy in " A Midsummer Night's Dream" at the Holborn Empire. A year later, she played another fairy, for 30 shillings a week, in "Babes in the Wood" at the Scala Theatre. The excitement of "walking on" in Noel Coward's mamouth spectacular, "Cavalcade", at Drury Lane in 1931 came to an abrupt conclusion when her mother removed her from the production after learning that a chorus boy had uttered a forbidden four-letter expletive in front of her.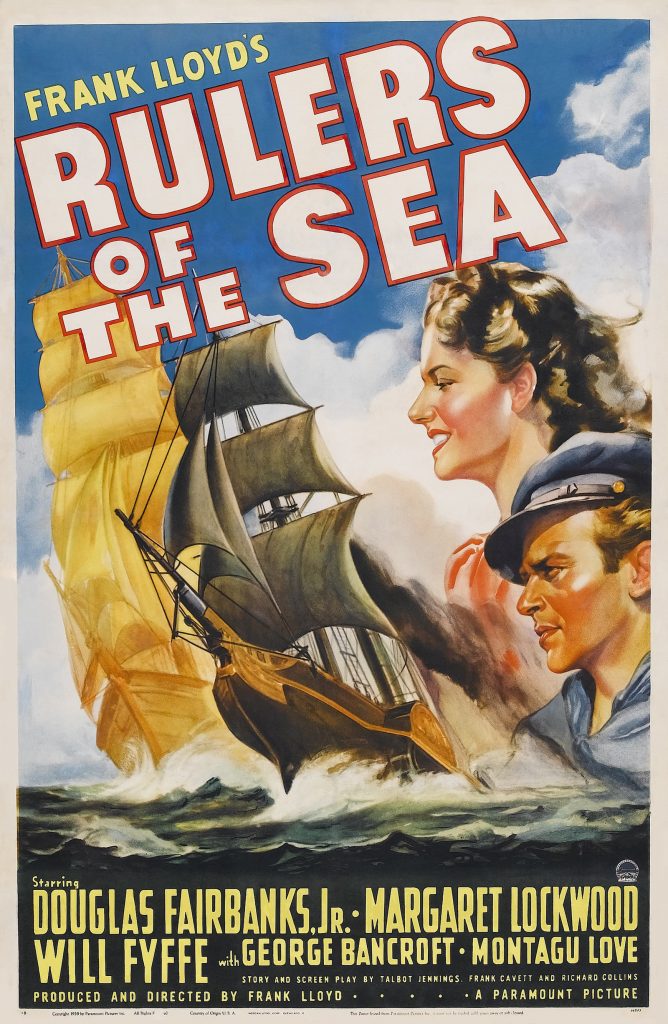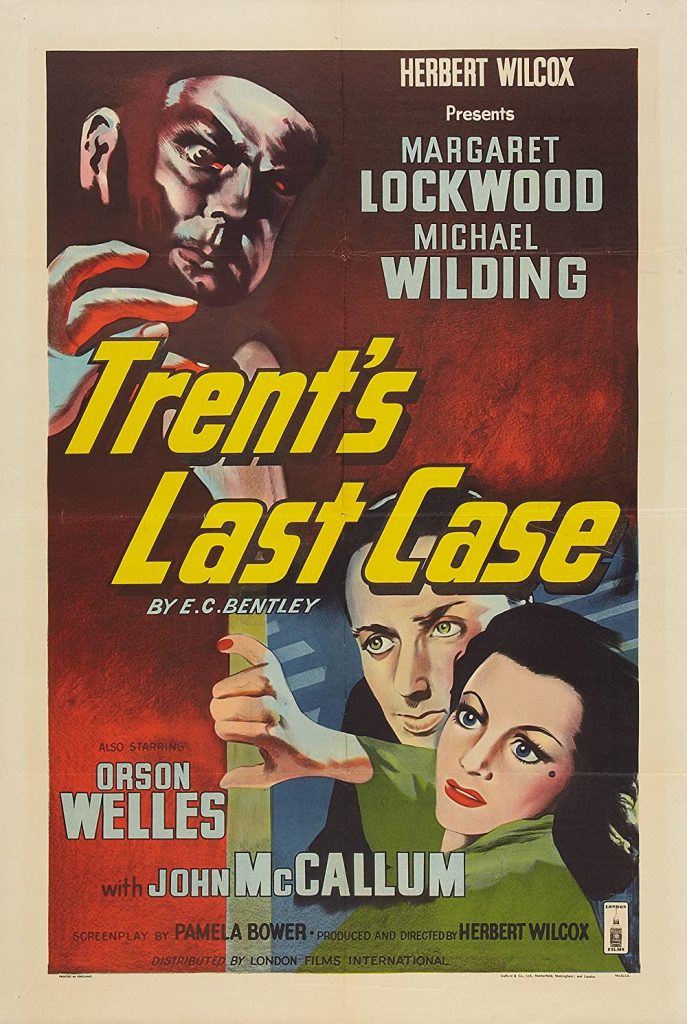 In 1933, she enrolled at the Royal Academy of Dramatic Art, where she was seen in Leontine Sagan's production of "Hannele" by a leading London agent, Herbert de Leon, who at once signed her as a client and arranged a screen test which impressed the director, Basil Dean, into giving her the second lead in his film, "Lorna Doone" when Dorothy Hyson fell ill. Seven ingenue screen roles followed before she played opposite Maurice Chevalier in the 1936 remake of "The Beloved Vagabond". A year later, she married a man of whom her mother disapproved strongly, so much so that for six months Margaret Lockwood did not live with her husband and was afraid to tell her mother that the marriage had taken place. In 1938, Lockwood's role as a young London nurse in Carol Reed's film, "Bank Holiday", established her as a star, and the enormous success of her next film, "The Lady Vanishes", opposite Michael Redgrave, gave her international status.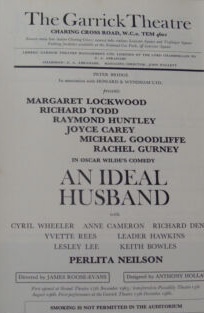 A visit to Hollywood to appear with Shirley Temple in "Susannah of the Mounties" and with Douglas Fairbanks Jr in "Rulers of the Sea" was not at all to her liking. She returned with relief to Britain to star in two of Carol Reed's best films, "The Stars Look Down", again with Redgrave, and "Night Train to Munich", opposite Rex Harrison. In 1941, she gave birth to a daughter by Leon, Julia Lockwood, affectionately known to her mother as "Toots", who was also to become a successful actress. The Leons separated soon after her birth and were divorced in 1950. Lockwood gained custody of her daughter, but not before Mrs Lockwood had sided with her son-in-law to allege that Margaret was "an unfit mother." The turning point in her career came in 1943, when she was cast opposite James Mason in "The Man in Grey", as an amoral schemer who steals the husband of her best friend, played by Phyllis Calvert, and then ruthlessly murders her. Spectral in black, with her dark, dramatic looks, cold but beautiful eyes, and vividly overpainted thin lips, Lockwood was queen among villainesses. The film inaugurated a series of hothouse melodramas that came to be known as Gainsborough Gothic and had film fans queueing outside cinemas all over Britain.
In 1944, in "A Place of One's Own", she added one further attribute to her armoury: a beauty spot painted high on her left cheek. It became her trade mark and the impudent ornament of her most outragous film "The Wicked Lady", again opposite Mason, in which she played the ultimate in murderous husband-stealers, Lady Skelton, who amuses herself at night with highway robbery. The amount of cleavage exposed by Lockwood's Restoration gowns caused consternation to the film censors, and apprehension was in the air before the premiere, attended by Queen Mary, who astounded everyone by thoroughly enjoying it. The film's worldwide success put Lockwood at the top of Britain's cinema polls for the next five years.
After poisoning several husbands in "Bedelia" (1946), Lockwood became less wicked in "Hungry Hill", "Jassy", and "The White Unicorn", all opposite Dennis Price. She complained to the head of her studio, J. Arthur Rank, that she was "sick of sinning", but paradoxically, as her roles grew nicer, her popularity declined. She refused to return to Hollywood to make "Forever Amber", and unwisely turned down the film of Terence Rattigan's "The Browning Version". Her contract with Rank was dissolved in 1950 and a film deal with Herbert Wilcox, who was married to her principal cinema rival, Anna Neagle, resulted in three disappointing flops. In 1955, she gave one of her best performances, as a blowsy ex-barmaid in "Cast a Dark Shadow", opposite Dirk Bogarde, but her box office appeal had waned and the British cinema suddenly lost interest in her.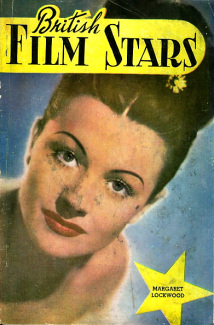 An unpretentious woman, who disliked the trappings of stardom and dealt brusquely with adulation, she accepted this change in her fortunes with unconcern, and turned to the stage where she had a success in "Peter Pan", "Pygmalion", "Private Lives", and Agatha Christie's thriller "Spider's Web", which ran for over a year. In 1965, she co-starred with her daughter, Julia, in a popular television series, "The Flying Swan", and surprised those who felt she had never been a very good actress by giving a superb comedy performance in the West End revival of Oscar Wilde's "An Ideal Husband".
After what she regarded as her mother's painful betrayal at the custody hearing, the two women never met again, and when a friend complimented Mrs Lockwood on her daughter's performance in "The Wicked Lady", she snapped: "That wasn't acting. That was natural." Lockwood never remarried, declaring: "I would never stick my head into that noose again," but she lived for many years with the actor, John Stone, whom she met when they appeared together in the 1959 stage comedy, "And Suddenly It's Spring". Stone appeared with her in her award winning 1970s television series, "Justice", in which she played a woman barrister, but after 17 years together, he left her to marry a theatre wardrobe mistress. This last blow, coupled with the sudden death of her trusted agent, Herbert de Leon, and the onset of a viral ear infection, caused her to turn her back gradually on a glittering career.
She had one last film role, as the stepmother with the sobriquet, "wicked", omitted but implied, in Bryan Forbes's Cinderella musical, "The Slipper and the Rose" in 1976. Her final stage appearance, as Queen Alexandra in "Motherdear", ran for only six weeks at the Ambassadors' Theatre in 1980.
That year, she was created CBE, but her appearance at her investiture at Buckingham Palace accompanied by her three grandchildren was her last public appearance. For the remaining years of her life, she was a complete recluse at her home in Kingston upon Thames, rejecting all invitations and offers of work.
In spite of this, she was warmly remembered by the public. When the author Hilton Tims, was preparing his recent biography, "Once a Wicked Lady", a stall holder from whom he was buying some flowers for her, snatched up a second bunch and said, "Give her these from me. I used to love her films."