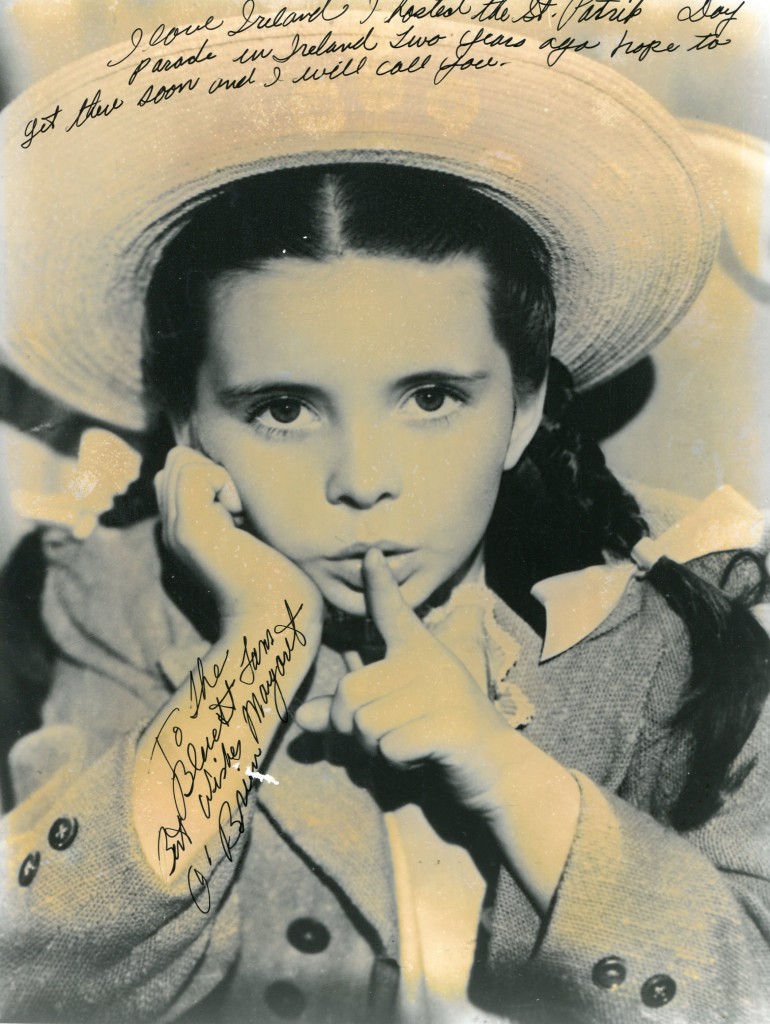 Margaret O'Brien. TCM Overview
Margaret O'Brien was a child star of the 1940s was best known for her natural, emotional style and her startling facility for tears. As Maxine O'Brien (her birth name), she first appeared in a civil defense film starring James Cagney, then in a bit in "Babes on Broadway" (both 1941). Sensing her potential, MGM signed her, changed her first name to Margaret and starred her in the tour de force "Journey for Margaret" (1942), as a terrified London war orphan who "adopts" reporter Robert Young. It was an adult, intelligent and slightly scary performance which made her an overnight star. The studio didn't quite know what to do with her after that as she wasn't an adorable Shirley Temple type. She was loaned out to Fox for "Jane Eyre" (1944) and was pretty much wasted in such MGM films as "Dr. Gillespie's Criminal Case", "Lost Angel" and "Madame Curie" (all 1943), although she had a slightly better part in "The Canterville Ghost" (1944), opposite Charles Laughton.
O'Brien's next big showcase came with "Meet Me in St. Louis" (1944). As Tootie Smith, the feisty but fragile little sister of Judy Garland, she was a bright point in a very good film, especially in her musical numbers with Garland and during a Halloween sequence in which she confronts a grouchy neighbor. For her performance, she was awarded a special juvenile Oscar. Her next two features, "Music for Millions" (1944) and the drama "Our Vines Have Tender Grapes" (1945) were also impressive, but her luck pretty much wore out after that. Her last MGM films were generally unimpressive: the Western "Bad Bascombe" and the comedy "Three Wise Fools" (both 1946) and the melodrama "The Big City" (1948). Two good roles came her way in 1949, as the tragic Beth in an otherwise unremarkable remake of "Little Women" and as Mary Lennox in "The Secret Garden."
O'Brien left MGM after that and her film career pretty much tapered off. She played her first love scene (at age 14) in the appropriately-titled low-budget "Her First Romance" (1951) for Columbia and had ingenue roles in "Glory" (1955) and in the all-star Western "Heller in Pink Tights" (1960). Her only other films to date have been the Disney-produced period drama "Amy" (1981) and a cameo in the direct-to-video horror spoof "Sunset After Dark" (1994).
But as soon as her film contract had ended, the teenaged actress plunged into "the Golden Age of Television". Deluged with offers, O'Brien acted on such anthology series as "Studio One", "The Lux Video Theater", "Ford Television Theater", "Playhouse 90" and "The June Allyson Show". O'Brien reprised her big screen role of Beth in a TV musical version of "Little Women" (CBS, 1958), alongside Florence Henderson, Jeanie Carson and Joel Grey. A pilot for her own series, the domestic sitcom "Maggie" (CBS, 1960), did not fly. But as she aged from teen to slightly plump young lady and into svelte, lovely middle age, O'Brien continued to appear on the small screen from time to time, turning up in such longforms as the "Ironside" TV-movie "Split Second to an Epitaph" (NBC, 1968) and the miniseries "Testimony of Two Men" (syndicated, 1977) and making guest appearances on such series as "Love, American Style" (1968), "Adam-12" (1971), "Marcus Welby, M.D." (1972) and "Murder, She Wrote" (1991). O'Brien has also appeared onstage in summer stock and cruise ship productions of "Barefoot in the Park", "Under the Yum-Yum Tree", "A Thousand Clowns" and others.
The above TCM overview can also be accessed online here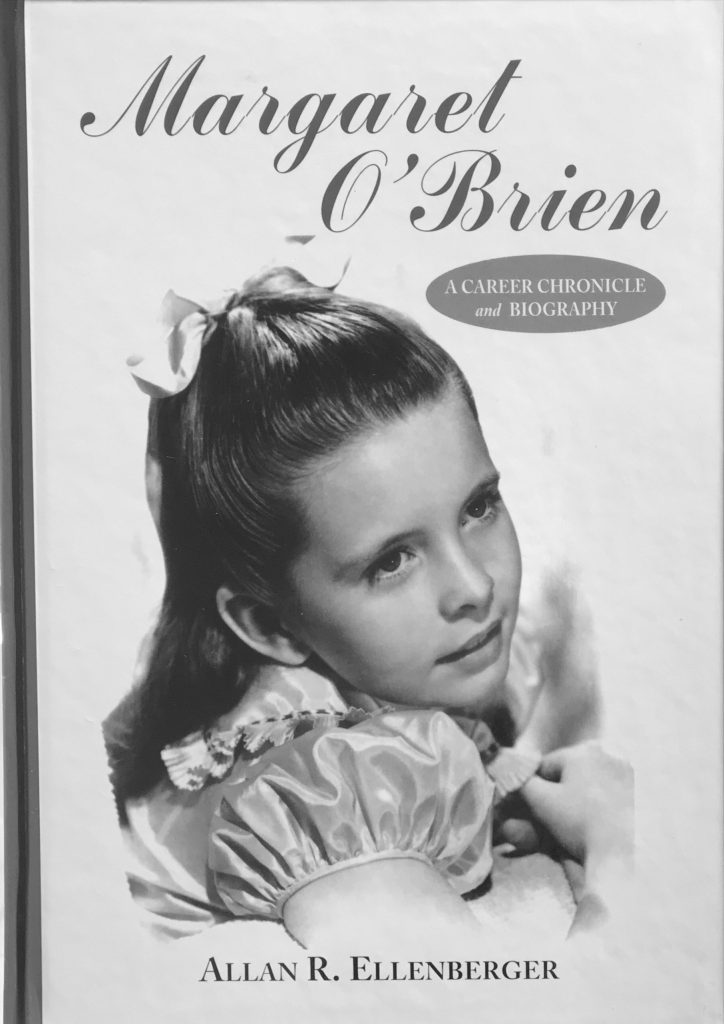 Although Margaret O'Brien's career as a top star was brief, retrospectively she is regarded as one of the best child actors ever, second only to Shirley Temple. Indeed many people consider O'Brien to be more talented than Temple.
Her first main role was in "Journey for Margaret" in 1942 and throughout the World War Two years, she was in the Top Ten most popular actors in the U.S. Career highlights include "Meet Me in St. Louis", "The Canterville Ghost", "Little Women" and "The Secret Garden". As she grew into her teenage years, she found it difficult to obtain leading roles. She tested for "Rebal Without A Caouse" but lost out to her friend Natalie Wood. Recently she has been seen regularly on television and at film conventions talking about the Golden Days of Film. Her website can be assessed here.
.