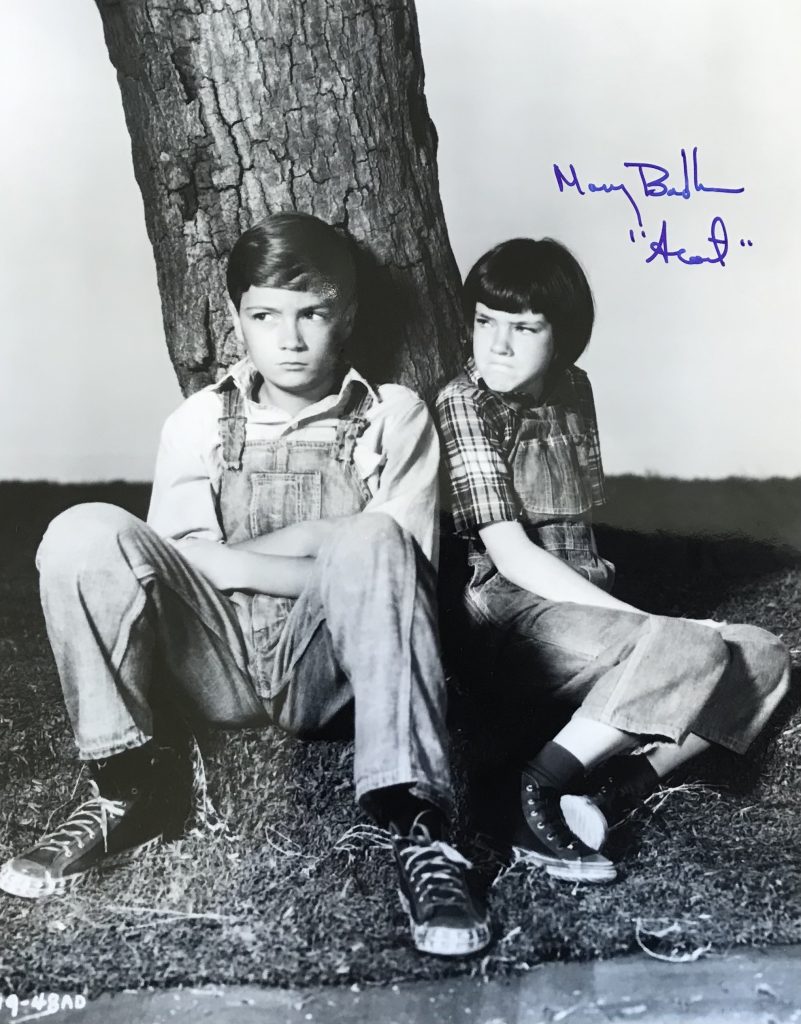 Mary Badham was born in 1952 in Birmingham, Alabama.   Her film career was very brief, but she will be forever remembered for her unforgetable performance as "Scout" the young daughter of Gregory Peck's "Atticus Finch" in the classic "To Kill A Mockingbird".   Her other film of note is "This Property is Condemned" as the sister of Natalie Wood.   Her brother is the director John Badham who directed "Saturday Night Fever" and many othet popular films.
TCM Overview:
With no prior acting experience, Mary Badham won the role of Gregory Peck's tomboy daughter Scout in "To Kill a Mockingbird" (1960) over 2000 other applicants. The novice thespian won praise and earned a Best Supporting Actress Oscar nomination for her naturalistic, unaffected performance. Badham only appeared in two other films, as the narrator who recalls the romantic exploits of her older sister (Natalie Wood) in "This Property Is Condemned" and as a girl who assists an heir outwit his murderous relative in and "Let's Kill Uncle" (both 1966). After a few appearances on TV episodes of shows like "Dr. Kildare" and "Twilight Zone", she retired from acting and moved to a Virginia farm. Her older brother is director John Badham.
Interview with Mary Badham n "The Daily Telegraph":
This photograph was taken on the set of Robert Mulligan's film of Harper Lee's To Kill a Mockingbird. I was 10 years old and played Scout, and Gregory Peck played my father, Atticus Finch. This was an intimate moment when we were just running through lines together between takes. He really guided and encouraged me, not only during the filming of this movie but also throughout my life. I lost both my parents when I was quite young, so he remained a big, big influence in my life until he died in 2003. We were very close and spoke on the phone regularly, even though I acted in only a couple of films after this one. I always called him Atticus and he still called me Scout right up to the end.
This film tells the story of a family who live in a small town. The mother has died and the father looks after his two children on his own. He is a lawyer who is asked to take on the highly controversial case of a young black man who has been accused of raping a white woman. My character, Scout, is a very intelligent, thoughtful child who has to grow up in the real world very quickly.
I hadn't done any acting before this movie. My mother was a leading lady in a local theatre in Birmingham, Alabama, where I grew up. The theatre director had heard about the castings for To Kill a Mockingbird and told my mother to take me along. I remember going in and talking with the director Mr Mulligan and doing a little something on stage. A lot of the other wannabe actor kids had acts prepared but I just played around. I didn't have any experience but I was about the right age, size and colouring to pass off as Atticus's daughter. According to the talent scout, they had seen 4,000 children.
I was pleased to find out I got the part, and happy to go to the film set and see all the movie stars, but my mother guided me and I just trundled through the filming not really understanding what was going on.
The filming took place in California over five months. There was always lots of laughter. Philip Alford, who played my older brother Jem Finch, loved to play chess, so he and Atticus would play together for hours. And Philip and I got on like a real brother and sister. There was a lot of bickering, which in fact translated well on film. He and the other boys on set happily played together but then there was me who wanted to get involved in the fun. They didn't want me playing with them so they would gang up against me.
When the film came out, I was nominated for an Oscar for Best Supporting Actress. I didn't win in the end but I was so relieved when Patty Duke won the award for The Miracle Worker because everyone had these wonderful thank-you speeches, and I didn't have a clue what I was going to say. Atticus won Best Actor, which was just fantastic.
The 50th anniversary Blu-ray edition of 'To Kill a Mockingbird' is out now on Universal Pictures UK